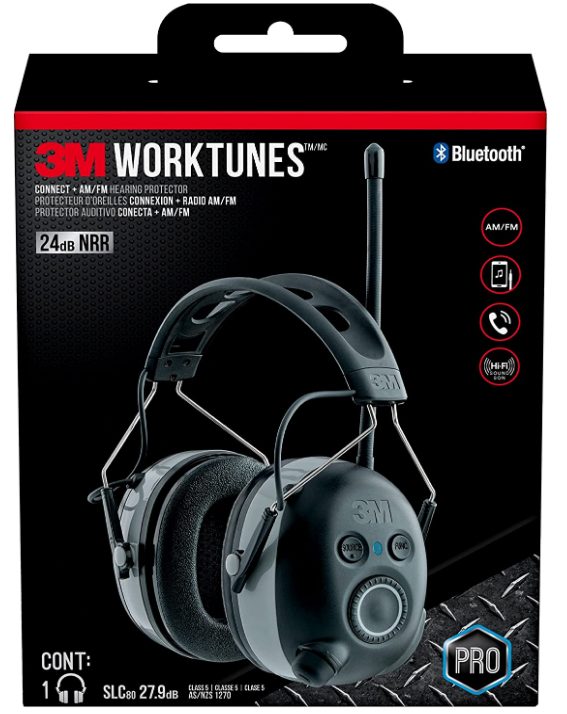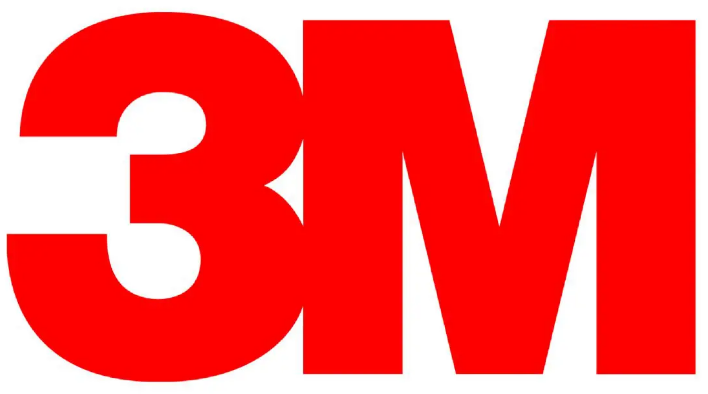 3M WorkTunes Connect + AM/FM Hearing Protector with Bluetooth Technology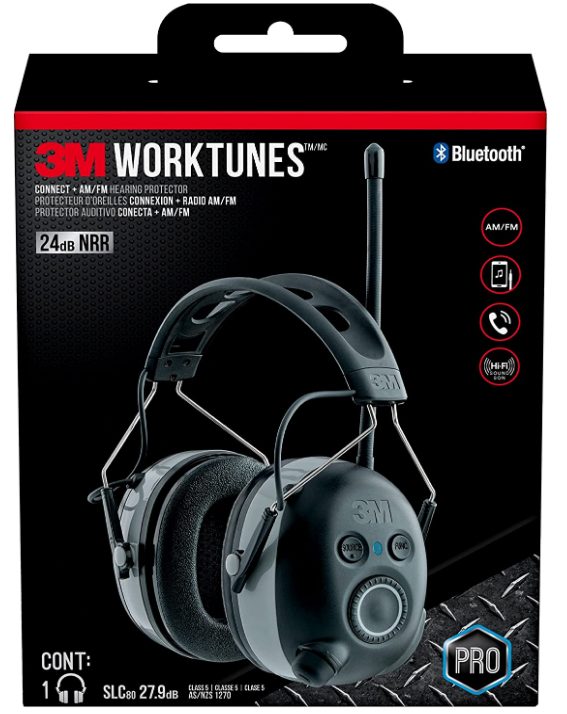 Specifications
MANUFACTURER: ‎3M CHIMD
ITEM WEIGHT: ‎1.19 pounds
PRODUCT DIMENSIONS: ‎4.06 x 7.13 x 8.56 inches
BATTERIES: ‎2 AA batteries are required
SIZE: ‎3M WorkTunes
COLOR: ‎Black
STYLE: ‎3m WorkTunes
FINISH: ‎Black
MATERIAL: ‎Synthetic
PATTERN: ‎Protector
POWER SOURCE: ‎AC/DC
ITEM PACKAGE QUANTITY: ‎1
NUMBER OF PIECES: ‎5
MEASUREMENT SYSTEM: ‎Metric
SPECIAL FEATURES: ‎Microphone
INCLUDED COMPONENTS: ‎Work Tuner Wireless Hearing Protector with Bluetooth
AVERAGE BATTERY LIFE: ‎8 Hours 24 dB Noise Reduction Rating (NRR)
Introduction
It has Bluetooth wireless technology that allows you to stream music and videos from your phone or any other Bluetooth-enabled device. An integrated microphone allows you to make and receive phone calls without having to take off your hearing protection. It is excellent AM/FM radio with clear sound and bass option for great listening. Without having to remove the headset, AUDIO ASSIST TECHNOLOGY gives operating and set-up guidance.
HOW TO CONNECT
To use your WorkTunes headset, turn it on and press the control button on the left ear cup twice. Once you're in Bluetooth pairing mode, your voice assistant will alert you. Once in Bluetooth pairing mode, WorkTunes Connect should appear in your phone's Bluetooth list. When that name appears, tap it.
HOW TO TURN UP THE VOLUME
Long-press the volume knob and the Tuning Dial simultaneously until you get the following response from the voice assistant: Modus Operandi. Ignore the answers Dosimeter Default Setting and 9/10 khz AM and keep pressing the Tuning Dial until you hear Dosimeter or Limiter. Toggle between Dosimeter and Limiter by turning the Tuning Dial.
Frequently Asked Questions
How long does the 3M WorkTunes battery last?
The rechargeable 3M WorkTunes Connect Hearing Protector with Bluetooth Technology lasts 30 hours. Two AA batteries (available separately) are required for the other two models, which will last about 50 hours.
What's the deal with my 3M headphones not connecting?
Troubleshooting and resetting your WorkTunes Connect's Bluetooth connection (Bluetooth, no radio) I recommend resetting your WorkTunes Connect and unpairing (=deleting) them from your phone. Remove WorkTunes Connect from your phone and unpair it. WorkTunes Connect should be reset.
Is there a microphone in 3m WorkTunes?
For phone calls, the WorkTunes include a built-in microphone, but you'll sound like you're speaking from the bottom of a well. However, in the circumstances where WorkTunes are created, you probably don't want to make a phone call.
When charging 3m WorkTunes, how long does it take?
The charging time is between 20 and 30 minutes.
Why do my Bluetooth earbuds have such a short battery life?
Your volume may be too low on some phones due to their operating systems. The most common solution for Android devices is to disable Bluetooth Absolute Volume in the phone's settings. This may be found in your phone's Developer Options for some devices.
Are 3M WorkTunes suitable for filming?
Effective. The WorkTunes Connect earmuffs are quite good in keeping my hearing safe, with a noise reduction rating of 24 dB. The earmuffs keep a nice seal around my ears, whether I'm target shooting or tromping through the woods. The 3M WorkTunes are also simple to set up and comfortable to wear.
Is it possible to use 3M WorkTunes in the rain?
They reduce noise by 20 decibels and are made of an all-weather material that can withstand anything from winter snow to summer rain.
Is it possible to recharge 3M WorkTunes?
Lithium-ion rechargeable battery pack with 5.0V charge voltage capacity. The 3M WorkTunes wireless hearing protector with Bluetooth® technology and other hearing protection are compatible with this rechargeable battery pack. A USB cord and a battery pack are included in the package.
What is the best way to tell if my Bluetooth headset is completely charged?
To charge the Bluetooth headset, follow these steps:
When the battery is charging, the indicator light will turn on. The light may take up to one minute to turn on. 3. The indicator light will turn off when the headset's battery is fully charged (approximately 2-3 hours).
On Bluetooth headphones, where is the power button?
It's the "3" in the center that you're referring to. It's fantastic because all of the functions are located on the same side. If you want to connect to your phone, the center button also serves as a "answer and hang-up" button.