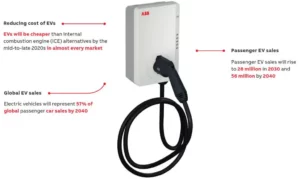 SMART MOBILITY
The home of charging
Terra AC wallbox
• High-value quality
• Futureproof flexibility
• Safety and protection
At ABB, we have 130 years of heritage inaccessible technology leadership and a world-leading AC and DC charging portfolio – for safe, smart, and sustainable mobility.
That's why some of the world's biggest brands trust us to provide market-leading e-mobility solutions from highway to home.
— ABB: The home of charging
Terra AC wall box
To serve a growing market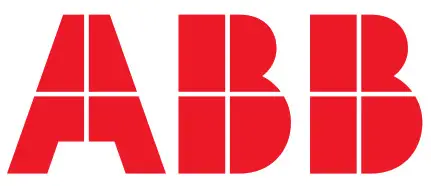 Terra AC wall box provides tailored, intelligent and networked charging solutions for any business, home, or location.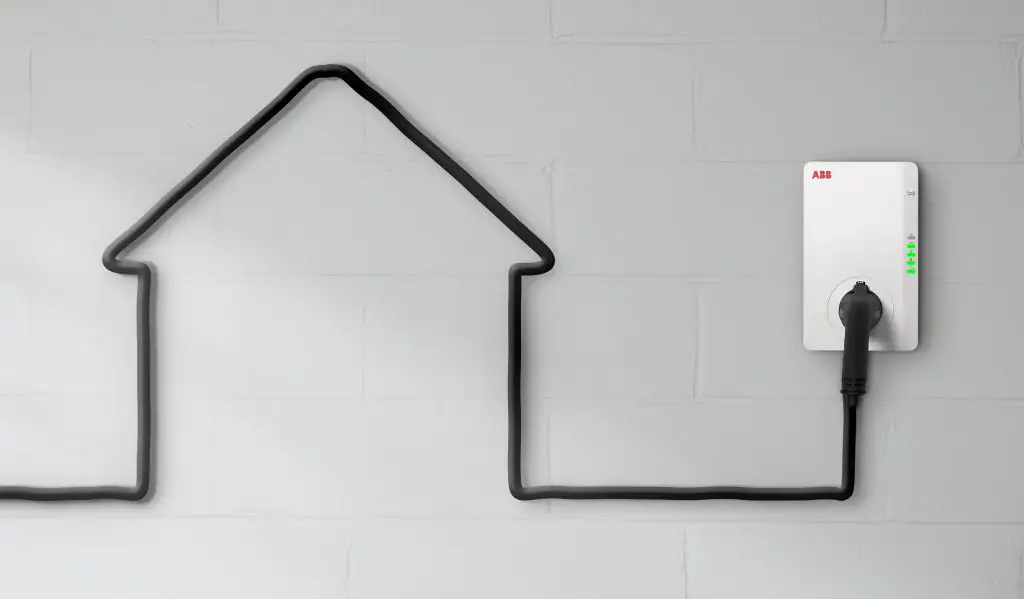 At home
From private homes to multi-tenant homes and residential communities
At work
From small offices to large offices, business parks and complexes
Commercial locations
From hotels to sports institutions and shopping centers
While parking
While on the street or in a car park
source: https://about.bnef.com/electric-vehicle-outlook/#toc-viewreport
Terra AC wall box benefits
High-value quality
The best value AC charger on the market, providing the exceptional quality expected of the world leader in EV charging.
Enabled remote software updates to ensure optimal performance while minimizing the need for onsite intervention.
Broad range of connectivity options including Wifi, Bluetooth, and Ethernet for easy control and integration with existing infrastructure.
Future-proof flexibility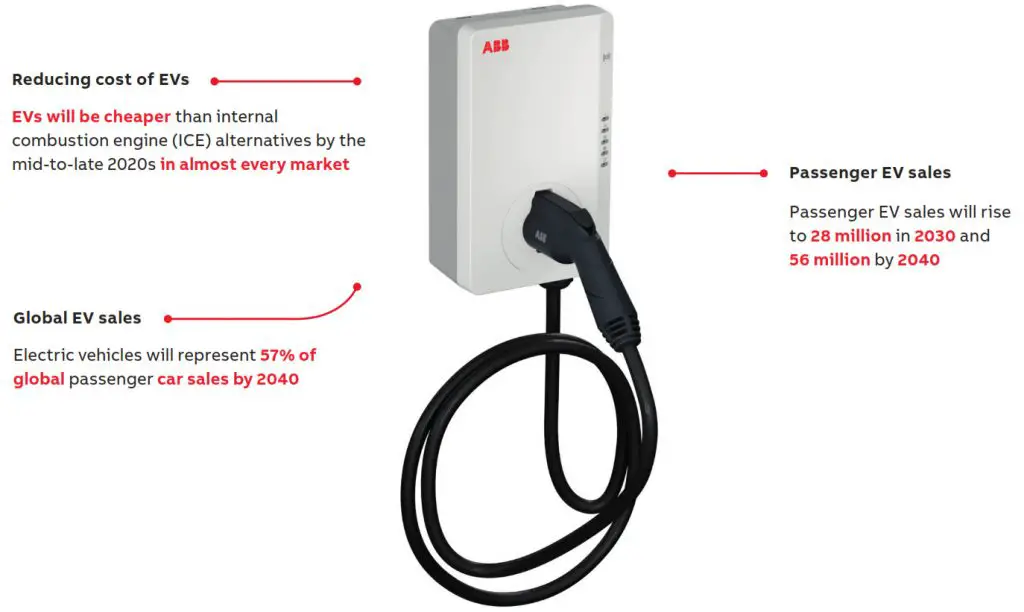 Smart functionality means the wall box can adapt its power usage and provide optimal charging, today and into the future.
Set up for energy meter integration to provide dynamic load management, reducing energy costs and preventing nuisance tripping of distribution protective devices.
Dedicated App provides easy authentication and control of the AC charger, along with and insight into charging status for users.
Safety and protection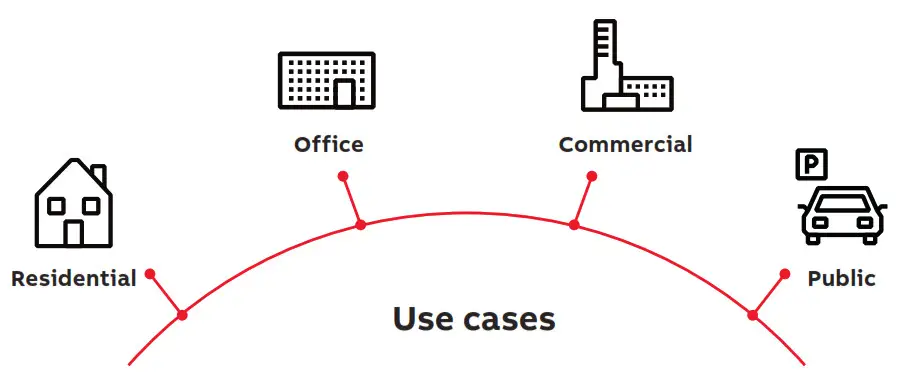 Evaluated and tested to the highest standards by independent, third-party safety certification organizations.
Current limiting protection allows maximum charging power without nuisance tripping, aligned with the design of a given building's electrical distribution system.
Integrated protections including DC ground fault and over-voltage protect both user and car.
Smarter charging
EU portfolio
AC charger for electric vehicles, type 2
Power supply network: 220 … 240 V single phase and 380 … 415 V three phase, 50 / 60 Hz

North America portfolio
AC charger for electric vehicle, type 1
Power supply network: 110 … 240 V single phase, 50 / 60 Hz

Terra AC wall box accessories
Description
Current (A)
Type
Order code
Pedestal For floor standing installation
Adapter box for 1 or 2 chargers back-to-back (pole not included)
–
TAC-P1-2 for 60mm pole
ABB6AGC082324
Adapter box for 1 or 2 chargers back-to-back (60 mm pole included)
–
TAC-P1-2 with 60mm pole
ABB6AGC082576
Metal pole 60 mm with ground plate
–
SER-60mm pole H995mm
ABB6AGC082325
Metal pedestal for 1 or 2 chargers back-to-back free-standing
–
TAC-P1-2 rectangular
ABB6AGC082326
RFID card (MIFARE)
RFID cards with ABB logo, pack of 5
–
SER-abbRFIDtags
ABB6AGC082175
RFID cards, blank, pack of 5
–
SER-blankRFIDtags
ABB6AGC082176
Spare cables
Length: 5 m
For cable replacement of existing cable version charger
Type 2, three phase
16
SER-TAC-cable T2 5m3P16A
ABB6AGC082555
Type 2, single phase
32
SER-TAC-cable T2 5m1P32A
ABB6AGC082554
Type 2, three phase
32
SER-TAC-cable T2 5m3P32A
ABB6AGC082556
Type 1, single phase
40
SER-TAC-cable T1 5m1P40A
Type 1, single phase
80
SER-TAC-cable T1 5m1P80A
Charge cables
Length: 7 m
Cables with 2 connectors of same or different types
Single phase
Type 2 to type 1
16
TAC-cable T2-T1 7m1P16A
ABB6AGC082538
Type 2 to type 2
32
TAC-cable T2-T2 7m1P32A
ABB6AGC082535
Type 2 to type 1
32
TAC-cable T2-T1 7m1P32A
ABB6AGC082539
Three phase
Type 2 to type 2
16
TAC-cable T2-T2 7m3P16A
ABB6AGC082536
Type 2 to type 2
32
TAC-cable T2-T2 7m3P32A
ABB6AGC082537

TERRA AC WALLBOX
Technical specification
Product information
Charging type
Mode 3 charging, level 2
Input/output power rating and current
IEC ratings: Single phase up to 7.4 kW / 32 A
Three phase up to 22 kW / 32 A
UL ratings up to 19 kW / 80 A
Input/ouput voltage
Single phase: 110 … 240 V
Three phase: 380 … 415 V, 50 / 60 Hz
Network type
TT, TN, IT
Socket outlet or connector type
Type 2 socket with or without shutter
Type 1 or type 2 cable. Cable can be wrapped around the charger
Protection
Overcurrent, overvoltage, undervoltage, ground fault including DC leakage protection, integrated surge protection
Overvoltage category
III
Energy metering
Revenue grade energy meter Class B (+/- 1%) , MID certification on display variants only
Mobile communication with nano SIM socket
EU: GSM, 4G, LTE, WCDMA
US: 4G, LTE, WCDMA
Available configurable contacts
1 input, 1 output
User Interface
Connectivity
Wifi, Ethernet (RJ45), Bluetooth, RS485/P1, 4G / 3G
User authentification
ABB RFID card (1 included) or App
User interface
App, ABB web portal
Communication protocols
OCPP 1.6 and RS485/P1 for energy meter connection
Satus indication
5 multicolor LED's
Configuration
Software update
OCPP 1.6, ABB web portal or App
Control and configuration
ABB web portal or App
General characteristics
Lifetime
10 years. 16 h charging, 8 h standby, 5 charge sessions per day
IP and IK rating
IP54, IK10 (IK8+ for operating temperature from -35 to -30 °C)
NEMA enclosure type
NEMA 4 and 4X
Operating altitude
4000 m
Operating temperature range
-35…+50 °C (derating may apply)
Storage temperature range
-40…+80 °C
Mounting
Wall or floor using a pedestal
Dimensions
H x W x D 320 x 195 x 110 mm
H x W x D 12.60 x 7.68 x 4.33 inches
Certification and standards
Safety standards
IEC/EN 61851-1, IEC/EN 62311, IEC/UL 62479, IEC/UL 62955
TuV listed conforming to UL 2594, UL 2231-1, UL 2231-2, UL 1998, CSA C22.2. NO.280
Codes and standards
IEC 61851-21-2, EN 61000-6-1, EN 61000-6-2, EN 61000-6-3, EN 61000-6-4, EN 61000-3-2, EN 61000-3-3, EN 61000-3-11,
EN 61000-3-12
CE RED- WLAN / RFID / E-UTRA: EN 300 328 V2.1.1, EN 300 330 V2.1.1, EN 301 908-1 V11.1.2, EN 301 908-13
EN 50470-1, EN 50470-3
FCC Part 15 Class B
ENERGY STAR
Certification
CE, CB, MID, UL
Warranty
36 months
Smarter by design
The App allows streamlined charger configuration
Ready for integration with advanced smart building energy system
Simple software updates via the App makes the charger future-ready
With the user in mind
• Enables users to authenticate their charger via the App or RFID card. Configuration is easily done via the App or ABB web portal
• Sends charging status via the App
• Provides information about the status of chargers (availability, number of sessions, energy delivery)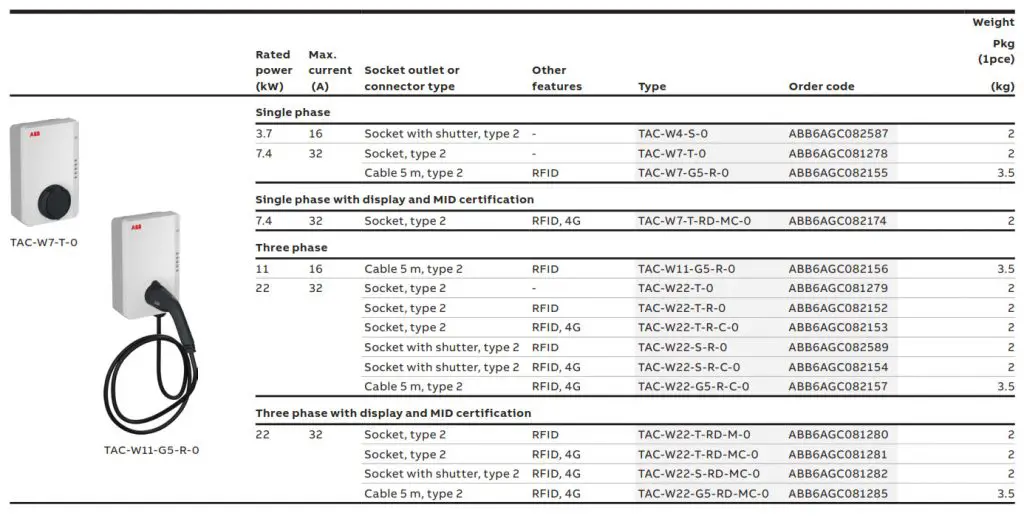 ABB Limited
Electrification Products business
Tower Court
Foleshill Enterprise Park
Courtaulds Way
Coventry CV6 5NX
Tel: +44 (0) 333 999 9900
E-Mail: [email protected]
Twitter: @ABBUKEP
new.abb.com/uk/smarter-mobility
© Copyright 2020 ABB. All rights reserved. Specifications are subject to change without notice.