AcuRite® Atlas™ and AcuRite® Atlas Elite™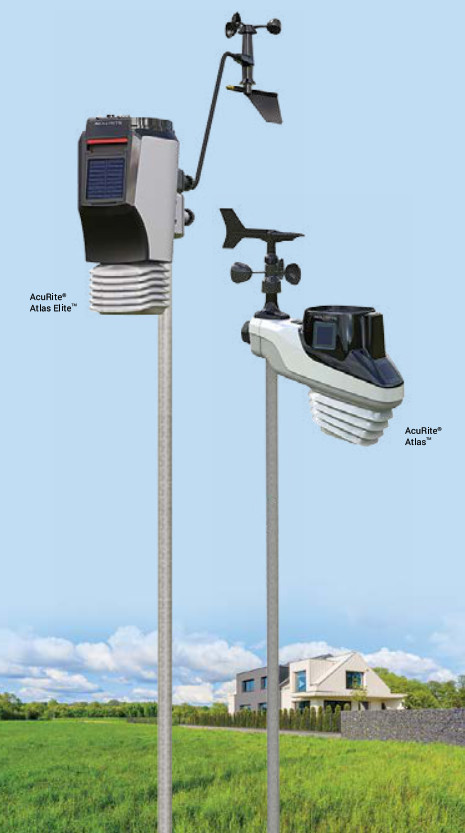 Plan Your Day with Confidence™
The AcuRite® Atlas™ family of environmental monitoring solutions delivers accurate, reliable information about the outdoor conditions at your exact location, as well as access to intuitively presented data, trends, and insights through the My AcuRite™ platform.
With AcuRite® Atlas™ sensors, you are empowered to make more informed decisions when planning your day-to-day activities.
► Maintain Your Property
Know when to water your lawn during periods of varying rainfall
Be alerted about frost conditions in time to cover flower beds and protect your garden
Take action when high winds threaten your home, patio furniture, and hanging plants
►Enjoy The Outdoors
Confidently plan for what the weather has in store throughout the day
Know when sunscreen is essential to protect against harmful UV levels
Be alerted to approaching lightning storms
► Protect Your Family
Receive advanced notice of potentially dangerous weather conditions, giving you time to get loved ones safely indoors
Better understand the impact weather has on the people you care about
AcuRite® Atlas Elite™
The best AcuRite® Environmental Monitoring System ever made.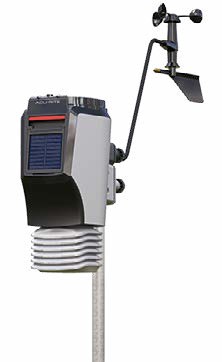 Make every decision with authority and confidence using our most accurate and reliable monitoring solution. Experience your environment like never before, harnessing the power of comprehensive, intuitively displayed information delivered to you in real-time. Everything about the AcuRite® Atlas Elite™, from the componentry to the materials, to the innovative modular housing design, to the tool-free installation, has been thoughtfully examined, improved, optimized, and then improved again…and again. The end result is a weather station that delivers unprecedented accuracy, durability, reliability, and ease of use.
►Monitor a full array of environmental conditions including real-time wind speed and direction, lightning strikes, and UV and light conditions
►Beyond consumers, AcuRite® Atlas Elite™ and My AcuRite™ offer actionable insights to conditions that affect many businesses, including golf course management, construction, agriculture, and more
► Optimized sensor design delivers maximum performance and accuracy while remaining easy to install and maintain
Robust design and high-grade components ensure durability and longevity
24-hour aspirating fan helps ensure reliable temperature readings, even when exposed to direct sunlight
Solar-powered to extend battery life • Rain collector is designed to meet World Meteorological Organization (WMO) standards for accuracy
Meets wind accuracy standards of the National Weather Service (NWS) using the detachable wind cups and wind vane, which includes 30-feet of cable for optimal anemometer placement
The innovative modular housing design allows for easy setup, maintenance, and access to internal components
► Using My AcuRite™, share your current environmental conditions with online weather communities over a standard wireless internet network
Choose to be part of the AcuRite Neighborhood Network™, a community of weather enthusiasts who share weather with each other, and are even picked up by nearby TV stations to share hyper-local weather conditions
Share weather data with friends and family
Participate in weather communities like Weather Underground
►View your data at home using the Atlas Elite™ digital display, or from anywhere by using the My AcuRite™ platform through any web browser or mobile device
Data can be viewed using your iPhone, iPad, Android phone and tablet, as well as a web browser
Analyze historical data and trends, identify patterns, and learn about your environment
Receive calculated alerts that draw from multiple environments readings to help you better know and understand risk conditions around your home
Export and archive weather history data as detailed spreadsheets

AcuRite® Atlas™
Atlas 7
Atlas 8
Be the neighborhood weather expert, protect your family from risk, and more
Provides insights and vital environmental information, helping you make intelligent, informed decisions when protecting your home, caring for your family, planning outdoor activities, growing a garden, and more.
Monitor, a full array of environmental conditions including UV radiation, light intensity, and lightning strikes* *Lightning is standard on Atlas™ 8, optional on Atlas™ 7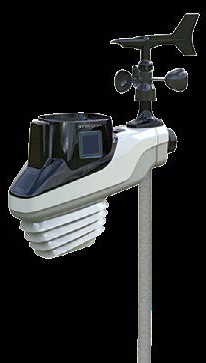 ►Optimized all-in-one design delivers more accurate measurements with easy installation and maintenance
Daytime aspirating fan helps ensure reliable temperature readings, even when exposed to direct sunlight in extremely hot climates
Compact, all-in-one sensor design allows for easy mounting and setup
Enhance the accuracy of wind readings by adding on the optional extension kit, which includes 30-feet of cable for optimal anemometer placement

► Using My AcuRite™, share your current environmental conditions with online weather communities over a standard wireless internet network
Choose to be part of the My AcuRite™ Neighborhood Network™, a community of weather enthusiasts who share weather with each other, and are even picked up by nearby TV stations to share hyper-local weather conditions
Share weather data with friends and family
Participate in weather communities like Weather Underground