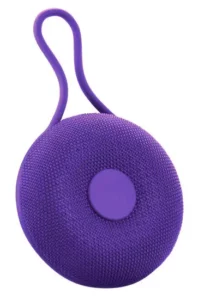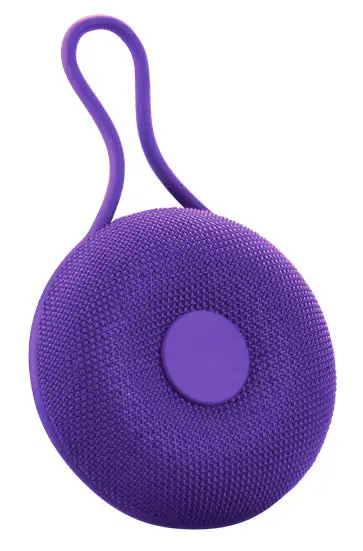 ALTIUS Kids Bluetooth Speaker User Manual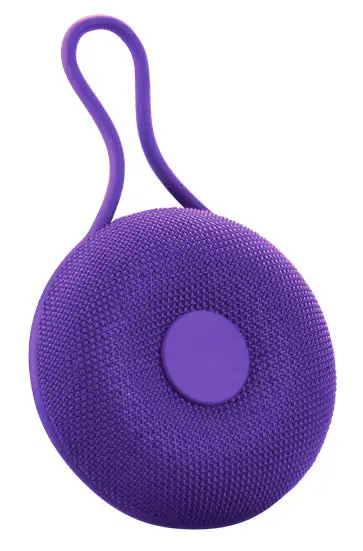 Welcome
We hope you enjoy your purchase!
ALTIUS products are carefully designed and produced to the highest standards of performance and safety, backed by our comprehensive 1 Year Warranty.
This user manual will provide all the information required for you to setup and use your new product.

This product complies with Australian Safety Standard AS/NZS 62368.1 to ensure the safety of the product.
IMPORTAN
Electrical safety and cord handling
Protect from moisture: Do not expose this product, the power supply cord and plug to rain or moisture. Do not use it anywhere near water or where water splashes or drips, such as a bathroom or near a swimming pool. Do not touch the power plug with wet hands.


Usage conditions and restrictions

Instructions: Follow the instructions in this user guide when installing and adjusting this product. Only adjust controls and settings that are covered in this user manual, as improper adjustment of other controls may result in damage. If this happens, unplug the product and have it serviced by appropriately qualified personnel.
Battery: Please note that the battery can only reach top performance level after it has been fully charged and discharged two or three times.
Usage restriction: The product is not intended for use by persons (including children) with reduced physical, sensory or mental capabilities, or lack of experience and knowledge, unless they have been given supervision or instruction concerning use of the product by a person responsible for their safety.
Children: Supervise young children to ensure they do not play with the product. Close supervision is always necessary when a product is used by or near children.
Location: When using the product, make sure to place it:
In a well ventilated area, keeping a clearance of at least 20cm above and 5cm on each side of the unit to ensure proper ventilation.
Away from heat sources such as radiators, heat
registers, stoves or other equipment (including
amplifiers) that produce heat.
Away from areas with high temperatures, high
humidity or direct sunlight.
Away from excess dirt and dust.
Away from strong magnetic fields.

Keep away from babies 3 years and younger, the speaker contains small parts which are a
choking hazard
Protect the product: Prevent metal objects falling onto the product. Do not place heavy objects on top of the product or step on it. Do not place objects filled with water (such as vases), or naked flame sources (such as candles), on or near the product. If liquid or metal parts enter the system, unplug the power cable immediately and call our After Sales Support centre to arrange a service before further use.
Ventilation: Openings on the cabinet are provided for ventilation and to protect the unit from overheating. To ensure proper operation, do not cover them with things such as newspapers, tablecloths, curtains etc.
Transporting: Unpack the product and keep the original packaging carton and materials in a safe place. It will help prevent any damage if the product needs to be transported in the future, and you can use it to store the product when it is not in use.
Storage: When product is not in use, store in a cool, dry and well ventilated location out of direct sunlight. Ensure that it is not subject to humidity.
Cleaning: Unplug the product from the power outlet before cleaning. Clean the product only with a clean, dry or slightly damp cloth. Do not use liquid or aerosol cleaners or volatile solvents.
Service: Refer all servicing to qualified personnel. Servicing is required when the apparatus has been damaged in any way, such as when the power supply cord or plug is damaged, liquid has been spilled or objects have fallen into the unit, it has been exposed to rain or moisture, does not operate normally, or has been dropped.
Repair: If the product requires repair, contact the After Sales Support line; never disassemble or modify the unit or attempt to service it yourself.
Liability: We accept no liability for any damage caused by non-compliance with these instructions or mishandling of the product.
Product Overview
What's in the box:

A. Kids Bluetooth Speaker
B. Micro USB Cable
C. AUX Cable
D. User Manual
E. Warranty Card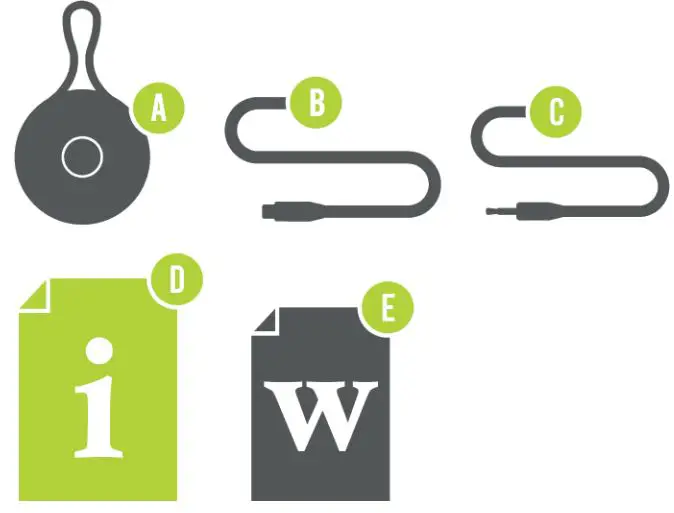 Power button
Volume down/play
previous song
Volume up/play next song
Play/pause button
AUX IN port
Charging indicator
Micro USB port
Microphone
LED indicator
Operation
power on and charging
Press and hold the button to turn the speaker on/ off. When on, it will enter Bluetooth® pairing mode automatically and the LED indicator will flash blue.
To charge the speaker, plug one end of the supplied Micro USB cable to the Micro USB port on the speaker. Connect the other end of the cable to a power source. When charging, the charging indicator will light up red and turn off once the speaker is fully charged.
Bluetooth® setup
On your Bluetooth® device, look for ATKBTS-SCA in the list of detected devices, and pair with it. Once successfully paired, the LED indicator will light up blue. If asked for a password, enter 0000.
The speaker and your Bluetooth device® will remember each other and automatically connect when they are both turned on.
Bluetooth® mode
Press and hold the </> buttons to play the previous or next song. You can also control via your Bluetooth® device.
Press the button to play/pause the song. You can also control via your Bluetooth® device.
To adjust the volume, press the < button to decrease the volume, and press the > button to increase the volume. You can also control via your Bluetooth® device.
The LED indicator will flash blue when music is playing.
Aux input mode
Connect your audio device to the AUX port on the speaker using the appropriate cable. The speaker will automatically enter AUX mode.
To adjust the volume, press the < button to decrease the volume, and press the > button to increase the volume. You can also control via your audio device.
Receiving and ending phone calls
When there is an incoming call, the speaker will pause music playback and ring to alert. To answer a call, press the button to answer. Press the button again to end the call.
Troubleshooting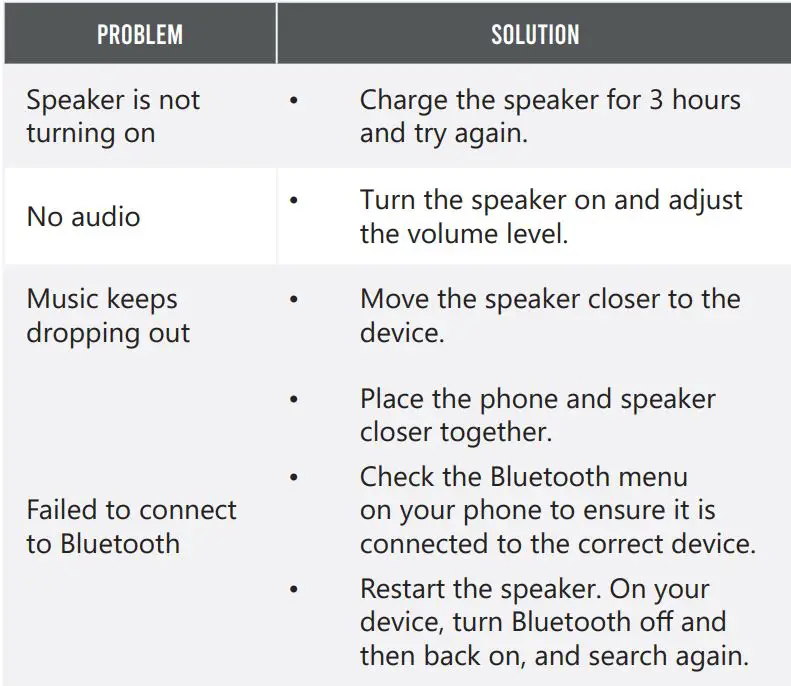 Specifications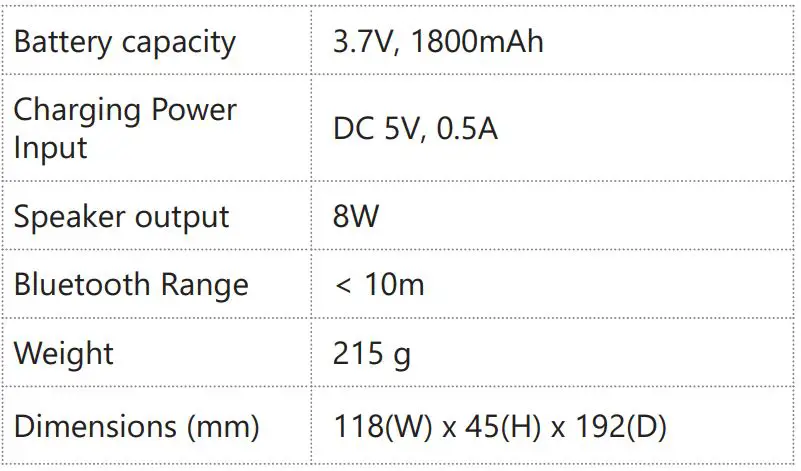 The Bluetooth® word mark and logos are registered trademarks owned by Bluetooth SIG,Inc. and any use of such marks by Hands (IP) Holdings Pty Ltd is under license. Other trademarks and trade names are those of their respective owners.
Compliance and Responsible Disposal
Packaging
The packaging of your product has been selected from environmentally friendly materials and can usually be recycled. Please ensure these are disposed of correctly. Plastic wrapping can be a suffocation hazard for babies and young children, please ensure all packaging materials are out of reach and are safely disposed of. Please recycle these materials rather than throwing them away.
Product
At the end of its working life, do not throw this product out with your household rubbish. An environmentally friendly method of disposal will ensure that valuable raw materials can be recycled. Electrical and electronic items contain materials and substances which, if handled or disposed of incorrectly, could potentially be hazardous to the environment and human health.
This product complies with the Australian Safety Standard AS/NZS 62368.1 to ensure the safety of the product.

Customer Helpline AUAU:
1300 886 649
[email protected]
Distributed by:
Tempo (Aust) Pty Ltd,
PO Box 6056,
Frenchs Forest
DC 2086