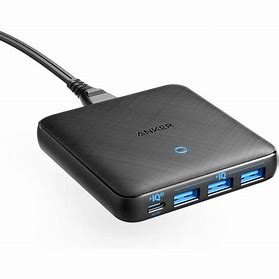 USER MANUAL
PowerPort Atom III Slim(Four Ports)
Using your Product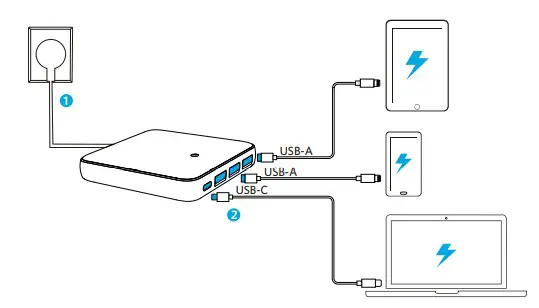 For the fastest and safest charge, use an Anker® cable, your device's original cable or another certified cable (such as MFi).
Attention
The product is designed for use with IT equipment only.
The maximum ambient temperature during the use of the appliance must not exceed 25°C.
Naked flame sources, such as candles, must not be placed on the product.
The disconnection from line voltage is made by an AC plug.
In case of broken cords or plugs, the product must be disposed of.
If you want to clean the product, only use a dry cloth or brush.
The socket-outlet shall be installed near the equipment and shall be easily accessible.
The power supply is not intended to be repaired by service personnel in case of failure or component defect (the product can be disposed of).
FCC Statement
This device complies with Part 15 of the FCC Rules. Operation is subject to the following two conditions: (1) This device may not cause harmful interference, and (2) this device must accept any interference received, including interference that may cause undesired operation.
Note: This equipment has been tested and found to comply with the limits for a Class B digital device, pursuant to Part 15 of the FCC Rules. These limits are designed to provide reasonable protection against harmful interference in a residential installation.
This equipment generates, uses, and can radiate radio frequency energy and, if not installed and used in accordance with the instructions, may cause harmful interference to radio communications. However, there is no guarantee that interference will not occur in a particular installation. If this equipment does cause harmful interference to radio or television reception, which can be determined by turning the equipment off and on, the user is encouraged to try to correct the interference by one or more of the following measures:
Reorient or relocate the receiving antenna.
Increase the separation between the equipment and receiver.
Connect the equipment into an outlet on a circuit different from that to which the receiver is connected. (4) Consult the dealer or an experienced radio / TV technician for help.
Warning: Changes or modifications not expressly approved by the party responsible for compliance could void the user's authority to operate the equipment. The following importer is the responsible party (for FCC matters only).
Company Name: Fantasia Trading LLC
Address: 9155 Archibald Avenue, Suite 202, Rancho
Cucamonga, CA, 91730, US
Telephone: +1(909) 484-1530
This device complies with Industry Canada license-ICES-003. Operation is subject to the following two conditions: (1) This device may not cause interference, and (2) This device must accept any interference, including interference that may cause undesired operation of the device.
IC Statement
This digital apparatus complies with CAN ICES ICES -3(B)/NMB-3
Declaration of Conformity
Hereby, Anker Innovations Limited declares that the product type A2045 is in compliance with Directive 2014/35/EU & 2014/30/EU & 2011/65/EU & 2009/125/EC. The full text of the EU declaration of conformity is available at the following internet address: https://www.anker.com Anker Innovations Limited I Room 1318-19, Hollywood Plaza, 610 Nathan Road, Mongkok, Kowloon, Hong Kong
Specifications

Input 100-240V – 2A 50-60Hz


Output USB C: 5V= 2.4A / 9V= 3A 15V= 3A/ 20V = 2.25A
USB A: 5V=: 4A (2.4A Max Per Port)
Customer Service

18-month limited warranty.
Please note that your rights under applicable law governing the sale of consumer goods remain unaffected by the warranties given in this Limited Warranty.

Lifetime technical support.

[email protected]

(US) +1(800)988 7973 Mon – Fri 9:00am – 5:00pm (PT)
(UK) +44 (0)1604 936200 Mon – Fri 6:00 – 11:00 (GMT)
FAQs and more information, please visit: anker.com/support


@Anker
@Anker Japan

@An kerOfficial

@Anker
Product Number A2045
51005001890 V01