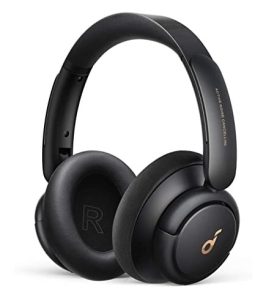 ANKER Soundcore Life Q30 Active Noise Cancelling Headphones
For FAQs, a detailed user manual and more information, please visit
www.soundcore.com/support
CHARGING
Fully dry off the USB port before charging.
POWERING ON/OFF
Press and hold the power button for 3 seconds to power on/off.
PAIRING
When powered off, press and hold the power button tor 5 seconds until the LED flashes blue to enter the Bluetooth pairing mode.
DUAL PAIRING
When successfully connected with the first device, press twice the power button to pair with another device.
NFC
For NFC pairing, enable NFC on your smartphone (iOS devices excluded) and gently tap it on the right panel of the headphone.
NOISE CANCELLATION
Press the NC button to turn on/off the ANC (Active Noise Cancellation) mode.
TRANSPARENCY
To talk to people nearby without taking off headphones, activate the human vocal mode by pressing the right panel for 1 second.
BUTTON CONTROLS
x1: Press once
1″: Press and hold for 1 second
AUX
Play audio on an external device by plugging in a 3.5mm AUX cable.
APP
Download the Soundcore App for EQ settings, ANC mode selection, and firmware updates.
RESET
Press the power button and volume up button simultaneously for 5 seconds to reset the headphone.
Customer Service
(For Middle East and Africa Only)
Phone
+1 (800) 988 7973 (US) Mon-Fri 9:00-17:00 (PT)
+44 (0) 1604 936200 (UK) Mon-Fri 6:00-11:00 (GMT)
+49 (0) 69 9579 7960 (DE) Mon-Fri 6:00-11:00
+971 42463266 (Middle East & Africa) Sun-Thu 9:00 – 17:30 (GMT+4)
+971 8000320817 (UAE) Sun-Thu 9:00- 17:30 (GMT+4)
+966 8008500030 (KSA) Sun-Thu 8:00 – 16:30 (GMT+3)
+965 22069086 (Kuwait) Sun-Thu 8:00 – 16:30 (GMT+3)
+20 800000826 (Egypt) Sun-Thu 7:00- 15:30 (GMT+2)
Input: 5V=0.65A
Charging time: 2 hours
Playtime (varies by volume level and content): 40 hours
Anker Innovations Limited
Room 1318-19, Hollywood Plaza, 610 Nathan Road, Mongkok, Kowloon, Hong Kong
ANKER TECHNOLOGY (UK) LTD
Suite B, Fairgate House, 205 Kings Road, Tyseley, Birmingham, B11 2AA, United Kingdom
Important Safety Information
Avoid dropping
Do not disassemble.
Do not submerge in water.
The product should not be exposed to dripping or splashing
Avoid extreme temperatures.
The product should not be exposed to excessive heat such as sunshine, fire or the like.
Use original or certified cables.
Clean witha dry, soft lint-free cloth. Do not use any corrosive cleaner or oil.
Do not use the product outdoors during thunderstorms.
Hearing Safety
To avoid hearing damage, do not listen for extended periods at high volume.
Do not turn the volume so high that you're unable to hear your surroundings.
Do not use earphones while driving.
You should use caution or temporarily discontinue use in potentially hazardous situations.
Notice
This product complies with the radio interterence requirements of the
European Community.
CAUTION: RISK OF EXPLOSION IF BATTERY IS REPLACED BY AN INCORRECT
TYPE. DISPOSE OF USED BATTERIES ACCORDING TO THE INSTRUCTIONS.

This symbol means the product must not be discarded as household waste, and should be delivered to an appropriate collection facility for recycling. Follow local rules and never dispose of the product and rechargeable batteries with normal household waste. Correct disposal of old products and rechargeable batteries helps prevent negative consequences for the environment and human health.
FCC Warning
This device complies with part 15 of the FCC Rules. Operation is subject to the following two conditions: (1) this device may not cause harmful interference, and (2) this device must accept any interference received, including interference that may cause undesired operation.
Any changes or modifications not expressly approved by the party responsible for compliance
could void the user's authority to operate the equipment.
NOTE: This equipment has been tested and found to comply with the limits for a Class B digital device, pursuant to Part 15 of the FCC Rules. These limits are designed to provide reasonable protection against harmful interference in a residential installation. This equipment generates, uses and can radiate radio frequency energy and, if not installed and used in accordance with the instructions, may cause harmful interference to radio communications. However, there is no guarantee that interference will not occur in a particular installation.
If this equipment does cause harmful interference to radio or television reception, which can be determined by turning the equipment off and on, the user is encouraged to try to correct the interference by one or more of the following measures:
Reorient or relocate the receiving antenna.
Increase the separation between the equipment and receiver.
Connect the equipment into an outlet on a circuit different from that to which the receiver is connected.
Consult the dealer or an experienced radio/TV technician for help.
The device has been evaluated to meet general RF exposure requirements. The device can be used in portable exposure conditions without restriction
The following importer is the responsible party
Company Name: Fantasia Trading LLC
Address: 5350 Ontario Mills Pkwy, Suite 100, Ontario, CA 91764
Telephone: +1 (800) 988 7973
IC NOTICE TO CANADIAN USERS
This device contains licence-exempt transmitter(s)/receiver(s) that comply with Innovation, Science and Economic Development Canada's license-exempt RSS(s). Operation is subject to the following two conditions: (1) This device may not cause interference. (2) This device must accept any interference, including interference that may cause undesired operation of the device.
Radiation Exposure Statement
The product comply with the Canada portable RF exposure limit set forth for an uncontrolled environment and are safe for intended operation as described in this manual.