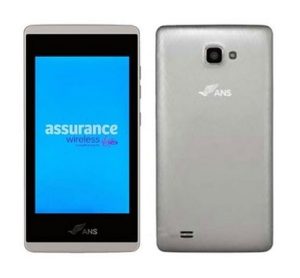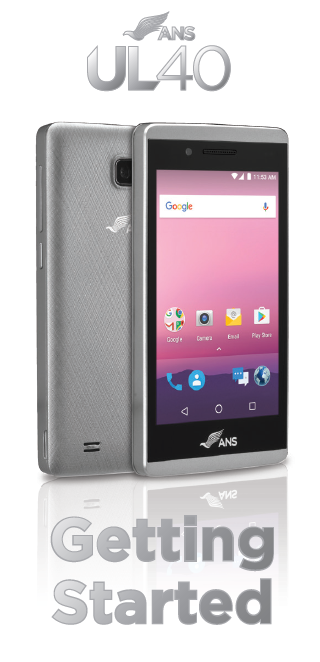 User Manual
Your UL40 Box Contents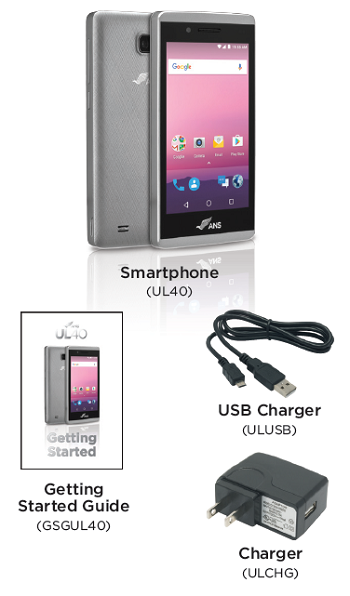 Your UL40 Smartphone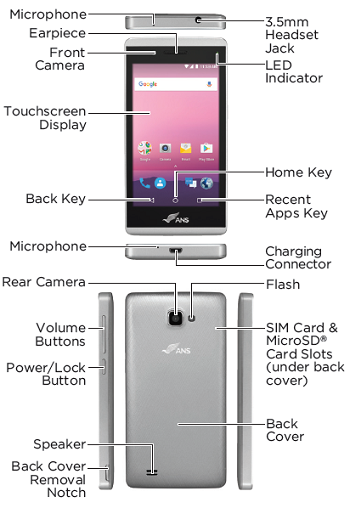 Your UL40 Smartphone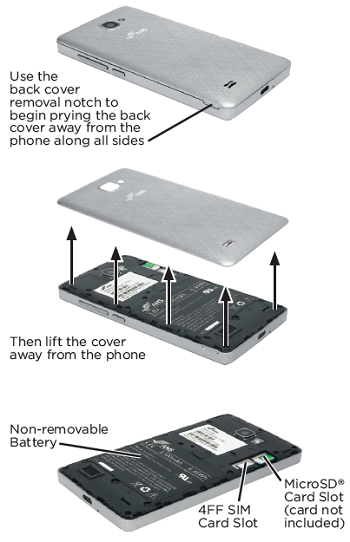 Set Up Your Device
The device's set up screens will guide you through the set up process.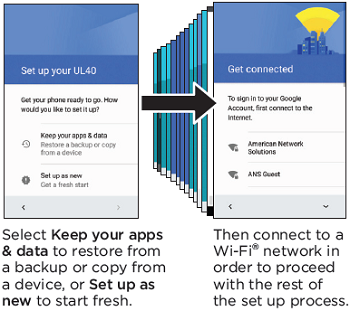 Complete the Setup Screens
Follow the set up process prompts to:
• Sign in to (or set up) a Google® Account.
• Protect your phone by activating device protection features.
• Personalize your device.
When setup is finished, you'll see your device's home screen.
Home Screen
Tap O from any screen to return to the home screen.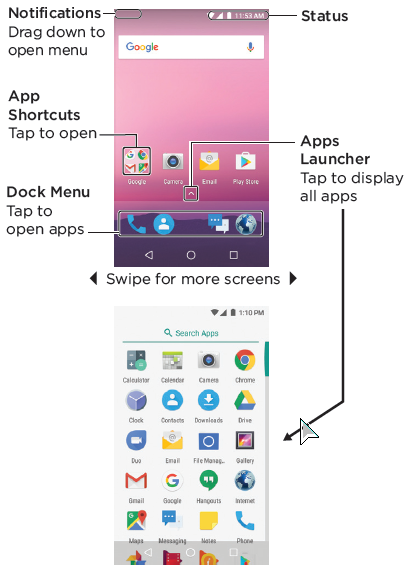 Notifications
When you see a notification icon on the left side of the status bar, drag the status bar down to display the notification panel. Tap a notification to open it.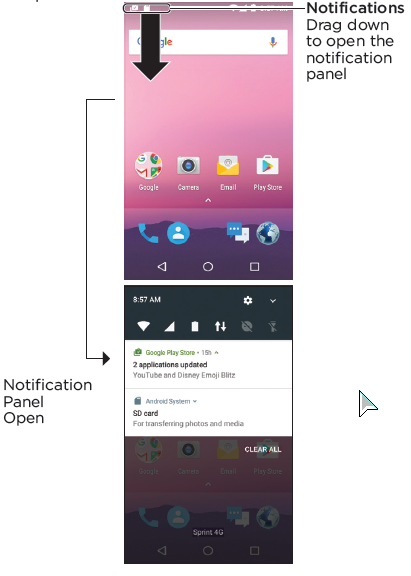 Lock & Unlock Your Screen
Your phone allows you to quickly turn the screen off when not in use and to turn it back on and unlock it when you need it.
Turn the Screen Off When Not In Use
• To quickly turn the screen off, press the Power/ Lock button. Pressing the Power/Lock button again will turn on your phone screen and show the lock screen.
Turn the Screen On and Unlock It
• To turn the screen on, press the Power/Lock button. The lock screen appears.
• Swipe your fingers upward to unlock it.
• If you have set up a screen lock, you will be prompted to draw the pattern or enter the password or PIN.
LED Indicator
There is an LED indicator light on the front of your phone that provides information during the charging process.
While charging…
• A GREEN LED light will indicate a charge level of at least 90%
• A RED LED light will indicate a charge level of less than 90%
Wi-Fi
To use your device's Wi-Fi, you need access to a wireless access point or "hotspot."
Turn Wi-Fi On and Connect to a Network
1. Tap

>/> Settings

> Wi-Fi

.
2. The Wi-Fi settings menu appears.
3. Tap the switch to On

to turn Wi-Fi on.
4. Wi-Fi is enabled. You will see the names and
security settings of in-range Wi-Fi networks.
5. Tap a Wi-Fi network to connect, enter the
password (if it's not an open network), and then tap CONNECT.

Bluetooth
Bluetooth is a technology that enables wireless connection with PCs, Bluetooth devices with hands-free features, etc.
To enable Bluetooth
1. Tap

>/ > Settings

> Bluetooth

.
2. The Bluetooth settings menu appears.
3. Tap the switch to On

to turn Bluetooth on.
4. Bluetooth is enabled.
5. Nearby devices appear in the "Available devices" list. To pair with another Bluetooth device, tap a device from the "Available devices" list, and follow the onscreen instructions to pair with the device.

Contacts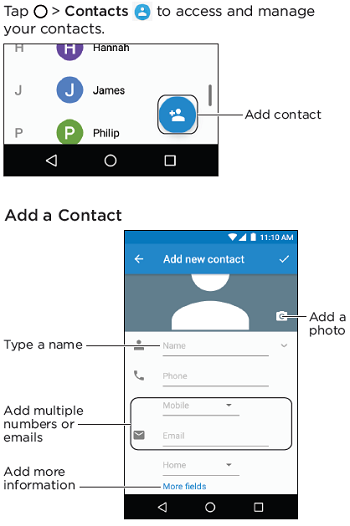 Calendar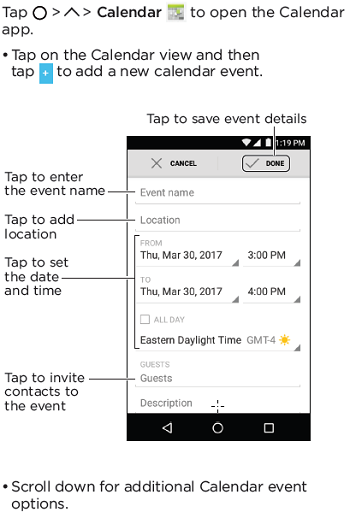 Camera and Video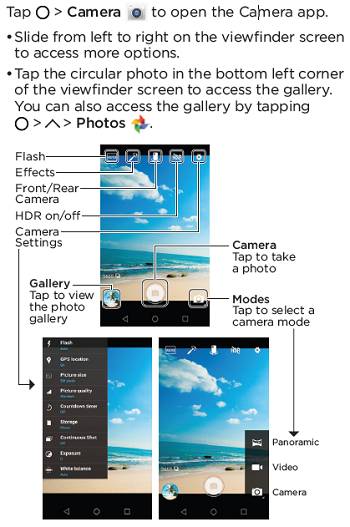 Email Setup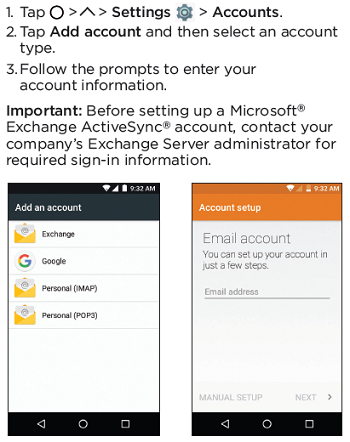 Note: The Accounts screen will show any accounts that have already been set up, including Google Accounts that may have been configured during the set up process.

Email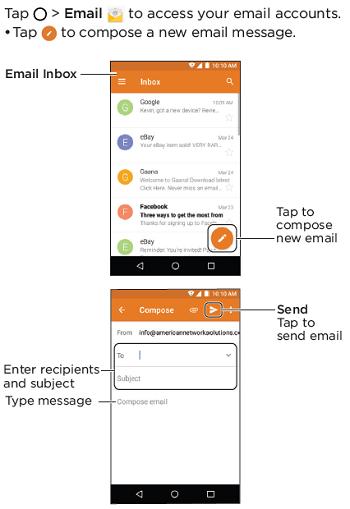 Google Play
Google Play is the place to go to find new apps, games, movies, and more.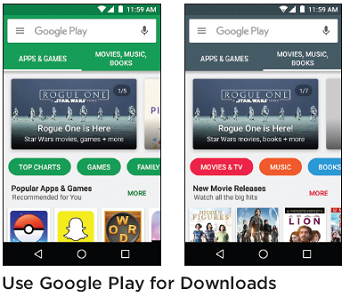 Use Google Play for Downloads
1. Tap

> Play Store .
2. The first time you visit the Google Play Store app, tap Accept to accept the Terms of Service.
3. Browse through featured apps and games, ortap the Google Play search bar to start a search.
4. Tap an item to read a description and reviews.
5. Tap INSTALL (for free apps) or the price (forpaid applications) and follow the onscreen prompts.
Note: You must have a Google Account set up on your device to purchase and download apps from the Google Play store.
External microSD® Card
Your UL40 has an external microSD card slot that can be used for additional storage
• To expand device memory using an SD card,while the device is powered off, simply insert the SD card in the slot next to the SIM under the back cover and then power on your device.
• The SD card will be recognized once the device powers on and further instructions will be given.
• Please note that the SD card will not be recognized if you insert it while the device is powered on.
• Your SD card can be formatted to use as portable storage (for moving photos and other media between devices) or as internal storage (for storing anything on the device only, including apps and photos. This option requires formatting that prevents it from working with other devices).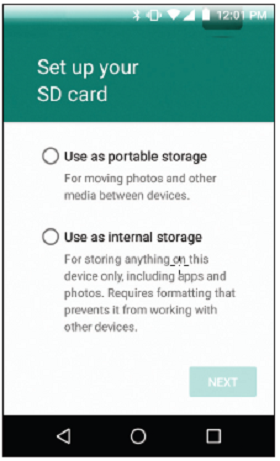 Important Safety Information
General Precautions
There are several simple guidelines to operating your phone properly and
maintaining safe, satisfactory service.
• Avoid exposing your phone and accessories to rain or liquid spills. If your
phone does get wet, immediately turn the power off and keep in a dry place.
• Do not expose your phone to direct sunlight for extended periods of
time (such as on the dashboard of a car).
• Although your phone is quite sturdy, it is a complex piece of equipment
and can be broken. Avoid dropping, hitting, bending or sitting on it.
• Any changes or modifications to your phone not expressly approved in
this document could void your warranty for this equipment and void your
authority to operate this equipment.
Using Your Phone While Driving
Operating your phone while driving is prohibited in some jurisdictions. Laws vary as to specific restrictions. Remember that safety always comes first. Check the laws and regulations on the use of wireless devices in the areas where you drive and always obey them. Also, if using your device while driving, please observe the following:
• Give full attention to driving — driving safely is your first responsibility;
• Use hands-free operation, if available;
• Pull off the road and park before using it.
Restricting Children's Access to Your Mobile Device
Your device is not a toy. Do not allow children to play with it because they
could hurt themselves and others, damage the device, or make calls that
increase your device bill. Keep the device and all its parts and accessories
out of the reach of small children.
Screen images are simulated. Appearance of device may vary. The actual available capacity of the internal memory is less than the specified capacity because the operating system and default applications occupy
part of the memory. The available capacity may change when you upgrade the device.
Following Safety Guidelines
To operate your phone safely and efficiently, always follow any special regulations in a given area. Turn your phone off in areas where use is forbidden or when it may cause interference or danger.
Caring for the Battery
The guidelines below help you get the most out of your battery's performance.
• In order to avoid damage, charge the battery only in temperatures that
range from 32° F to 113° F (0° C to 45° C).
• Don't use the battery charger in direct sunlight or in high humidity areas, such as the bathroom.
• Never dispose of the battery by incineration.
• Don't attempt to disassemble, open crush, bend or deform, puncture, shred or short-circuit the battery.
• The battery may need recharging if it has not been used for a long period of time.
• Don't store the battery in high temperature areas for long periods of time. It's best to follow these storage rules:
Less than one month: -4° F to 140° F (-20° C to 60° C)
More than one month: -4° F to 113° F (-20° C to 45° C)
• Do not modify or remanufacture, attempt to insert foreign objects into the battery, immerse or expose to water or other liquids, expose to fire, explosion or other hazard.
Disposal of Lithium Ion Polymer (Li-Ion Polymer) Batteries
Do not handle a damaged or leaking Li-Ion Polymer battery as you can be burned. Special Note: Be sure to dispose of your battery properly. In some areas, the disposal of batteries in household or business trash may be prohibited.
RF Exposure Information (SAR)
This phone is designed and manufactured not to exceed the emission limits for exposure to radio frequency (RF) energy set by the Federal Communications Commission of the United States.
During SAR testing, this device was set to transmit at its highest certified power level in all tested frequency bands, and placed in positions that
simulate RF exposure in usage against the head with no separation, and near the body with the separation of 10mm. Although the SAR is determined at the highest certified power level, the actual SAR level of the device while operating can be well below the maximum value. This is because the phone is designed to operate at multiple power levels so as to use only the power required to reach the network. In general, the closer you are to a wireless base station antenna, the lower the power output.
The exposure standard for wireless devices employing a unit of measurement is known as the Specific Absorption Rate, or SAR. The SAR
limit set by the FCC is 1.6W/kg.
This device is compliant with SAR for general population/uncontrolled exposure limits in ANSI/IEEE C95.1-1992 and had been tested in accordance with the measurement methods and procedures specified in The FCC has granted an Equipment Authorization for this model with all Help reported SAR levels evaluated as in compliance with the FCC RF exposure guidelines. SAR information on this model phone is on file with the FCC ID: 2ALZM-UL40. For this device, the highest reported SAR value for usage against the head is 1.48 W/kg, for usage near the body is 1.13 W/kg.
While there may be differences between the SAR levels of various phones and at various positions, they all meet the government requirements. SAR
compliance for body-worn operation is based on a separation distance of 10mm between the unit and the human body. Carry this device at least 10mm away from your body to ensure RF exposure level compliant or lower to the reported level. To support body-worn operation, choose belt clips or holsters, which do not contain metallic components, to maintain a separation of 10mm between this device and your body.
RF exposure compliance with any body-worn accessory, which contains metal, was not tested and certified, and use of such body-worn accessories should be avoided.
Federal Communication Commission (FCC)
Radiation Exposure Statement
This device complies with part 15 of the FCC Rules. Operation is subject to the following two conditions: (1) This device may not cause harmful interference, and (2) this device must accept any interference received, including interference that may cause undesired operation. Changes or modifications not expressly approved by the party responsible for compliance could void the user's authority to operate the equipment.
This equipment has been tested and found to comply with the limits for a Class B digital device, pursuant to Part 15 of the FCC Rules.
These limits are designed to provide reasonable protection against harmful interference in a residential installation. This equipment generates, uses and can radiate radio frequency energy and, if not installed and used in accordance with the instructions, may cause harmfulinterference to radio communications. However, there is no guarantee that
interference will not occur in a particular installation.
If this equipment does cause harmful interference to radio or television reception, which can be determined by turning the equipment off and on,
the user is encouraged to try to correct the interference by one or more of the following measures:
• Reorient or relocate the receiving antenna.
• Increase the separation between the equipment and receiver.
• Connect the equipment into an outlet on a circuit different from that to which the receiver is connected.
• Consult the dealer or an experienced radio/TV technician for help.
This equipment complies with FCC radiation exposure limits set forth for an uncontrolled environment. End user mus t follow the specific
operating instructions for satisfying RF exposure compliance. This transmitter must not be co-located or operating in conjunction with any other antenna or transmitter.
The portable device is designed to meet the requirements for exposure to radio waves established by the Federal Communications Commission (USA). These requirements set a SAR limit of 1.6 W/kg averaged over one gram of tissue. The highest SAR value reported under this standard during product certification for use when properly worn on the body.
Industry Canada license-exempt Statement
This device complies with Industry Canada license-exempt RSS standard(s). Operation is subject to the following two conditions: (1) this device may not cause interference, and (2) this device must accept any interference, including interference that may cause undesired operation of the device. Le présent appareil est conforme aux CNR d'Industrie Canada applicables aux appareils radio exempts de licence. L'exploitation est autorisée aux deux conditions suivantes : (1) l'appareil ne doit pas produire de brouillage, et (2) l'utilisateur de l'appareil doit accepter tout brouillage radioélectrique subi, même si le brouillage est susceptible d'en compromettre le fonctionnement.
Where can I find additional information?
For additional information, please refer to the following resources: Federal Communications Commission (FCC) RF Safety Program (http://www.fcc.gov/oet/rfsafety)
International Commission on Non-lonizing Radiation Protection (http://www.icnirp.de) World Health Organization (WHO) International EMF Project (http://www.who.int/emf)
American Network Solutions Limited Warranty Period
American Network Solutions LLC ("ANS") warrants this device is free from defects in material and workmanship under normal use and service for
twelve (12) months commencing upon the date of purchase by the first consumer purchaser. If proof of purchase cannot be provided, the manufacturing date as recorded by ANS, based upon the serial number, will be deemed to be the start of Limited Warranty Period.
Limited Warranty Statement
The consumer should never attempt to open or disassemble the device and doing so may cause damage that voids your warranty. The device is equipped with an internal rechargeable battery that is non-removable. This warranty does not cover defects for or resulting from:
1. Improper or unreasonable use or maintenance;
2. Failure to follow operating instructions; accident; excess moisture; insects; lightning; power surges; connections to improper voltage supply;
3. Unauthorized alteration or modification of original condition;
4. Damages caused by inadequate packing or shipping procedures;
5. Devices purchased from unauthorized dealers; or
6. Devices whose mechanical serial number or electronic serial number has been removed altered or defaced.
During the Limited Warranty Period, ANS will, at its sole option (using new or refurbished replacement parts), repair any defective devices. Repaired devices will be warranted for a period equal to the remainder of the original Limited Warranty on the original device or for NINETY (90) days following the date the repair is completed, whichever is longer. All replaced parts, components, boards and equipment shall become the property of ANS.
The Limited Warranty is good only to the original purchaser of the device during the Limited Warranty Period as long as it remains in the United States and is not transferrable or assignable. Disclaimer of Warranties; Exclusion of Liability Except as set forth in the Limited Warranty contained on the warranty page enclosed with the device, the purchaser takes the device "AS IS", and ANS makes no express or implied warranty of any kind whatsoever with respect to the product, including but not limited to, the
merchantability of the product or its fitness for any particular purpose or use; the design, condition or quality of the device; the performance of the product; the workmanship of the product or the components contained therein; or compliance of the product with the requirements of any law, rule, specification or contract pertaining thereto. Nothing contained in the instruction guide shall be construed to create an
express or implied warranty of any kind whatsoever with respect to the device. In addition, ANS shall not be liable for any damages of any kind resulting from the purchase or use of the device or arising from the breach of the Limited Warranty, including incidental, special or consequential damages, or loss of anticipated profits or benefits. Further, ANS shall not be liable for the delay in rendering services under
the Limited Warranty or loss of use during the time the device is being repaired.
ANS is not liable for performance issues or incompatibilities caused by your editing of registry settings, or your modification of operating system
software or any other similar editing, modification or the like to the device. Using custom operating system software may cause your device and applications to work improperly. Your carrier may not permit users to
download certain software, such as custom OS. If your carrier prohibits this, if you attempt to download software onto the device without authorization, you will be notified on the screen that the device will no longer operate and be instructed to power down the device. You must then contact your carrier to restore the device to the carrier authorized settings.
ANS disclaims liability for removal or reinstallation of the product, for geographic coverage, for inadequate signal reception by the antenna or for communications range or operation of the cellular system as a whole. When sending your wireless device to ANS for repair or service,please note that any personal data or software stored on the device
may be inadvertently erased or altered. Therefore, we strongly recommend you make a back up copy of all data and software contained on your device before submitting it for repair or service. This includes
all contact lists, downloads (i.e. third-party software applications, ringtones, games and photos) and any other data added to your device. In addition, if your wireless device utilizes a multimedia card, please
remove the card before submitting the device, and store for later use when your device is returned. ANS is not responsible for and does not guarantee restoration of any third-party software, personal
information or memory data contained in, stored on, or integrated with any wireless device, whether under warranty or not, returned to ANS for repair or service. For warranty claims, please contact 1-844-450-0841.
Help
Customer Service
• For American Network Solutions Customer
Service, please dial: 1-844-450-0841
Online Support
• For ongoing help over the life of your device,
please visit: www.ansmobility.com

©2017 American Network Solutions LLC. All rights reserved. Android, Google, Google Play and other marks are trademarks of Google, Inc. The Android robot is reproduced or modified from work created and shared by Google and used according to terms described in the Creative Commons 3.0 Attribution License. The Bluetooth® word mark and logos are registered trademarks owned by Bluetooth SIG, Inc. All other logos are
trademarks of their respective owners. Conceived in America. Made in China.