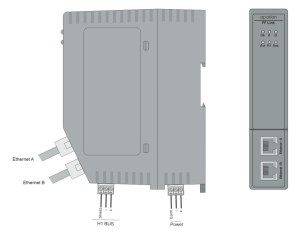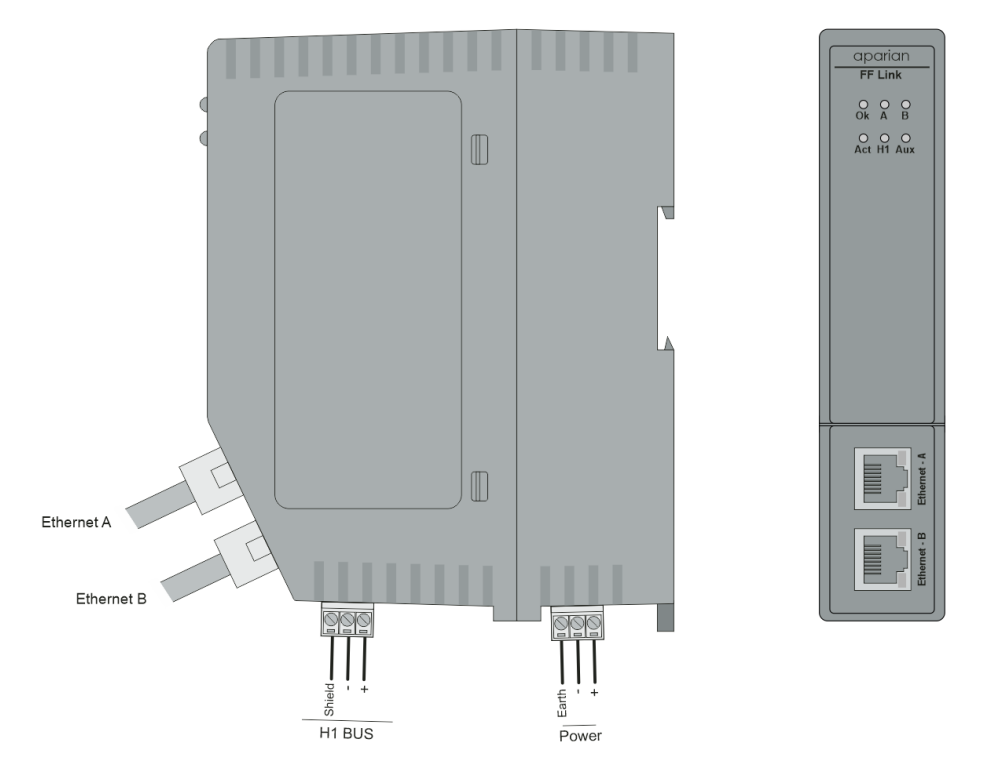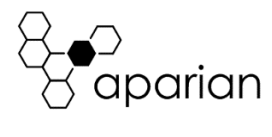 aparian D122-011 FF Link Module
NOTE: Before installing, configuring, operating, or maintaining Aparian products, please review this information and the information located on www.aparian.com for the latest software, documentation, and installation files specific to your Aparian product.
INTRODUCTION
The FF Link operates as an FF H1 master allowing EtherNet/IP devices (e.g. Rockwell Automation Logix platform) or Modbus devices to exchange process, alarming, and diagnostic data with H1 devices as well as provide parameterization and asset management of H1 devices using either the Slate software or Device Type Managers (DTMs).
The FF Link module can connect up to 32 H1 slave devices.
REQUIRED SOFTWARE
The FF Link/B module requires Aparian Slate software to setup and configure. The software installation can be found at www.aparian.com/software/slate.
MODULE INSTALLATION
The module has two Ethernet ports located at the lower front of the module.
There are also two ports at the bottom of the module for power and Foundation Fieldbus H1.
The power port uses a three-way connector which is used for the DC power supply positive and negative (or ground) voltage as well as the earth connection.
The H1 port uses a three-way connector for H1 bus positive, negative and shield.
INTERNAL POWER CONDITIONER
The module supports an internal H1 Power Conditioner capable of delivering 420 mA. It can be enabled / disabled in the software configuration.
INTERNAL H1 TERMINATION
All H1 networks require suitable AC 100 Ω terminators at the extremities (start and end point) of the communication conductor. The internal H1 terminator can be enabled / disabled in the software configuration.
ELECTRICAL AND ENVIRONMENTAL
STUDIO 5000 CONFIGURATION
For Logix versions 20 and beyond, the modules can be added using the EDS Add-On-Profile (AOP). For older versions (19 and below), the module must be added using a Generic Module Profile.
For professional users in the European Union
If you wish to discard electrical and electronic equipment (EEE), please contact your dealer or supplier for further information.
WARNING – Cancer and reproductive harm – www.p65warnings.ca.gov
ADDITIONAL INFORMATION
The following resources contain additional information that can assist the user with the module installation and operation.
Resource
SUPPORT
Technical support will be provided via the Web (in the form of user manuals, FAQ, datasheets etc.) to assist with installation, operation, and diagnostics.
For additional support the user can use either of the following: