ATEN 2-4 8 Port Video Splitter User Guide
Package Contents:
1 VS132A / VS134A / VS138A Video Splitter
1 Power Adapter
1 Quick Start Guide
(A) Front View (VS138A)

(B) Rear View (VS138A)

(C) Single Stage Installation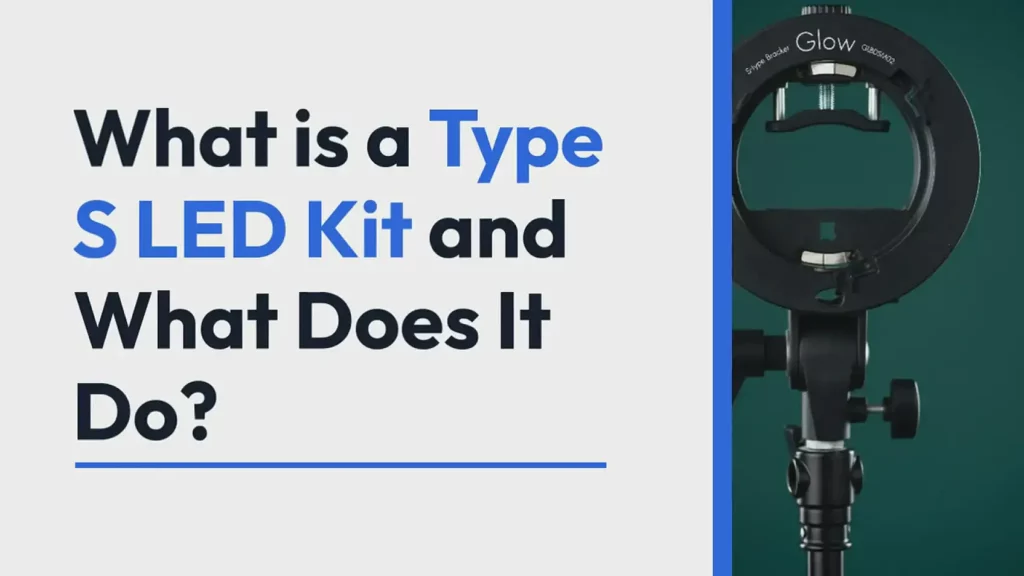 (D) Cascading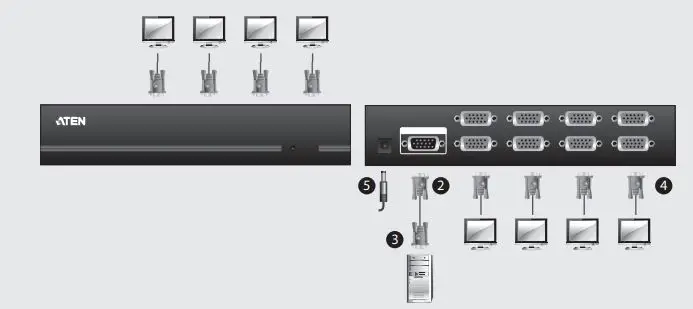 Requirements
Source Device
The following equipment must be installed on the computer or source device that is acting as the source of video content:
• HDB-15 output connector(s)
Display Device
• A display device or receiver with an HDB-15 input connector for each output port you will be installing
Cables
A VGA cable for the source device you will be installing
A VGA cable for each display device or receiver you will be installing
Note: VGA cables are not supplied with this package
Hardware Review
Front View (A)
Power LED
Rear View (B)
Power Jack
Video In Port
Video Out Ports
Installation
Single Stage Installation (C)
Setting up the VS132A / VS134A / VS138A is simply a matter of plugging in the cables. In a single stage installation, no additional video splitters are cascaded down from the first unit. Refer to the diagram as you follow the step by step directions below:
Make sure that the computer and monitors you are using for the installation are all powered off.
Plug the female end of a male-to-female VGA cable into the VS132A / VS134A / VS138A's Video In port.
Plug the male end of the VGA cable into the computer or source device's video output port.
Use 2/4/8 VGA cables to connect 2/4/8 displays to the VS132A / VS134A / VS138A's Video Out ports.
Note: VGA cables do not come with the package. These must be purchased separately.
Plug the power adapter (supplied with this package) into an AC source; then plug the power adapter cable into the splitter's power jack.
Power on all equipment.
Cascading (D)
To provide video displays for more monitors, additional units can be cascaded. Use a high-density HDB-15 male/female video extender cable to connect any available Video Out port on the higher level Video Splitter to the Video In port of the lower level video splitter.
You can cascade as many video splitters as there are ports available, and all three models can be mixed on the same chain. Theoretically, there is no limit to the number of splitters that can be cascaded, but the quality will deteriorate as you get further and further away from the video signal.
Specifications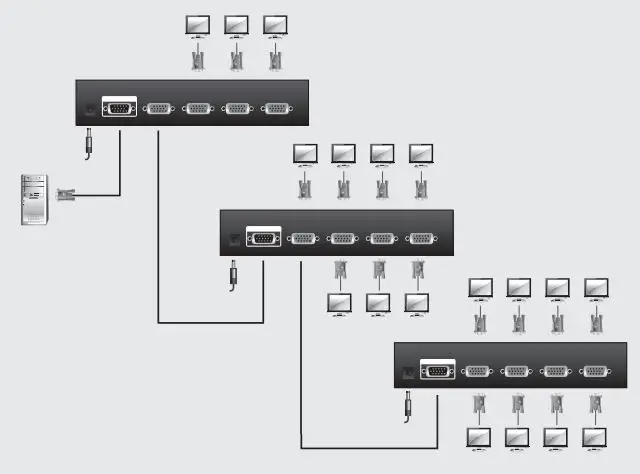 Support and Documentation Notice
All information, documentation, firmware, software utilities, and specifications contained in this package are subject to change without prior notification by the manufacturer. To reduce the environmental impact of our products, ATEN documentation and software can be found online at http://www.aten.com/download/
Technical Support www.aten.com/support
Scan for more information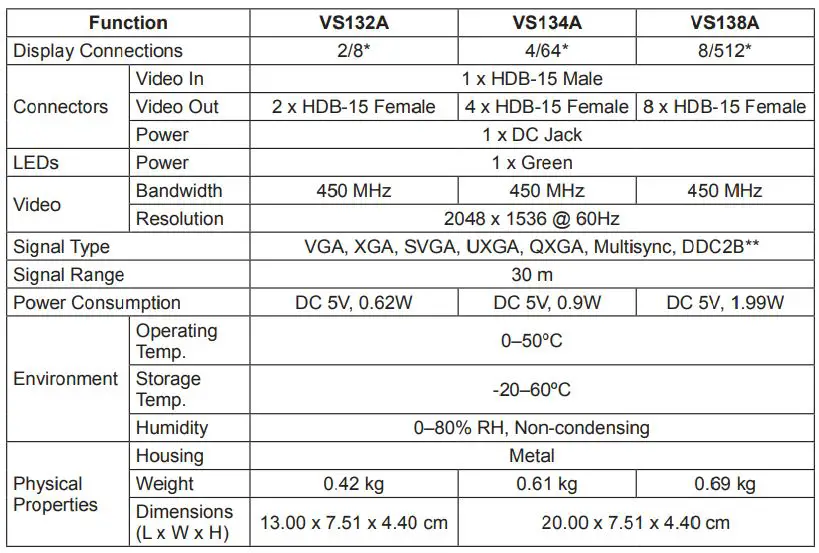 EMC Information
FEDERAL COMMUNICATIONS COMMISSION INTERFERENCE STATEMENT: This equipment has been tested and found to comply with the limits for a Class A digital device, pursuant to Part 15 of the FCC Rules. These limits are designed to provide reasonable protection against harmful interference when the equipment is operated in a commercial environment. This equipment generates, uses, and can radiate radio frequency energy and, if not installed and used in accordance with the instruction manual, may cause harmful interference to radio communications. Operation of this equipment in a residential area is likely to cause harmful interference in which case the user will be required to correct the interference at his own expense.
FCC Caution: Any changes or modifications not expressly approved by the party responsible for compliance could void the user's authority to operate this equipment.
Warning: Operation of this equipment in a residential environment could cause radio interference.
This device complies with Part 15 of the FCC Rules. Operation is subject to the following two conditions:(1) this device mat not cause harmful interference, and(2) this device must accept any interference received, including interference that may cause undesired operation.
Important. Before proceeding, download the Installation and Operation Manual by visiting the website, www.aten.com and navigating to the product page. The manual includes important warnings, loading specifications and grounding instructions.
© Copyright 2019 ATEN® International Co., Ltd. ATEN and the ATEN logo are trademarks of ATEN International Co., Ltd. All rights reserved. All other trademarks are the property of their respective owners.
Part No. PAPE-1285-V00G
Printing Date: 10/2019