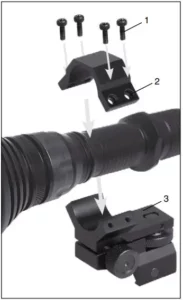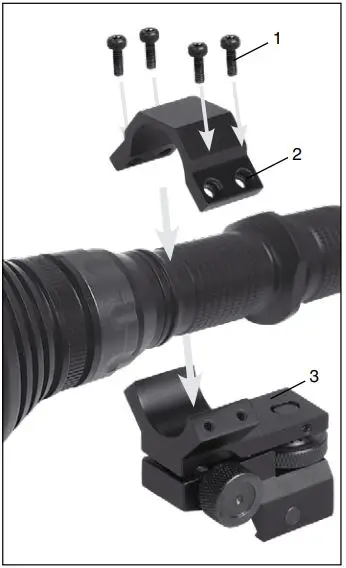 ATN Long Range Infra-Red Illuminator User Guide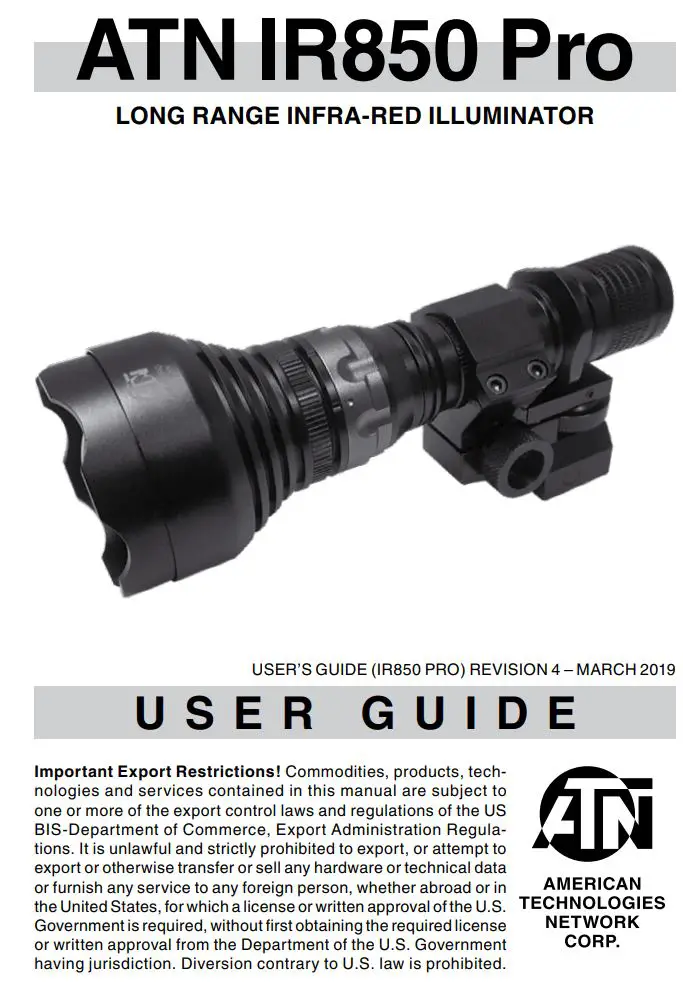 INTRODUCTION
Congratulations on choosing the ATN IR850 Pro; an extremely powerful, long range infra-red illuminator that is perfect for the use of night vision for hunters and outdoor enthusiasts.
Before using your IR850 Pro, please read this manual carefully. Also, refer to the Troubleshooting section for tips with light issues/problems.
SPECIFICATIONS
* ATN reserves the right to change the above specifications at any time without notice.
FEATURES
High power LED emitter.
Waterproof to IPX8 standard.
Four modes of operation.
Single lithium 18650 battery with charger.
Removable grip ring.
Easy rail mounting system.
Battery charger.
One-year Warranty.
NOTE
Please hold the battery tube (not the brightness control ring or neck) when tightening/loosing the tail-cap.
BATTERY
CAUTION
Only use an 18650 battery to operate this light, do not use 2 CR123 batteries as they may damage the device.
The IR850 Pro uses a single 18650 battery.
Unscrew the Tail cap from the Battery Tube, until it is free.
Place Battery within the Battery Tube, with the positive side of the battery towards the head.
Screw the Tail cap to the right.
NOTE
Do not use two or more rechargeable lithium batteries in series.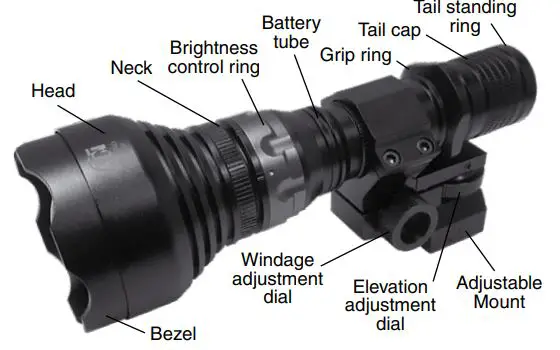 MODES
The IR850 Pro has 4 stages of output; 5% > 30% > 70% > 100%. These modes can be accessed by turning the brightness control ring.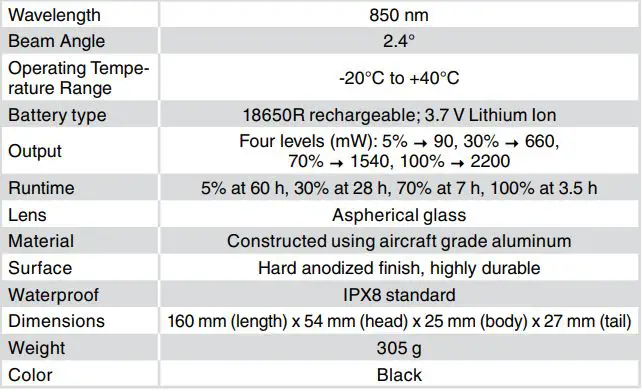 FOCUS
Turn the light to maximum output and shine it on a wall 8~10 m away. To focus the beam, hold the lens head in one hand and turn the battery tube with your other hand. Turn clockwise or counter-clockwise till the focus is to your liking.
ADJUSTABLEMOUNT

Attach the IR850 Pro, adjust the mount as follows:
Unscrew the four screws [1] securing the top of the bracket [2] and the bottom [3] half of the adjustable mount.
Place the top and lower parts of the adjustable mount around the IR850 Pro.
Using an Allen wrench, secure the four screws [1]. Do not apply excessive torque.
To adjust the windage and elevation, the two round dials must be turned/adjusted. The round dial on the left is your windage adjustment. The flat dial is your elevation adjustment. Adjust each dial until your IR light is centered with your picture.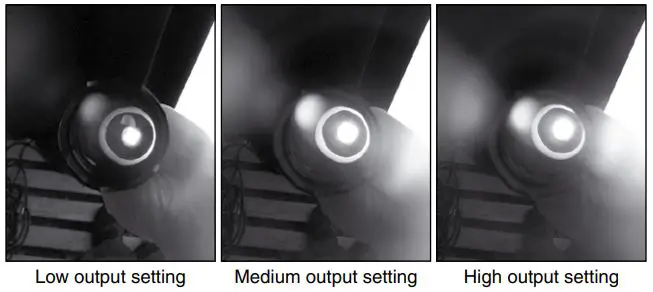 MAINTENANCE
Lubrication of O rings and threads is recommended every 9-12 months to ensure IPX8 standards. This will prevent wear, and it will aid in the prevention of water intrusion.
TROUBLESHOOTING
Light Doesn't Turn On
Check that the battery tube is fully threaded, as well as the tail cap.
Light Dimming
If the output is declining rapidly unexpectedly, please try another fully charged battery and/or charge your battery and retry.
If output is not fixed with other charged batteries, please contact ATN for further assistance.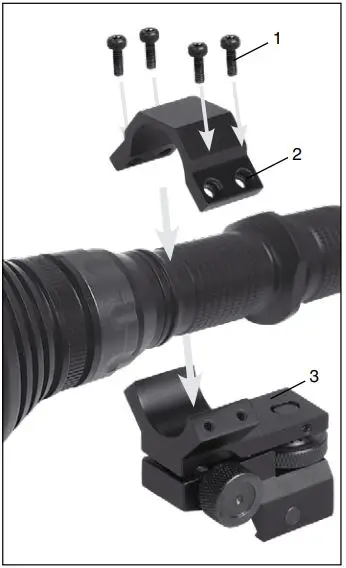 For customer service and technical support, please contact
American Technologies Network Corp.
1341 San Mateo Avenue, South San Francisco, CA 94080
phone: 800-910-2862, 650-989-5100
e-mail: [email protected]
www.atncorp.com
©2019 ATN Corporation