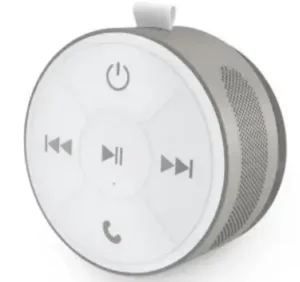 atomi AT1561 Bluetooth Shower Speaker

PACKAGE CONTENTS
CONTROLS
CHARGING THE UNIT
Pairing the atoml shower speaker.
To listen to your music over Bluetooth® wireless connection, you need to poiryourdevice with the atom I shower speaker.
Make sure your device has Bluetooth® capability.
Press and hold the paver button for 5 seconds; You will hear a musical sound. letting you know that the speaker is now on.
Follow the instructions of your device to pair the unit
Pairyourdevioe by selecting Shower Speaker from your Bluetooth11 listings on your device or selecting YES.
Press play on your device and use controls on the unit to adjust the desired volume. Bluetooth range: 33ft. It can get connectivity interference caused by walls and distance.
NOTE:
Once you have successfully paired your device, you may not need to repeat the above steps.
When pairing with a computer. please consult your computer manufacturer for Bluetooth
A pairing Instructions and/or the latest Bluetooth® Drivers. Keep all non-water-resistant devices (phones, mp3 players, etc.) in a dry place where theywill not come In contact w1th water.
A pairing code Is not required.
The atomic Shower Speaker will automatically pa,,ver off after 10 minutes of Inactivity.
For best suction result, mount the shower speaker on any clean and dry surface.
Adding a little of water to the suction helps retain rigidity.
Built In Speakerphone
The CML Sha,, ver Speaker Is equipped with a built-in speakerphone, for easy hands-free talking:
Make sure the atom Shower Speaker Is successfully paired with your device.
Toansvverorend a call, simply press the call button when you hear a ringtone.
NOTE:
When an Incoming call ls detected, the atom shower Speaker will pause the music and an r1ngtonewlll sound. After the call ls terminated, the music will resume playing automatically where it left off. When making a call, use your phone to dial and the atcml Shower Speaker will automatically go into hands-free mode.
Maintenance
Only use a soft dry cloth to clean the enclosure of the unit. NEVER use liquids or abrasive cleaner to clean.
FCC Warning
This device complies with part 15 of the FCC Rules. Operation is subject to the following two conditions:
this device may not cause harmful interference, and
this device must accept any interference received, including interference that may cause undesired operation.
Any changes or modifications not expressly approved by the party responsible for compliance could void the user's authority to operate the equipment.
NOTE: This equipment has been tested and found to comply with the limits for a Class B digital device, pursuant to Part 15 of the FCC Rules. These limits are designed to provide reasonable protection against harmful interference in a residential installation.
This equipment generates, uses and can radiate radio frequency energy and, if not installed and used in accordance with the instructions, may cause harmful interference to radio communications. However, there is no guarantee that interference will not occur in a particular installation. If this equipment does cause harmful interference to radio or television reception, which can be determined by turning the equipment off and on, the user is encouraged to try to correct the interference by one or more of the following measures:
Reorient or relocate the receiving antenna.
Increase the separation between the equipment and receiver .
Connect the equipment into an outlet on a circuit different from that to which the receiver is connected.
Consult the dealer or an experienced radio/TV technician for help.
FCC RF exposure statement:
The device has been evaluated to meet general RF exposure requirements. The device can be used in portable exposure conditions without restriction.
Warning: Changes or modifications to this unit not expressly approved by the part responsible for compliance could void the user's authority to operate the equipment