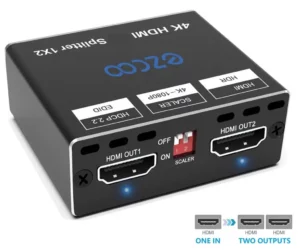 AVSTAR 1×2 HDMI 2.0 Splitter Scaler User Manual

AVSTAR, it's easy, just cool!
FEATURES
Distributes one HDMI source signal to two HDMI displays. It supports 4K and 1080P output simultaneously.
Support HDMI 2.0 4K@60Hz 4:4:4 8bit HDR and HDCP 2.2
Support both HDMI outputs down scaler to 1080p
Support EDID management, 4K/ 1080P/ learning from OUTPUT 1
Support 3D, Support deep color 30bit, 36bit
Support Blue-Ray 24/50/60fs/HD-DVD/xvYCC
Dolby Digital Audio format, HDMI ports support Dolby Digital 7.1CH Audio; SPDIF Optical Audio supports Dolby Digital/DTS-HD Master Audio/Dolby-AC3/DSD/LPCM/PCM 2.1/5.1CH Audio.
Support HDMI signal re-timing, never lose quality
Support HDMI input up to 15metres AWG26 HDMI 2.0 standard cable length, output up to 25metres AWG24 cable length
Plug and Play; No driver required; Installs in minutes
OVERVIEW
AV-SP12H2 is a Mini 1×2 splitter for HDMI with Ultra HD 4K support. This splitter reliably distributes one HDMI source signal to two HDMI outputs. Especially when you have one 4K TV and one 1080P TV, both HDMI outputs can down scaler to 1080P if you have 4K source.
It supports HDMI 2.0 specification features including data rates up to 4K@60Hz 4:4:4 8bit, HDR and HDCP2.2, Deep Color, 3D, Lip Sync, and HD lossless Audio/Video formats.
It is ideal choice for applications which require the distribution of an HDMI source signal to multiple outputs.
SPECIFICATIONS
HDMI version: HDMI 2.0
HDCP version: HDCP2.2
HDMI resolution: 4K*2K/1080p/1080i/720p/576p/576i/480p/480i
Support video color format: 24bit/30bit,36bit
Support audio format: Dolby true HD/DTS-HD/LPCM7.1/Dolby AC3/DSD
Max bandwidth: 600MHz Max baud rate: 6Gbps
Input/Output TMDS signal: 0.5~1.5Volts p-p(TTL)
Input/Output DDC signal: 5Volts p-p (TTL)
Input cable distance: ≤15m AWG26; HDMI 2.0 standard cable
Output cable distance: ≤25m AWG26; HDMI 2.0 standard cable
Max working current: 200mA
Power adapter format: Input AC 100V-240V/ 50HZ,60HZ;
Output: USB 5V/0.5A
Operating Temperature range: -15 to +55℃
Operating Humidity range: 5 to 90%RH (No Condensation)
Dimension (L x W x H): 102*73*17.5 (mm)
Weight: 180g
INSTALLATION
Connect one cable from HDMI source devices to HDMI Splitter input.
Connect one cable from each display (monitor or projector) to the HDMI Splitter outputs.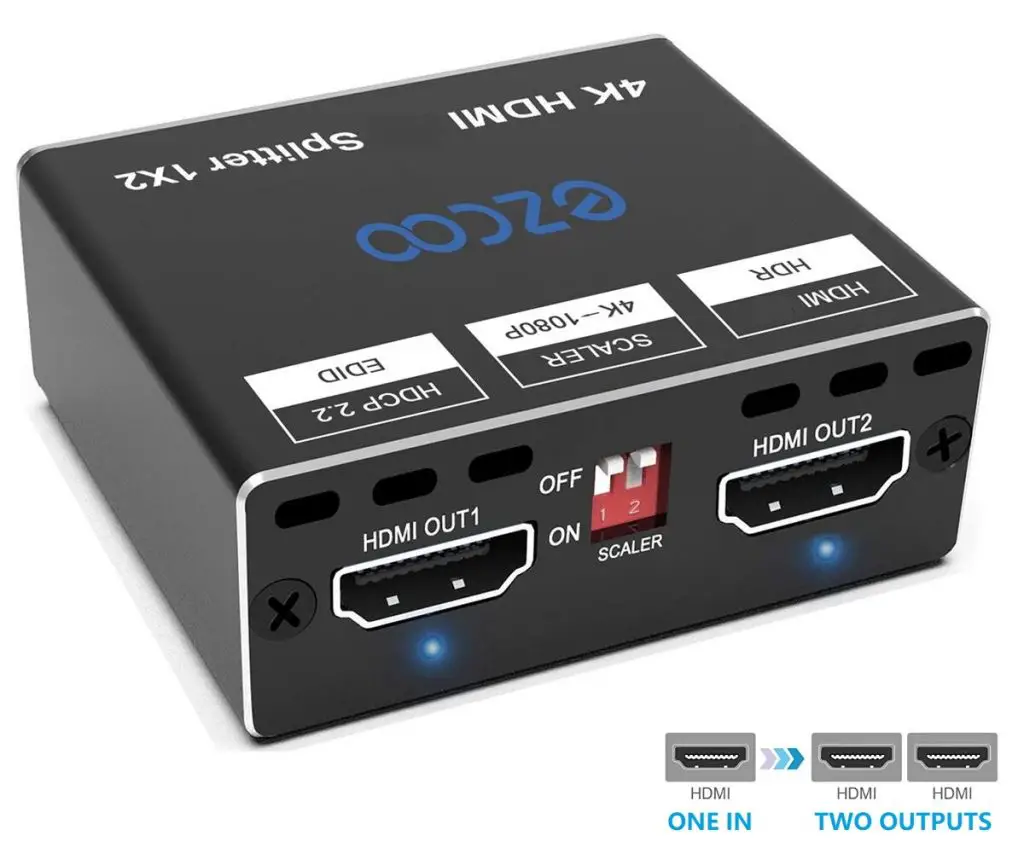 Note: When you have 4K HDMI source device, but 1080P HDMI display device, please connect 1080P display to HDMI OUT2.
PACKING LIST
HDMI Splitter x1
USB Power cable x1
User Manual x1
CONTACTS
When you need any technical assistance, please send e-mail to [email protected]
Visit to learn more. https://www.avtechstar.com/
TROUBLE SHOOTING
POWER: Make sure all devices are powered on.
INDICATOR: Check LED indicators of splitter are on
DEVICES: Make sure picture can be shown normally when connecting HDMI source to display devices directly.
CABLE: Plug in and out HDMI 2.0 cable or change another HDMI cable. When transmit HDMI 4K@60Hz (4:4:4) signal,HDMI 2.0 certificated cables is required.
EDID: AUTO EDID; Supports HDMI 4K and 1080P output simultaneously.
COMPATIBILITY: Please test other source and display devices to determine whether it is a compatibility issue.
Notes
Please use this machine based on below instructions to keep longer lifetime.
The machine should be placed at the spot far away from the Damp, High- Temperature, Dusty, Erosive, and Oxidant environment.
All parts will be free from the strong shake, hit, fall.
Touching the device with the wet hands is prohibited.
Please turn power off when machine is not used for long time.
Please do not open the cover and do not touch the inside parts.
Please use the original factory power adaptor.
Before power on, please check the connection cable carefully. And make sure that all interfaces are normally connected.
DISCLAIMERS
The information in this manual has been carefully checked and is believed to be accurate.AVSTAR TECHNOLOGY INC. assumes no responsibility for any infringement of patents or other rights of third parties which may result from its use.
AVSTAR TECHNOLOGY INC. assumes no responsibility for any inaccuracies that may be contained in this document. AVSTAR TECHNOLOGY INC. also makes no commitment to update or to keep current the information contained in this document. AVSTAR TECHNOLOGY INC. reserves the right to make improvements to this document and/or product at any time and without notice.