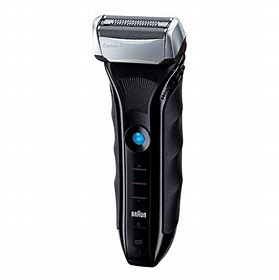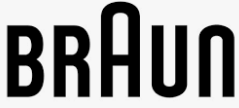 BRAUN Series 5 Shaver Instruction Manual
Our products are designed to meet the highest standards of quality, functionality and design. Thank you for your trust in Braun's quality and we hope you enjoy your new Braun product.
Read these instructions completely, they contain safety information. Keep them for future reference.
Warning
Your appliance is provided with a special cord set, which has an integrated Safety Extra Low Voltage power supply. Do not exchange or tamper with any part of it, otherwise there is risk of an electric shock. Only use the special cord set provided with your appliance.
If the appliance is marked

492, you can use it with any Braun power supply coded 492-XXXX.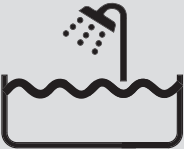 This appliance is suitable for cleaning under running water and use in a bathtub or shower. For safety reasons it can only be operated cordless.
Detach the shaver from the power supply before using it with water.
Do not shave with a damaged foil or cord.
This appliance can be used by children aged from 8 years and above and persons with reduced physical, sensory or mental capabilities or lack of experience and knowledge if they have been given supervision or instruction concerning the safe use of the appliance and understand the hazards involved. Children shall not play with the appliance. Cleaning and user maintenance shall not be made by children unless they are older than 8 years and supervised.
Clean&Charge Station
To prevent the cleaning fluid from leaking, ensure that the
Clean&Charge Station is placed on a flat surface. When a cleaning cartridge is installed, do not tip, move suddenly or transport the station in any way as cleaning fluid might spill out of the cartridge.
Do not place the station inside a mirror cabinet, nor place it on a polished or lacquered surface.
The cleaning cartridge contains a highly flammable liquid so keep it away from sources of ignition. Do not expose to direct sunlight and cigarette smoking nor store it over a radiator.
Do not refill the cartridge and use only original Braun refill cartridges.
Shaver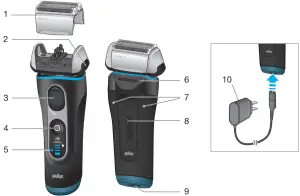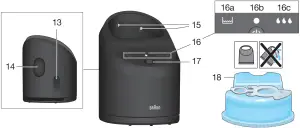 1 Foil & Cutter cassette
2 Cassette release button
3 MultiHeadLock switch
4 On/off switch
5 Shaver display
5 a Lock symbol (travel lock)
5 b Charging segments
5 c Cleaning indicator
5 d Battery symbol
6 Long hair trimmer
7 Shaver-to-station contacts
8 Release button for long hair trimmer
9 Shaver power socket
10 Special cord set (design can differ)
11 Protection cap*
12 Travel case*
* not with all models
Using Instructions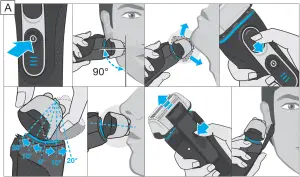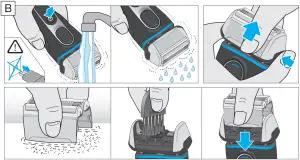 First use and Charging
Connect the shaver to an electrical outlet by snapping the special cord set (10) into the shaver power socket (9) or for cc models via the Clean&Charge Station («Clean&Charge Station»).
Basic operating information
A full charge provides up to 50 minutes of cordless shaving time. This may vary according to your beard growth and environmental temperature.
Recommended ambient temperature for charging is 5 °C to 35 °C. The battery may not charge properly or at all under extreme low or high temperatures.
Recommended ambient temperature for storage and shaving is 15 °C to 35 °C.
Do not expose the appliance to temperatures higher than 50 °C for extended periods of time.
When the shaver is connected to an electrical outlet, it may take some minutes until the display illuminates.
Charging / low charge
The charge status is shown in the shaver display (5).
During charging the respective charging segment (5b) will blink.
When the shaver is fully charged and connected to an electrical outlet, all 3 charging segments will light up for a few seconds. Then the display turns off.
The battery symbol (5d) will flash red, when the battery is running low. You should be able to finish your shave. With switching off the shaver a beep sound reminds of the low charge status.
Using the shaver
Press the on/off switch (4) to operate the shaver.
Tips for a perfect dry shave
For best results, Braun recommends you to follow 3 simple steps:
Always shave before washing your face.
At all times, hold the shaver at the right angle (90°) to your skin.
Stretch your skin and shave against the direction of your beard growth.
MultiHeadLock switch (head lock)
To shave hard-to-reach areas (e.g. under the nose) slide the MultiHeadLock switch (3) down to lock the shaver head. The shaver head can be locked in five positions.
To change position, move the shaver head with your thumb and forefinger back or forth.
It will automatically click into the next position.
For automatic cleaning in the Clean&Charge Station the head lock should be released.
Long hair trimmer
To trim sideburns, moustache or beard press the release button (8) and slide the long hair trimmer (6) upwards.
Travel lock
The lock symbol (5a) lights up in the display when the shaver has been locked to avoid unintended starting of the motor (e.g. for storing it in a suitcase).
Activation: By pressing the on/off switch (4) for 3 seconds the shaver is locked. This is confirmed by a beep sound and the lock symbol in the display. Afterwards the display turns off.
Deactivation: By pressing the on/off switch for 3 seconds again the shaver is unlocked.
Manual cleaning of the shaver
Cleaning under running water
Switch on the shaver (cordless) and rinse the shaver head under hot running water until all residues have been removed. You may use liquid soap without abrasive substances. Rinse off all foam and let the shaver run for a few more seconds.
Next, switch off the shaver, press the release button (2) to remove the Foil & Cutter cassette (1) and let it dry.
If you regularly clean the shaver under water, then once a week apply a drop of light machine oil on top of the Foil & Cutter cassette.
The shaver should be cleaned after each foam usage.
Cleaning with a brush
Switch off the shaver. Remove the Foil & Cutter cassette (1) and tap it out on a flat surface. Using the brush, clean the inner area of the pivoting head. Do not clean the cassette with the brush as this may damage it!
Clean and Charge Station (CandC) (not with all models)
The Clean&Charge Station has been developed for cleaning, charging, lubricating, disinfecting, drying and storing your Braun shaver.

13 Station power socket
14 Lift button for cartridge exchange
15 Station-to-shaver contacts
16 Clean&Charge Station display
16 a Level indicator
16 b Status light
16 c Cleaning program indicators
17 Start button
18 Cleaning cartridge
Installing the CandC
Remove the protection foil from the C&C display.
Press the lift button (14) at the rear side of the C&C to lift up the housing.
Hold the cleaning cartridge (18) down on a flat, stable surface (e.g. table).
Carefully remove the lid from the cartridge.
Slide the cartridge from the rear side into the base of the station until it snaps into place.
Slowly close the housing by pushing it down until it locks.
Using the special cord set (10), connect the station power socket (13) to an electrical outlet.
Using the CandC
Important: The shaver needs to be dry and free from any foam or soap residue!
Insert the shaver in the C&C upside down, with the front showing and released head lock (3).
The contacts (7) on the back of the shaver need to align with the contacts (15) in the C&C. Push the shaver in the correct position. A beep sound confirms that the shaver sits properly in the C&C.
The C&C analyzes the hygiene status. The status is shown by the cleaning program indicators (16c) in the C&C display (16).
Charging the shaver in the CandC
Charging will start automatically when the shaver has been placed in properly.
Cleaning the shaver in the CandC
When the cleaning indicator (5c) lights up in the shaver display, insert the shaver into the C&C, as described above.
Cleaning programs
short economical cleaning
normal level of cleaning
high intensive cleaning
Start automatic cleaning
Start the cleaning process by pressing the start button (17). If status light (16b) does not shine (C&C switches to stand-by after ca. 10 minutes), press start button twice.
Otherwise cleaning will not start. For best shaving results, we recommend cleaning
after each shave.
Each cleaning program consists of several cycles, where cleaning fluid is flushed through the shaver head. Depending on your Clean&Charge Station model and/or program selected, the cleaning time takes up to 3 minutes. During this time the status light blinks. Leave the shaver in the station for drying. It takes several hours until remaining moisture evaporates depending on the climatic conditions.
After completing the cleaning and charging procedure, all indicators turn off.
Removing the shaver from the CandC
Hold the C&C with one hand and tilt the shaver slightly to the front to release it.
Cleaning cartridge / Replacement
When the level indicator (16a) lights up permanently red, the remaining fluid in the cartridge is sufficient for about 3 more cycles. When the level indicator blinks red, the cartridge needs to be replaced – about every 4 weeks when used daily.
After having pressed the lift button (14) to open the housing, wait for a few seconds before removing the used cartridge to avoid any dripping. Before discarding the used cartridge, make sure to close the openings using the lid of the new cartridge, since the used cartridge will contain contaminated cleaning solution.
The hygienic cleaning cartridge contains ethanol or isopropanol (specification see cartridge), which once opened will naturally evaporate slowly. Each cartridge, if not used daily, should be replaced after approximately 8 weeks to ensure optimal disinfection. The cleaning cartridge also contains lubricants for the shaving system, which may leave residual marks on the outer foil frame and the cleaning chamber of the C&C. These marks can be removed easily by wiping gently with a damp cloth.
Accessories
Braun recommends changing your shaver's Foil & Cutter cassette every 18 months to maintain your shaver's maximum performance.
Available at your dealer or Braun Service Centres:
Foil & Cutter cassette: 52S/52B
Cleaning Cartridge: CCR
Braun Shaver cleaner spray
Environmental notice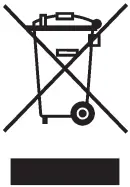 Product contains batteries and/or recyclable electric waste. For environment protection do not dispose of in household waste, but for recycling take to electric waste collection points provided in your country.
The cleaning cartridge can be disposed of with regular household waste.
Subject to change without notice.
For electric specifications, see printing on the special cord set.
Troubleshooting
Problem
Possible reason
Remedy
SHAVER
Shaver does not charge completely and keeps blinking.
Ambient temperature is out of valid range.
Recommended ambient temperature for charging is 5 °C to 35 °C.
Charging does not start when connected to power socket.

Sometimes charging could start delayed (e.g. after long storage).
Ambient temperature is out of valid range.
Special cord set is not plugged in properly.

Wait a few minutes, if charging will start automatically.
Recommended ambient temperature for charging is 5 °C to 35 °C.
Special cord set needs to snap into place.

Unpleasant smell from the shaver head.

Shaver head is cleaned with water.
Cleaning cartridge is in use for more than 8 weeks.

When cleaning the shaver head with water only use hot water and from time to time some liquid soap (without abrasive substances). Remove Foil & Cutter cassette to let it dry.
Change cleaning cartridge at least every 8 weeks.

Battery performance dropped significantly.

Foil and cutter are worn which requires more power for each shave.
Shaver head is regularly cleaned with water but not lubricated.

Renew Foil & Cutter cassette.
If the shaver is regularly cleaned with water, apply a drop of light machine oil on top of the foil once a week for lubrication.

Shaving performance dropped significantly

Foil and cutter are worn.
Shaving system is clogged.

Renew Foil & Cutter cassette.
Soak the Foil & Cutter cassette into hot water with a drop of dish liquid.
Afterwards rinse it properly and tap it out. Once dry apply a drop of light machine oil on the foil.

Shaver head is damp.

Drying time after automatic cleaning was too short.
Drain of the Clean&Charge Station is clogged.

Clean directly after shaving to allow enough time for drying.
Clean the drain with a wooden toothpick.

CLEAN & CHARGE STATION
Cleaning does not start when pressing the start button.

Shaver is not placed properly in the Clean&Charge Station.
Cleaning cartridge contains not enough cleaning fluid (display blinks red).

Insert shaver into the Clean & Charge Station and push it to the rear side of the station (contacts of the shaver need to align with contacts in the station).
Insert new cleaning cartridge. Press start button again.

Increased consumption of cleaning fluid.
Drain of the Clean& Charge station is clogged.

Clean the drain with a wooden toothpick.
Regularly wipe the tub clean.
FAQS
Serie 5 5018s works with 220V?
Positive. If you order one. For me it works.
What is the difference between these three model shavers which one shaves the best??
All of our shavers will provide a close and comfortable shave. However, your experience will vary depending on what model you have. To know the difference between our shavers, and give you a product recommendation, give us a call at 800-272-8611. – The Braun Team
Is the good for the genital area as well?
No, face only.
this works with 220v?
Yes, since our Series 5 5050cs has a voltage of 100-240V, it will work with 220V.
does it have a replacement blade indicator on this model?
There is no replacement blade indicator on our Series 5 5050cs.
When the battery is fully discharged or damaged can you still use it by just plugged it in ?
No, (for safety reasons?) the shaver is designed not to operate while plugged in.
What is foil adapter?
Some Braun shavers have a foil adapter for the beard and a hair adapter for clipping longer beard and regular hair. Foil is a misleading name for the regular shaver adapter because it's a thick metal piece and most US customers would not refer to that as a "foil." But it is what is is according to Braun.
Will this shaver turn on if it is plugged in? I'm looking for a razor that will outlast its battery?
Yes, it will turn on if it's plugged in.
Which one works best for the face? The foil or the stainless steel one? Confusing?
The Foil gives the closest shaves from an electric Razor, however nothing is better than steel blades for close evening entertainment.
Will it work on legs?
Yes, our Series 5 5050cs can work on legs. However since it's designed to be used on the face/neck area, it won't be as effective.
Is there a travel case available for these new design shavers ?? they are longer and bulkier than the old design?
We do not currently make a travel case for this shaver.
Where is this product manufactured?
Our Series 5 Shavers are made in Germany.
does it shave close and easy under nose?
With the Precision Trimmer EasyClick attachment, you'll have no problems getting a close and easy shave with our Series 5 5020s.
Does this give as close a shave as a razor blade? Almost as close as a razor blade?
No it does not shave as close as a regular razor.
Does this come with charger?
Yes of course it comes with a charger. It works with 110 and 220 voltage. So can be used while traveling to any country.