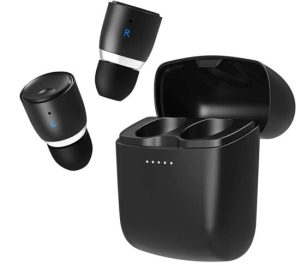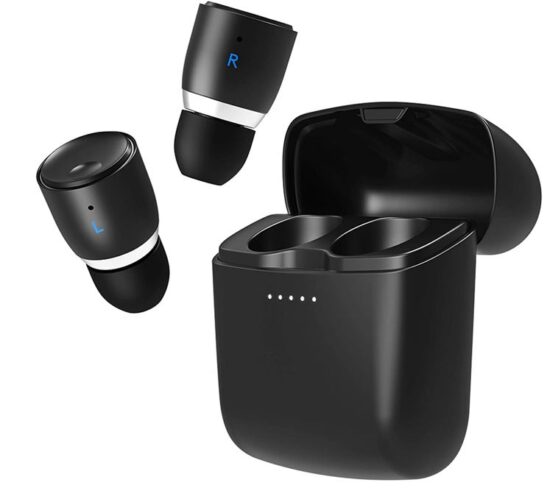 CAMBRIDGE AUDIO Melomania 1 Wireless Earphones Instructions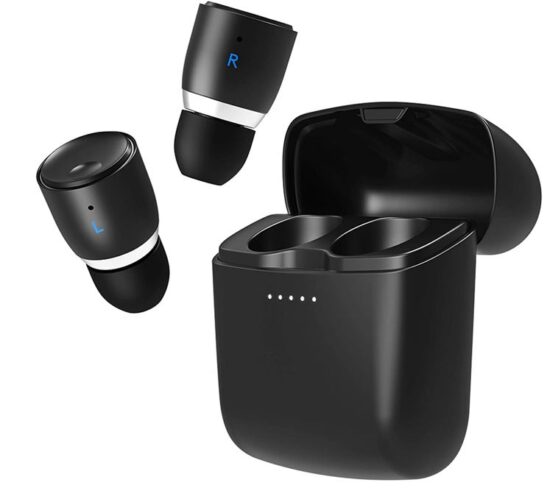 IMPORTANT SAFETY INSTRUCTIONS
For your own safety please read the following important instructions carefully before using these earphones and their charging case. They will also enable you to get the best performance from the product and also prolong its life.
Read these instructions.
Keep these instructions.
Heed all warnings.
Follow all instructions.
Do not immerse these earbuds in water or let the charging case come into contact with water.
Clean only with a dry or slightly damp cloth.
Refer all servicing to qualified service personnel.
MAINTAINING BATTERY LIFE
Recharge all batteries at least every two months to keep them in optimal condition. Leaving batteries discharged will reduce both their life and capacity.
SAFETY WARNINGS:

WARNING: To prevent possible hearing damage, do not listen at high volume levels for long periods.
Listening at high levels for prolonged periods may cause permanent hearing damage. Always check volume level before inserting these earphones in your ears.
To turn off Bluetooth transmission on your earphones, return them to the charging case.
These earphones and their case contain components that emit electromagnetic fields. They also contain magnets. These electromagnetic fields and magnets may interfere with pacemakers, defibrillators, or other medical devices. Maintain a safe distance of separation between your medical device and your earphones and their case. Consult your physician and medical device manufacturer for information specific to your medical device. Stop using this product if you suspect it is interfering with your pacemaker, defibrillator, or any other medical device.
Earphones can lead to ear infections if not properly cleaned. Clean regularly with a soft lint-free cloth. Don't use aerosol sprays, solvents, or abrasives. If a skin problem develops, discontinue use. If the problem persists, consult a physician.
When using your earphones in areas where the air is very dry, it is easy to build up static electricity and possibility that your ears will receive a small electrostatic discharge. To minimize the risk of electrostatic discharge avoid using the earphones in extremely dry environments or touch a grounded unpainted metal object before inserting the earphones.
Do not use your earphones while driving or at any time when the inability to hear outside surrounding sounds may present a danger to yourself or others.
Focus on your safety and that of others if you use the earphones while engaging in any activity requiring your attention, e.g., while riding a bicycle or walking in or near traffic, a construction site or railroad, etc. Remove the earphones to ensure you can hear surrounding sounds, including alarms and warning signals.
Your earphones and their case contain high performance batteries and are unsafe when subjected to extreme temperatures that exceed 45°C (113°F). Leaving this product in an automobile where temperatures may exceed this limit may result in permanent battery damage, fire or explosion. Do not leave your product in direct sunlight or in any location where temperatures may exceed this limit.
This product is not a toy, never allow children to play with it. The earphones, small parts and accessories may be a choking hazard.
Do not dispose of your earphones or case in a fire or heat them as they may cause fire, explosion and toxic chemical leaks.
POWER SOURCE
The unit should be operated only from the type of standard USB power source indicated on the marking label. Make sure your charger, charging case and earphones are not covered (e.g. by blankets) during charging.
CLEANING
To clean your earphones or their case, wipe them with a dry or near dry, lint-free cloth. Do not use any cleaning fluids containing alcohol, ammonia or abrasives. Do not spray an aerosol at or near the unit.
BATTERY DISPOSAL
The batteries inside the product may contain substances harmful to the environment. Please dispose of your earphones or their charging case with due consideration and in accordance with local environmental/ electronic recycling guidelines.
SERVICING
These units are not user serviceable. Never attempt to repair, disassemble or reconstruct the unit if there seems to be a problem. In the event of a problem or failure, please contact your dealer or Cambridge Audio Support
melosupport.cambridgeaudio.com

CE MARK – EC DECLARATION OF CONFORMITY
Hereby, Audio Partnership PLC declares that this product is in compliance with Directive 2014/53/EU, the full text of the EU declaration of conformity is available at the following internet address:
https://www.cambridgeaudio.com/DoC
Bluetooth Radio Frequency: 2.402GHz-2.48GHz,
Max. transmit power: 10dBm.

WEEE SYMBOL
The crossed-out wheeled bin is the European Union symbol for indicating separate collection for electrical and electronic equipment.
This product contains electrical and electronic equipment which should be reused, recycled or recovered and should not be disposed of with unsorted regular waste. Please return the unit or contact the authorised dealer from whom you purchased this product for more information.
FEDERAL COMMUNICATIONS COMMISSION
Supplier's declaration of conformity (SDoC)
Equipment: Wireless TWS earphones
Model: Melomania 1
Trademark: Cambridge Audio
This device complies with Part 15 of the FCC Rules. Operation is subject to the following two conditions: (1) this device may not cause harmful interference, and (2) this device must accept any interference received, including interference that may cause undesired operation.
The responsible party in US:
Company name: Audio Partnership LLC
Address: 1913 N Milwaukee Ave. Chicago, IL 60647
Phone: (312) 636-4817
Legal Representative Person: Gregg Chopper
Signature:

IC:9095A-FBT1035 FCC ID: YKBFBT1-035
Federal Communications Commission Notice
This equipment has been tested and found to comply with the limits for a Class B digital device, pursuant to Part 15 of the FCC Rules. These limits are designed to provide reasonable protection against harmful interference in a residential installation.
This equipment generates, uses, and can radiate radio frequency energy, and if not installed and used in accordance with the instructions, may cause harmful interference to radio communications. However, there is no guarantee that interference will not occur in a particular installation. If this equipment does cause harmful interference to radio or television reception, which can be determined by turning the equipment off and on, the user is encouraged to try and correct the interference by one or more of the following measures:
Reorient or relocate the receiving antenna.
Increase the distance between the equipment and the receiver.
Connect the equipment to an outlet on a circuit different from that to which the receiver is connected.
Consult the dealer or an experienced radio/TV technician for help.
FCC Caution: Any changes or modifications not expressly approved by the party responsible for compliance could void the user's authority to operate this equipment.
FCC Radiation Exposure Statement:
The device has been evaluated to meet general RF exposure requirement. The device can be used in portable exposure condition without restriction.
This transmitter must not be co-located or operating in conjunction with any other antenna or transmitter.
Modifications
The FCC requires the user to be notified that any changes or modifications to this device that are not expressly approved by Cambridge Audio, may void the user's authority to operate the equipment.
Canada-Industry Canada (IC)
This Class B digital apparatus complies with Canadian standard
ICES-003.
This device complies with Industry Canada License exempt RSS standard(s). Operation is subject to the following two conditions. (1) this device may not cause interference and (2) this device must accept any interference, including interference that may cause undesired operation of the device.
The device has been evaluated to meet general RF exposure requirement. The device can be used in portable exposure condition without restriction.
WARRANTY
When purchased from an authorised dealer these Cambridge Audio earphones are covered by a Limited Warranty in addition to your statutory rights as a consumer.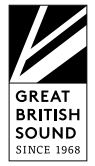 © 2020 Cambridge Audio Ltd.
Cambridge Audio is a brand of Audio Partnership Plc.
Registered office: Gallery Court, Hankey Place,
London SE1 4BB. Reg. No. 2953313. All rights reserved.
WWW.CAMBRIDGEAUDIO.COM