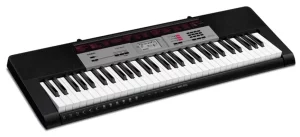 USER MANUAL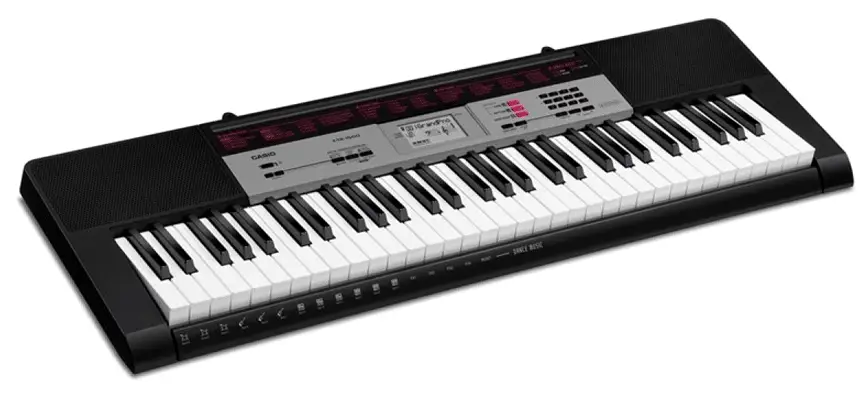 Casio CTK-1500/CTK-1550 Piano / Keyboard
USER'S GUIDE
Please keep all information for future reference.
Safety Precautions
Before trying to use the Digital Keyboard, be sure to read the separate "Safety Precautions".
About Music Score data
You can use a computer to download music score data from the CASIO Website. For more information, visit the URL below.
http://world.casio.com/
NOTICE
This equipment has been tested and found to comply with the limits for a Class B digital device, pursuant to Part 15 of the FCC Rules. These limits are designed to provide reasonable protection against harmful interference in a residential installation. This equipment generates, uses and can radiate radio frequency energy and, if not installed and used in accordance with the instructions, may cause harmful interference to radio communications. However, there is no guarantee that interference will not occur in a particular installation. If this equipment does cause harmful interference to radio or television reception, which can be determined by turning the equipment off and on, the user is encouraged to try to correct the interference by one or more of the following measures:
Reorient or relocate the receiving antenna.
Increase the separation between the equipment and receiver.
Connect the equipment into an outlet on a circuit different from that to which the receiver is connected.
Consult the dealer or an experienced radio/TV technician for help.
FCC CAUTION
Changes or modifications not expressly approved by the party responsible for compliance could void the user's authority to operate the equipment.
Declaration of Conformity
Model Number: CTK-1500/CTK-1550
Trade Name: CASIO COMPUTER CO., LTD.
Responsible party: CASIO AMERICA, INC.
Address: 570 MT. PLEASANT AVENUE, DOVER, NEW JERSEY 07801 Telephone number: 973-361-5400 This device complies with Part 15 of the FCC Rules, Operation is subject to the following two conditions: (1) This device may not cause harmful interference, and 2) this device must accept any interference received, including interference that may cause undesired operation.
Important!
Please note the following important information before using this product.
Before using the optional AD-E95100L Adaptor to power the unit, be sure to check the AC Adaptor for any damage first. Carefully check the power cord for breakage, cuts, exposed wire and other serious damage. Never let children use an AC adaptor that is seriously damaged.
Never attempt to recharge batteries.
Do not use rechargeable batteries.
Never mix old batteries with new ones.
Use recommended batteries or equivalent types.
Always make sure that positive (+) and negative (–) poles are facing correctly as indicated near the battery compartment.
Replace batteries as soon as possible after any sign they are getting weak.
Do not short-circuit the battery terminals.
The product is not intended for children under 3 years.
Use only CASIO AD-E95100L adaptor.
The AC adaptor is not a toy.
Be sure to disconnect the AC adaptor before cleaning the product.
Declaration of Conformity According to EU Directive
Manufacturer:
CASIO COMPUTER CO., LTD.
6-2, Hon-machi 1-chome, Shibuya-ku, Tokyo 151-8543, Japan
Responsible within the European Union:
Casio Europe GmbH
Casio-Platz 1, 22848 Norderstedt, Germany
www.casio-europe.com
Any reproduction of the contents of this manual, either in part or its entirety, is prohibited. Except for your own, personal use, any other use of the contents of this manual without the consent of CASIO is prohibited under copyright laws.
IN NO EVENT SHALL CASIO BE LIABLE FOR ANY DAMAGES WHATSOEVER (INCLUDING, WITHOUT LIMITATION, DAMAGES FOR LOSS OF PROFITS, BUSINESS INTERRUPTION, LOSS OF INFORMATION) ARISING OUT OF THE USE OF OR INABILITY TO USE THIS MANUAL OR PRODUCT, EVEN IF CASIO HAS BEEN ADVISED OF THE
POSSIBILITY OF SUCH DAMAGES.
The contents of this manual are subject to change without notice.
The actual appearance of the product may be different from that shown in the illustrations in this User's Guide.
Company and product names used in this manual may be registered trademarks of others.
Included Accessories
Music Stand
Leaflets
Safety Precautions
Other (Warranty, etc.)
Items included as accessories are subject to change without notice.
Separately Available Accessories
You can get information about accessories that are separately for this product from the CASIO catalog available from your retailer, and from the CASIO website at the following URL. http://world.casio.com/
General Guide
Illustrations in this User's Guide show the CTK-1500.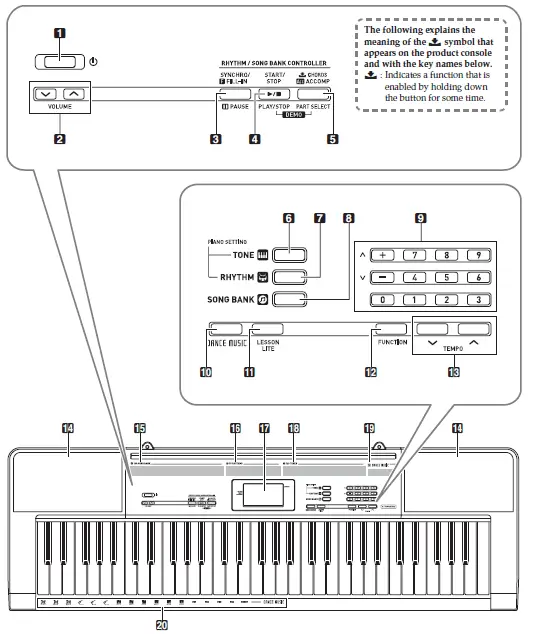 (Power) button ☞EN-8
VOLUME button ☞EN-8
SYNCHRO/FILL-IN, kPAUSE button ☞EN-12, 17
4START/STOP, PLAY/STOP button ☞EN-12, 13, 15
CHORDS, ACCOMP, PART SELECT button ☞EN-13, 15
TONE button ☞EN-9, 13
RHYTHM button ☞EN-15
SONG BANK button ☞EN-12
Number buttons, [–]/[+] keys ☞EN-4
DANCE MUSIC button ☞EN-11
LESSON LITE button ☞EN-14
FUNCTION button ☞EN-4
TEMPO buttons ☞EN-11, 13
Speakers
Song Bank list
Rhythm list
Display
Tone list
Dance Music Track list
Dance Music tone
Back

21. DC 9.5V terminal ☞EN-7
22. PHONES/OUTPUT jack ☞EN-8, 17
Display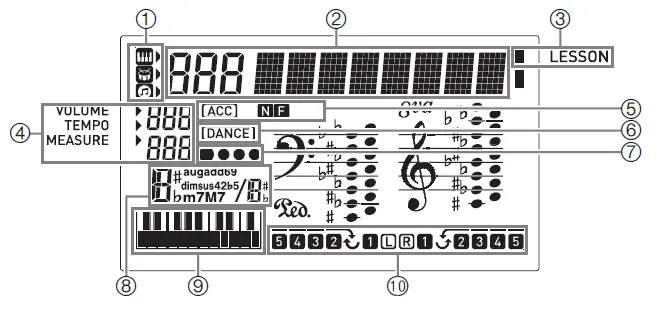 Tone, rhythm, song bank indicators
Number, setting name/status display
Indicators
Volume, Tempo, measure
N F (Auto Accompaniment Types) indicators*,
Acc (Auto Accompaniment) indicator
Dance Music Mode indicator
Beat display
Chord name
Pattern phrase keyboard/chord keyboard
10 Part, fingering display
N:Normal, F:Fill-in
Timeout
If you do not perform any operation for a while configuring settings, the display will return to the previous screen automatically.
Using the 10-key Pad (9)
Use the number buttons and the [–] and [+] keys to change displayed numbers and settings.
Number Buttons
Use the number buttons to enter numbers and values.
Enter the same number of digits as the currently displayed value.
Example: To enter tone number 004, input 0 3 0 3 4.
Negative values cannot be input using the number buttons. Use + and – instead.
[–] and [+] Keys
You can use the + and – keys to change the displayed number or value.
Holding down either key scrolls the displayed setting.
Pressing both keys at the same time will revert to the initial default setting or the recommended setting.
Using the FUNCTION Button (12)
Use this button to change the volume level and pitch, and to configure other settings.
Press 12 FUNCTION.
Next, press 12 FUNCTION the number of times required to select the setting you want to change. Each press of 12 FUNCTION cycles through the available parameters.
Note: You can also scroll back through settings by holding down 12 FUNCTION and pressing 12 TEMPO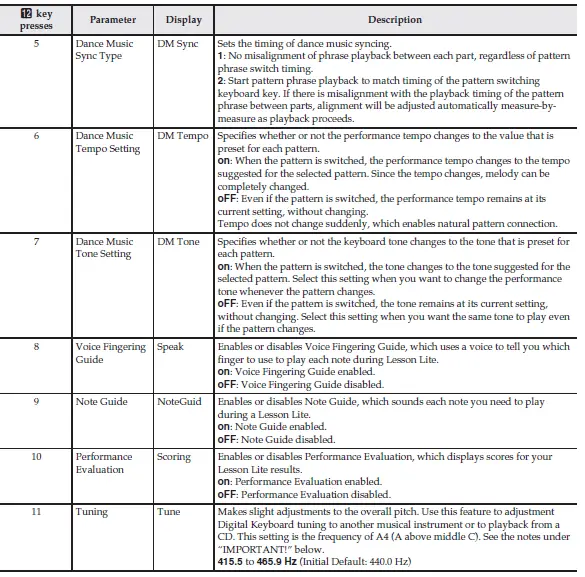 3. When the parameter you want is displayed, use 9 (10-key) to change its setting.
Important !
The tone and other parameters revert to their initial defaults whenever you turn on power. The main volume, and Tuning, LCD Contrast, and Auto Power Off settings are automatically saved and retained when power is turned off.
You can use the [+] and [–] buttons to input a value to the right of a decimal point. To specify 442.2 Hz, for example, first use the number buttons to input 4 3 4 3 2. Next, press the [+] button twice.
Getting Ready to Play
Preparing the Music Stand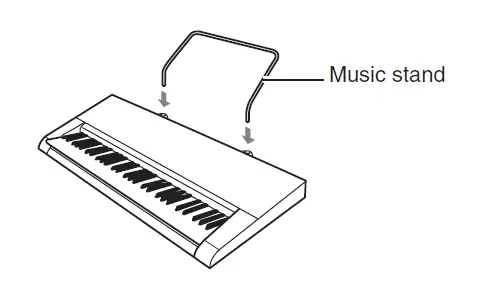 Power Supply
Either an AC adaptor or batteries can be used to power this Digital Keyboard. Normally, use of AC adaptor power is recommended.
Depending on your geographical area, an AC adaptor may not be included. In this case, will need to purchase an AC adaptor from your retailer.
Using the AC Adaptor
Make sure that you use only the AC adaptor specified for this Digital Keyboard. Use of a different type of AC adaptor can cause malfunction.
Specified AC Adaptor: AD-E95100L (JEITA Standard plug)

IMPORTANT!
Be sure to turn off Digital Keyboard power before connecting or disconnecting the AC adaptor.
The AC adaptor will become warm to the touch after very long use. This is normal and does not indicate malfunction.
To prevent breaking of the wire, take care to avoid putting any type of load on the power cord.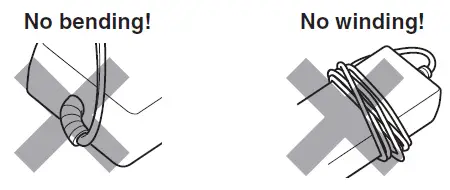 Never insert metal, pencils, or any other objects into the product's 9.5V DC terminal. Doing so creates the risk of accident.
Playing the Digital Keyboard
Turning on Power and Playing
Press 1 (Power).
This turns on power.
• To turn off the Digital Keyboard, hold down the 1(Power) button until the Digital Keyboard's display goes blank.
Try playing something on the keyboard. You could use 2 VOLUME to adjust the volume setting.
• This causes the volume indicator, which shows the current volume level, to appear on the display.
IMPORTANT!
Turning off power causes tone, rhythm, and other settings (except for main volume, the Tuning, LCD Contrast, and Auto Power Off settings) to return to their initial defaults.
Playing the Demo Songs
Following playback of the dance music demo (000), the built-in songs will playback sequentially from 001 to 100. You can switch to a different song while playback is in progress.
Press 4START/STOP, PLAY/STOP and 5 CHORDS, ACCOMP, PART SELECT at the same time.
This will start playback of the demo songs. Demo playback continues until you stop it.
• Demo songs always start from song number 000(dance music demo song).
• See page A-4 for a complete list of available songs.
To change to another song while demo playback is in progress, use 9 (10-key) [–] and [+] keys to enter the song number you want (page EN-4).
This will cause demo playback to jump to the song whose number you entered.
• You cannot use 9 (10-key) number buttons to select a song.
To stop demo playback, press 4START/STOP,PLAY/STOP.
Demo playback continues until you stop it by pressing 4 START/STOP, PLAY/STOP.
Using Headphones
Using headphones cuts off output from the built-in speakers, which means you can practice playing even late at night without disturbing others.
Be sure to turn down the volume level before connecting headphones.
NOTE
Headphones do not come with the Digital Keyboard.
Use commercially available headphones. See page EN-1 for information about options.
IMPORTANT!
Do not listen to very high volume output over headphones for long period. Doing so creates the risk of hearing damage.
If the plug of the headphones you are using does not match the 22 PHONES / OUTPUT jack, use the applicable commercially available adaptor plug.
If you are using headphones that require an adaptor plug, make sure you do not leave the adaptor plugged in when removing the headphones.