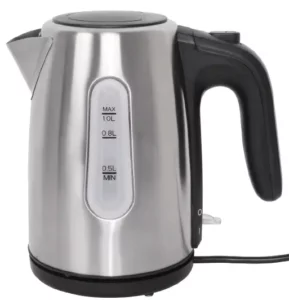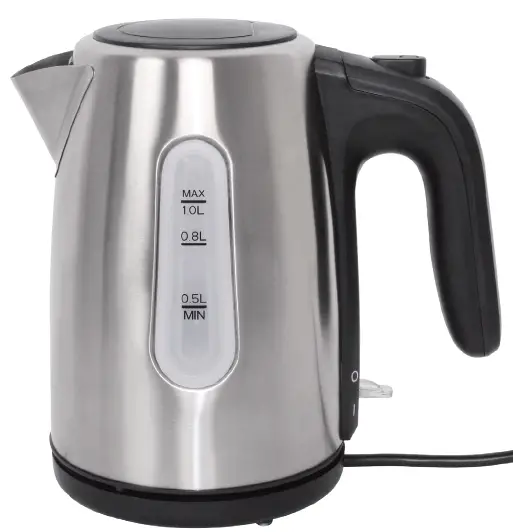 Caterlite Mini Kettle

Safety Tips
Position on a flat, stable surface.
A service agent/qualified technician should carry out installation and any repairs if required. Do not remove any components on this product.
Consult Local and National Standards to comply with the following:

Health and Safety at Work Legislation
BS EN Codes of Practice
Fire Precautions
IEE Wiring Regulations
Building Regulations

Ensure the water level is between the 'MIN' and 'MAX' marks.
Over filling of the kettle may result in boiling water being ejected.
Always switch off the appliance before removing from the base.
Only use the base supplied with the appliance.
Do not allow the base to become wet.
Danger of scalding – avoid steam from the spout or when opening the lid.
Always switch off and disconnect the power supply to the appliance when not in use.
Keep all packaging away from children. Dispose of the packaging in accordance to the regulations of local authorities.
If the power cord is damaged, it must be replaced by a Caterlite agent or a recommended qualified technician in order to avoid a hazard.
This appliance can be used by persons with reduced physical, sensory or mental capabilities or lack of experience and knowledge if they have been given supervision or instruction concerning use of the appliance in a safe way and if they understand the hazards involved.
This appliance can be used by children aged from 8 years and above if they have been given supervision or instruction concerning use of the appliance in a safe way and if they understand the hazards involved. Cleaning and user maintenance shall not be made by children unless they are aged from 8 years and above and supervised. Keep the appliance and its cord out of reach of children aged less than 8 years.
Children shall not play with the appliance.
DO NOT immerse the appliance in water.
This appliance is intended to be used in household and similar applications such as:

staff kitchen areas in shops, offices and other working environments;
farm houses;
by clients in hotels, motels and other residential type environments;
bed and breakfast type environments.

Danger of burns! Do not touch hot surfaces and beware of escaping steam. Hold the appliance by its handle only.
Caterlite recommend that this appliance should be periodically tested (at least annually) by a Competent Person. Testing should include, but not be limited to: Visual Inspection, Polarity Test, Earth Continuity, Insulation Continuity and Functional Testing.
Introduction
Please take a few moments to carefully read through this manual. Correct maintenance and operation of this machine will provide the best possible performance from your Caterlite product.
Pack Contents
The following is included:
Caterlite Mini Kettle
Instruction manual
Caterlite prides itself on quality and service, ensuring that at the time of packaging the contents are supplied fully functional and free of damage.
Should you find any damage as a result of transit, please contact your Caterlite dealer immediately.
Operation
Note: Before using the appliance for the first time fill and boil it twice. Discard the water each time.
Remove the appliance from the base.
Lift the lid and fill with cold water. Do not exceed the 'MAX' level.
Close the lid securely.
Place the appliance on the base.
Connect the base to a mains power supply.
Push the power switch down to the 'I' position. The power indicator light turns On and the water will begin to boil.
When the water has boiled the switch will flick back up to the '0' position. The power indicator light will turn Off.
Note: The boiling process can be interrupted at any time by manually flicking up the switch.
WARNING: There is a danger of scalding from steam. Take care during operation and when opening the lid.
Cleaning, Care and Maintenance
Always turn off and disconnect the appliance from the power supply before cleaning.
Use soapy water and a damp cloth to clean the exterior of the appliance.
Dry thoroughly after cleaning.
The spout filter slides out for ease of cleaning.
Periodically clean the inside of the appliance using a suitable descaling solution.
Troubleshooting
Fault
Probable Cause
Solution
The unit is not working
The unit is not switched on
Check the unit is plugged in correctly and switched on
Plug and lead are damaged
Call Caterlite agent or qualified technician
Fuse in the plug has blown
Replace the plug fuse
Power supply
Check power supply
Internal wiring fault
Call Caterlite agent or qualified technician
Technical Specifications
Model
Voltage
Power
Current
Capacity
Weight
Dimensions H x W x D mm
CD275 CD275-E
220-240V~,

50/60Hz

1350-

1600W

7A
1.0L
0.8kg
200 x 131 x 215
Electrical Wiring
This appliance is supplied with a 3 pin BS1363 plug and lead. The plug is to be connected to a suitable mains socket.
This appliance is wired as follows:
Live wire (coloured brown) to terminal marked L
Neutral wire (coloured blue) to terminal marked N
Earth wire (coloured green/yellow) to terminal marked E
This appliance must be earthed.
If in doubt consult a qualified electrician.
Electrical isolation points must be kept clear of any obstructions. In the event of any emergency disconnection being required they must be readily accessible.
Compliance
The WEEE logo on this product or its documentation indicates that the product must not be disposed of as household waste. To help prevent possible harm to human health and/or the environment, the product must be disposed of in an approved and environmentally safe recycling process. For further information on how to dispose of this product correctly, contact the product supplier, or the local authority responsible for waste disposal in your area.
Caterlite parts have undergone strict product testing in order to comply with regulatory standards and specifications set by international, independent, and federal authorities.
Caterlite products have been approved to carry the following symbol:
All rights reserved. No part of these instructions may be produced or transmitted in any form or by any means, electronic, mechanical, photocopying, recording or otherwise, without the prior written permission of Caterlite.
Every effort is made to ensure all details are correct at the time of going to press, however, Caterlite reserves the right to change specifications without notice.