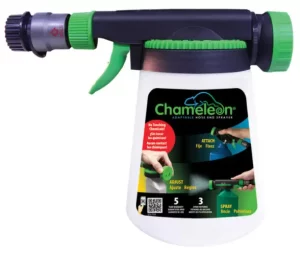 Chameleon Adaptable Hose End Sprayer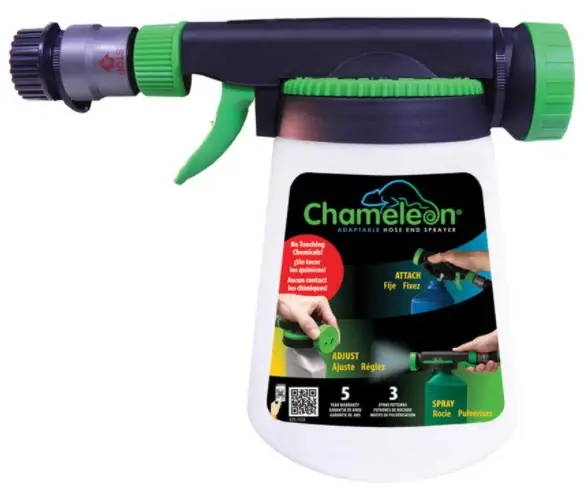 Warnings: This sprayer is designed to spray chemicals that may be harmful and could cause serious personal injury if inhaled or brought into contact with the user. Failure to read and follow Operation and Service Instructions before and/or misuse of this product could result in explosive failure with major injuries.
ALWAYS water test sprayer before each use.
ALWAYS wear long sleeve shirts, long pants, goggles, gloves and durable shoes.
ALWAYS READ AND FOLLOW manufacturers' recommended dilution rates for the chemical to be applied.
DO NOT alter the sprayer.
DO NOT sprayer flammable, caustic (i.e. acids, chlorines and bleach), corrosive, heated or sefl-heating solutions in the sprayer.
DO NOT store liquids in the sprayer.
Quick Connect is included
Anti-Siphon valve in Swivel
Instant on/off Trigger
Can be used as traditional hose end sprayer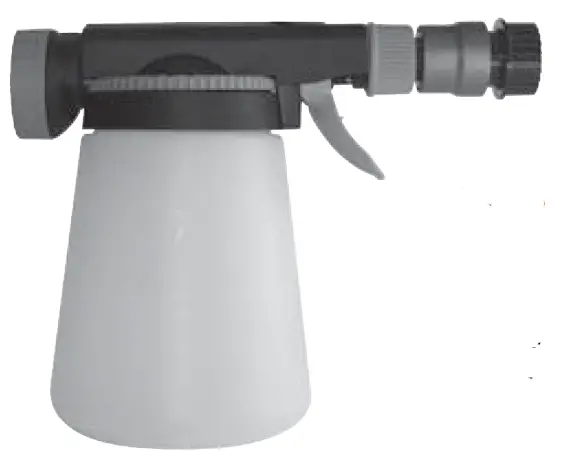 Precision metering system for accurate dilution of concentrate to water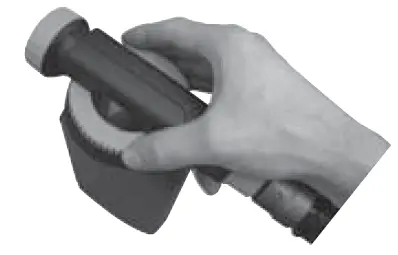 Liquid dispensed through top hole only:
Stream for high places, tough rinse jobs
Shower for delicate flora
Flat fan for large areas
HOW TO USE
The faster, easier, cleaner sprayer. The Chameleon keeps your hands chemical free. Three steps with no pouring, measuring or mixing:
Attach Chameleon to hose and adapt to fit desired bottle or canister. Use yellow adapter ring for smaller mouth bottles. Adapts to bottles of the most popular brands of chemical concentrates.
Adjust dial concentration. Adjust spray head for flow–shower, flat fan, stream
Point, squeeze and hold trigger, and spray with sweeping motion.
LIQUID MEASUREMENTS
1 tablespoon (tbs) = 3 teaspoons (tsp)
2 tablespoons = 1 fluid oz. (fl. oz.)
1 cup = 16 tsp or 8 fl. oz.
1 pint = 16 fl. oz. (or 2 cups)
1 quart = 32 fl. oz. (or 2 pints)
The dilution rate for all settings is 1 gallon of water per chemical
CLEANING INSTRUCTIONS
A properly cleaned sprayer will give you many years of use. You must clean the sprayer after each use. Follows these instructions no matter how you adapt the sprayer for use:
Properly store any unused chemical concentrate or solutions.
Fill the canister/bottle with water and attach to the sprayer cap.
Put the dial on all the settings you used and thoroughly flush each setting.
WARRANTY (VALID ONLY IN U.S.A.)
Chameleon warrants to the original purchaser only that this product will continue to function as intended if used in accordance with the Operation and Service Instructions (Under NORMAL CONSUMER USE) for a period of 10 years from the date of purchase. If the product does not function as intended, DO NOT RETURN IT TO THE STORE- call the Consumer Hotline at 1-800-253-4642. We will, at our option, repair or replace any non-functioning part without charge but SHIPPING AND HANDLING CHARGES WILL APPLY. Chameleon shall have the option of requiring the return of the non-functioning product with proof of purchase to establish a claim under the warranty. The warranty does not apply to damage resulting from accident, misuse, neglect, alterations, operation not in accordance with the instructions, commercial use or normal wear and tear.
ANY IMPLIED WARRANTIES, INCLUDING THE IMPLIED WARRANTY OF MERCHANTABILITY AND FITNESS FOR CONSUMER USE, ARE LIMITED TO THE DURATION OF SPECIFIED ABOVE. CHAMELEON'S LIABILITY IS LIMITED SOLELY TO THE REPAIR OR REPLACEMENT OF THE NON-FUNCTIONING PRODUCT OR PART. CHAMELEON EXCLUDES LIABILITY UNDER THIS WARRANTY FOR ANY AND ALL INCIDENTAL AND CONSEQUENTIAL DAMAGE.
Some states do not allow limitations on how long an implied warranty lasts, or the exclusion or limitation of incidental or consequential damages, so these limitations or exclusions may not apply to you. This warranty gives specific legal rights and you may have other rights which vary from state to state.
CONSUMER SERVICE HOURS: All times Eastern Standard Year-Round: Monday-Friday, 8 am to 7 pm; Seasonal Weekend Hours Mar 1-Aug 31: Saturday & Sunday, 10 am to 4 pm