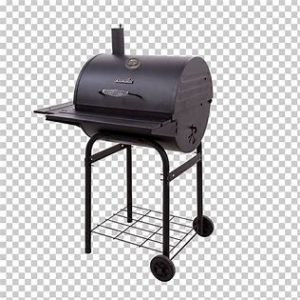 OWNER'S MANUAL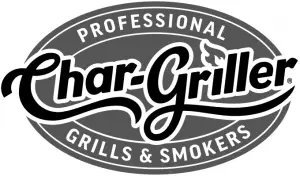 Pro Deluxe™
Model #2727
Keep your receipt with this manual for Warranty.
CUSTOMER SERVICE
Contents of this manual are Trademarked and Copyrighted by Char-Griller | A&J Manufacturing.
Using the information contained in this manual without consent of Char-Griller and/or A&J Manufacturing is strictly prohibited.
OM_2727_ED_A.4
IMPORTANT SAFETY WARNINGS
READ ALL SAFETY WARNINGS AND INSTRUCTIONS CAREFULLY BEFORE ASSEMBLING AND OPERATING YOUR GRILL
Read the following instructions carefully and be sure your appliance is properly assembled, installed, and maintained. Failure to follow these instructions may result in serious bodily injury and/or property damage. If you have any questions concerning assembly or operation, call 912-638-4724.
Grill is for use outdoors and in well-ventilated areas, only.
Use caution when assembling and operating your grill to avoid scrapes or cuts from sharp edges.
Do not use gasoline, kerosene, or alcohol to light charcoal. Use of any of these or similar products could cause an explosion possibly leading to severe bodily injury.
Do not leave a lit grill unattended. Keep children and pets away from grill at all times.
Use caution when moving grill to prevent strains.
Keep grill at least 15 feet from any combustible material (decks, buildings, fences, trees, bushes, etc).
When adding charcoal and/or wood, use extreme caution.
Never move grill when it is in use or when it contains hot coals or ashes.
Do not place grill near flammable liquids, gases, or where flammable vapors may be present.
Use caution since flames can flare-up when fresh air suddenly comes in contact with fire.
When opening the lid, keep hands, face, and body safe from hot steam and flame flare-ups.
WARNING: To avoid injuries gloves or other protective articles should be used when touching the ash pan hangers.
Do not exceed a temperature of 400°F.
Do not allow charcoal and/ or wood to rest on the walls of grill. Doing so will greatly reduce the life of the grill.
Always wear oven mitts to protect hands from burns. Avoid touching hot surfaces.
CAUTION: Exposed metal dampers on air vents and and/or metal handles are hot during usage. Again, always wear oven mitts when adjusting air flow to protect hands from burns.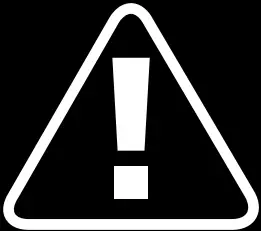 WARNING: FUELS USED IN WOOD OR CHARCOAL BURNING APPLIANCES, AND THE PRODUCTS OF COMBUSTION OF SUCH FUELS, CAN EXPOSE YOU TO CHEMICALS INCLUDING CARBON BLACK, WHICH IS KNOWN TO THE STATE OF CALIFORNIA TO CAUSE CANCER, AND CARBON MONOXIDE, WHICH IS KNOWN TO THE STATE OF CALIFORNIA TO CAUSE BIRTH DEFECTS OR OTHER REPRODUCTIVE HARM. For more information go to: www.P65Warnings.ca.gov.
A-1
When opening lid, make sure it is pushed all the way back so it rests against the lid support brackets. Use extreme caution as hood could fall back to a closed position and cause bodily injury.
Close lid and all dampers to help suffocate flame.
Always hold an open lid from the handle to prevent it from closing unexpectedly.
Never leave coals and ashes unattended. Before grill can be left unattended, coals and ashes must be removed. Use caution to protect yourself and property.
Carefully place remaining coals and ashes in a noncombustible metal container and saturate completely with water. Allow coals and water to remain in metal container 24 hours prior to disposing.
To protect against bacteria that could cause illness, keep all meats refrigerated and thaw in refrigerator or microwave. Keep raw meats separate from other foods, and wash everything that comes in contact with raw meat.
Cook meat thoroughly, and refrigerate leftovers immediately.
Use a calibrated food thermometer and the USDA guidelines to ensure that meat, poultry, seafood, and other cooked foods reach a safe minimum internal temperature.
Always have a fire extinguisher near at all times. Maintain and check your fire extinguisher regularly.
THESE WARNINGS ALSO APPLY TO THE SIDE FIRE BOX.
To take full advantage of the Char-Griller warranty be sure to register your grill by visiting www.CharGriller.com/Register or calling Customer Service at 1-912-638-4724.
Registration provides important protections:
In the extremely unlikely event of a product recall Char-Griller can easily contact you and rectify the issue.
If a warrantied part is broken or missing we can send you the needed parts promptly.
NOTE: You will need your model #, serial number, and a copy of the original sales receipt when registering.
A-2
STOP! CALL
Do NOT Return Product to Store.
This grill has been made according to the highest of quality standards. If you have any questions that are not addressed in this manual or if you need parts please call our Customer Service Department at 1-912-638-4724 (USA) or email Char-Griller at: [email protected] and have your serial number handy.
Document Your Grill Model and Serial Numbers HERE:
(Model and Serial number are located on the back of the grill body or on the leg.)
________________________ _______________________
(MODEL #) (SERIAL #)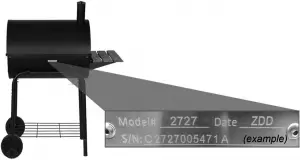 A-3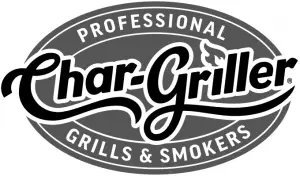 WARRANTY INFORMATION
A COPY OF THE DATED PROOF OF PURCHASE (RECEIPT) IS REQUIRED WHEN REGISTERING OR SUBMITTING A WARRANTY* CLAIM. PLEASE RETAIN A COPY OF THE RECEIPT FOR YOUR RECORDS.
Char-Griller will replace any defective part of its grillers/smokers, under warranty, as outlined below.
PLEASE READ THIS INFORMATION IN DETAIL AND IF YOU HAVE ANY QUESTIONS CONTACT CUSTOMER SERVICE AT 912-638-4724 OR [email protected].
Charcoal / Pellet / Kamado Grills
Grill – Hood AND Bottom
(
5 years from date of purchase for rust through / burn through
Ash Pan AND Defective Parts
1 year from date of purchase
Gas Grills
Grill Hood (TOP half) AND Main Burner Tubes
(
5 years from date of purchase for rust through / burn through
Grill Body (BOTTOM half) AND Side Burner AND Defective Parts
1 year from date of purchase
Dual Fuel Grills (Gas & Charcoal)
Charcoal Grill – Hood AND Bottom AND Gas Grill Hood (TOP half) AND Main Burner Tubes
(
5 years from date of purchase for rust through / burn through
Ash Pan AND Defective Parts AND Gas Grill Body (BOTTOM half) AND Side Burner
1 year from date of purchase
Parts, Accessories, and Grill Covers
1 year from date of purchase
(
SURFACE RUST IS NOT CONSIDERED A MANUFACTURING OR MATERIALS DEFECT
Char-Griller grills are made of steel and if exposed to the elements rust will occur naturally. Please refer to the section entitled, "Usage" to review how to care for your grill properly.
Surface issues such as scratches, dents, corrosion or discoloring by heat, abrasive and chemical clearers, surface rust or the discoloration of steel surfaces are NOT covered under these warranties.
Warranties are for the replacement of defective parts only. Char-Griller is not responsible for damage resulting from accident, alteration, misuse, abuse, hostile environments, improper installation, and installation not in accordance with local codes of service of unit.
Excluded Under ALL Warranties
Paint; Surface Rust; Heat Damage; Incorrect Parts ordered by customer, including shipping; Worn Parts; Missing or damaged parts not reported within two (2) months of purchase date; Defective parts not reported within one (1) year of purchase date; Fading grill cover.
*NOTE: For warranty claims, photos and prepaid return of the item in question may be required. Misuse, abuse or commercial use nullifies all warranties.
A-4
ASSEMBLY INSTRUCTIONS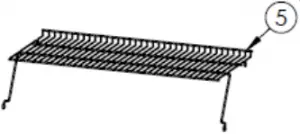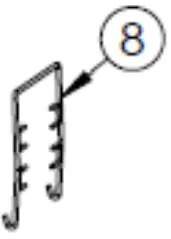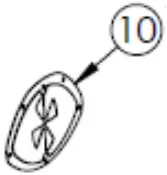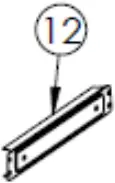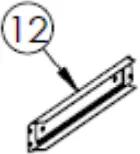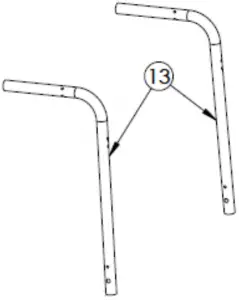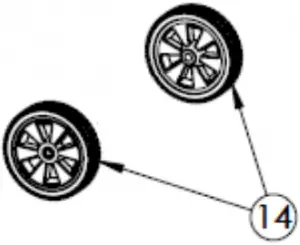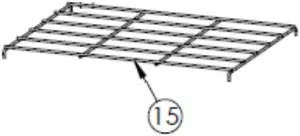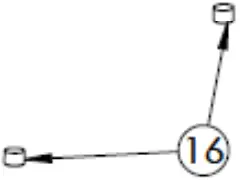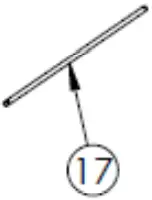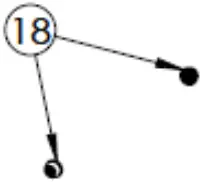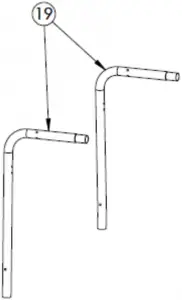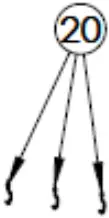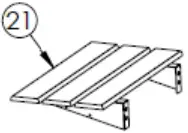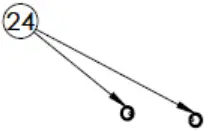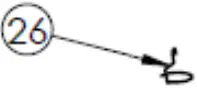 (Tools Not Included)
Pliers

and 7/16″ nut driver

B-1
Hardware Pack: 551049

¼-20 x 2″ BOLT ………… 2 PCS


¼-20 x 1 3/4 " BOLT …… 12 PCS


¼-20 x 3/4″ BOLT ………… 2 PCS


¼-20 x ½" BOLT …………… 7 PCS


¼" FLAT WASHER ………… 2 PCS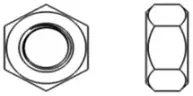 ¼-20 HEX NUT …………… 23 PCS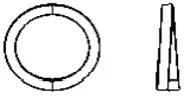 ¼" LOCK WASHER………… 1 PCS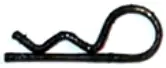 HAIR COTTER PIN………… 4 PCS


HINGE PINS………………… 2 PCS


HUB CAP…………………… 2 PCS
ITEM QTY DESCRIPTION
1 1 THERMOMETER WITH WING NUT
2 1 BEZEL, THERMOMETER
3 1 LOGO PLATE
4 1 HOOD
5 1 WARMING RACK
6 4 COOKING GRATE
7 1 ASH PAN
8 2 ASH PAN HANGERS
9 1 GRILL BODY
10 1 FILLER PLATE
11 1 DAMPER CIRCLE
12 2 LEG BRACE
13 2 SHORT LEG
14 2 WHEEL
15 1 WIRE SHELF
16 2 LEG CAP
17 1 AXLE
18 2 HUB CAP
19 2 LONG LEG
20 3 UTENSIL HOOK
21 1 SIDE SHELF
22 1 GRATE LIFTER
23 1 HOOD HANDLE
24 2 BEZEL, HANDLE
25 1 SMOKESTACK
26 1 CUP HOLDER, GREASE
B-2
Step 1: Assemble Long Legs, Short Legs, and Leg Braces as show below then secure the Leg Braces to one set of Long Leg and Short Leg with 4 Hex Bolts and four 4 Hex Nuts.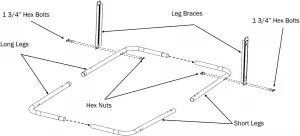 Step 2: Install Bottom Wire Shelf by placing the four corner hooks inside the hole on each leg then rotate the leg assemblies up and secure the Leg Braces to the other side of the Long Leg and Short Leg set.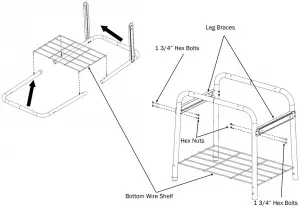 B-3
Step 3: Lay the cart assembly down with the Long Legs on the floor then install the Wheels and Wheel Axle. On one end of the Axle insert the Cotter Pin into the hole on the Axle and snap in the Hub Cap. Slide one Flat Washer and one Wheel onto the Axle then slide the Axle through the holes on the Short Legs and Bottom Shelf. Complete the assembly by sliding the other Wheel and Flat Washer onto Axle then insert the Cotter Pin and snap on the Hub Cap.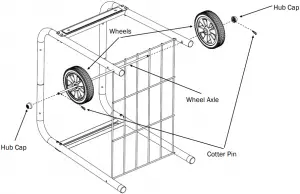 Step 4: Attach the Grill Body to the previous assembly cart using 4 Hex Bolts and 4 Hex Nuts. The Bolts must go through the leg, Grill Body then tighten with the Hex Nuts inside the Grill body.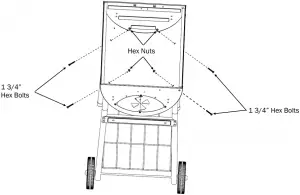 B-4
Step 5: Attach Damper Circle to the side of the Grill Body with one Hex Bolts, two Flat Washers, one Lock Washer, and one Hex Nut.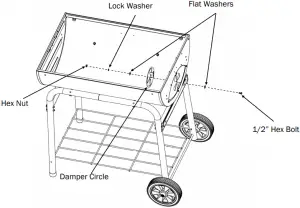 Step 6: Attach the Grill Hood to the Grill Body using the two Hinge Pins and two Cotter Pins provided.
B-5
Step 7: Insert the Thermometer through the Thermometer Bezel then through the hole in Grill Hood (from outside) then secure with a Wing Nut. Insert the Hood Handle through the Handle Bezel and Grill Hood (from outside) then through Lock Washers then secure with Handle Wing Nuts, see below.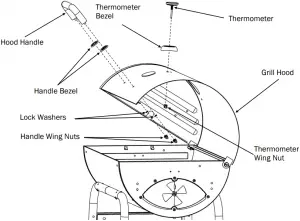 Step 8: Insert Smokestack Assembly through the hole on the Grill Hood from the inside of the Grill Hood then secure it with two Hex Bolts and two Hex Nuts.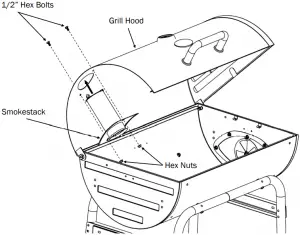 B-6
Step 9: Attach Side Shelf to Grill Body with four Hex Bolts and four Hex Nuts.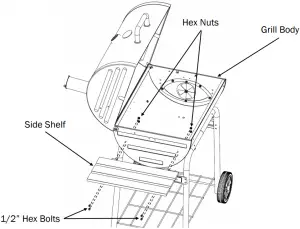 Step 10: To install the Warming Rack first attach the four Hex Bolts and four Hex Nuts onto the Grill Body and Grill Hood. Then Position the Warming Rack onto the Hex Bolts.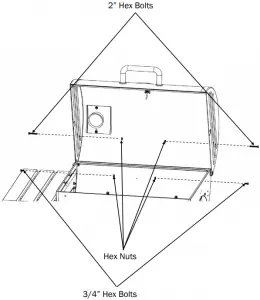 B-7
Step 11: Place Ash Pan and Ash Pan Hangers onto Grill Body.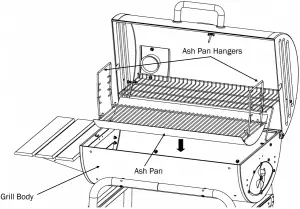 Step 12: Place Cooking Grates onto Grill Body then Install the Utensil Hooks underneath each Side Shelf Slab at the front of the Grill. Install the Grease Cup Holder underneath Grill Body.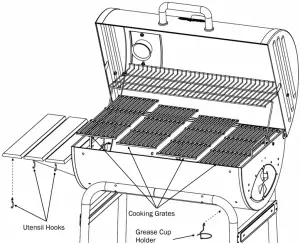 B-8
OPERATING INSTRUCTIONS
Setting Up
Set grill up on solid, flat surface with adequate wind shelter. Do not move grill while hot, and do not leave unattended during operation.
This appliance is designed for use outdoors, away from any flammable materials. It is important that there are no overhead obstructions and that there is a minimum distance of 12 feet (366 cm) from the side or rear of the appliance. It is important that the ventilation openings of the appliance are not obstructed. The barbecue must be used on a level, stable surface. The appliance should be protected from direct drafts and positioned or protected against direct penetration by any trickling water (e.g. rain).
** PLEASE NOTE: NO RETURNS ON USED GRILLS **
Seasoning and Preparing the Grill
IMPORTANT! BEFORE YOU USE YOUR GRILL FOR THE FIRST TIME YOU MUST SEASON THE CAST IRON COOKING GRATE(S).
Cure grill prior to your initial use to protect the interior and exterior finish, cooking grates, and to prevent unnatural flavors to your first meals.
Lightly coat ALL INTERIOR SURFACES (including grills, grates, and inside of barrel.) with vegetable oil (spray vegetable oil is easiest but do not use near hot coals or fire).
Build a medium sized fire on the fire grate. Always put charcoal on top of the fire grate and not directly into the bottom of the grill.
After coals ash over, spread out coals, replace cooking grates, close lid and heat at approximately 250° F for two hours.
Remove grates from the grill with oven mitts, allow to cool, then re-coat grates and return to grill at approximately 200° F for two hours.
You can lightly coat the exterior of the grill body (while warm) with vegetable oil. This will extend the life of the finish, much like waxing a car. Your grill is now ready for use.
NOTE: Grill will drip oil during this process and for several uses afterwards. This is normal.
NEVER EXCEED 400°F BECAUSE THIS WILL DAMAGE THE FINISH AND CONTRIBUTE TO RUST. PAINT IS NOT WARRANTED AND WILL REQUIRE TOUCH-UP. THIS UNIT IS NOT WARRANTED AGAINST RUST.
C-1
Lighting Instructions
To start a charcoal fire, stack 50-60 briquettes in a pyramid and saturate with lighter fluid.
NOTE: Do not use gasoline, kerosene or alcohol for lighting charcoal. Use of any of these or similar products could cause an explosion possibly leading to severe bodily injury.
Light coals in several places
After briquettes ash over or turn gray, spread them out and start cooking
If one end burns faster, use tongs to move coals from one end to the other for even heat.
Grill Operation & Tips
Control heat with amount and type of fuel, Dual dampers, and adjustable fire grate. Adjust grate one end at a time. Wood burns hotter than coals. More airflow is more heat.
To reduce flare-ups, cook with lid in the down position.
Add water soaked hardwood chips for a smoked flavor.
Ashes left in bottom too long hold moisture and will rust through any thickness of steel. This grill is made of steel and cast iron, which WILL RUST, ESPECIALLY IF NOT PROPERLY CARED FOR.
Do not use self-starting charcoal as it will give unnatural flavor. Burn lighter fluid completely before closing lid.
After each use, coat vegetable oil on the interior grates and bare metal while warm to reduce rust
On the EXTERIOR, remove dust with wire brush and touch up with a high heat paint, available at most hardware/auto stores.
You may place a coffee can on bottom shelf under the hole in the grill to catch drippings.
Heat guage may obtain moisture, which will steam out during cooking. Gauge can be removed and calibrated in oven.
You may fill unwanted holes with Nuts & Bolts (Not Provided).
NOTE: Smoke may escape from areas other than the smokestack. This should not affect cooking.
C-2
Finishing Up
When your are finished grilling you can shut down your grill by closing both dampers and allowing the fire to suffocate. Be patient. This may take an hour or more.
Emptying the Ashes & Ash Pan:
** ONLY EMPTY ASHES WHILE GRILL IS NOT IS USE **
After the fire is completely extinguished you should wait several hours before emptying the ashes to ensure they are not still hot and a burn hazard.
Knock any ashes that did not fall into the ash pan from the fire grate. (If there are pieces of partially burned charcoal on the fire grate you can save them for next time. They are still good).
Tap the sides of the fire bowl to knock loose any ash that is on the sides.
Unclip the ash pan from the bottom of the grill and slide out towards the front.
Give the ash pan a few firm taps to loosen any ash that may be stuck.
Place the ashes in a metal container and cover with water to ensure there are no lit coals then you can dispose of the ashes.
IMPORTANT: Charcoal is porous and holds moisture. DO NOT leave charcoal in your grill while you are not using it. Charcoal and ashes left inside the ash pan may reduce the life of your grill.
C-3
This Page Intentionally Left Blank
GRILLING RECIPES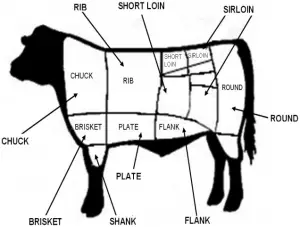 RIB ROAST, LARGE END
RIB ROAST, SMALL END
RIB STEAK, SMALL END
RIB EYE STEAK
RIB EYE ROAST
BACK RIBS
CHUCK EYE ROAST, BONELESS
TOP BLADE STEAK, BONELESS
ARM POT ROAST
SHOULDER POT ROAST, BONELSS
MOCK TENER ROAST
BLADE ROAST
UNDER BLADE POT ROAST
TOP LOIN STEAK
T-BONE STEAK
PORTERHOUSE STEAK
TENERLOIN ROAST/STEAK
TOP SIRLOIN STEAK
SIRLOIN STEAK
TENDERLOIN ROAST/STEAK
BEEF TRI-TIP
The Tri-Tip roast is boneless cut from the bottom sirloin. It is also called a "triangle" roast because of it's shape.
ROUND STEAK
TOP ROUND ROAST
TOP ROUND STEAK
BOTTOM ROUND ROAST
TIP ROAST CAP OFF
EYE ROUND ROAST
TIP STEAK
BONELESS RUMP ROAST
SKIRT STEAK
WHOLE BRISKET
BRISKET, POINT HALF, CORNED
BRISKET, FLAT HALF
SHANK CROSS CUT
FLANK STEAK
FLANK STEAK ROLLS

National Cattlemen's Beef Association
444 North Michigan Avenue
Chicago, Illinois 60611
(312) 467-5520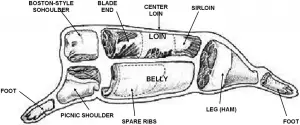 D-1
Direct Heat is a high heat method used to cook foods that take less than 25 minutes to cook. Typically, this means foods that are relatively small or thin such as steaks, chops, boneless chicken breasts, fish fillets, hamburgers, etc.
Cooking with a MEAT THERMOMETER ensures food is fully cooked. Insert into the thickest part not touching bone, and allow five minutes to register.
Internal temperatures for FOWL should be 170°F to 180°F.
Internal temperature for meat should be 140°F for rare, 160°F medium, and 170°F for well done.
STEAK (and ALL MEATS):
Cook food directly above coals/heat.
To grill meats, raise fire grate to high position (hot) and sear for one minute on each side with the lid open to seal in flavor and juices. Then lower fire grate to medium position with lid closed and cook to desired doneness.
Control heat with dual dampers and adjustable fire grate.
Tip: Place grilled meat back in the marinade for several minutes before serving ­ it will become tastier and juicier.
CAUTION: Boil extra marinade first to kill bacteria remaining from the raw meat.
MARINATED FLANK STEAK:
Mix marinade ingredients in nonmetal dish.
Let steak stand in marinade for no less than 4 hours in refrigerator.
Brown each side for 5 minutes, but center should remain rare.
Cut steak diagonally across the grain into thin slices before serving.
Grill with fire grate in high (hot) position with lid open or closed.
Meat Marinade
1/2 cup vegetable or olive oil
1/3 cup soy sauce
1/4 cup red wine vinegar
2 tbsp lemon juice
1 tsp dry mustard
1 minced clove garlic
1 small minced onion
1/4 tsp pepper
QUAIL OR DOVES:
Cover birds in Italian dressing (Good Seasons or Kraft Zesty) and marinate overnight.
Pour remaining dressing and cover with Texas Pete Hot Sauce for 6 hours.
Wrap birds in thick bacon secured by a toothpick.
Place on grill. Keep turning until bacon is black.
D-2
Grill for 20 minutes. Sear with lid open and fire grate in high (hot) position for 1 minute on each side before lowering grate and closing lid.
To SMOKE, place birds in center of GRID with fire in both ends of FIRE BOX.
KABOBS:
Alternating on skewers any combination of meat, onions, tomatoes, green peppers, mushrooms, zucchini, circular slice of corn-on-the-cob, or pineapple. Meat could consist of chunks of shrimp, scallops, lobster, chicken, sausage, pork, beef, etc.
Marinate the meat in refrigerator for several hours.
Grill each side approximately 7 minutes turning occasionally while basting with marinade. Leave a small amount of room between pieces in order to cook faster.
Grill with lid up and the fire grate in the lowest position. See marinade recipe on last page.
Kabob Marinade:
1 cup soy sauce
½ cup brown sugar
½ cup vinegar
½ cup pineapple juice
2 tsp salt
½ tsp garlic powder
Mix all ingredients in a saucepan and bring to boil.
Allow marinade to cool before marinating your meat in it.
Marinate beef in mixture a minimum of 4 hours.
HOT DOGS:
Grill with lid up and fire grate in high (hot) position for approximately 6 minutes.
Turn every few minutes.
HAMBURGERS:
See Meat Marinade on prior pages.
You may also marinate by allowing to stand in marinade for 1 or 2 hours at room temperature before cooking, or let stand in covered dish in refrigerator up to 24 hours.
Bring to room temperature before cooking.
Mix in chopped onions, green peppers, salt, sear 3/4 inch patties on each side with fire grate in high position for a few minutes.
Lower fire grate to medium position and grill with lid down to avoid flare-ups.
Cook each side 3 to 7 minutes according to desired doneness.
Cook ground meat to 150 internally or until juice runs clear (free of blood) for prevention of E-coli.
Burgers can be basted with marinade when turning and/or other ingredients can be mixed in with the ground beef such as chili sauce or powder.
D-3
SHRIMP (Peeled) and CRAYFISH:
Place on skewers.
Coat with melted butter and garlic salt.
Grill 4 minutes on each side or until pink. Cocktail sauce optional.
BAKED POTATOES:
Rub with butter and wrap in foil and cook on grill with lid down for 50 minutes.
Turn after 25 minutes (no need to turn if smoked).
Squeeze to check for doneness.
SWEET CORN IN HUSKS:
Trim excess silk from end and soak in cold salted water 1 hour before grilling.
Grill 25 minutes-turning several times.
SMOKING RECIPES
SMOKING TIMES
Food
Weight

Water Pan Smakin'

Side Fire Box
Temperature on Meat Thermometer
Beef Roasts, Beef Brisket
3 — 4 lbs.
1 —1½ hours
4 — 5 hours
140° rare
Lamb Roasts, Venison
5 — 7 lbs.
1¾— 2½ hours
5 — 6 hours
160° medium
Large cuts of Game
7 — 9 lbs.
2½— 3½hours
7 —10 hours
170° well done
Pork Roasts
3 —4 lbs.

5 — 8 lbs.

1¾ — 2½ hours

2½ — 3 hours

5 — 6 hours

7 — 8 hours

170°

170°

Port/ Beef Ribs
Full grill
1½ — 2 hours
4 — 6 hours
Meat pulls from bone
Pork Chops
Full grill
¾ —1¼ hour
4 — 6 hours
Meat pulls from bone
Sausage Links
Full grill
2 — 2¾ hours
4 — 5 hours
170° for fresh sausage
Ham, Fresh
10 lbs.
3 — 4 hours
7 — 8 hours
170°
Ham, Cooked
All sizes
1½ — 2 hours
3 — 4 hours
130°
Chicken (Cut up or split)
1 — 4 fryers, cut up or split
1 — 1¼ hours
4 — 5 hours
180° / leg moves easily in joint
Chicken (Whole)
1 — 4 flyers
1¼ — 1½ hour
5 — 6 hours
180° / leg moves easily in joint
Turkey (Unstuffed)
8 —12 lbs.
1¾— 2½ hours
7 — 8 hours
180° / leg moves easily in joint
Fish, small whole
Full grill
½ — ¾ hours
2 — 3 hours
Flakes with fork
Fish, filets, steak
Full grill
¼ — ½ hours
1 — 3 hours
Flakes with fork
Duck
3 — 5 lbs.
1 — 1¾ hours
5 — 6 hours
180° / leg moves easily in joint
Small game birds
Full grill
¾ —1 hour
4 — 5 hours
180° / leg moves easily in joint
D-4
Pan not included. Disposable bread pan is recommended. SMOKE BY COOKING SLOWLY (See chart above).
Place water/drip pan on left side of fire grate.
Place hot coals on right side (damper end) of fire grate. The charcoal basket accessory helps confine coals to one side.
Place meat above water pan.
Place fire grate in low position.
Close lid & control heat with dampers & adjustable grate.
You may want to sear certain foods before smoking by placing meat directly above coals with LID open and FIRE GRATE in high (hot) position for several minutes. Add flavor soaked wood chips to the fire and add 1 part marinade, beer, or wine to 3 parts water to the drip pan.
OPENING THE SMOKING CHAMBER WILL EXTEND COOKING TIME. Cooking with meat thermometer ensures food is fully cooked. Insert thermometer into thickest part not touching bone, and allow five minutes to register. Internal temperature for birds should be 170°F to 180°F or when leg moves easily in joint. Meat should be cooked to internal temperature of 140°F for rate, 160°F for medium and 170°F for well done. Check the water level when cooking more than 4 hours or when you can't hear the water simmering. Add water by moving meat over and pouring water through GRILL into WATER PAN.
IF THE SMOKE IS WHITE, THE FIRE'S RIGHT. IF THE SMOKE IS BLACK, ADD SOME DRAFT.
SMOKED TURKEY:
Empty cavity rinse and pat dry with paper towel.
Tuck wing tips under the back and tie legs together.
Place in center of cooking grid directly above foil drip pan of water.
Smoke for 12 minutes per pound. Allow several extra minutes per pound if stuffed to allow for expansion.
Use a meat thermometer for best results (190°F internal).
SMOKED BAKED HAM:
You can smoke fully cooked canned ham or smoked and cured whole ham or shank or butt portion.
Glaze
1 cup of light brown sugar, firmly packed
1/2 cup orange juice
1/2 cup honey
Combine sugar, juice and honey. Let glaze sit for at least 4 hours.
Place fire grate in the lowest position and a drip pan under the meat.
Remove rind and score fat diagonally to give a diamond effect.
Insert a whole clove into the center of every diamond.
Place ham with fat side up in center of cooking grid directly above drip pan. Close lid.
About 9 minutes per pound is suggested for fully cooked hams. Smoked or cured ham, which is not fully cooked, should be cooked to an internal temperature of 160°F.
D-5
Baste with ham glaze 3 or 4 times during last 30 minutes of cooking time.
Garnish with pineapple rings about 15 minutes before end of cooking time.
SMOKED HOT DOGS STUFFED:
Slit hot dogs lengthwise, within 1/4 inch of each end.
Stuff hot dogs with cheese and relish and wrap in bacon.
Place on cooking grid over drip pan and smoke 15-20 minutes or until bacon is crisp.
SMOKED CHICKEN PARTS AND HALVES:
Rinse pieces in cold water and pat dry with paper towels.
Brush each piece with vegetable oil and season to taste with salt and pepper.
Brown pieces directly above coals with lid open and grate in high or medium position for several minutes.
Then place pieces on cooking grate directly above drip pan.
With the grate in the low position, cook with lid down for 55 to 60 minutes or until done. Do not use vegetable oil or salt and pepper if using marinade.
SMOKED VENISON:
Venison Marinade:
1 cup Balsamic or wine vinegar
1 cup olive oil
2 oz. Worcestershire
1/2 oz. Tabasco
2 tbsp. Season All
1-2 chopped jalapenos
3 oz. soy sauce
Bacon Marinade
2 oz. wine vinegar
2 oz. Worcestershire
4 dashes Tabasco
Place leg of venison in a container or "hefty bag" and marinate for 2-4 days, turning daily. Marinate bacon overnight in its marinade.
Remove roast from refrigerator at least an hour before cooking.
Season generously with seasoned salt and coarse ground black pepper.
Wrap 1 lb. Bacon over the top of the roast, and smoke 20/25 minutes per pound, or until tender. Do not overcook.
SMOKED SHRIMP and CRAYFISH:
Mix in a foil pan 1/2 cup butter, two cloves of crushed garlic, Tabasco, sliced green pepper, 1 tablespoon each of minced onions, salt and juices from one lemon.
D-6
Add shrimp and/ or crayfish and smoke 45 minutes.
SMOKED VEGETABLES:
Turnips, potatoes, carrots, okra, mushrooms, peeled onions, zucchini, squash, etc.
Put in pan and cover with water and cook for several hours while cooking the meat. Or place vegetables on grill and smoke for 50 minutes, either wrapped in foil or not.
SMOKED FISH:
Marinate in brine (1/4 cup dissolved in 1 qt of water) or marinate fish in 1 cup white wine, 1 cup soy sauce mixed with 1 cup lemon juice.
Marinate overnight in covered dish in refrigerator.
Let air on rack 20 minutes before placing on Pam-sprayed grill.
Smoke 25 minutes.
SMOKED SPARE/BACK RIBS:
Peel off tough layer of skin on back side.
Rub all surfaces with seasoning.
Place ribs in center of grid above drip pan and smoke approximately 1 1/2 hours or until meat pulls away from bone.
Baste with barbecue sauce during last 30 minutes.
CHICKEN MARINADE:
Combine
1/2 cup soy sauce
1/4 cup vegetable oil
1/4 cup red wine vinegar
1 teaspoon oregano
1/2 teaspoon sweet basil
1/2 teaspoon garlic powder with parsley
1/4 teaspoon pepper
Pour over chicken pieces in non-metal dish
Cover and refrigerate overnight, turning occasionally. Use marinade to baste chicken while cooking.
MEAT MARINADE: (For steaks, chops, and burgers)
Combine
¼ cup soy sauce
2 coarsely chopped large onions
2 cloves garlic (halved)
Combine ingredients in an electric blender, cover, and process at high speed 1 minute or until mixture is very smooth.
D-7
Stir in 1/4 cup bottle gravy coloring (Kitchen Bouquet and Gravy Master) and 2 teaspoons Beau Monde seasoning (or substitute 1 teaspoon MSG and 1 teaspoon seasoned salt).
Allow meat to stand in marinade at room temperature for 2 hours or refrigerate up to 24 hours in a covered dish.
Bring meat to room temperature before cooking.
SHISH KABOB MARINADE:
Mix
1 cup soy sauce
1/2 cup brown sugar
1/2 cup vinegar
1/2 cup pineapple juice
2 teaspoons salt
1/2 teaspoon garlic powder
Mix ingredients and bring to a boil.
Marinate beef in mixture a minimum of 4 hours.
D-8
ACCESSORIES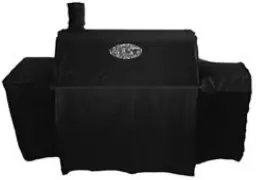 Cover Custom Fit
Weather Resistant
Protects Grill Finish
Cover Accommodates Side
Shelf or Side Fire Box
Warming Rack
Increase Grill Area
Keeps Food Warm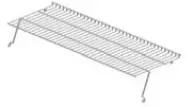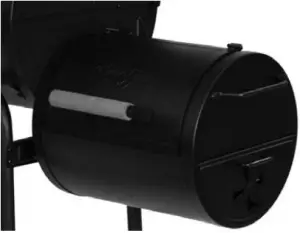 Side Fire Box
Turn your charcoal grill into an authentic Texas-Style Offset Smoker in minutes!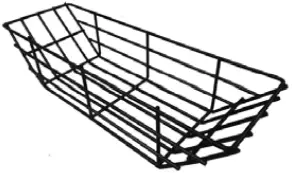 Charcoal Basket
Confines Coals to One Side for Smoking
Indirect Cooking

Rotisserie
Excellent for Effortless Grilling
Universal Fit for Any Grill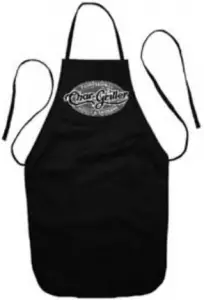 Apron
Machine Washable
Two Front Pockets
Adjustable Straps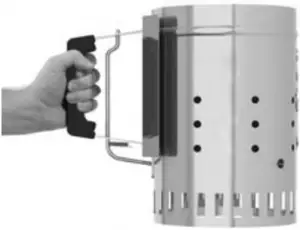 Quick Release Chimney Starter
E-Z starter with patented
Trigger release
ABS handle with heat shield
Zinc coated galvanized steel
Makes starting charcoal grill fast and easy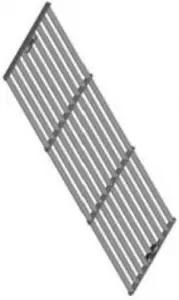 Cast-Iron Grates
Heavy-duty Durability
Authentic BBQ Flavor
Non-Warp Design
E-1
For pricing or to order accessories visit:
www.CharGriller.com
OR
CALL: 912-638-4724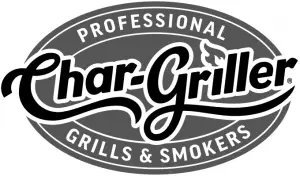 P.O. Box 30864
Sea Island, GA 31561
912-638-4724
www.CharGriller.com
[email protected]