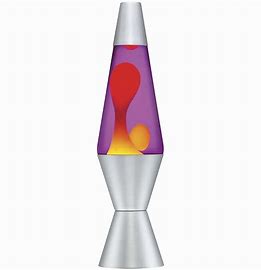 CLEARVIEW LAVA® Brand Motion Lamp
CARE AND OPERATION
PLEASE READ ALL OF THE INSTRUCTIONS BEFORE OPERATING.
DO
DO have the lamp at room temperature before running.
DO allow the lamp to warm up for 4 to 6 hours to ensure it performs at its optimal level.
DO run the lamp on a clean and at surface.
DO check and see if the light bulb and socket in the base are centered and tightened prior to turning on the lamp.
(The light bulb and socket may have moved during shipping. If this has occurred, then gently use your fingers to re-center them.)
DO keep lamp and cord out of reach of children and pets.
DO only use provided bulb when operating this product. Variances in bulb size or wattage will product unsatisfactory operation, fire or possible breakage of the glass vessel.
DO handle product with care, the globe may break if it is dropped, knocked over or subjected to any form of sudden impact. If it becomes necessary to clean up broken glass first unplug unit and then use care and safety precautions. (Refer to Clean Up Instructions below for details.)
DO exercise caution when handling the lamp while it is plugged in. The lamp will take two to three hours to cool after it has been turned off.
DO NOT
DO NOT operate the lamp for more than 8 hours at a time.
DO NOT place the lamp near sources of heat or cold, such as a heater or air conditioner. The lamp operates best at 68º F / 21º C.
DO NOT operate or store the lamp in direct sunlight, doing so may cause the colors to fade.
DO NOT remove the cap on the globe or add anything to the globe. The air space at the top of the globe is necessary in order to allow for the expansion of contents. Breaking the seal on the globe shall void the warranty.
DO NOT try to force polarized plug into an outlet. As safety precaution, one blade is wider than the other and can only be inserted one way into the outlet.
DO NOT use any other means to heat up motion lamp other than the bulb provided nor attempt to cool it down artificially.
DO NOT use the product if the globe or cord is damaged.
DO NOT operate the lamp on glass surfaces.
IMPORTANT SAFETY INSTRUCTIONS
When using an electrical furnishing, basic precautions should always be followed, including the following: Read all instructions before using (this furnishing).
DANGER – To reduce the risk of electric shock: Always unplug this furnishing from the electrical outlet before cleaning.
WARNING – To reduce the risk of burns, fire, electric shock, or injury to persons:
Unplug from outlet before putting on or taking off parts.
Close supervision is necessary when this furnishing is used by, or near children, invalids, or disabled persons.
Use this furnishing only for its intended use as described in these instructions. Do not use attachments not recommended by the manufacturer.
Never operate this furnishing if it has a damaged cord or plug, if it is not working properly, if it has been dropped or damaged, or dropped into water. Return the furnishing to a service center for examination and repair.
Keep the cord away from heated surfaces.
Never drop or insert any object into any opening.
Do not use outdoors.
Do not operate where aerosol (spray) products are being used or where oxygen is being administered.
To disconnect, turn all controls to the off position, then remove plug from outlet.
To reduce the risk of electric shock, this furnishing has a polarized plug (one blade is wider than the other). This plug will fit in a polarized outlet only one way. If the plug does not fit fully in the outlet, reverse the plug. If it still does not fit, contact a qualified electrician to install the proper outlet. Do not change the plug in any way.
CLEAN UP INSTRUCTIONS FOR ACCIDENTAL BREAKAGE
If the globe breaks, it is not harmful if it is handled properly.
Wear rubber gloves during the clean up process in order to protect skin irritation and to prevent cuts from broken glass.
Carefully pick up and dispose of broken glass and plastic pieces.
Use disposable towels to soak up excess liquid (you can use water to aid in clean up because the liquid is water soluble).
Thoroughly clean any products soiled by the liquid.
After the liquid has been cleaned up a commercial cleaning detergent may be used to deep clean the area. Prompt clean up is key in removing any stains.
For Carpet, blot up spilled material with an absorbent disposable cloth and then follow cleaning directions from your carpet manufacturer.
For floors, wipe up with disposable cloth and clean with normal floor cleaning detergent.
LAVA LITE, LLC., IS NOT RESPONSIBLE FOR ANY DAMAGE CAUSED BY PRODUCT BREAKAGE.
SAFETY AND FIRST AID
For ingestion: Seek medical attention.
For direct contact to eyes: Flush open eye with a direct stream of water for 15 minutes and then seek medical attention.
For direct skin contact: Clean the affected area thoroughly with soap and water. Remove and wash contaminated clothing immediately. If irritation occurs, then seek medical attention. Although our products are non-hazardous, should you need specific material or health information, call 1-800-336-5282 during regular business hours and ask for Consumer Services. After business hours, contact Rocky Mountain Poison and Drug Center at 303-739-1110 or visit their website ad www.rmpdc.org or contact your local poison center. We can also be contacted via e-mail at [email protected].
LIMITED 90 DAY WARRANTY
This unit is warranted by LAVA LITE, LLC.® against defects in workmanship or materials for 90 days from the date of purchase. The duration of any express or implied warranties, including implied warranties of merchantability or fitness for a particular purpose, are limited to 90 days from the date of purchase. This warranty shall be void if the lamp has been subject to abuse, negligent handling, disregard of operating instructions or attempted repair by anyone other than the manufacturer. LAVA LITE, LLC.® shall in no event be responsible for incidental or consequential damages of any nature or amount. NOTE: Some states do not allow limitations on how long an implied warranty lasts or do not allow the exclusion or limitation of consequential damages, so the above limitation or exclusion may not apply to you.This warranty gives you specific legal rights and you (as a purchaser) may also have other rights which vary from state to state.
SERVICE AND REPLACEMENT INSTRUCTIONS
Within the 90 day warranty period, if for any reason, other than a burned out light bulb or misuse (see Care and Instructions), your unit does not function properly, then return it to your retailer. The manufacturer is the only one that can make warranty replacements after 90 days. DO NOT RETURN THE LAMP TO LAVA LITE LLC.® UNLESS AUTHORIZED BY A COMPANY REPRESENTATIVE. Customer Service may be contacted at 1-800-336-5282 or via e-mail at [email protected]
LAVA®, LAVA LITE® and the configuration of the LAVA® brand motion lamp are registered trademarks of Lava Lite, LLC. The configuration of the globe and base of the motion lamp are registered trademarks of Lava Lite, LLC. in the U.S.A. and in other countries around the world. © 2013 Lava Lite, LLC. All Rights Reserved.
For a complete listing of all LAVA® brand products, please visit us at www.lavalite.com
SAVE THESE INSTRUCTIONS.
Approvals: UL and ULc
32 oz
20 oz
12 oz
25W
25W
15W
120V
120V
120V
60Hz
60Hz
60Hz
4400
model series
2000
model series
1400
model series