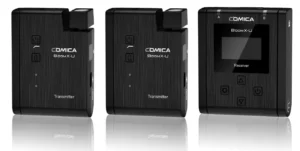 Broadcasting-Level Multi-functional Mini UHF Wireless Microphone
Technology Parameters
Transmitter
| | |
| --- | --- |
| Channels | 48 |
| Group A Wireless Frequency | 568.125MHz ~ 579.875MHz |
| Group B Wireless Frequency | 580.125MHz ~ 591.875MHz |
| Transmitting Power | 15dBm |
Receiver (RX)
| | |
| --- | --- |
| Channels | 48 |
| Group A Wireless Frequency | 568.125MHz ~ 579.875MHz |
| Group B Wireless Frequency | 580.125MHz ~ 591.875MHz |
Foreword
Thanks for purchasing COMICA BoomX-U Broadcasting-Level Multi-functional Mini UHF Wireless Microphone. To ensure bring you a good using experience, please read this manual book carefully before using and correctly install and operate.
Main Features
Mini and Portable, Broadcast Level
Dual-Channel UHF Wireless Microphone
Internal and External Mic Two Input Modes
Working Distance is Up to 120m
Multiple Channels Used for Several Devices
Working Together
Auto-scanning and Quick IR Pair
LCF, M/S Switch, 16-Levels Adjusted Gain Control, Muting
Functions
Real-time Visual Power and Audio Dynamic Monitor
Special Anti-loose Design for External Lavalier Mic
Colorful TFT Display, High Resolution
Support Screen Flip
Designed with Multi-functional Belt Clip and Compact
Notice
Please make sure the IR sensor are closely aligned when pairing
Don't block the antenna position to avoid any poor signal generated
Please attention that it can not realize STEREO function when in single channel mode
It is recommended to adjust the antenna of transmitter and receiver to appropriate angle for stable transmission and long working distance
It is recommended to keep a distance more than one meter between the two transmitters when using IR sync function, or it is easy to cause mismatching
This product belongs to high-precision instruments, please avoid falling, collision or pounding
Do not use this equipment in the vicinity of heat source or interference source, such as radiator, oven, WIFI AP, intercom or next to the other wireless devices
If the pick-up distance is close or when used outdoors, please put on the wind muff to prevent sound burst or reduce wind noise
Do not use the equipment in rain or in a damp environment to avoid short-circuit danger
Please keep the product in a dry environment.
Packing List
Main Parts:
Purchase Options:
Accessories:
3.5mm Lavalier Mic
Wind Muff
3.5mm TRS-TRRS Audio Cable
3.5mm TRS-TRS Audio Cable
3.5mm-XLR Audio Output Cable
USB A-USB C Charging Cable
Carry Case
User Manual
Warranty Card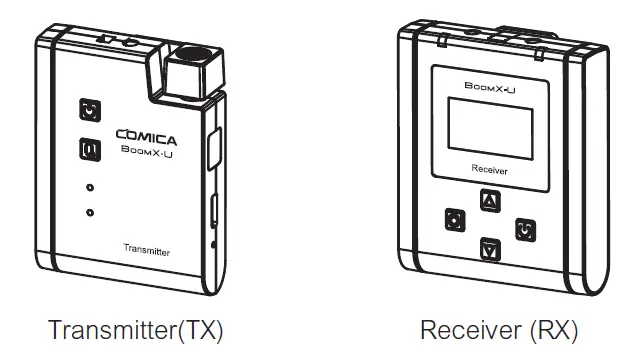 The accessories of each combination include :
U1= ①+②+③+④+⑤+⑥+⑦+⑧+⑨ U2= ①x2+②x2+③+④+⑤+⑥+⑦+⑧+⑨
Components and Instruction
Transmitter (TX):
Power / Low Cut Filter Button
Muting Button
Power / Low Cut Filter Indicator Light
Audio Status Indicator Light
External Mic Locking Buckle
3.5mm TRS Port of External Mic
Internal Mic
IR Sensor
USB-C Charging Port
Reset Hole
Belt Clip
Antenna
Receiver (RX)
Menu Function Button +
Function Setting Button
Menu Function Button –
Group A Working Status Indicator
3.5mm TRS/TRRS Monitoring Port
IR Sensor
3.5mm TRS Audio Output Port
Group B Working Status Indicator
Reset Hole
USB-C Charging Port
Power Button
Belt Clip
Group A Antenna
Group B Antenna
Installation
Transmitter (TX)
Use internal microphone :
Adjust the antenna angle; Install the transmitter on the collar through the belt clip so that the internal microphone
points in the direction of the sound source.
For better concealment during use, it is recommended that the belt clip be fixed and used outwards
Use external microphone:
Insert the 3.5mm TRS microphone input cable into the transmitter's 3.5mm TRS external microphone port and tighten it, then clip the transmitter to the belt through the belt clip and clip the lavalier microphone to your collar
Receiver (RX)
Work with Camera:
Adjust the antenna angle; Fix the receiver through the belt clip to the camera's hot shoe mount, then connect the receiver with camera through the 3.5mm TRS-TRS audio cable; Insert the headphone into the monitoring port for monitoring
Work with Smartphone:
Clip the receiver to the cold shoe mount through the belt clip; Connect the receiver with the mobile phone through the 3.5mm TRS-TRRS audio cable and pay attention to the access to the audio output jack of the receiver is the 3.5mm TRS plug, and the access to the mobile phone is the 3.5mm TRRS plug; Insert the headphone to the 3.5 mm TRS/TRRS monitoring port for monitoring.
Function and Usage
Transmitter (TX)
Function Introduction:
Power /Low Cut Filter Button
Long press for On/Off; Short press for Low Cut Filter
Muting Button
Long press to switch between normal recording and mute
Power /Low Cut Filter Indicator Light
Blue light keeps on after turn on the Transmitter; Purple light keeps on after turn on Low Cut Filter mode; Red light flicker when pairing transmitter and receiver or low power; Red light keeps on when charging
Audio Status Indicator Light
Blue light flicker when sound is input; Red light keeps on when sound is crackled or mute status
Reset Hole
If there is an abnormal phenomenon such as the device is crash or unable to turn on it, then insert the reset pin into the reset hole to reset it.
Internal Mic
Turn the Mic to the sound source
3.5mm TRS External Microphone Port
Insert the 3.5mm TRS microphone input cable, and you can use the external lavalier microphone for recording. At this time, the internal microphone of this device is automatically turned off
IR Sensor
It's paired successfully only when the receiver and transmitter's IR sensor are closely aligned
USB-C Charging Port
Connect the transmitter with the 5V power through the USB A-USB C charging cable to charge
Receiver (RX)
Receiver (RX) Function Introduction:
Power Button
Long press for On/Off; Short press on the function menu interface to exit the current interface
SET Function Button
Short Press can enter the setting display page, then adjust the related function
Function Selection Button +
Short Press for function adjustment (+)
Function Selection Button –
Short Press for function adjustment (-)
Group A/B Working Status Indicator
Indicator light is off when unpaired; Blue light keeps on after paired successfully; Red light flicker when low power; Red light keeps on when charging
3.5mm TRS Audio Output Port
Connect with mobile phone through the 3.5mm TRS-TRRS audio cable; Connect with camera through the 3.5mm TRS-TRS audio cable
IR Sensor
It's paired successfully only when the receiver and transmitter's IR sensor are closely aligned
3.5mm TRS/TRRS Monitoring Port
Insert headphone to monitor
Screen Flip Function
You can flip the screen 180 degrees to use according to different scenes
Reset Hole
If there is an abnormal phenomenon such as the device is crash or unable to turn on it, then insert the reset pin into the reset hole to reset it
USB-C Charging Port
Connect the receiver with the 5V power through the USB A-USB C charging cable to charge
Receiver (RX) Screen Display Instruction:
Receiver (RX) Operation Instruction:
Pairing of Group A/B
Short press button to "setting" display page; press button to Pair mode of Group A or Group B
Short press button for adjustment, press button to select whether or not pairing, then short press to confirm. It will show "Paired CHXX" to prompt the channel of Paired after successful pairing; it will show "Fail" after unsuccessful pairing.
Please turn on the transmitter and make sure the IR sensor are closely aligned when pairing or it may cause failed pairing! Short press button to back to home screen ( The operation methods for other interfaces are the same as above )

Volume Adjustment
Group A/B Volume Adjustment

'Stereo/Mono' Mode Adjustment
A channel is the left channel and B channel is the right channel in Stereo Mode. Please attention that it can not realize STEREO function when in single channel mode
Screen Flip Function
You can flip the screen 180 degrees to use according to different scenes

Version
Menu Version X.X.X

Pairing Method
Dual-Channel Mode:
Set the display page to A/B Group Pairing
Menu Group A Pair Yes or Menu Group B Pair Yes
Keep the receiver and transmitter's IR sensor are closely aligned before pairing
Use the pairing function to pair the two transmitters respectively for the A/B Group
Specification
Transmitter (TX) Receiver (RX)
Antenna
PCB Antenna
Antenna
PCB Antenna
Polar Pattern
Omnidirectional
Receiving Sensitivity
-90dBm
Frequency Response
80Hz ~ 20kHz
Sound Delay
<20ms
Sound Delay
<20ms
External Mic Input Interface
3.5mm TRS
External Mic Input Interface
3.5mm TRS
Monitor Interface
3.5mm TRS/TRRS
Battery
Li-ion Battery 600mAh 3.7V
Battery
Li-ion Battery 600mAh 3.7V
Battery Life
6 Hours
Battery Life
6 Hours
Net Weight
47g
Net Weight
55g
Dimension
49 x 22 x 66mm
Dimension
49 x 22 x 66mm
Operating Temperature
0℃ ~ 50℃
Operating Temperature
0℃ ~ 50℃
Storage Temperature
-20℃ ~ 60℃
Storage Temperature
-20℃ ~ 60℃