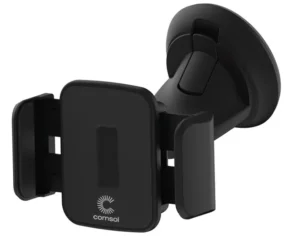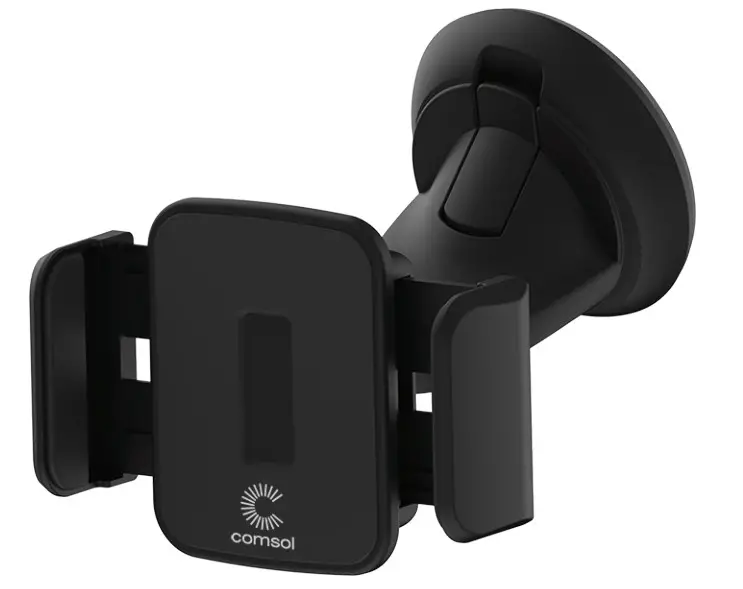 comsol Wireless Car Charger User Manual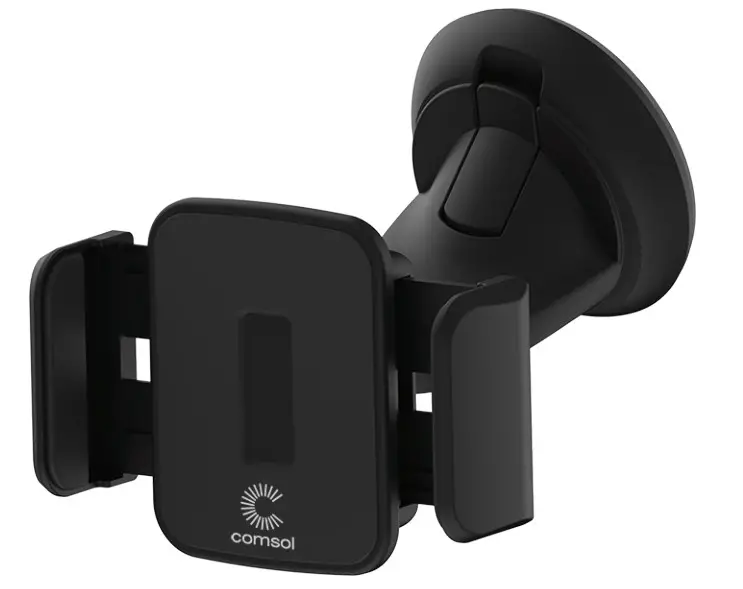 Compatibility
Compatible with Qi-enabled devices* including
iPhone X
iPhone 8
iPhone 8 Plus
Samsung S9/S9+
Samsung 58/58+
Samsung S7/S7 Edge
Samsung Note 8
Samsung Note 5
Sony Xperia XZ2
Nokia 8 Sirocco
LG G7 ThinQ
LG V30+
Features
Qi certified to guarantee safety, compatibility and energy efficiency
Supplied with window suction mount, air vent holder and dash mount disc with 3M adhesive sticker
Supports 5W standard wireless charging for all Qi enabled devices
No need to remove your protective case. Works with most cases up to 3mm thick
LED indicator to show charging status
Smart IC enables energy saving mode when device is fully charged
Full safety protection for your devices with Qi certified temperature control, strict voltage regulation & short circuit protection
Includes lm micro USB cable to connect wireless cgarger to USB car charger (USB car charger not included)
Check with device manufacture for Qi wireless compatibility
Wireless Charger Operation
Choose either the air vent mount or the window suction mount and attach the accessory to the wireless charger by snapping the ball into place and tightening the screw
If mounting on the dash, attach the round disc accessory to the dash using the 3M adhesive sticker and then mount the wireless charger to the round disc using the window suction mount
Using the included micro USB cable, connect the wireless charger to a USB car charger (USB wall charger not included)
It is recommended to use original or reputable 3rd party branded USB wall chargers
When connected to the USB charger, the red LED will be on for 3 seconds to indicate the charging stand is powered on and in stand-by mode
Place your Qi enabled wireless phone into the spring loaded arms and your phone should start charging automatically
The green LED will be permanently on to indicate charging
If your phone does not start charging, move your phone up or down until the correct position is found and your phone starts charging When your phone is fully charged, the Smart IC enables energy saving trickle charge mode
To remove your phone, just pull it forward and out of the spring loaded arms.
Please Note: When wirelessly charging a device, the wireless charger and your device may feel warm. This is a normal operating condition and should not be cause for concern.
Specifications
Wireless Standard: WPC/Qi (v1.2.3)
Quantity of Wireless Charging Coils: One Coil
Input: DC 5V 2A
Output: 5W (Max)
Working Frequency: 110 to 205KHz
Charging Distance: 3 to 8mm
Charging Efficiency: >72%
Weight: 158g
Important Safety Instructions
Only use original or reputable third party chargers and cables
Do not get wet to avoid causing short circuit damage and leakage
Do not use in extreme hot, humid or corrosive environments to avoid short circuit damage and leakage
Do not place too close to magnetic strip or chip ID card to avoid magnetic failure
Do not place within 20cm of implantable medical devices (pacemaker, cochlear implant etc.) to avoid potential interference
Do not clean with harmful chemicals or detergents
Misuse, dropping or excessive force may cause damage to the charging stand.
iPhone is a trademark of Apple inc., registered in the U.S. and other countries. The 'Qi' Symbol is a trademark of the Wireless Power Consortium. Android is a trademark of Google Inc.