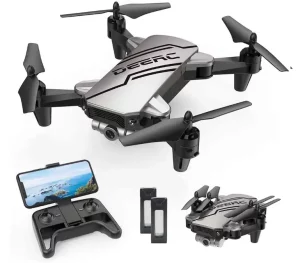 DEERC D20 Mini Drone for Kids with 720P HD FPV Camera Remote Control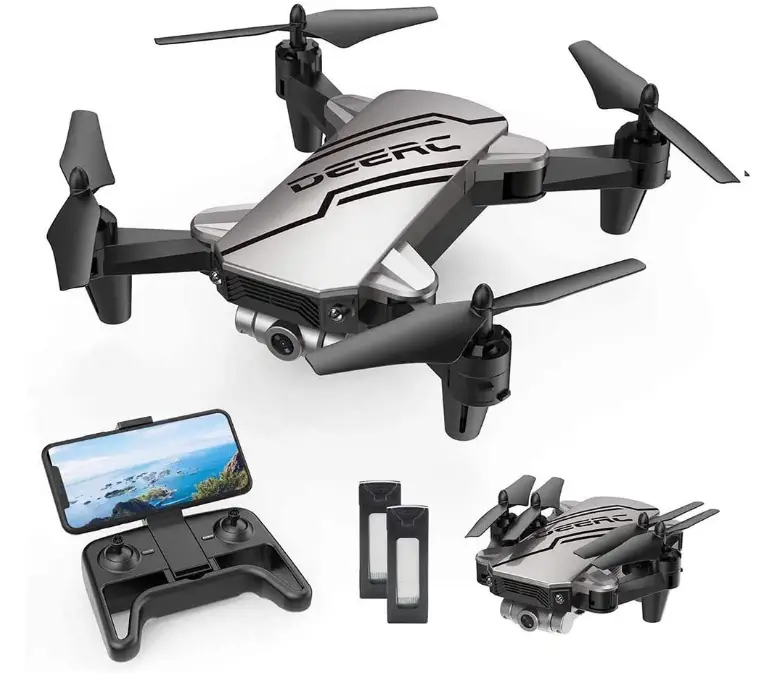 Specifications
BRAND: DEERC
COLOR: A-Silver
CONTROL TYPE: Remote Control
MODEL NAME: D20
VIDEO CAPTURE RESOLUTION: HD 720p
PRODUCT DIMENSIONS: 7 x 4.7 x 1.7 inches
WIRELESS COMMUNICATION TECHNOLOGY: Wi-Fi
ITEM WEIGHT: 69 Grams
BATTERY CAPACITY: 0.51-Watt Hours
ITEM WEIGHT: 2.43 ounces
VIDEO OUTPUT RESOLUTION: 1280×720 pixels
It is provided with a 720P HD WIFI camera to take better airborne pictures and videos. With the help of FVP transmission, you can watch the sky through a smartphone app from a live video feed. It is features with emergency stop, low power alarm having 4 prop guards to make sure a safe flight. It also has 2 powerful and rechargeable batteries that can hold up for 20 minutes. You can perform a flip by pushing the control sticks inside. It draws a flying route on your smartphone according to which the drone will fly. You can control the drone with voice comments like "landing" "takeoff". Show your palm in front of the camera the drone will automatically take photos.
WHAT's IN THE BOX
A tiny remote
a drone
2 batteries
2 charging cables
4 propellers, screwdriver
HARDWARE SETUP
It is quite simple to set up. First, turn the remote on by pressing the power button then turn the drone on. Turn left stick up and down then adjust it by pulling the sticks down to the right.
SOFTWARE SETUP
First, go to the settings – WIFI – and connect your drone's WIFI using the rewriting added in your manuals.
Frequently Asked Questions
How high can a Deerc drone fly?
The most remarkable thing about this device is that it has low suspension. In inclusion, it has a small display that shows you how high or far out the drone is flying as well as important battery statistics.
Is Deerc a good brand of a drone?
It is a good brand for beginners and is very straightforward. It has 3 speeds and it can fly very stable nevertheless indoors or outdoors.
Do I have to calibrate my drone every time?
Many experts say that the drone needs to be calibrated every time it is used specially if it will be flying in a new place. However, some believe that calibrating your drone too often can damage the drone.
How do I stop my drone from drifting?
You can mend a drifting drone by solving the issue in the internal working of the drone. This includes checking the motors, calibrating, propellers, giving it enough charging and refitting components
What is a headless mode on a drone?
An easy way of dialing in your drone's direction is by learning the headless mode. As shown by the name, the drone has no head in this mode making it easier to control.
What happens if you don't calibrate the drone?
If you do not calibrate your drone then either you could crash it or you may be unable to fly it.
What is a gyro in drones?
A gyroscope helps keep the drone balanced and measures the rate of rotation. These are the devices that contain a wheel that spins on axis that can move in any direction freely.
What does IMU mean for a drone?
It is an Inertial Measurement Unit. IMU is an electronic device that measures rotation and acceleration using a gyroscope and accelerometers.
What is a drone magnetometer?
Using a magnetometer on a drone enables us to obtain geo-referenced maps of the area, scan the area and detect metals may times faster as compared to handled devices.
Why does my drone drift?
Your drone may be drifting to one side because of uneven weight distribution, slanted launched surface or poor weather.
How high can the DEERC mini Drone Go?
Easy for Kids and Beginners: The D20 mini drone can do auto hovering with Altitude Hold system; the One Key Start/Stop helps to take it off or land it easily; 3 speed modes from low to high for players with different levels
Are Deerc Drones Good?
The DEERC HS200D is very straight forward and good for beginners, as well as drone geek like ourselves. It has 3 speeds and can fly very stable regardless of indoors or outdoors. On our first try, we took it outside. There was a slight breeze but, no problem.
Can I fly the drone outside?
Yes, you can fly it outside. But, make sure to fly it in a wide open area.
Can I use the drone for taking pictures and videos?
Yes, you can use the drone for taking pictures and videos. But, make sure to fly it in a wide open area.
How do I charge the drone?
You need to connect the charging cable with the charging port of the drone. Then, plug the charging cable into a power outlet.
VIDEO

DEERC D20 Mini Drone for Kids with 720P HD FPV Camera Remote Control
https://www.deerc.com/