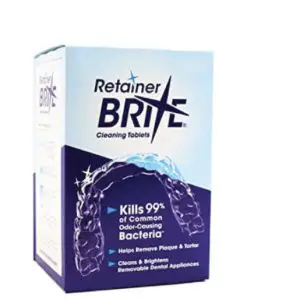 Dentsply Sirona Retainer Brite Dental Appliance Cleaner Instruction Manual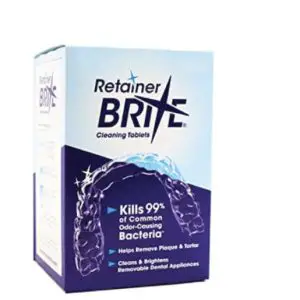 Retainer Brite® Dental Appliance Cleaner
INTENDED USE:
Product is intended to clean a variety of removable dental appliances.
INDICATIONS FOR USE:
Product is indicated for patients who are using removable dental appliances such as retainers, aligners, dentures, sports mouth guards, night guards, bruxing and TMJ appliances, which need to be cleaned at home.
CONTRAINDICATIONS:
This product is contraindicated for patients allergic to Per sulfates
WARNINGS:
Contains per sulfates which are a known allergen. Keep out of reach of children. Use only as directed. If product comes into contact with eyes, wash eyes thoroughly with water for several minutes. Do not put tablets or cleaning solution in mouth. If ingested, seek medical assistance immediately. In the USA, please call Poison Control Center at 1-800-222-1222. In the UK, please call NHS Direct at 0845 4647.
Do not allow wire appliances to soak for more than 15 minutes. Remove promptly and rinse thoroughly with water. Wash hands thoroughly before and after handling tablets. Do not mix with other cleaners. Single use only. If re-used, product will not perform as intended. Store in a cool dry place.
Keep out of reach of children. Do not put tablets or cleaning solution
in mouth.
ADVERSE REACTIONS: Allergic reactions.
STEP BY STEP INSTRUCTIONS: Use daily for best results.
Drop one tablet into enough warm (not hot!) water to cover appliance.

Place appliance into bubbling blue solution.

After 15 minutes appliance is clean and odor free!

Rinse appliance and hands thoroughly with running water.

Kills 99% of common odor-causing bacteria including: Staph aureus, E. coli, P. aeruginosa and F. nucleatum. Data on file. Independent 2016 U.S. lab testing (ASTM method E2315-03).
DO NOT allow wire appliances to soak for more than 15 minutes. Remove promptly and rinse thoroughly with water.
Made in USA.
1-800-866-6884 • www.retainerbrite.com