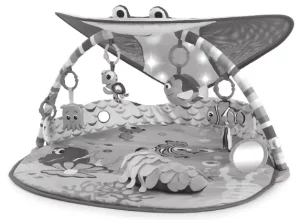 Mr. Ray Ocean Lights & Music Gym™
#11095 EWS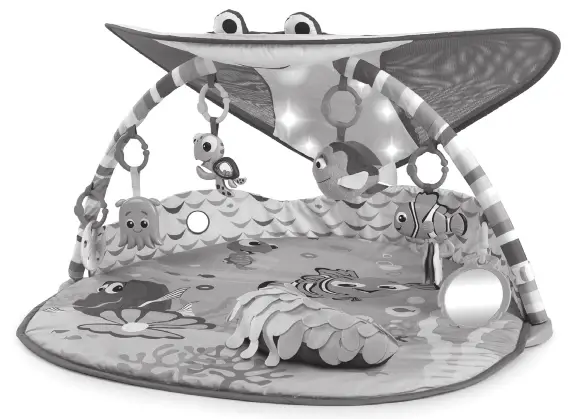 IMPORTANT! KEEP FOR FUTURE REFERENCE.
WARNING
To Prevent Serious Injury or Death:
NEVER leave child unattended.
Use only under adult supervision.
Do not add additional strings or straps to the product.
Babies should not be allowed to sleep while lying on this activity gym.
Do not use this product as a blanket.
Only use the mat on the floor.
Do not use the mat in the crib, play yard, etc.
Not intended for carrying a baby.
Do not connect links together across the crib, play yard, or activity gym.
Never connect links to form a chain more than 12" long.

The toy bars are under tension. To avoid injury, grasp firmly and release the tension slowly.
FCC Statement / CAN ICES-3 (B) / NMB-3(B)
This device complies with Part 15 of the FCC rules. Operation is subject to the following two conditions:
this device may not cause harmful interference, and
this device must accept any interference received, including interference that may cause undesired operation.

WARNING: Changes or modifications to this unit not expressly approved by the party responsible for compliance could void the user's authority to operate the equipment.
NOTE: This equipment has been tested and found to comply with the limits for a Class B digital device, pursuant to Part 15 of the FCC Rules. These limits are designed to provide reasonable protection against harmful interference in a residential installation. This equipment generates, uses, and can radiate radio frequency energy and, if not installed and used in accordance with the instructions, may cause harmful interference to radio communications.
However, there is no guarantee that interference will not occur in a particular installation. If this equipment does cause harmful interference to radio or television reception, which can be determined by turning the equipment off and on, the user is encouraged to try to correct the interference by one or more of the following measures:
Reorient or relocate the receiving antenna.
Increase the separation between the equipment and receiver.
Connect the equipment into an outlet on a circuit different from that to which the receiver is connected.
Consult the dealer or an experienced radio/TV technician for help.
Care and Cleaning
Mat – Remove toy bar, Mr. Ray, toys, and plush toy before washing. Machine wash with cold water and mild soap, gentle cycle; no bleach. Air dry flat.
Toy bar assembly and toys – Wipe clean with a damp cloth and mild soap. Air dry. Do not immerse in water. Mr. Ray – Wipe clean with a damp cloth and mild soap. Air dry. Do not immerse in water.
To reassemble gym – Connect fabric toy bar to the plastic base and plastic toy bar pass through the sleeves on the side of mat; plug the plastic toy bar with fabric toy bar joint.
IMPORTANT
Adult assembly required.
Please read all instructions before assembly and use of the product.
Care should be taken in unpacking and assembly.
Examine products frequently for damaged, missing, or loose parts.
DO NOT use if any parts are missing, damaged, or broken.
Contact Kids II for replacement parts and instructions if needed. Never substitute parts.
Parts List and Drawing
| | | |
| --- | --- | --- |
| 2 2 z | Qty. Cant. Qte | Description |
| 1 | (1) | Play mat |
| 2 | (1) | Mr Ray |
| 3 | (1) | Toy bar assembly |
| 4 | (1) | Plastic toy bar |
| 5 | (2) | Foot plate |
| 6 | (1) | Dory Plush |
| 7 | (1) | Nemo bead chaser |
| 8 | (1) | Turtle rattle |
| 9 | (1) | Octopus Rattle |
| 10 | (1) | Toy |
| 11 | (1) | Mirror |
| 12 | (1) | Pillow |
| 13 | (6) | Fun Link'" |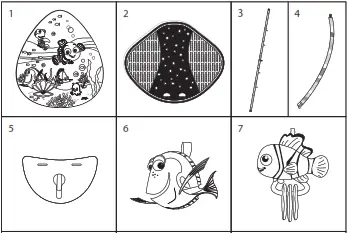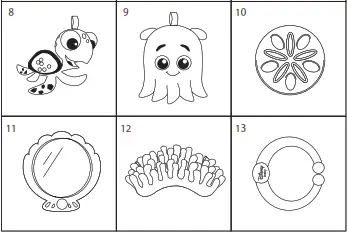 Assembly Instructions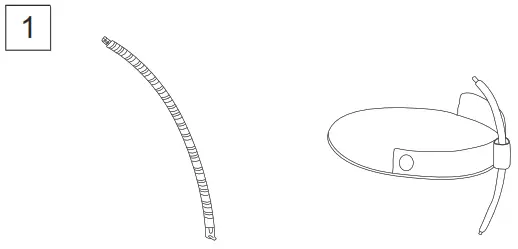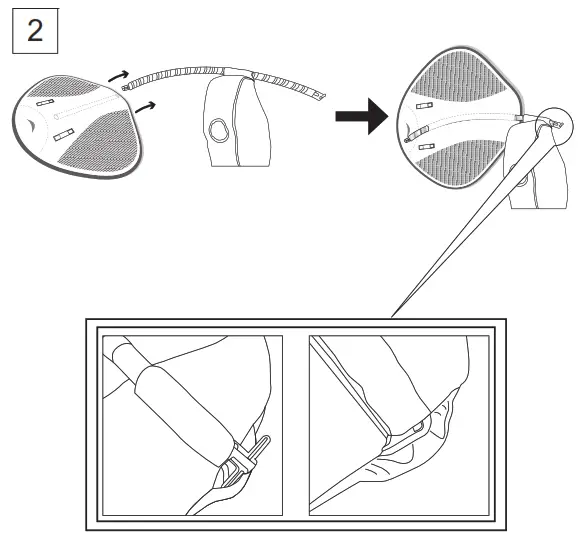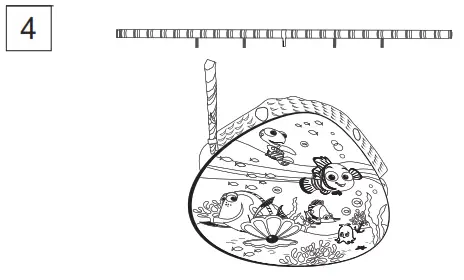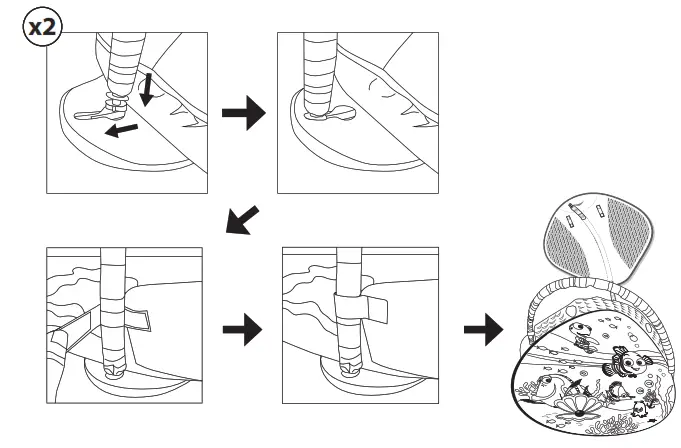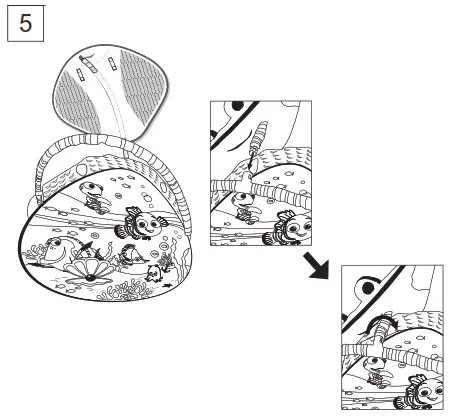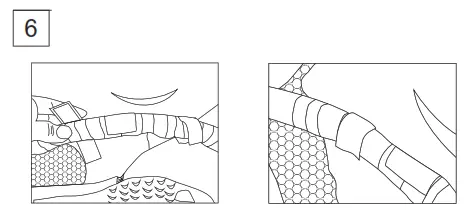 Battery Information
The musical toy requires (3) size AA/LR6 (1.5v) alkaline batteries (not included).


CAUTION: Follow the battery guidelines in this section. Otherwise, battery life may be shortened or the batteries may leak or rupture.
Always keep batteries away from children.
Do not mix old and new batteries.
Do not mix alkaline, standard, or rechargeable batteries.
Only batteries of the same or equivalent type as recommended are to be used.
Install the batteries so that the polarity of each one matches the markings in the battery compartment.
Do not short-circuit the batteries.
Do not store batteries in areas that have extreme temperatures (such as attics, garages, or automobiles).
Remove exhausted batteries from the battery compartment.
Never attempt to recharge a battery unless it is specifically marked "rechargeable."
Rechargeable batteries are to be removed from the toy before being charged.
Do not use rechargeable alkaline batteries in a Ni-Cad or Ni-MH battery charger.
Please use the correct disposal method for batteries.
Remove batteries before putting the product into storage for a prolonged period of time.
Do not dispose of product or batteries in fire, batteries may explode or leak.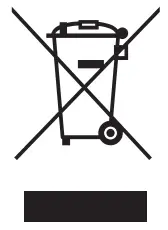 This symbol indicates that the product is not to be disposed of in household waste as batteries contain substances that can be damaging to the environment and health. Contact local authority for recycling & collection information.
Battery Installation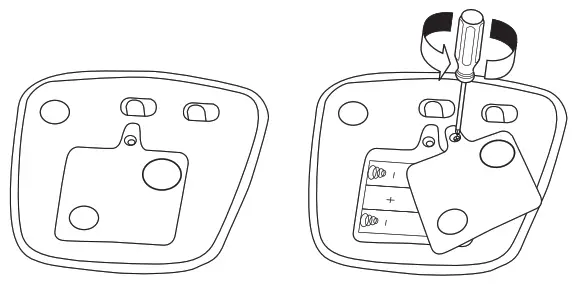 Operating Instructions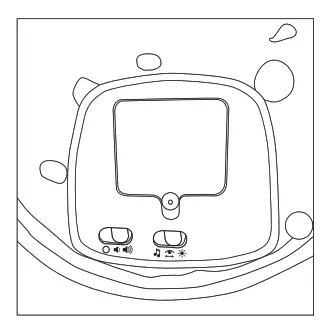 Off


Low


High


Melody Mode


Eye Tracking


Lights Only

kidsii.com/connect
MANUFACTURED FOR.
KIDS II ® • ©2017
KIDS II, INC., ATLANTA, GA USA 30305 • 1-800-230-8190 • www.kidsii.com/help
KIDS II CANADA CO. TORONTO, ONTARIO CANADA M2J 5C2 • 1-800-230-8190
KIDS II AUSTRALIA PTY LIMITED CASTLE HILL, NSW AUSTRALIA 2154 • (02) 9894-1855
KIDS II JAPAN K.K. SHINJUKU-KU, TOKYO, JAPAN, 163-0529 • (03) 5322-6081
KIDS II US MÉXICO S.A. DE C.V. AVE. VASCO DE QUIROGA # 3900 • INT. 905-A COL • LOMAS DE SANTA FE, DELEGACION ÁLVARO OBREGÓN, CIUDAD DE MÉXICO, MÉXICO C.P. 01219 • (55) 5292-8488
KIDS II UK LTD. 725 CAPABILITY GREEN, LUTON, BEDFORDSHIRE, UK, LU1 3LU • +44 01582 816 080
KIDS II AMSTERDAM • +31 20 2410934
PRINTED IN CHINA