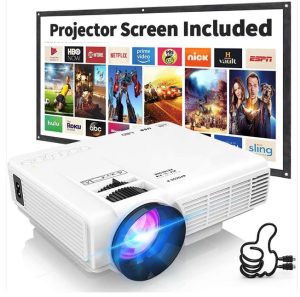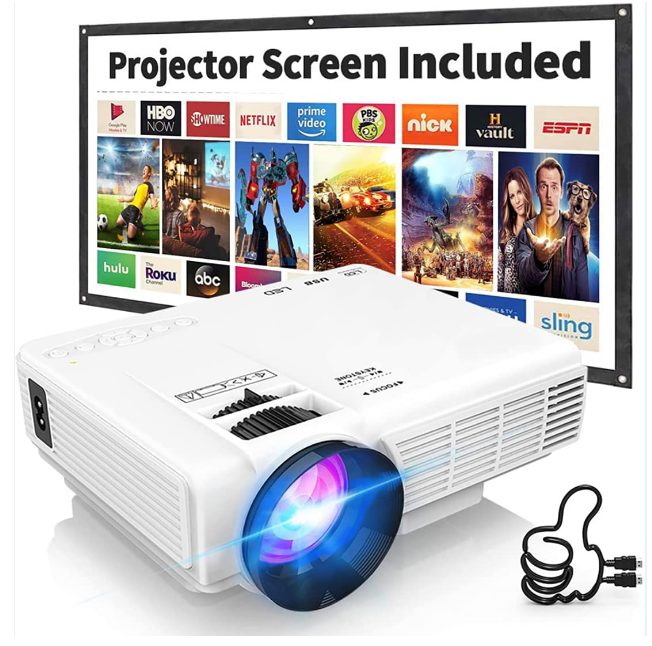 DR. Q HI-04 Projection Screen 1080P Full HD Supported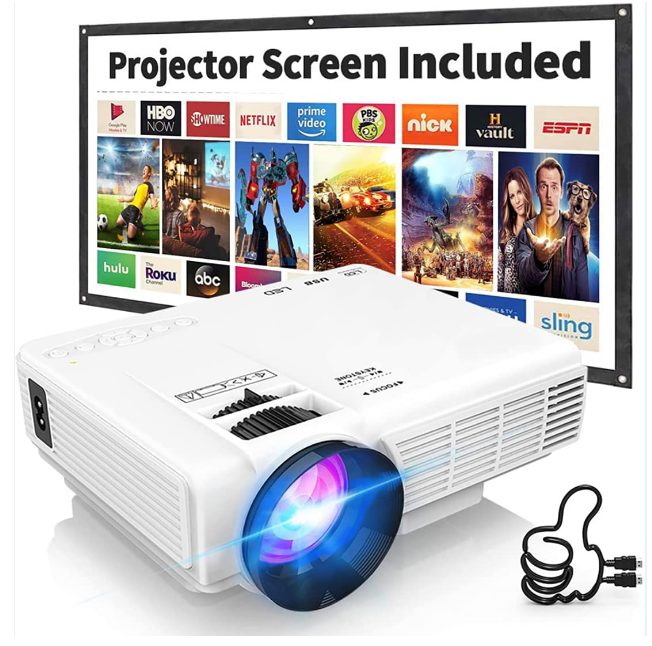 Specifications
Product Dimensions ‏: ‎ 19.8 x 15.3 x 6.85 cm
Weight: 02 Kilograms
Item model number: ‎ HI-04
Hardware interface: MicroSD, VGA, Bluetooth, AV Port, USB, HDMI
Mounting type: Floor Mount, Tabletop Mount
Brightness: 7500 Lumen
Controller type: Remote Control
Compatible devices: Projectors
Item weight:02 Kilograms
Minimum throw distance: 9 Feet
Image contrast ratio: 2000:1
What's in the box?
Projector with Projection Screen 1080p
Descriptions
It is now simple to establish your own home theatre and enjoy movie night on the large screen thanks to this model of HI-04 projector with 100 Inch Portable Projection Screen.
This HD video projector has been upgraded this year and now has a Native Resolution of 1280 x 720, which produces 1080P Full HD image quality that is three times CLEARER than that of other tiny projectors on the market.
The latest NTSC color technology was used in the construction of the projector and screen package, which also improved the color contrast ratio to restore actual color content and give our customers a real, dynamic, and brilliant color projection image quality.
Clear Full HD Image Quality
The HI-04 video projector type uses the most up-to-date 7P LCD technology and provides Full HD crisp image quality. It is ideal for home entertainment since the image brightness (Color Brightness and White Brightness) is 80% boosted when compared to other usual projectors.
Vibrant and Dynamic
This compact home projector boosts 60% colour saturation and offers accurate and colourful image quality with 4000:1 contrast at 270-degree wide-viewing angles thanks to the most recent NTSC colour technology and improved colour contrast ratio.
Eye-protective and extended lamp life
To guarantee you have the best possible viewing experience, we have upgraded this projector with eye-protective and uniform illumination techniques. In addition, the bulb has a lifetime of 60,000 hours.
Availability on the Most Devices
You can use this video projector to see content on a 220 inch big screen using a smart phone, tablet, or Mac, but you will need to purchase an additional cable that is not included in the box.
For TV signal inputs, including but not limited to TV sticks/boxes, Chrome cast, Rook sticks, etc., this home video projector is the ideal choice.
In order to provide superb playback of movies, videos, games, photographs, and TV shows, you may also link this video projector with your PS3 or PS4, X-Box One or Wii, PC, laptops, DVD player, Micro SD card, and USB flash drive.
The two built-in speakers recreate the authentic audio from music and movies.A third speaker can be connected to the projector.
This small video projector has a contemporary design and is made specifically for your amusement.
This home projector has keystone correction and easily adjustable focus. Till the projected image is clear and focused, roll the zoom lens and wheel.
This HI-04 projector can be mounted on a tripod or under the ceiling using the M6 screw hole. A perfect answer for various mounting positions is the incorporated image flip function.
Features
FANTASTIC FOR WATCHING MOVIES
To break up the routine of "watch TV every night," you might get this projector to use outside on clear nights.
It is quiet enough to be used indoors, has a built-in speaker, and can be linked to external speakers for better sound quality.
Ideal for use on an empty wall in the living room or the backyard.
Projection device with Bluetooth
Yes! It is a projector with Bluetooth.
Anytime, wherever, you may wirelessly pair with your Bluetooth speaker, headphones, or soundbar.
It is a tiny projector with Bluetooth, and you can connect extra speakers to it to improve the sound quality to that of a theatre.
GAINING AN A+ FOR VALUE
If HD and premium colour quality are important to you, you might need to spend several hundred dollars extra on a top-tier pricey projector. It is definitely not the best option! However, this projector is a fantastic deal! Save money and just get this unless you have a 4000 square foot home with a dedicated theatre room. The best! really simple to use. Photos display both lit and unlit scenes.
Display is 176 inches
With a projection distance ranging from 4.9 feet to 16.4 feet, this projector offers viewing sizes between 32 and 176 inches. The suggested viewing distance is approximately 6.5 feet from the projection.
Frequently Asked Questions
Is keystone correction for 4D/4P required?
My previous projector required manual positioning when set on a shelf and only had basic vertical keystone adjustments. This time I had the ONO1 installed on the ceiling and not exactly level with the screen, so the 4-point/4D keystones via remote were incredibly helpful and convenient compared to the old projector.
Can you use an outside projector indoors?
The majority of projectors can be used both inside and outside if they are kept under cover, however utilising your projector outside will be significantly different from using it in your living room. Understanding the difference between an indoor and an outdoor projector screen is crucial in this situation.
Do portable projectors require an electrical outlet?
It varies. Many portable projectors come equipped with built-in batteries that can operate for two to three hours without the need for an electrical outlet. Some of them can run without a plug by connecting to external USB battery packs.
Can a projector be left outside?
Projectors aren't made to be left outside for extended periods of time, which is a shame. For outdoor events like movie days or nights with friends, family, or a significant other, a projector is a fantastic alternative. However, following each use, the projector needs to be carried inside.
How many lumens does a projector for outdoor daytime use require?
3000 lumens are required for an outdoor, daytime projector.
How can my outdoor projector be protected?
To protect your outdoor mini projector, pocket projector, pico projector, or short-throw projector, you need have items like a sturdy table to set the projector on, an umbrella to shield it from excessive sunlight exposure, and keep your projector indoors if the weather isn't cooperative.
What should I know before purchasing a projector for the outdoors?
Brightness: 5 Things to Take Into Account When Purchasing an Outdoor Projector. Candle feet, or lumens, are the units used to quantify brightness.
Ratio of throws. This might be described as the separation between your projector and the screen as well as the size of the screen. …
Contrast Ratio, Resolution, Other Considerations, Choosing an Outdoor Screen, and Concluding Remarks.
Does a projector need to be charged?
Due to the quantity of energy they use, the majority of projectors require an electrical connection. Rechargeable built-in battery projectors, which can be quite useful, are rising in popularity.
Are speakers required for the outdoor projector?
Most projectors' built-in speakers aren't powerful enough to fill even small rooms, much less compete with outside noise. This necessitates the use of external sound, and not just any speaker will do.
Are projectors functional in the sun?
However, due to the nature of projecting and projector screens, projectors can only function properly when the desired brightness is produced at the projector.
Can a projector be used in the rain?
First of all, stay away from days that are particularly windy or wet. Due to the dim outside lighting, you might be able to see the movie on the screen, but wind can seriously harm the projector screen. On the other hand, rain and water can damage your projector.
Can a projection screen outside get wet?
The single most crucial thing you can do to preserve the long life of your outdoor cinema system is to keep your inflatable movie screen dry because water is the biggest enemy of your large outdoor screen. Take down and fold up your screen as soon as it starts to rain at your outdoor movie event.
Can a projector be left on all night?
A projector can be left on all night, although it's not advised. It's recommended to turn off or set a projector to blank mode when it's not in use. The lifespan of the lamp is increased as a result. There is no issue with leaving your projector on overnight, just like when you use it all day.
How can I use my outdoor projector to watch TV?
Your DVD player or Blu-ray player, streaming media player like Roku or Amazon Fire TV Stick, and cable or satellite box can all be connected to your projector.
How durable are portable projectors?
Earlier projector bulbs typically had a lifespan of 1,000–2,000 hours.