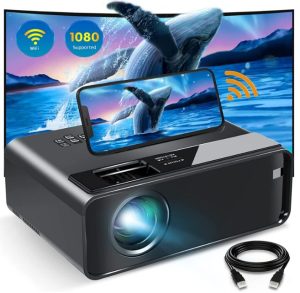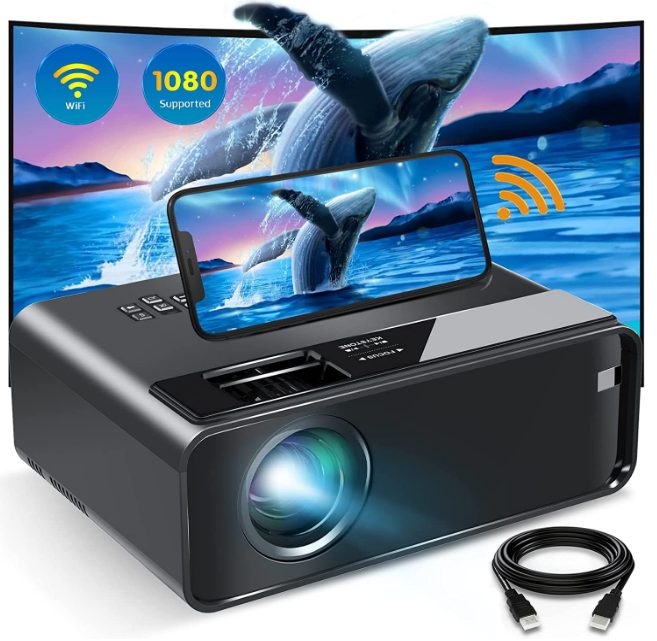 ELEPHAS W13 Mini WI-FI Projector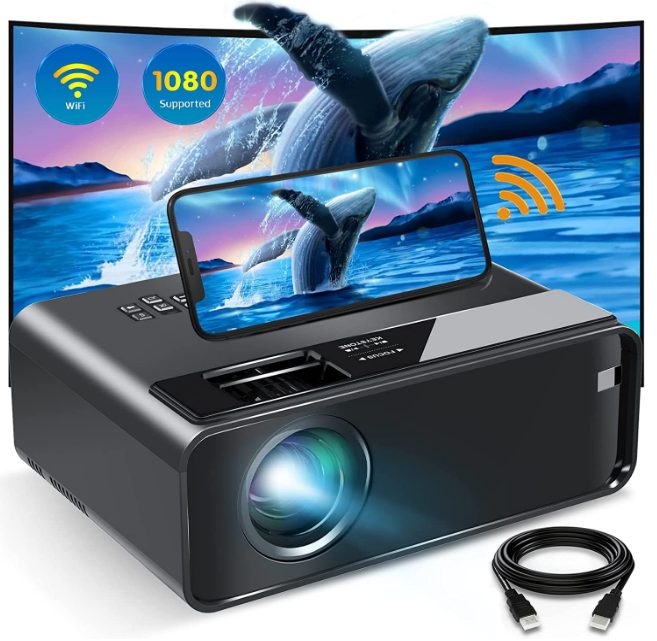 Specifications
Model Name: W13
Hardware Interface: VGA, USB, HDMI, 3.5mm Audio
Mounting Type: Ceiling Mount, Tripod Mount, Wall Mount
Brand: ELEPHAS
Wattage: 60 kilowatt hours
Product Dimensions:9 x 5.5 x 2.7 inches
Item Weight: 2 pounds
Contrast Ratio: 3500:1
Max Support Resolution: 1920x1080P
Diaplay Size: 30″-200″
Diaplay Distance:6-14.5feet
Display Technology: LCD
Light Source: LED
Lamp Life: 50,000 Hours
What's in the box?
ELEPHAS Projector
Lens Cover
HDMI Cable
AV Cable
Remote Control
Power Cable
Instruction Manual
1 x Screw
Descriptions
Full HD 1080P input with 24-bit true-color support and a 200″ display are supported. Accessible amazing big-screen visual experience.
HIFI Stereo Speaker Built-In
Built-in speakers increase your immersion in the cinematic experience by providing original audio fidelity and filling your environment with powerful, overpowering sound.
Warm Tip
Due to copyright restrictions, projectors with mirror displays do not support playing protected content. Netflix and Hulu
For optimal results, use the device in a dark setting.
To prevent damage, use caution when connecting and unplugging power ports.
For business presentations, not advised.
Features
Wireless Assistance:
The ELEPHAS W13 video projector is made using the most recent WiFi technology and works with Windows 10, Android, and iPhone. It is handy for you to lead a free life whenever, anyplace without being constrained by wires.
LAN Connection:
Without a Wi-Fi network? The ELEPHAS phone projector has been designed with this in mind; no pricey adapter is required; you can effortlessly connect the projector to your iPhone using the projector's original cable line.
Ultimate Visual Experience: Stunning big-screen visual experience attainable, with brilliant tiny HD movie projector performance based on the powerful parameters: Full HD 1080P input, 24-bit true-color support, and 200″ screen.
Enjoy Humanized & Unbounded Design:
A smart projector with integrated speakers, upgraded noise reduction technology, and original audio integrity fills your space with powerful, overwhelming sound.
FAQ's
I don't have Wi-Fi. Can I Directly Connect My iPhone To the Projector? Is it functional without Wi-Fi?
Yes. With the included plug-in cord, you may connect your iPhone directly to the projector.
Will an Amazon Fire Stick work with it? Many thanks
Our portable Wi-Fi projector may be used with an Amazon Fire stick. Please don't hesitate to contact the vendor with any additional inquiries.
Can a picture be projected onto a screen as tiny as 24″ with this projector?
The ideal distance for eye protection and projection is between 6 and 10 feet. About 30″-100″
The remote is gone. Does anyone know how to change the projector's volume using the settings buttons?
The volume is adjusted using the right and left arrows on the projector's top. Right is up and left is down.
Will this play sports on ESPN+ that I'm watching?
Yes, sweetheart, but I believe you also need a fire stick.
Can a Windows laptop screen share over wifi?
I'd connect with an HDMI cable.
The code needed for me to finish the setup is not displayed while utilizing a screen mirrors from an iPad or iPhone. How do I finish the mirroring procedure?
To reflect it, you must first connect to the projector's built-in Wi-Fi.
Can a powerpoint presentation be shown with a laptop and this portable projector?
I thus presume. I used it over the weekend to watch a movie on my Chromebook after hooking up an HDMI cable to the projector. I was trouble-free. When using a Chromebook, you do need to turn on something on the computer for it to function. All I did was google it.
Is there anything else I need to purchase in order to mount the screen?
The screen is almost sheet-thin in thickness.
Can I connect the projector to Netflix using my PC?
Yes, you can use the provided HDMI adapter to connect the projector to your computer. After that, use your computer's screen mirroring function. The projector will show whatever is visible on your computer screen. The projector will also play the audio from your computer.
Is it functional without WiFi?
No. You only need an HDMI cable to connect your device.
What is an electric run's wattage?
Dear, our projector comes with a screen and a standard 220V power supply.
Is it possible to connect this projector to a stronger audio setup?
We regret to inform you that Bluetooth is not supported by the projector.
Can you substitute an Amazon HDMI cable for Apple's lighting to an HDMI cable?
This projector comes with an HDMI cord. It works with my MacBook Pro because it has an HDMI output.
Can it be suspended from the ceiling?
True, darling.
The bottom of the movie projector has a 1/4-inch screw hole. The HD projector can, in my opinion, be hung from the ceiling. Please review pages 03–6 of the instructions. On the menu, there is an option to reverse the image, which will make it appear correct. There is also a choice for front, back, or reverse. Please feel free to ask the seller for assistance with any more queries.
Is this suitable for use outside throughout the day? Anyone who has tried it? How did it look outside?
I appreciate your inquiries.
Even though you can still use light to display this projector, it might not be as clear as you'd want in natural light or outdoors during the day. or the greatest performance, use in a dark area. Not recommended for business presentations. Recommended for nighttime outdoor movies, video games, and home theatres. Please don't hesitate to contact the vendor with any additional inquiries.