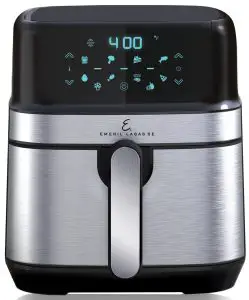 EMERIL LAGASSE 799616335 5QT Air Fryer Elite Home User Guide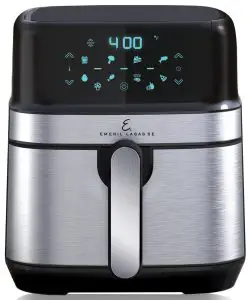 Instructions
STEP 1
REMOVE BASKET
Pull the Basket out by the handle. Place the Fry Tray in the Basket and push down into place.
STEP 2
LOAD BASKET
Ensure that the Fry Tray is in the Basket. If not, place the Fry Tray in the basket and push it downinto place. Arrange the food you are cooking on top of the Fry Tray.
STEP 3
RETURN BASKET TO APPLIANCE
Push the Basket straight in until it clicks.
STEP 4
SET APPLIANCE
Plug in the Power Cord and press the Power Button. Press a preset button and/or the Time & Temperature Control Buttons to set the time and temperature, then press the Start/Pause Button.
STEP 5
REMOVE BASKET
Remove the Basket by the handle with oven mitts. Set the Basket on a secure, heat-resistant surface. Use tongs to remove food.
IMPORTANT: Unpack all parts from the box and remove any clear or blue protective film on the components. Wash with warm, soapy water before first use (only select accessories are dishwasher safe).