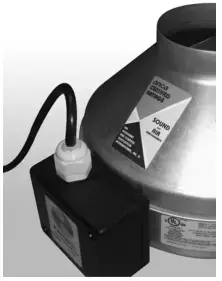 Installation and Operation Manual
Item #: 400017
Rev Date: 2019-07-05
FG Series
(120V, 230V)
Inline Centrifugal Fans
THIS KIT INCLUDES:
Inline Fan FG, 1 pc
Fan Mounting Bracket, 1 pc
Bracket Hardware, 1 pc
Electrical Box Hardware, 1 pc
Operation and Installation Manual, 1 pc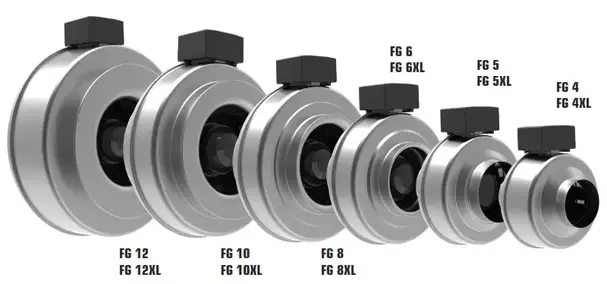 United States Tel.: 800 747 1762
Canada Tel.: 800 565 3548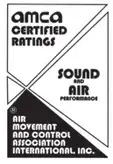 Fantech Inc. certifies that the FG Series shown herein is licensed to bear the AMCA Seal. The ratings shown are based on tests and procedures performed in accordance with AMCA Publication 211 and AMCA Publication 311 and comply with the requirements of the AMCA Certified Ratings Program.
To ensure quiet operation of ENERGY STAR® qualified inline and remote fans, each fan shall be installed using sounds attenuation techniques appropriate for the installation.
For bathroom and general ventilation applications, at least 8 feet of the insulated duct shall be installed between the exhaust or supply grilles(s) and the fan. For kitchen range hood remote ventilation applications, where the metal duct is generally required by code, a metal sound attenuator shall be installed between the range hood and the fan.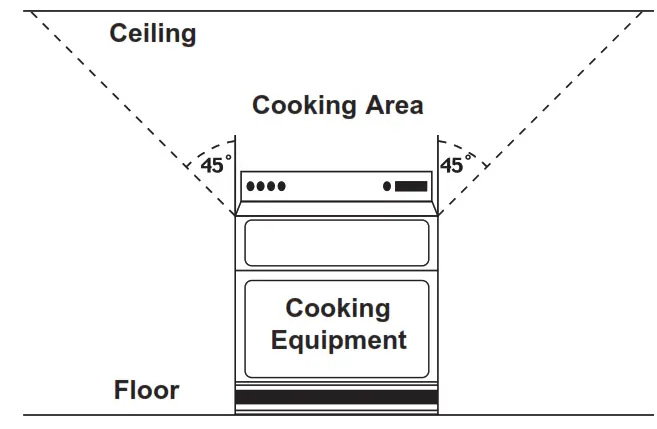 | | | | | |
| --- | --- | --- | --- | --- |
| | | | | |
| Note | Warning /Important Note | Information | Technical information | Practical tip |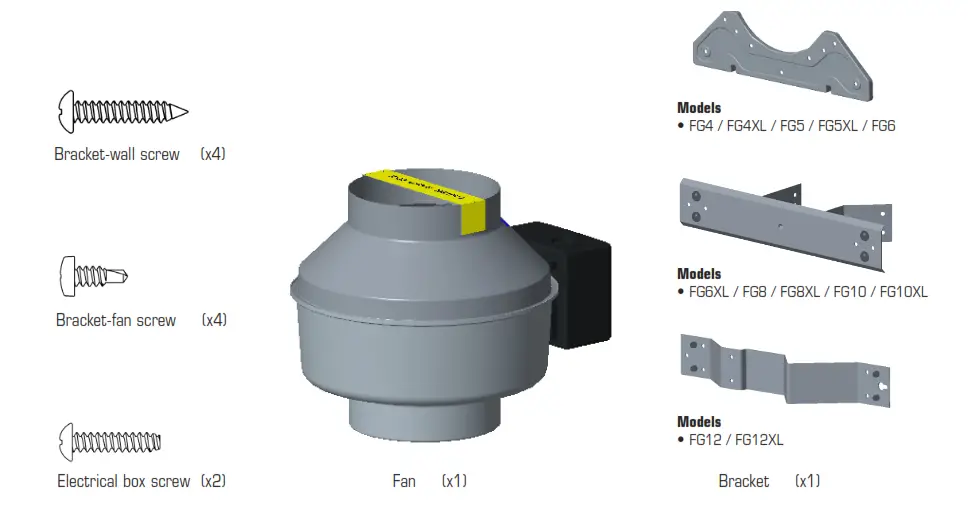 The compactness of the FG series, plus the adaptability to be mounted in any position, permits easy installation. This straight-thru airflow fan can be mounted at any angle from horizontal to vertical.
Because this unit has rotating parts, safety precautions should be exercised during this phase of installation, operation, and maintenance.
CAUTION: For General Ventilation Use Only. Do Not Use To Exhaust Hazardous Or Explosive Material and Vapors.
Remove unit from package and inspect within 15 days after receipt. If damaged, report damage to the carrier. Do NOT operate this unit with visible damage to the blower or impeller assembly.
For FG Series fans, if the bracket is used to mount the fan, refer to illustration 1. If suspending fan with hanger straps, refer to illustration 2.
To attach ductwork, use duct tape at the inlet and outlet to assure a good seal. If using FANTECH FC clamps: attach FC clamps and insert screws through clamp into inlet and outlet flanges. 1 /2″ sheet metal screws to secure CAUTION: Use ductwork to inlet and outlet. It is critical that the screw penetrates the metal of the inlet flange but not so far as to bind the impeller. It may be necessary to angle screws away from the impeller. CAUTION: If not using FANTECH FC clamps use 1 /4″ screws.
Screen guards must be installed when fans will be within reach of personnel, within seven (7) feet of the working area, or when advisable for safety.
An appropriate duct termination device (roof cap, wall cap, louvered shutters, etc.) is to be used with this fan.
WARNINGS
WARNING! TO REDUCE THE RISK OF FIRE, ELECTRIC SHOCK, OR INJURY TO PERSONS – OBSERVE THE FOLLOWING:
a. Use this unit only in the manner intended by the manufacturer. If you have any questions, contact your manufacturer's representative.
b. Before servicing or cleaning the unit, switch power off at the service panel and lock the service disconnecting means to prevent power from being switched on accidentally. When the service disconnecting means cannot be locked, securely fasten a prominent warning device, such as a tag, to the service panel.
c. Installation work and electrical wiring must be done by a qualified person(s) in accordance with all applicable codes and standards, including fire-rated construction.
d. Sufficient air is needed for proper combustion and exhausting of gases through the flue (chimney) of fuel-burning equipment to prevent back drafting.
Follow the heating equipment manufacturer's guidelines and safety standards such as those published by the National Fire Protection Association (NFPA), and the American Society for Heating, Refrigeration and Air Conditioning Engineers (ASHRAE), and the local code authorities.
e. When cutting or drilling into the wall and ceiling, do not damage electrical wiring and other hidden utilities.
f. Ducted fans must always be vented to the outdoors.
g. If this unit is to be installed over a tub or shower, it must be marked as appropriate for the application and be connected to a GFCI (Ground Fault Circuit Interrupter) – protected branch circuit.
h. NEVER place a switch where it can be reached from a tub or shower.
CONTENTS
DIMENSIONS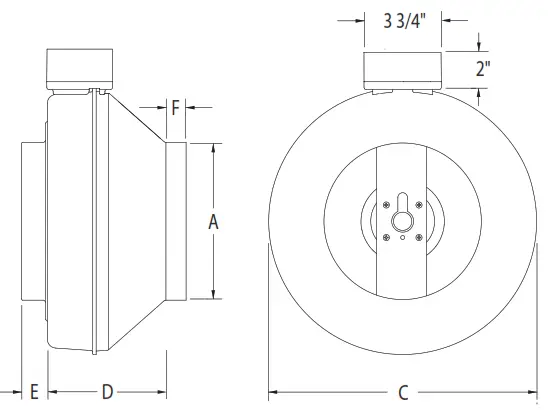 Dimensions are in inches.
INSTALLATIONS
INSTALLATION DIAGRAM FOR MODEL FG DUCT FANS
When installing, keep the number of elbows and bends to a minimum. If necessary, long radius elbows or bends are recommended.
Duct sealant, caulk, or tape should be applied to all seams, including around the opening in the wall or ceiling on the interior and around exterior building penetrations, to prevent air leakage and maximize air performance.
Flex, spiral, or snap-lock ducting may be used. If using rigid duct, Fantech FC clamps are recommended to connect ductwork to the fan (see illustration 2). FC clamps make an air-tight seal at the connection points and reduce vibrations transmitted throughout the duct system. If screws are used, do not locate them in the entrance duct less than half an inch from the housing (see illustration 3).
To minimize static pressure losses and promote adequate airflow, minimize duct run lengths where possible. If using flex duct, keep duct runs straight and taut.
If installing in an unconditioned space, covering the fan with insulation is recommended to prevent condensation from forming.
For general ventilation applications, at least 8 ft of the insulated flexible duct shall be installed between the exhaust or supply grille(s) and the fan.
Illustration 1


Use long screws (bracket-wall) to mount the bracket and short screws (bracket-fan) for the fan.
Illustration 2


Illustration 3
When connecting the duct to the fan, do not screw less than 1/2″ from the housing, it may block the blades.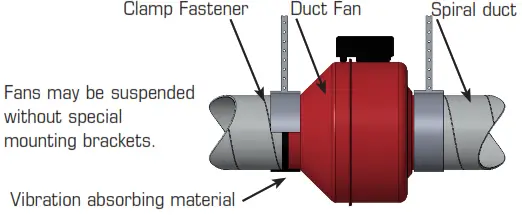 Mounting Bracket & Screw Locations for FG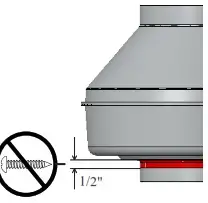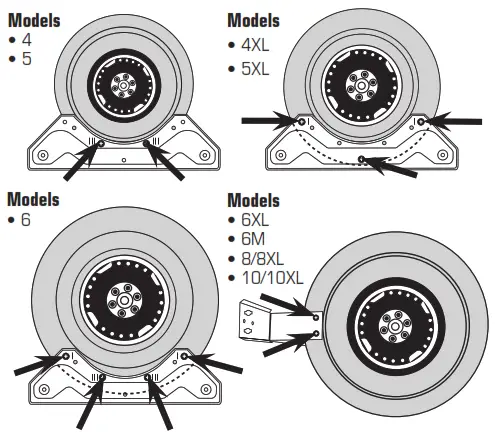 SPECIAL WIRING PRECAUTIONS
Note:The cable gland must be used for outside applications.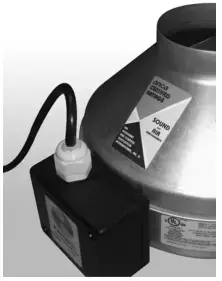 INSTRUCTION FOR 120V and 230V MOTORS
Note:
Model FGC comes pre-wired with a three-prong power cord.
Note:
Fans are furnished with either 120V motors or 230V motors. The motors are not dual voltage.
INSTRUCTION FOR 120V and 230V MOTORS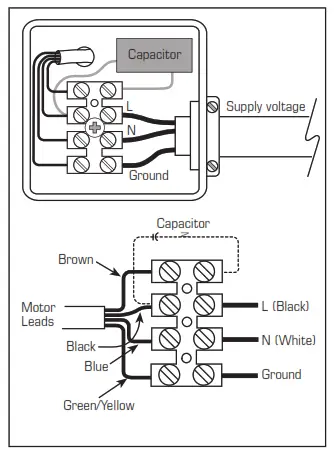 Without motor speed controller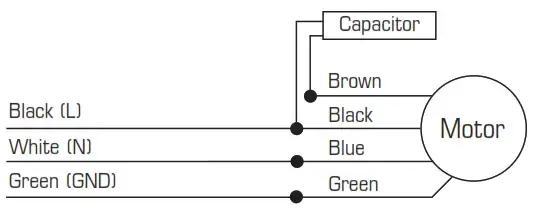 TROUBLESHOOTING
If the fan fails to operate, please check the following:
a. Consult wiring diagrams included ensuring proper connections.
b. To ensure proper contact, check motor lead wiring, incoming supply wiring, and capacitor connections.
c. If possible, use a meter to test for continuity between fan leads.
Please note capacitor will show no reading if tested with a meter.
MAINTENANCE
1. Since fan bearings are sealed and have been provided with an internal lubricating material, no lubrication is necessary.
2. Once a year, remove any airborne particles in the impeller. No other maintenance is required.
WARRANTY
Five (5) Year Warranty
This warranty supersedes all prior warranties
DURING THE ENTIRE WARRANTY PERIOD:
Fantech will repair or replace any part which has a factory defect in workmanship or material. The product may need to be returned to the Fantech factory, together with a copy of the bill of sale and identified with the RMA number.
FOR FACTORY RETURN YOU MUST:
• Have a Return Materials Authorization (RMA) number. This may be obtained by calling Fantech either in the USA at 1.800.747.1762 or in CANADA at 1.800.565.3548. Please have a bill of sale available.
• The RMA number must be clearly written on the outside of the carton, or the carton will be refused.
• All parts and/or products will be repaired/replaced and shipped back to the buyer; no credit will be issued.
OR
The Distributor may place an order for the warranty part and/or product and is invoiced. The Distributor will receive a credit equal to the invoice only after the product is returned prepaid and verified to be defective.
FANTECH WARRANTY TERMS DO NOT PROVIDE FOR REPLACEMENT WITHOUT CHARGE PRIOR TO INSPECTION FOR A DEFECT. REPLACEMENTS ISSUED IN ADVANCE OF DEFECT INSPECTION ARE INVOICED, AND CREDIT IS PENDING INSPECTION OF RETURNED MATERIAL. DEFECTIVE MATERIAL RETURNED BY END-USERS SHOULD NOT BE REPLACED BY THE DISTRIBUTOR WITHOUT CHARGE TO THE END-USER, AS CREDIT TO THE DISTRIBUTOR'S ACCOUNT WILL BE PENDING INSPECTION AND VERIFICATION OF ACTUAL DEFECT BY FANTECH. THE FOLLOWING WARRANTIES DO NOT APPLY:
• Damages from shipping, either concealed or visible. The claim must be filed with the freight company.
• Damages resulting from improper wiring or installation.
• Damages or failure caused by acts of God or resulting from improper consumer procedures, such as:
1. Improper maintenance
2. Misuse, abuse, abnormal use, or accident, and
3. Incorrect electrical voltage or current.
• Removal or any alteration made on the Fantech label control number or date of manufacture.
• Any other warranty, expressed, implied or written, and to any consequential or incidental damages, loss or property, revenues, or profit, or costs of removal, installation, or reinstallation, for any breach of warranty.
WARRANTY VALIDATION
• The user must keep a copy of the bill of sale to verify the purchase date.
• These warranties give you specific legal rights and are subject to applicable consumer protection legislation. You may have additional rights which vary from state to state.
Limitation of Warranty and Liability
This warranty does not apply to any Fantech product or part which has failed as a result of faulty installation or abuse, incorrect electrical connections or alterations made by others, or use under abnormal operating conditions or misapplication of the product or parts. We will not approve for payment any repair not made by us or our authorized agent without prior written consent. The foregoing shall constitute our sole and exclusive warranty and our sole exclusive liability, and is in lieu of any other warranties, whether written, oral, implied, or statutory. There are no warranties that extend beyond the description on the page hereof. In no event, whether as a result of a breach of contract, or
Warning
Fantech products are designed and manufactured to provide reliable performance, but they are not guaranteed to be 100% free from defects. Even reliable products will experience occasional failures and this possibility should be recognized by the user. If these products are a warranty or alleged negligence, defect incorrect advice or other causes, shall Fantech be liable for special or consequential damages, including, but not limited to, loss of profits or revenue, loss of use of equipment, or any other associated equipment, cost of capital, cost of substitute equipment, facilities or services, downtime costs, or claims of customers of purchase for such damages. Fantech neither assumes nor authorizes any person to assume for it any other liability in connection with the sale of product(s) or part(s). Some jurisdictions do not allow the exclusion or limitation of incidental or consequential damages so the above limitations and exclusions may not apply to you. used in a life support ventilation system where failure could result in loss or injury, the user should provide adequate backup ventilation, supplementary natural ventilation, failure alarm system, or acknowledge willingness to accept the risk of such loss or injury.

TO REDUCE THE RISK OF A RANGE TOP GREASE FIRE:
A. Never leave surface units unattended at high settings. Boilovers cause smoking and greasy spillovers that may ignite. Heat oils slowly on low or medium settings.
B. Always turn hood ON when cooking at high heat or when flambeing food (i.e. Crepes Suzette, Cherries Jubilee, Peppercorn Beef Flambé').
C. Clean ventilating fans frequently. Grease should not be allowed to accumulate on the fan or filter.
D. Use proper pan size. Always use cookware appropriate for the size of the surface element.
For installations in which the fan is connected to a range hood, or if an exhaust grill connected to the fan is located above or near the cooking surface, as shown, be sure to observe the following safety warning:
WARNING!!
TO REDUCE THE RISK OF FIRE, USE ONLY METAL DUCTWORK.
Use only galvanized steel ductwork in accordance with all applicable codes.
NOTE: If the fan is not connected to a range hood or a grill in the vicinity of the cooking surface, other approved ducting may be used. Check your local codes.
TO REDUCE THE RISK OF INJURY TO PERSONS IN THE EVENT OF A RANGE OF TOP GREASE FIRE, OBSERVE THE FOLLOWING:
A. SMOTHER FLAMES with a close-fitting lid, cookie sheet, or metal tray, then turn off the burner.
BE CAREFUL TO PREVENT BURNS. If the flames do not go out immediately,
EVACUATE AND CALL THE FIRE DEPARTMENT.
B. NEVER PICK UP A FLAMING PAN – You may be burned
C. Do not use water, including wet dishcloths or towels – a violent steam explosion will result.
D. Use an extinguisher ONLY if:
1. You know you have a Class ABC extinguisher, and you already know how to operate it.
2. The fire is small and contained in the area where it started.
3. The fire department is being called.
4. You can fight the fire with your back to an exit.
Fantech reserves the right to make technical changes. For updated documentation please refer to www.fantech.net