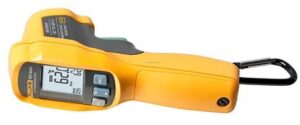 62 MAX/62 MAX +
Infrared Thermometer
Users Manual
PN 4060712
April 2012 Rev. 1, 11/12
© 2012 Fluke Corporation. All rights reserved. Printed in China.
Specifications are subject to change without notice.
All product names are trademarks of their respective companies.
LIMITED WARRANTY AND LIMITATION OF LIABILITY
This Fluke product will be free from defects in material and workmanship for three years from the date of purchase. This warranty does not cover fuses, disposable batteries, or damage from accident, neglect, misuse, alteration, contamination, or abnormal conditions of operation or handling. Resellers are not authorized to extend any other warranty on luke's behalf. To obtain service during the warranty period, contact your nearest Fluke authorized service center to obtain return authorization information, then send the product to that Service Center with a description of the problem.
HIS WARRANTY IS YOUR ONLY REMEDY. NO OTHER WARRANTIES, SUCH AS FITNESS FOR A PARTICULAR PURPOSE, ARE EXPRESSED OR IMPLIED. FLUKE IS NOT LIABLE FOR ANY SPECIAL, INDIRECT, INCIDENTAL, OR CONSEQUENTIAL DAMAGES OR LOSSES, ARISING FROM ANY CAUSE OR HENRY. Since some states or countries do not allow the exclusion or limitation of an implied warranty or of incidental or consequential damages, this limitation of liability may not apply to you.
Fluke Corporation
P.O. Box 9090
Everett, WA 98206-9090
The U.S.A.
Fluke Europe B.V.
P.O. Box 1186
5602 BD Eindhoven
The Netherlands
11/99
Introduction
The Fluke 62 MAX and 62 MAX + Infrared Thermometers (the Product) can determine the surface temperature by measuring the amount of infrared energy radiated by the target's surface. Note that the Japanese models indicate Celsius only.

Warning
Read all safety information before you use the Product.
How to Contact Fluke
To contact Fluke, call one of the following telephone numbers:
• Technical Support USA: 1-800-44-FLUKE (1-800-443-5853)
• Calibration/Repair USA: 1-888-99-FLUKE (1-888-993-5853)
• Canada: 1-800-36-FLUKE (1-800-363-5853)
• Europe: +31 402-675-200
• Japan: +81-03-6714-3114
• Singapore: +65-6799-5655
• Anywhere in the world: +1-425-446-5500
Or, visit Fluke's website at www.fluke.com.
To register your product, visit http://register.fluke.com.
To see, print, or download the latest manual supplement, visit http://us.fluke.com/usen/support/manuals.
Safety Information
A Warning identifies conditions and procedures that are dangerous to the user. A Caution identifies conditions and procedures that can cause damage to the Product or the equipment under test.
Table 1 tells you about symbols used on the Product and in this manual.


Warning
To prevent eye damage and personal injury:
Read all safety information before you use the Product.
Do not use the Product if it operates incorrectly.
Use the Product only as specified, or the protection supplied by the Product can be compromised.
Before you use the Product, inspect the case. Do not use the Product if it appears damaged. Look for cracks or missing plastic.
See emissivity information for actual temperatures. Reflective objects result in lower than actual temperature measurements. These objects pose a burn hazard.
Do not look directly into the laser with optical tools (for example, binoculars, telescopes, microscopes). Optical tools can focus the laser and be dangerous to the eye.
Do not look into the laser. Do not point laser directly at persons or animals or indirectly off reflective surfaces. Replace the batteries when the low battery indicator shows to prevent incorrect measurements.
Do not use the Product around explosive gas, vapor, or in damp or wet environments.
Use the Product only as specified or hazardous laser radiation exposure can occur.
Table 1. Symbols
Symbol
Meaning
Symbol
Meaning
Risk of danger. Important
information. See Manual.
This product complies with the WEEE Directive 2002/96/EC) marking requirements. The affixed label indicates that you must not discard this electrical/electronic product in domestic household waste. Product Category: With reference to the equipment types n the WEEE Directive Annex I, this product is classed as a category 9 "Monitoring and Control Instrumentation" product. Do not dispose of this product as unsorted municipal waste. Go to Fluke's website for recycling
information.
Symbol
Meaning
Symbol
Meaning
Warning. Laser.
Conforms to European Union

directives.

Battery
Conforms to relevant Australian

standards.

01120009
Conforms to China Metrology Certification
Maintenance

Caution
To avoid damage to the Product, do not leave the thermometer on or near objects of high temperature.
How to Change the Battery
To install or change the AA IEC LR06 battery, open the battery compartment and replace the battery as shown in Figure 16.
How to Clean the Product
Use soap and water on a damp sponge or soft cloth to clean the Product case. Carefully wipe the surface with a moist cotton swab. The swab may be moistened with water. See Figure 17.
Specifications
62 MAX
62 MAX +
Temperature Range
-30 °C to 500 °C (-22 °F to 932 °F)
-30 °C to 650 °C (-22 °F to 1202 °F)
Accuracy
(Calibration geometry with ambient temperature 23 00 ±2 °C)
A °C: ±1.5 °C or ±1.5 % of reading, whichever is greater
(32 °F: ±3 °F or ±1.5 % of reading, whichever is greater)
-10 °C to <0 °C: ±2 °C (_>14 °F to <32 °F: ±4 °F) < -10 °C: ±3 °C
(<14 °F: ±6 °F)
A °C: ±1 °C or +1 % of reading, whichever is
greater 02 °F: ±2 °F or ±1 % of reading, whichever is greater)
-10 °C to <0 °C: ±2 °C (>_14 °F to <32 °F: ±4 °F) < -10 °C: +3 °C
(<14 °F: ±6 °F)
Response Time (95 %)
<500 ms (95 % of reading)
<300 ms (95 % of reading)
Spectral Response
8 to 14 microns
Emissivity
0.10 to 1.00
Temperature Coefficient
±0.1 °C/°C or ±0.1 %/°C of reading (whichever is greater)
62 MAX/62 MAX +
Optical Resolution
10:1
(calculated at 90 % energy)
12:1
(calculated at 90 % energy)
Display Resolution
0.1 °C (0.2 °F)
Repeatability (% of reading)
— +0.8 % of reading or ±1.0 °C (2 °F), whichever is greater
±0.5 % of reading or ±0.5 °C (1 °F), whichever is greater
Power
1 AA IEC LRO6 Battery
Battery Life
10 hours with laser and backlight on
8 hours with laser and backlight on
Weight
255 g (8.99 oz)
Size
(175 x 85 x 75) mm (6.88 x 3.34 x 2.95) inches
Operating Temperature
0 °C to 50 °C (32 °F to 122 °F)
Storage Temperature
-20 °C to 60 °C (-4 °F to 140 °F), (without battery)
Operating Humidity
10 % to 90 % RH non-condensing @ 30 °C (86 °F)
Operating Altitude
2000 meters above mean sea level
Storage Altitude
12,000 meters above mean sea level
Infrared Thermometer
Standards and Agency Approval
| | |
| --- | --- |
| Ingress Protection Rating | IP 54 per IEC 60529 |
| Drop Test | 3 meters |
| Vibration and Shock | IEC 60068-2-6 2.5 g, 10 to 200 Hz, IEC 60068-2-27, 50 g, 11 ms |
| EMC | EN 61326-1:2006 EN 61326-2:2006 |
Standards and Agency Approval
Compliance ……………………………………… EN/IEC 61010-1
Laser Safety …………………………………….. EN 60825-1 Class 2
Implement Standard …………………………. Q/SXAV37
The Product