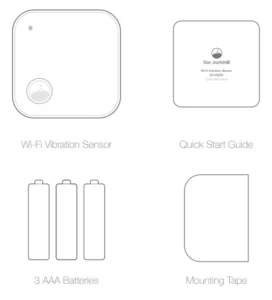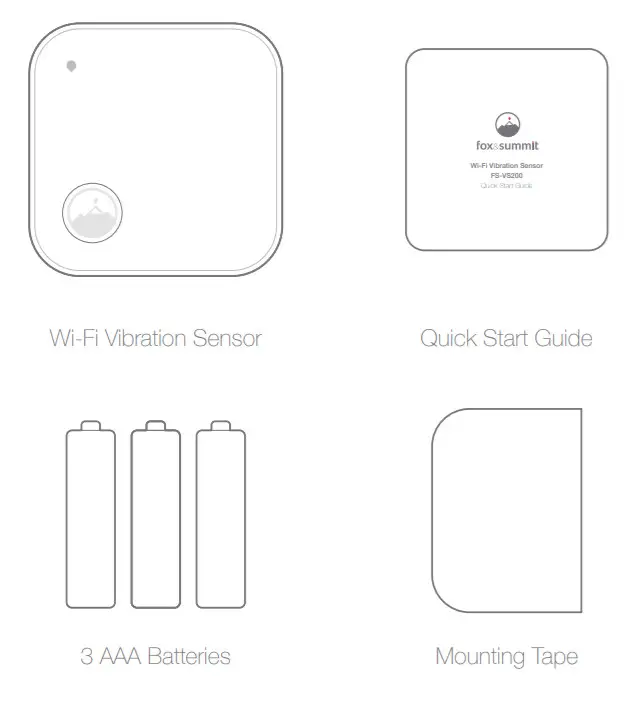 Wi-Fi Vibration Sensor
FS-VS200
Quick Start Guide
What's in the Box
Safety Instructions
Practice safe installation habits while installing the Vibration Sensor.
Do not tamper with or make any modifications to your Vibration Sensor.
Make sure you replace batteries with 3 new AAA alkaline batteries.
Insert batteries in the correct polarity as shown inside the battery case.
Properly dispose of old batteries in accordance with local regulations.
Do not discard batteries with any other household waste.
Keep batteries away from small children and pets.
Use only a dry cloth when cleaning your Vibration Sensor.
Do not install your Vibration Sensor near any heat source or any home equipment that produces heat.
Wi-Fi Operation Warnings
Always check that your smartphone or tablet OS and FS Home App is running the most up-to-date version.
Check that your Wi-Fi router is working properly and operates on 802.11b/g/n 2.4GHz with WPA/WPA2 encryption. The App does not support any other network encryptions.
DO NOT use a 5GHz Wi-Fi network.
Wi-Fi Vibration Sensor Installation and App Setup
Download the FS Home App from the App Store or Google Play.
https://itunes.apple.com/us/app/fs-home/id1401175423?ls=1&mt=8

https://play.google.com/store/apps/details?id=fox.summit.FSHome
App Store is a service mark of Apple Inc.
Google Play and the Google Play logo are trademarks of Google LLC.
Connect your smartphone or tablet to the 2.4GHz Wi-Fi network you want to connect your Fox & Summit sensor to.

Launch FS Home App.
Sign up for an account or Login with your email or password.
Go to "Device" and press "+" in the upper right-hand of the screen and follow the on-screen pairing instructions
Important: Ensure that the network name or SSID is the desired network you want the devices to use. If it is different from your smartphone's Wi-Fi settings, please try to connect your smartphone with the desired network first.
Enter your Wi-Fi network password.
Open the battery cover by sliding the back cover to the right.

Scan the device QR-Code/UID below or on the device itself with your smartphone or tablet or enter it manually.

Insert 3 new AAA batteries. Make sure you insert the batteries in the correct polarity. Press and hold the round button until a tone is heard. If you do not hear a tone, look for the LED to turn ON for 2 seconds. The sensor will now enter "Pairing Mode".

Press "Pair" in the FS Home App within 10 seconds of hearing the tone or see the LED flash.
Important: When pairing is successful, a new device will be added to your Device page. If unsuccessful, repeat from Step 5 but there is no need to remove the batteries.
Install the Wi-Fi Vibration Sensor onto the desired location with the included mounting tape.
Troubleshooting
Pairing Unsuccessful
a. Make sure that your smartphone or tablet is connected to the desired Wi-Fi network.
b. Make sure that the Wi-Fi network your smartphone or tablet is connected to is a 2.4GHz network, not a 5GHz network. This is only necessary when pairing.
c. Make sure that the Wi-Fi signal is strong at the desired installation location.
d. Unplug or power down other Wi-Fi devices to minimize wireless interference during setup.
e. Double check that you are entering the correct Wi-Fi network password.
Doesn't work properly | Signal Loss
a. Check that your Fox & Summit device location is within Wi-Fi range.
b. Depending on your device's location, using a Wi-Fi range extender may be necessary.
c. Check that your Wi-Fi router is working properly. Consult the manufacturer of your Wi-Fi router for more information.
For more product help and support visit:
www.foxandsummit.com/apps/help-center
FCC Statement
This device complies with Part 15 of the FCC Rules. Operation is subject to the following two conditions:
(1) this device may not cause harmful interference, and
(2) this device must accept any interference received, including interference that may cause undesired operation.
Please note that changes or modifications not expressly approved by the party responsible for compliance could void the user's authority to operate the equipment. NOTE: This equipment has been tested and found to comply with the limits for a Class B digital device, pursuant to Part 15 of the FCC Rules. These limits are designed to provide reasonable protection against harmful interference in a residential installation. This equipment generates, uses, and can radiate radio frequency energy and, if not installed and used in accordance with the instructions, may cause harmful interference to radio communications.
However, there is no guarantee that interference will not occur in a particular installation. If this equipment does cause harmful interference to
radio or television reception, which can be determined by turning the equipment off and on, the user is encouraged to try to correct the interference by one or more of the following measures: –Reorient or relocate the receiving antenna. –Increase the separation between the equipment and receiver. –Connect the equipment into an outlet on a circuit different from that to which the receiver is connected.

–Consult the dealer or an experienced radio/TV technician for help. CE marking on this product represents the product is in compliance
with all directives that are applicable to it.


Correct Disposal of this product
This marking indicates that this product should not be disposed of of with other household wastes throughout the EU. To prevent possible harm to the environment or human health from uncontrolled waste disposal, recycle it responsibly to promote the sustainable reuse of material resources. To return your used device, please use the return and collection systems or contact the retailer where the product was purchased. They can take this product for environmentally safe recycling.
Battery Safety Information
Caution: Keep batteries away from small children. Risk of explosion if the battery is replaced by an incorrect type. Dispose of used batteries promptly in accordance with local regulations.


WARNING: Cancer and Reproductive Harm –
www.P65Warnings.ca.gov.
Fox & Summit USA, LLC | 888.606.1589 |
www.foxandsummit.com
© 2019 Fox & Summit USA LLC. All Rights Reserved.