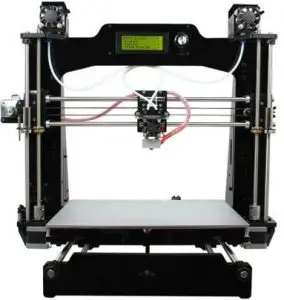 GEEETECH Prusa Desktop 3D Printer Instruction Manual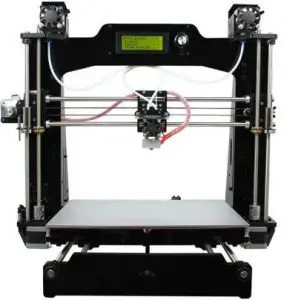 SUPPORT
Thanks for choosing Geeetech, we strive to provide a satisfied and pleasant shopping experience for you, but we do understand there may be some questions you may encounter in using our product. If so, you can contact us directly or post on our forum, our technique staff will help you resolve it. For more detailed information, you can also visit Geeetech wiki from our home page.
For detailed instructions, please download here:
For detailed building videos, please check at YouTube:
Subscribe our YouTube channel for more videos.
https://www.youtube.com/user/geeetech
Join our geeetech 3D printer user club.
Feel free to drop a line at [email protected] .
Copyright Declaration
The copyright of this manual belongs to the Shenzhen GETECH CO., LTD. (hereinafter referred to as the "Geeetech"), and all rights reserved. No part of this specification should be reproduced or extracted in any forms or means without the prior written consent of Geeetech by any company and individuals.
For More Geeetech Products
If you are interested in the technology of 3 D printing, flight control and U-home, welcome to Geeetech, we have series of made-up products, main boards, modules and a variety of peripherals for you. Or if you are looking for relevant information or technical support, please login our Forum where you can find anything you want about open source. To know more about our new products, please visit www.geeetech.com , we will serve you wholeheartedly.
SAFETY INSTRUCTIONS
Building the printer will require a certain amount of physical dexterity, common sense and a thorough understanding of what you are doing. We have provided detailed instructions to help you assemble it easily, please download at geeetech.com.
However ultimately we cannot be responsible for your health and safety whilst building or operating the printer, with that in mind be sure you are confident with what you are doing prior to commencing with building or buying. Read the entire manual to enable you to make an informed decision. Building and operating involves electricity, so all necessary precautions should be taken and adhered to, the printer runs on 24V supplied by a certified power supply, so you shouldn't ever have to get involved with anything over 24V but bear in mind there can still be high currents involved and even at 24V they shouldn't be taken lightly. High temperatures are involved with 3D Printing, the Extrusion nozzle of the hot end can run about 230°C, the heated bed runs 110°C and the molten plastic extruded will initially be at around 200°C, so special care and attention should be made when handling these parts of the printer during operation.
We wouldn't recommend leaving your printer running unattended, or at least until you are confident to do so. We cannot be held responsible for any loss, damage, threat, hurt or other negligent result from either building or using the printer.
INTRODUCTION:
Geeetech Prusa I3 M201 is the 2-in-1-out version of our latest Prusa I3 series 3D printer. This is a fused filament fabrication printer, easy to use and also designed for DIYers and professionals alike. The M201 features our newly engineered the 2-in-1-out switchable hotend, that feeds 2 filaments through one nozzle. With the new 2-in-1-out hotend the M201 can work like a color palette, providing a new level of expression with your prints allowing you to create alternating colors, blending color and gradients. In order to achieve this we optimized the firmware that is driven by our newly developed GTM32 pro Vb control system, which is based on the STM32 processor and paired with the ARM Coretex M3, running a dominant frequency of 72MHz, greatly improving the overall printing performance. We added a new feature, the Mixer, to the interface to control the percentage of the feed rate of the two filaments. To prevent the extruder from becoming jammed from over fused filament detained in the barrel we added an over fused protect feature or OFP which is enabled by default and keeps things running smooth. This M201 3D printer maintains DIY property, with which you can unleash your creativity to refit or modify it as you like. This kit is just the beginning; you can get more out of it.
PACKAGE LIST:
This list includes all the parts required to assemble your Geeetech Prusa I3 M201 3D Printer. After you received your package, please check if all the parts listed are included. Also make sure all the components are in good condition and not damaged during shipping. If anything is missing please contact with our customer service straight away, provide us the NO. , Name, and Qty.
No.
Name
Specifications
Qty
Pic.
1
Smooth Rod
D8*L340mm

Z axis

2
2
Smooth Rod
D8*L470mm

X axis

2
3
Smooth Rod
D8*L420mm

Y axis

2
4
Lead screw
M8*L320mm Z axis
2
5
Threaded Rod
M10xL450mm Y axis
2
6
M2.5

Washers

M2.5
8
7
M3

Washers

M3
110
8
M4

Washers

M4
30
9
M10

Washers

M10
15
10
Spring washer
M10
8
11
Hex Nut
M2.5
5
12
Hex Nut
M3
15
12A
Hex Nut
M4
18
13
Hex Nut
M10
13
14
Lock nut
M4
4
15
Wing nut
M3
8
16
Z-axis nut
TR808
2
17
Square nut
M3
40
18
Hex Counter- sunk-head

screw

M3x16 mm
3
19
Hex Counter- sunk-head screw
M3x30 mm
5
20
Screw
M2.5x8mm
3
21
Screw
M2.5x16mm
5
22
Screw
M3x6mm
37
23
Screw
M3x8mm
3
24
Screw
M3x10mm
5
25
Screw
M3x12mm
25
26
Screw
M3x16mm
40
27
Screw
M3x20mm
10
28
Screw
M3x25mm
5
29
Screw
M3x30mm
2
30
Screw
M3x40mm
2
31
Screw
M3x45mm
2
32
Screw
M4x 6mm
8
33
Screw
M4x12mm
13
34
Screw
M4x16mm
18
35
Screw
M4x25mm
4
36
Spring
4*20
6
37
locking ring
M8 / With screw
8
38
Belt mount
Sheet metal part
1
39
Linear Bearing
PCS8UU
4
40
Linear Bearing
LM8LUU
2
41
Linear Bearing
LMH8LUU
2
42
Driven wheel holder
Sheet metal part
2
43
Driving wheel
2
44
Ball Bearing
MR84zz

(Placed in No.43)

4
45
Pulley
20 tooth Inner D5
2
46
Timing Belts
2GT

L=2.4 meters

1
47
Belt bracket
Plastic part
1
48
Couplings
5-8mm
2
49
Spacer
With Aircraft type end
8
50
Knob
For LCD
1
51
Fan
40x40x10mm
1
52
Extension wire
2-pin F-M
1
53
USB cord
A-B
1
54
End stop kit
2-pin Blue, red and

black

1
55
Heat sink
9*10*5mm
5
56
Sticker
2
57
Spiral Coil
1 meter
1
58
Heatbed wire
1
59
Heatbed
24V
1
60
Building platform
Alumina plate
1
61
Power supply Unit
AC Input: 115V/1.5A

230V/0.75A

DC Output: 24V/10-15A

1
62
3D Power Cable
With plug
1

63
Power Cable
Connect board to PSU
1
64
Stepper motor
4
65
3-1 motor wire
For X/Y/ left Z motors
1
66
motor wire
700mm For Right Z

motor

1
67
Extruder
2
68
Extension board
2
69
Hex copper spacer
4
70A
Extruder wire
820mm
1
70B
Extruder wire
450mm
1
71
Extruder Motor wire
6-4pin
2
72
Hotend
2 in-1out
1
73
LCD 2004
LCD2004+

FPC Ribbon cable

1
74
Control board kit
GTM32 pro Vb +

5 A4988

1 set
75
Feeding pipe
PTFE

L=1meter

2
76
Nylon ties
30
Metal parts
M1
X- motor end
Sheet metal part
1
M2
X-idle end
Sheet metal part
1
M3
X

Carriage

Sheet metal part
1
M4
Bearing Bracket
Sheet metal part
4
M5
Extruder holder
Sheet metal part
1
M6
Extension board cover
2
Acrylic parts
A1
Main frame
I3E-01
1
A2
Side panel (left )
I3E-02
1
A3
Side panel (right)
I3E-03
1
A4
Motor holder (left)
I3E-04
1
A5
Motor holder (right)
I3E-05
1
A6
Motor Holder support
I3E-06
3
A7
Motor Holder support
I3E-07
1
A8
Z top mount
I3E-08
2
A9
Y axis Front support
I3E-09
1
A10
Y axis Front support
I3E-10
1
A11
Y axis Rear support
I3E-11
1
A12
Y axis Rear support
I3E-12
1
A13
Y motor holder
I3B1-13
1
A14
Connecting fender
I3E-14
2
A15
Building platform support
I3E-15
1
A16
Fan mount
I3E-16
1
Free add-on
1
Ejector pin
1
2
File
1
3
Screw- driver
1
4
Starter filament
3 meters
1
5
Filament holder set
1
——
———
————
—-
——————
For detailed build instructions, please subscribe our YouTube for
videos.
https://www.youtube.com/user/geeetech/playlists
Download the build instruction PDF at
http://www.geeetech.com/geeetech-prusa-i3-m201-3d-printer-diy-kitp-965.html
GENERAL CARE AND MAINTENANCE
As with all the electronic equipment, it is important to keep your printer clean to extend its life. Regularly remove dust and debris with a microfiber cloth or compressed air. Dredge the tube and the nozzle after use every time to ensure fluent performance.
Don't leave the heaters on the printer turned on for a long periods of time when not used.
Don't leave your printer in shady and moist places, which may exacerbate the problems associated with erosion.
The three axes of the Geeetech Prusa I3 M201 are lubricated with grease for smooth operation and can last for a long time. Grease may need to be re-applied to your printer to maintain smooth performance.
Avoid positioning your power supply unit in such a way that the brick is hanging, pulling, or putting any unnecessary stress in the electrical wires and components.