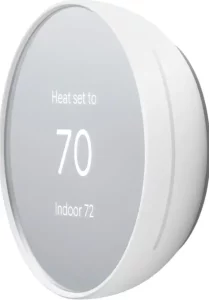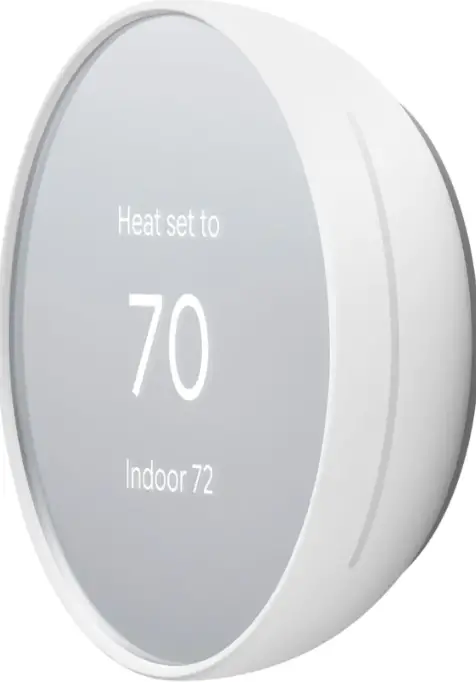 Google Nest Thermostat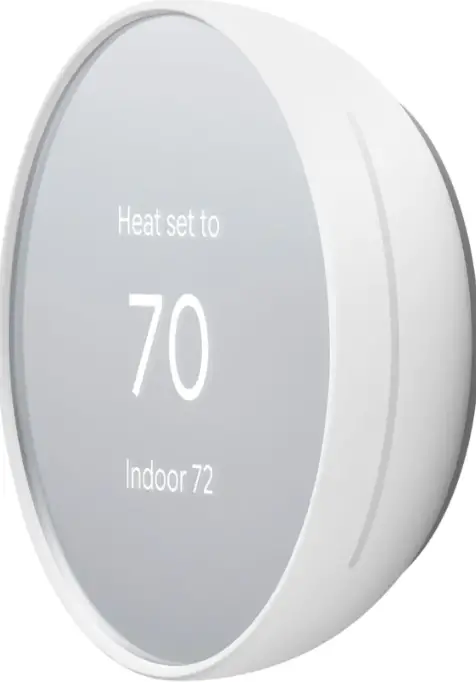 What's included

Thermostat with two 1,SV AAA batteries
Base plate
Wall screws
To purchase and install with a trim plate, visit g.co/nest/trim kit
A Nest Pro can help
Connect with an independent installer who's trained to install Google Nest products at g.co/nest/install
We're here to help
For help and support, visit g.co/nest/help
For help with accessibility. visit g.co/disabilitysupport
Set up with the Google Home app
Get the Google Home app. You'll need it to set up your thermostat.
Tap +to add your thermostat
Follow steps in the app for installation and setup
Turn off the power to your system and thermostat before exposing wires
Meet the Nest Thermostat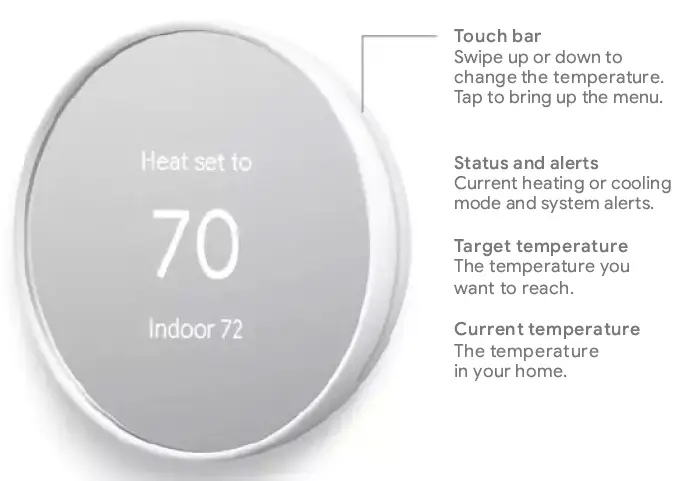 Tap the touch bar to bring up the menu.
Modes
Change modes, like heating and cooling.
Hold
Keep a specific temp for a certain amount of time.
Fan
Getting stuffy? Use the fan whenever you want.
Settings
Check <your battery and network status.
Make the most of your new Nest Thermostat
Here are some quick tips to help get you started With your
Nest Thermostat. To learn more visit g.co/nest/thermostatbasics
Finetune your comfort.
When you set up your Nest Thermostat, customizing your schedule is fast and easy. And you can always make adjustments from the Google Home app.
Save energy when you re away.
The Nest Thermostat can use a built-in sensor to know when nobody's home, then adjust the temperature to save energy.
The Google Home app can also use your phone s location to help your thermostat adjust even faster when you leave.
Get system alerts and reminders.
Your Nest Thermostat can send a reminder if your air filters need to be replaced. Or an alert if it detects your furnace is acting up.
Look for the Nest Leaf.
It appears when you change the Nest Thermostat to an energy-saving temperature.
Every Nest product makes your home even more helpful
Control your thermostat with your voice.
The Nest Thermostat works with the Google Assistant on your phone, or Nest speakers and displays. Just say, "Hey Google, turn up the heat." The Nest Thermostat also Works with Alexa and other smart speakers and displays Nest products work even better together. For example, if your Nest Protect senses CO, it can tell your Nest Thermostat to stop the furnace from running.
Control from anywhere
You can change the temperature, adjust your schedule, and more from your phone or tablet. Just download the free Google Home app from Google Play or the App Store" We take your privacy seriously. Go to g.co/nest/privacy to find out more
Safety, Warranty and Regulatory Guide for Google Nest Thermostat
This booklet provides important safety, regulatory, .:ind warranty information that you should read before you start using your Nest Thermostat.
Basic Safety
PRODUCT 1NFORMAT10N
Purpose of control: Thermostat Timer
Prmec11on against electric shock: Independently Mounted Class Ill Surge immunity category· lm11alla1ion Class 2 or Residential
Pollution degree: 2
Type of ait1on.
Rated impulse Yoltage D 33kV
Temperature for 1he ball pressure test· 1 oo•c
ELV limits: 24 v-
Th1s Nest Thermostat contains alkaline AAA batteries which are sensitive components that can cause injury If damaged or ingested Keep away from children If ingested, seek medical attention immediately. Use of an unqualified and/or damaged battery or improper disposal may present a risk of fire, explosion, leakage, and/or other hazards Do not open, disassemble, or crush. puncture, heat or mineral batteries Do nol attempt ro recharge an alkaline battery. When replacing batteries, use AAA 1.SV alkaline batteries only.
Service & Support
For online help and support, visit g.co/nest/support
Regulatory Information
Regulatory 1nformat1on, certification, and compliance marks specific 10 Nest Thermos1a1 can be found on your device Additional regulatory and environmental information can be found at g.co/neslllegal
EMC Compliance
Important: This device an<t accessories have demonstrated
electromagnetic Compatibility (EMC) compliance under conditions that included the use. of compliant peripheral d1mce:1 between system components lt is Important that you use company peripheral devices between system components 10 resources 1he possib1hty of causing interference to radios. televisions, and other electronic devices.
FCC Regulatory Compliance
This device complies with Part 15 of the FCC Rules. OpercJtion is sub1ec1 ro the following 2 conditions:
This de,1ce may not cause harmful interference
This device must accept any interference received, including interference that may cause undesired operation
The Federal Communications Commission regulations provide that changes or modifications not expressly approved by Google LLC could 1101d your authority to operate this equipment.
Radio Frequency Exposure
Maintain a distance of 20cm(8 inches) from your body to be consistent with how the device is tested lor cornµliance with RF exposure requirements.
Far FCC Compliance Statement, v1srt g.co/nestJfc-compliance
Responsible Party – U.S Contact information
Google UC, 1600 Amphitheatre Parkway, Mountain View, CA 94043. Contact· g.colnest/Contact
Model Number: G4CVZ
Product Name Google Nest Thermostat
Google Consumer Hardware Limited WarrantyIUSA and Canada
This Limited Warranty applies only if you are a consumer and purchased Our Google Product "Google Product") in the United States or Canada. total Satisfaction Return Policy. tf you are the original purchaser of this ogle Product and you are not satisfied with this Google Product for any reason, you may return it in its original condition within thirty (30) days of nal purcn8se and receive a full feruna.