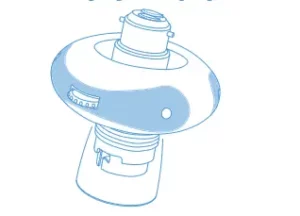 grolight 2-in-1 Night Light and Bright Light Instructions
Manufactured and distributed worldwide by:
The Gro–light takes Bayonet tting bulbs of the following types: Electronic Energy Saving bulbs rated at 9 to 20W, 220 to 240V AC, 50Hz Filament/incandescent bulbs of 40 to 75W (40W with closed shade) 220 to 240V LEDs are rated at 0.5W overall INTERNAL USE ONLY Conforms to directives 2006/95/EC, 2004/108/EC, 2011/65/EU
Manufactured and distributed worldwide by:
The Gro Company, Malvern House, Matford Court, Yeoford Way, Exeter, EX2 8LB, UK. UK Tel +44 (0)844 557 2960 gro–group international ltd trading as The Gro Company. The Gro Company is a
trademark of gro–group holdings ltd. All text and images © 2013 gro–group holdings ltd. Photography for illustrative purposes only. The Gro Company reserve the right to
amend the product speci cation at any time. All rights reserved.
PLEASE KEEP INSTRUCTIONS FOR FUTURE REFERENCE
How to fit your Gro– light
Ensure the light is switched off
Remove the bulb and lampshade (this can be your ceiling light or a bedside lamp)
Unscrew the sheath of your Gro–light, attach the Gro–light to your light fitting, refit your lampshade and replace the sheath
Insert the bulb into the bottom of the Gro –light
Switch the light on at the wall switch
The LED night–lights should now illuminate.
How to operate your Gro–light
Your Gro–light will automatically
select the LED night–lights when
switched on.
To select the main bulb, simply flick the light switch off and then immediately on again
To return to the LED night–lights, just flick the switch off and on again
To turn off both the LEDs and bulb, switch off at the switch
How to adjust the LED night–light settings
To adjust the brightness of the LEDs, turn the dial on the side of the Gro– light to the desired brightness.
Warnings
DO NOT use with dimmer switches or dimmer lamps
WARNING: Gro-light may be affected by the use of poor quality bulbs without internal fuses. We recommend either energy efficient bulbs or fused incandescent bulbs (GE, Osram, Philips or Sylvania)
DO NOT use with a bulb that exceeds 75W (40W where used with a closed top shade)
WARNING: The lamp shade should be kept away from the light bulb and the Grolight by at least 30mm
The lamp shade must meet the Fire retardant requirement in accordance with EN60598
WARNING: The weight of the lamp shade should no more than 1KG
DO NOT use the Gro-light in an enclosed fitting such as a flush ceiling or emergency exit lamp
DO NOT usel with fluorescent strip lights, halogen lights or with flicker style candlelight bulbs
DO NOT use if light fittings are damaged in any way
DO NOT use the Gro-light in bathrooms, shower rooms, outdoors or in open porches. Closed porches are acceptable if the temperature range is within 0°C to 35°C and the humidity does not exceed 75% i.e. non-condensing
DO NOT use if damaged or wet
LED bulb cannot be replaced The electrical installation must be carried out in compliance with the installation rules described in the national standard. If in doubt, please contact a professional electrician