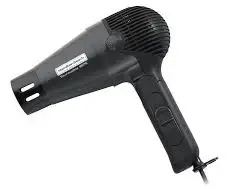 Hamilton Beach Hair Dryer User Manual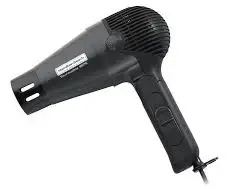 At least one copy of this manual should be kept in a location available at all times to maintenance and management staff.
IMPORTANT SAFEGUARDS
When using electrical appliances, especially when children are present, basic safety precautions should always be followed, including the following:
READ ALL INSTRUCTIONS BEFORE USING. KEEP AWAY FROM WATER.
–As with most electrical appliances, electrical parts are electrically live even when the switch is off. To reduce the risk of death by electric shock:
Always unplug it immediately after using. Do not use where the unit can fall into or reach a tub, sink, toilet, or shower. Always store in a drawer after using. To unplug, grasp the plug and pull from the outlet. Never pull from the power cord.
Do not use while bathing or in the shower.
Do not place or store hair dryer where it can fall or be pulled into a tub or sink.
Do not place in or drop into water or other liquid.
If unit falls into water, unplug it immediately. Do not reach into the water.
When using electrical appliances, basic safety precautions should always be followed to reduce the risk of burns, fire, electric shock, and/or injury to persons, including the following:
Read all instructions.
This appliance is not intended for use by or on persons (including children) with reduced physical, sensory, or mental capabilities, or lack of experience and knowledge, unless they are closely supervised and instructed concerning use of the appliance by a person responsible for their safety.
Close supervision is necessary when any appliance is used by or near children. Children should be supervised to ensure that they do not play with the appliance. Do not place in or drop into water or other liquid.
This appliance should never be left unattended when plugged in.
Use this appliance only for its intended use as described in this manual
Do not use attachments not recommended by the appliance manufacturer.
Attachments may be hot during use. Allow them to cool before handling.
Never operate this appliance if it has a damaged cord orplug, if it is not working properly, is damaged, or if it has been dropped into water or other liquid. Email customer service for information on examination, repair, or electrical and mechanical adjustment.
Keep the cord away from heated surfaces. Do not wrap cord around hand unit.
Never block the air openings of the appliance, or place it on a softsurface such as a bed, couch, or towel where the air openings may be blocked. Keep the air openings free of lint, hair, etc.
Never use while sleeping.
Never drop or insert any object into any opening in the unit.
Do not use outdoors or operate where aerosol (spray) products are being used or where oxygen is being administered.
Do not use an extension cord with this appliance.
Do not direct hot air toward eyes or other heat-sensitive areas.
The air outlet grille and surrounding area may be hot during and after use. Allow them to cool before handling.
Do not place appliance on any surface while it is operating.
While using the appliance, keep your hair away from the air intake grille.
Never use hair dryer for heating or drying clothing or footwear.
Always unplug unit before cleaning. Refer to Care and Cleaning section.
Do not use voltage converter.
– SAVE THESE INSTRUCTIONS –
Other Consumer Safety Information
Electrical Shock Hazard: This appliance has a polarized plug (one wide blade) that reduces the risk of electric shock. The plug fits only one way into a polarized outlet. Do not defeat the safety purpose of the plug by modifying the plug in any way or by using an adapter. If the plug does not fit fully into the outlet, reverse the plug. If it still does not fit, have an electrician replace the outlet.
The length of the cord used on this appliance was selected to reduce the hazards of becoming tangled in or tripping over a longer cord. The electrical rating of the extension cord must be equal to or greater than the rating of the appliance. Care must be taken to arrange the extension cord so that it will not drape over the counter top or tabletop where it can be pulled on by children or accidentally tripped over.
Parts and Features
Operation Instructions
TESTING THE ALCI PROTECTION DEVICE
This appliance is equipped with a polarized Appliance Leakage Circuit Interrupter plug (ALCI). This device will automatically shut off hair dryer under certain abnormal operating conditions, such as submersion of dryer in water.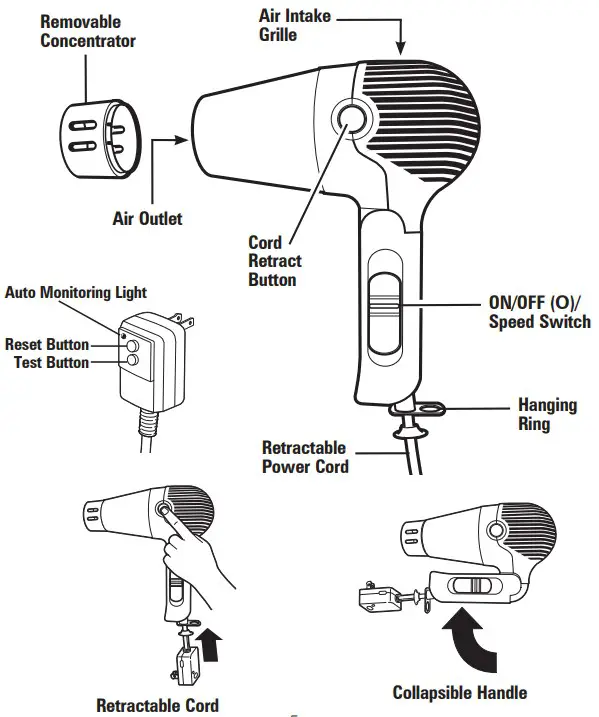 The ALCI must be tested before each use of the hair dryer.
Make sure ALCI is plugged in; then press the "Reset" button.
Press "Test" button. The "Reset" button should pop out, which indicates the ALCI is working properly.
NOTE: If the "Reset" button does not pop out during the test, or pops out before or during operation, or if hair dryer fails to function properly, do not operate hair dryer. Refer to the warranty.
Press the "Reset" button again to reactivate the ALCI. You are now ready to operate the hair dryer.
If Auto Monitoring Light stays on or continues to blink, or Reset Button continues to pop out, the ALCI is not functioning properly. Stop using Hair Dryer and email customer service for information on examination and repair.
In addition to the above required manual test, your ALCI plug will automatically conduct a test every few minutes. If the Auto Monitoring Light stays on or continuously blinks or the Reset Button pops out, unplug and allow the appliance to cool. Press Reset Button and plug into outlet. The appliance should then function normally. If not, email customer service for further instructions.
TO DRY HAIR
Towel dry to remove excess water from hair.
Choose a setting that is most comfortable and that gives the best results:

MED and LOW are best for styling.
HIGH is best for drying hair.
Burn Hazard. Do not direct a high volume of heat continuously to one area. This will overheat hair and/or scalp.

To use the removable concentrator (optional): attach concentrator to nozzle of unit. The concentrator provides extra airflow over a concentrated area of the hair/scalp.
Keep dryer a few inches from hairand in motion while using.
When finished, switch to OFF (O) and unplug dryer.

TO USE RETRACTABLE CORD
Pull cord to desired length. Do not unwind cord beyond colored tape indicator on cord.
To store cord, press and hold cord release button while guiding cord into storage area.
Hold plug while retracting cord. Do not let cord retract freely. Cord may jam on reel or loose cord may whip back and forth and could cause injury.
Care and Cleaning
Shock Hazard. There are no user-serviceable parts in this appliance. All servicing should be performed by an authorized service representative.
Unplug dryer before cleaning.
Clean external surfaces of dryer with a damp soft cloth or sponge. Do not use harsh cleansers, detergents, or solvents.
Clean air intake and air outlet grilles with a vacuum cleaner.
NEVER PUT HAIR DRYER IN WATER.
Dry thoroughly before plugging in and using.
NOTES:
The motor never requires grease or oil.
Untangle cord before use.
LIMITED WARRANTY
This warranty applies to products purchased and used in the U.S. and Canada. This is the only express warranty for this product and is in lieu of any other warranty or condition.
This product is warranted to be free from defects in material and workmanship for a period of one (1) year from the date of original purchase.
If you have a claim under this warranty please contact our TECHNICAL SERVICES DEPARTMENT at 1-866-285-1087 or 910-693-4277. For faster service, locate the model, type, and series numbers on your appliance.
This warranty does not cover glass, filters, wear from normal use, use not in conformity with the printed directions, or damage to the product resulting from accident, alteration, abuse, or misuse, or subjecting it to any voltage and waveform other than as specified on the rating label (for example, 120V ~ 60 Hz).
This warranty extends only to the original purchaser. Keep the original sales receipt, as proof of purchase is required to make a warranty claim or the warranty term will be based on the date of manufacture plus one (1) year.
We exclude all claims for special, incidental, and consequential damages caused by breach of express or implied warranty. All liability is limited to the amount of the purchase price. Every implied warranty, including any statutory warranty or condition of merchantability or fitness for a particular purpose, is disclaimed except to the extent prohibited by law, in which case such warranty or condition is limited to the duration of this written warranty. This warranty gives you specific legal rights. You may have other legal rights that vary depending on where you live. Some states or provinces do not allow limitations on implied warranties or special, incidental, or consequential damages, so the foregoing limitations may not apply to you.