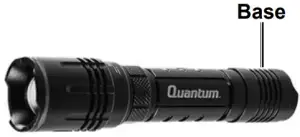 HARBOR FREIGHT Quantum 58476 Rechargeable Waterproof Flashlight Owner's Manual
Safety Instructions
Save This Manual Keep this manual for the safety warnings and precautions, assembly, operating, inspection, maintenance and cleaning procedures. Write the product's serial number in the back of the manual near the assembly diagram (or month and year of purchase if product has no number). Keep this manual and the receipt in a safe and dry place for future reference.
When unpacking, make sure that the product is intact and undamaged. If any parts are missing or broken, please call 1-888-866-5797 as soon as possible.

WARNING
Read this material before using this product. Failure to do so can result in serious injury. SAVE THIS MANUAL.
IMPORTANT SAFETY INFORMATION

WARNING
To prevent serious injury, FIRE, and EXPLOSION:
Keep dry. Do not open, drop, short-circuit, incinerate, expose to temperatures higher than 140° F, or charge/use if damaged.
Only use included charging adaptors. Other adaptors may damage tool or cause fire.
Do not submerge Light.
Do not operate in explosive atmospheres, such as in the presence of flammable liquids, gases, or dust.
People with pacemakers should consult their physician(s) before use. Electromagnetic fields in close proximity to heart pacemaker could cause pacemaker interference or pacemaker failure.
Not a toy. Keep out of reach of children.
Lithium Battery Safety Warnings

LITHIUM BATTERIES STORE A LARGE AMOUNT OF ENERGY AND WILL VENT FIRE OR EXPLODE IF MISTREATED:

Keep Flashlight dry.
DO NOT DO ANY OF THE FOLLOWING TO THE BATTERY PACK:

a. Open,
b. Drop,
c. Short-circuit,
d. Puncture,
e. Incinerate, or
f. Expose to temperatures greater than 140°F.

Charge Flashlight only according to these instructions.
Charging Instructions

Read the ENTIRE IMPORTANT SAFETY INFORMATION section at the beginning of this document including all text under subheadings therein before set up or use of this product.
Twist the adjustable band near the top of the Flashlight to expose the USB port.
Insert the provided USB cable into USB port. See below.

Insert the other end of the cable into a powered USB port.
The Charge Light Indicator will light up Red during charging. After approximately 3 hours the Charge Light Indicator turns Green, indicating the Flashlight is fully charged and ready for use. Unplug the USB cable.
Li-Ion BATTERY MUST BE RECYCLED OR DISPOSED OF PROPERLY.
Do not short, incinerate or open battery.
NOTICE: Do not leave the Battery in a discharged state. Charge the Battery every 3 months if the Flashlight is not in use. This will keep the Battery from wearing down and add to its life. Do not charge the Flashlight at temperatures below 40° F.
Battery Replacement
Unthread the base of the Flashlight.

Remove the old battery, noting polarity.
Insert a new 3.7V, 2200mAh Li-ion battery into the flashlight, positive end first.
Operation Instructions

Read the ENTIRE IMPORTANT SAFETY INFORMATION section at the beginning of this document including all text under subheadings therein before set up or use of this product.
NOTE: Before using Flashlight for the first time, fully charge the Battery.
Press the Power button at the bottom of the light once to turn on maximum brightness mode.
Press again to switch the light to economy mode.
Press a third time to turn the light off.
To turn on TURBO mode, press and hold Power button for three seconds.
When finished using the Flashlight, store indoors away from children.
NOTICE: Do not open the housing, there are no user-serviceable parts inside.
Specifications
| | |
| --- | --- |
| Battery | Rechargeable Li-Ion |
| Battery Rating | 3.7V / 2200 mAh |
| Brightness | 1800 Lumens |
Limited 90 Day Warranty
Harbor Freight Tools Co. makes every effort to assure that its products meet high quality and durability standards, and warrants to the original purchaser that this product is free from defects in materials and workmanship for the period of 90 days from the date of purchase. This warranty does not apply to damage due directly or indirectly, to misuse, abuse, negligence or accidents, repairs or alterations outside our facilities, criminal activity, improper installation, normal wear and tear, or to lack of maintenance. We shall in no event be liable for death, injuries to persons or property, or for incidental, contingent, special or consequential damages arising from the use of our product. Some states do not allow the exclusion or limitation of incidental or consequential damages, so the above limitation of exclusion may not apply to you. THIS WARRANTY IS EXPRESSLY IN LIEU OF ALL OTHER WARRANTIES, EXPRESS OR IMPLIED, INCLUDING THE WARRANTIES OF MERCHANTABILITY AND FITNESS.
To take advantage of this warranty, the product or part must be returned to us with transportation charges prepaid. Proof of purchase date and an explanation of the complaint must accompany the merchandise. If our inspection verifies the defect, we will either repair or replace the product at our election or we may elect to refund the purchase price if we cannot readily and quickly provide you with a replacement. We will return repaired products at our expense, but if we determine there is no defect, or that the defect resulted from causes not within the scope of our warranty, then you must bear the cost of returning the product.
This warranty gives you specific legal rights and you may also have other rights which vary from state to state.
Record Product's Serial Number Here:_______________
Note: If product has no serial number, record month and year of purchase instead.
Note: Replacement parts are not available for this item. Reference UPC 193175440051.
Visit our website at: http://www.harborfreight.com
Email our technical support at: [email protected]