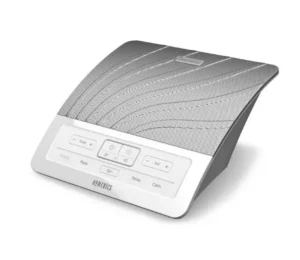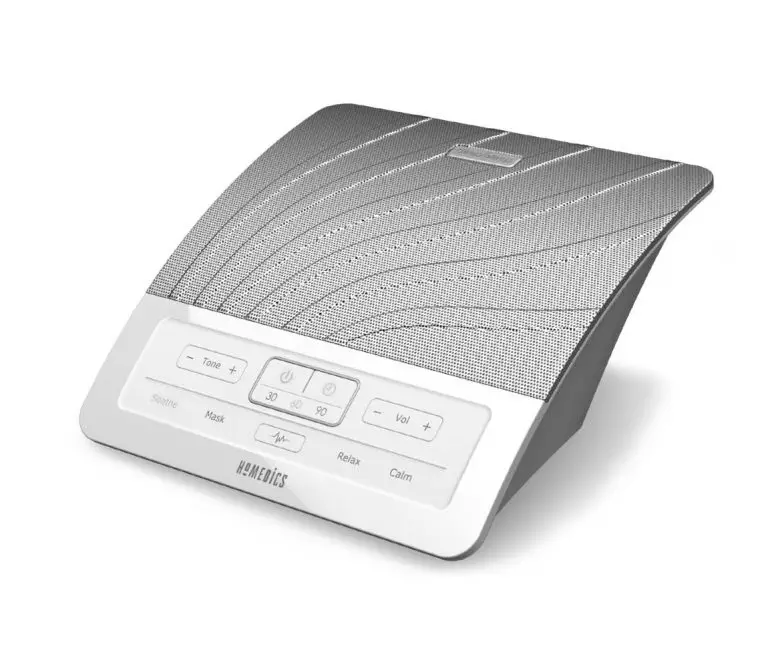 Instruction Manual and Warranty Information

Homedics HDS-1000 Deep Sleep
Please Take A Moment Now Register Your Product At: www.homedics.com/register Your valuable input regarding this product will help us create the products you will want in the future.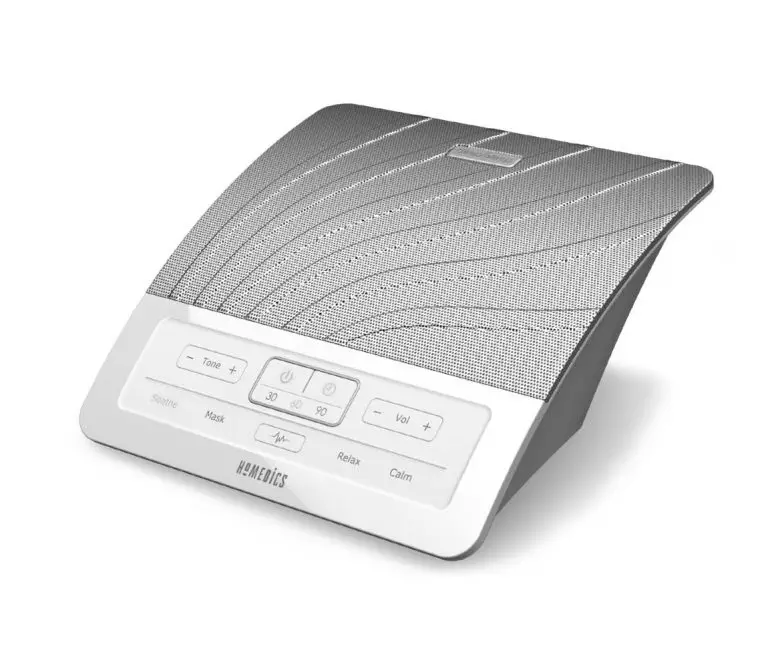 Create your perfect sleep environment.
Thank you for purchasing Deep Sleep, the ultimate in lab-created White Noise Technology. Our system has been specifically designed to mask disruptions all night long so you can get the best night's sleep imaginable. This, like the entire HoMedics product line, is built with high quality craftsmanship to provide you years of dependable service. We hope you will find it to be the finest product of it's kind.
Deep Sleep Features
White Noise Tones: Soothe, Mask, Relax and Calm
Auto-timer lets you choose how long you listen— 30, 60, 90 minutes or continuously
Volume control adjusts the volume of the sounds
Tone control adjusts the tone of the sounds
Compact and lightweight for travel
Assembly and Instructions for Use
Unpack the product and check to make sure the adaptor is included. (Fig. 1)
This unit is powered by an AC adaptor or by four "AA" batteries (not included).
Attach the AC adaptor jack to the base of the unit and insert the cord into a 120V household outlet.
To install batteries, remove compartment cover. Insert four "AA" batteries into the compartment on the bottom according to the polarity indicated. Replace cover and snap into place.
Battery Precautions
Use only the size and type of batteries specified.
When installing batteries, observe proper +/- polarities. Incorrect installation of battery may cause damage to the unit.
Do not mix old and new batteries.
Do not mix alkaline, standard (carbon-zinc), or rechargeable (ni-cad, ni-mh, etc.) batteries.
Clean the battery contacts and also those of the device prior to battery installation.
Remove used batteries promptly.
If the unit is not going to be used for a long period of time, remove batteries to prevent damage due to possible battery leakage.
Do not dispose of batteries in fire. Batteries may explode or leak.
Dispose of used batteries properly in accordance with all state, province and county regulations.
CAUTION: All servicing of this product must be performed by authorized HoMedics Service Personnel only.
How to Mask Distractions all Night
Your Deep Sleep unit is powerful enough to be used anywhere in the room and placing the unit away from your beside will fill the room with soothing sound, masking all external distractions. If you wish to help drown out sounds located within the bedroom (like a snoring partner), place your Deep Sleep unit directly at your bedside—preferably on a nightstand – and position the speaker toward you.

How to Use Your Deep Sleep
Once you have decided where to place your Deep Sleep for optimal results, follow these steps to create your perfect sleep environment.
Press the POWER button (Fig 1)
Press the button to scroll through the sound selections. Each tone name will light up as selected. We have FOUR distinct tones—one is sure to be right for you:
Soothe: Like a soft rain, this tone has the lightest pitch- easing your mind gently
Mask: Effectively blocks external distractions including noisy neighbors and highway traffic
Relax: Modulated to disrupt interfering room noise, such as snoring
Calm: The deepest of all tones- perfect for tinnitus sufferers or small children
Once you select the tone that suits your needs, you can adjust the sound by pressing the TONE button (Fig 1) up and down. Press and hold the "+" symbol to remove bass and achieve a higher pitch. Press and hold the "-" symbol to add bass and achieve a lower pitch.
Finally, to adjust the VOLUME, press and hold the "+" or "-" symbols on the VOL button (Fig 1).
Your Deep Sleep unit is now set. When you wake in the morning and power off the unit—don't fret. You will not have to reset your choices. Your Deep Sleep is programmed to remember your settings when you power the unit back on.

Using the Auto-Timer
When the power is on and you are listening to a white noise tone, you may set a timer so the unit will automatically turn off.
Toggle through the TIMER button (Fig. 2) until the corresponding LED illuminates next to the time of your choice, 30, 60 or 90 minutes. The unit will automatically shut off after the selected time and the POWER LED (Fig. 2) will remain lit showing you it is still in timer mode. If you chose to listen to another timed sound, press the timer button to select a desired time. Or if you choose to listen to the sounds continuously, turn the unit off and then back on.
NOTE: Do not select the TIMER button if you wish to listen to the sounds continuously.
Maintenance
To Store
You may leave the unit on display, or you can store it in its box in a cool, dry place.
To Clean
Wipe off dust with a damp cloth. NEVER use liquids or abrasive cleaner to clean. Modifications not authorized by the manufacturer may void users authority to operate this device.
FCC Disclaimer
NOTE: This device complies with Part 15 of the FCC guidelines. Operation is subject to the following two conditions: (1) this device may not cause harmful interference, and (2) this device must accept any interference received, including interference that may cause undesired operation.
NOTE: The manufacturer is not responsible for any radio or TV interference caused by unauthorized modifications to this equipment. Such modifications could void the user authority to operate the equipment.
NOTE: This equipment has been tested and found to comply with the limits for a Class B digital device, pursuant to Part 15 of the FCC Rules. These limits are designed to provide reasonable protection against harmful interference in a residential installation. This equipment generates, uses and can radiate radio frequency energy and, if not installed and used in accordance with the instructions, may cause harmful interference to radio communications.
However, there is no guarantee that interference will not occur in a particular installation. If this equipment does cause harmful interference to radio or television reception, which can be determined by turning the equipment off and on, the user in encouraged to try to correct the interference by one or more of the following measure:
Reorient or relocate the receiving antenna.
Increase the separation between the equipment and receiver.
Connect the equipment into an outlet on a circuit different from that to which the receiver
is connected.
Consult the dealer or an experienced radio/TV technician for help.
ONE YEAR LIMITED WARRANTY
HoMedics sells its products with the intent that they are free of defects in manufacture and workmanship for a period of one year from the date of original purchase, except as noted below. HoMedics warrants that its products will be free of defects in material and workmanship under normal use and service. This warranty extends only to consumers and does not extend to Retailers.
To obtain warranty service on your HoMedics product, contact a consumer relations representative by telephone at 1-800-446-3342 for assistance. Please make sure to have the model number of the product available.
HoMedics does not authorize anyone, including, but not limited to, Retailers, the subsequent consumer purchaser of the product from a Retailer or remote purchasers, to obligate HoMedics in any way beyond the terms set forth herein. This warranty does not cover damage caused by misuse or abuse; accident; the attachment of any unauthorized accessory; alteration to the product; improper installation; unauthorized repairs or modifications; improper use of electrical/ power supply; loss of power; dropped product; malfunction or damage of an operating part from failure to provide manufacturer's recommended maintenance; transportation damage; theft; neglect; vandalism; or environmental conditions; loss of use during the period the product is at a repair facility or otherwise awaiting parts or repair; or any other conditions whatsoever that are beyond the control of HoMedics.
This warranty is effective only if the product is purchased and operated in the country in which the product is purchased. A product that requires modifications or adoption to enable it to operate in any other country than the country for which it was designed, manufactured, approved and/or authorized, or repair of products damaged by these modifications is not covered under this warranty.
THE WARRANTY PROVIDED HEREIN SHALL BE THE SOLE AND EXCLUSIVE WARRANTY. THERE SHALL BE NO OTHER WARRANTIES EXPRESS OR IMPLIED INCLUDING ANY IMPLIED WARRANTY OF MERCHANTABILITY OR FITNESS OR ANY OTHER OBLIGATION ON THE PART OF THE COMPANY WITH RESPECT TO PRODUCTS COVERED BY THIS WARRANTY. SI PRODUCTS SHALL HAVE NO LIABILITY FOR ANY INCIDENTAL, CONSEQUENTIAL OR SPECIAL DAMAGES. IN NO EVENT SHALL THIS WARRANTY REQUIRE MORE THAN THE REPAIR OR REPLACEMENT OF ANY PART OR PARTS WHICH ARE FOUND TO BE DEFECTIVE WITHIN THE EFFECTIVE PERIOD OF THE WARRANTY. NO REFUNDS WILL BE GIVEN. IF REPLACEMENT PARTS FOR DEFECTIVE MATERIALS ARE NOT AVAILABLE, SI PRODUCTS RESERVES THE RIGHT TO MAKE PRODUCT SUBSTITUTIONS IN LIEU OF REPAIR OR REPLACEMENT.
This warranty does not extend to the purchase of opened, used, repaired, repackaged and/or resealed products, including but not limited to sale of such products on Internet auction sites and/or sales of such products by surplus or bulk resellers. Any and all warranties or guarantees shall immediately cease and terminate as to any products or parts thereof which are repaired, replaced, altered, or modified, without the prior express and written consent of HoMedics.
This warranty provides you with specific legal rights. You may have additional rights which may vary from state to state. Because of individual regulations, some of the above limitations and exclusions may not apply to you.
email: [email protected]
8:30am – 7:00pm (EST) Monday – Friday
1.800.466.3342
HoMedics and Deep Sleep are registered trademarks of HoMedics, LLC.
© 2013 HoMedics, LLC. All rights reserved.
IB-HDS1000