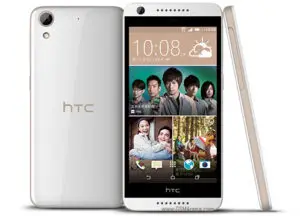 HTC Desire 626 Setup Guide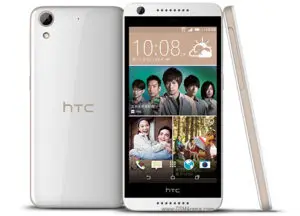 About Your Phone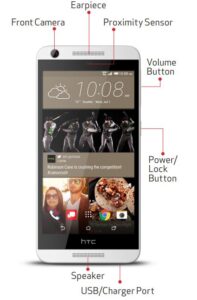 NOTE: Devices and software are constantly evolving—the screen images and icons you see here are for reference only.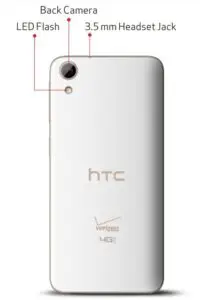 Setting Up Your Phone
Your phone comes with the SIM card pre-installed.
Optional: Insert the microSD Card
With the phone facing down, open the card slot cover.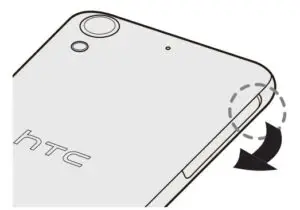 Insert the microSD card in the slot on the left with the gold contacts facing up.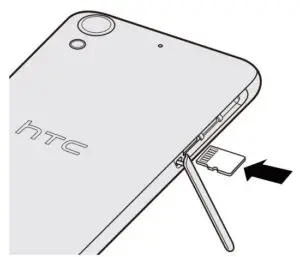 3. Close the card slot cover.
NOTE: The microSD card is sold separately.
Charge Your Phone
Before turning on your phone, charge it fully. Insert the small end of the USB cable into the USB/Charger Port and the other end into the power adapter. Plug the power adapter into an electrical outlet.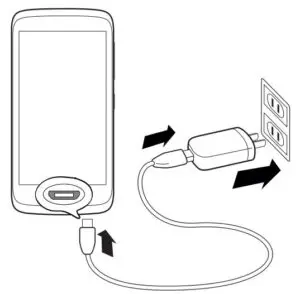 WARNING! Please use only an approved charging accessory to charge your phone. Improper handling of the charging port, as well as the use of an incompatible charger, may cause damage to your phone and void the warranty.
Using Your Phone
Turning Your Phone On/Off
To turn your phone on, press and hold the Power/Lock button until the phone vibrates.
To turn your phone off, press and hold the Power/Lock button for a few seconds, and then tap Power off.
Locking and Unlocking the Screen
To turn on your screen, press the Power/Lock button. Then swipe the Lock icon up to unlock it.
To turn off your screen and prevent accidental key presses, press the Power/Lock button. The phone also automatically locks after it has been idle for some time.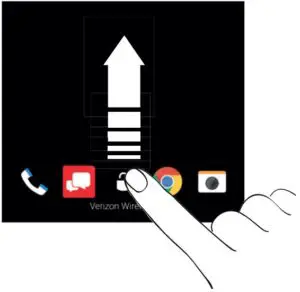 Home Screen
After setting up your phone, you'll see the Home screen.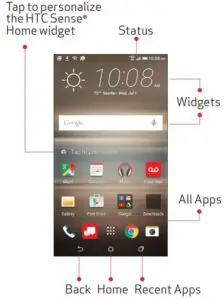 Advanced Calling
You can make High-Definition Voice and Video Calls, and surf the web while you talk on the phone, when you add Advanced Calling to your line. To learn how, visit verizonwireless.com/AdvancedCalling.
Copying Content from Your Old Phone
For help transferring contacts, photos and other content from your old phone,
visit verizonwireless.com/cloud.
Learning More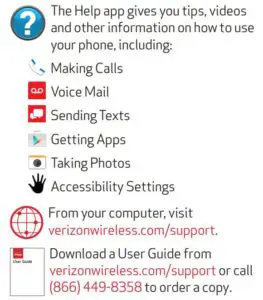 Managing Your Account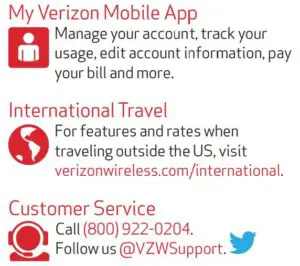 Additional Information
Your Wireless Device and Third Party Services
Verizon Wireless is the mobile carrier associated with this wireless device, but many services and features offered through this wireless device are provided by or in conjunction with third parties. Verizon Wireless is not responsible for your use of this wireless device or any non-Verizon Wireless applications, services and products including any personal information you choose to use, submit or share with others. Specific third party terms and conditions, terms of use, and privacy policies shall apply. Please review carefully all applicable terms and conditions and policies prior to using this wireless device and any associated application, product or service.
Hearing Aid Compatibility Information
This phone has been tested and rated for use with hearing aids for some of the wireless technologies that it uses. However, there may be some newer wireless technologies used in this phone that have not been tested yet for use with hearing aids. It is important to try the different features of this phone thoroughly and in different locations, using your hearing aid or cochlear implant, to determine if you hear any interfering noise. Consult your service provider or the manufacturer of this phone for information on hearing aid compatibility. If you have questions about return or exchange policies, consult your service provider or phone retailer.
© 2015 Verizon Wireless. All Rights Reserved.
HTC, the HTC logo, HTC Desire, the HTC Desire logo,
HTC Sense and all other HTC device and feature names are
the trademarks or registered trademarks in the U.S. and/or
other countries of HTC Corporation and its affiliates.
MicroSD is a trademark of SD-3C, LLC.