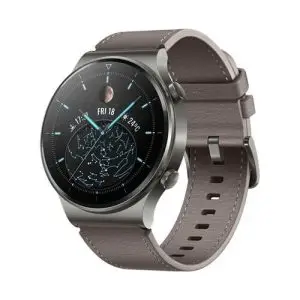 HUAWEI WATCH GT 2 Pro Smartwatch User Guide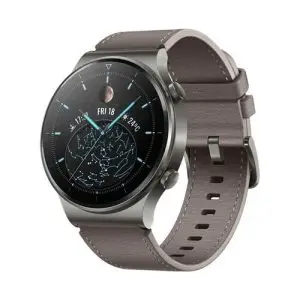 1. Charging
Connect the charging cradle to the Type-C cable, put them both on a flat surface, then connect the cable to the power supply. Attach the back side of the device to the charging cradle and wait until the battery level is displayed on the device.


The charging cradle and charging cable are not water resistant. Wipe them dry before charging.
Use the dedicated charging cable that comes with your watch to charge it.
2. Downloading Huawei Health
To download and install the Huawei Health app, scan the QR code on the right, or search for Huawei Health in AppGallery or other app stores.

3. Pairing your device with your phone
From the device list in the Huawei Health app, select the device and follow the onscreen instructions to complete the pairing.
4. Getting help
View the online help in the Huawei Health app for more information about connection and functions, as well as usage tips.
Copyright © Huawei 2020. All rights reserved.
THIS DOCUMENT IS FOR INFORMATION PURPOSE ONLY, AND DOES NOT CONSTITUTE ANY KIND OF WARRANTIES.
Trademarks and Permissions
The Bluetooth® word mark and logos are registered trademarks owned by Bluetooth SIG, Inc. and any use of such marks by Huawei Technologies Co., Ltd. is under license.Huawei Device Co., Ltd. is an affiliate of Huawei Technologies Co., Ltd.
Other trademarks, product, service and company names mentioned may be the property of their respective owners.
Privacy Policy
To better understand how we protect your personal information, please see the privacy policy at
http://consumer.huawei.com/privacy-policy, or read the privacy policy and service terms using the app after pairing it with your phone.
Blasting Caps and Areas
Turn off your mobile phone or wireless device when in a blasting area or in areas posted turn off "two-way radios" or "electronic devices" to avoid interfering with blasting operations.
Areas with flammables and explosives
Do not use the device where flammables or explosives are stored (in a gas station, oil depot, or chemical plant, for example). Using your device in these environments increases the risk of explosion or fire. In addition, follow the instructions indicated in text or symbols. Do not store or transport the device in containers with flammable liquids, gases, or explosives.
Operation and safety
Using an unapproved or incompatible power adapter, charger or battery may cause fire, explosion or other hazards.
Ideal temperatures are -20°C to +45°C.
Avoid placing metal objects on the surface of the wireless charging cradle, as they could cause the equipment to heat up and malfunction. Only use the wireless charging cradle in environments with an ambient temperature ranging from 0°C to 45°C.
If the ambient temperature is too high, the wireless charger may stop working. If this occurs, you are advised to stop wireless charging.
To keep the wireless charger in good condition, avoid using it inside a vehicle.
Adult supervision is advised if children are to use or come into contact with this product.
Please consult your doctor and the device manufacturer to determine if operation of your device may interfere with the operation of your medical device.
Switch off your wireless device when requested to do so in hospitals, clinics or health care facilities. These requests are designed to prevent possible interference with sensitive medical equipment.
Some wireless devices may affect the performance of hearing aids or pacemakers. Consult your service provider for more information.
Pacemaker manufacturers recommend that a minimum distance of 15 cm be maintained between a device and a pacemaker to prevent potential interference with the pacemaker. If using a pacemaker, hold the device on the side opposite the pacemaker and do not carry the device in your front pocket.
Keep the device and the battery away from excessive heat and direct sunlight. Do not place them on or in heating devices, such as microwave ovens, stoves, or radiators. Do not disassemble, modify, throw, or squeeze them. Do not insert foreign objects into them, submerge them in liquids, or expose them to external force or pressure, as this may cause them to leak, overheat, catch fire, or even explode.
Observe local laws and regulations while using the device. To reduce the risk of accidents, do not use your wireless device while driving.
To prevent damage to your device's parts or internal circuits, do not use it in dusty, smoky, damp or dirty environments or near magnetic fields.
Do not use, store or transport the device where flammables or explosives are stored (in a gas station, oil depot, or chemical plant, for example). Using your device in these environments increases the risk of explosion or fire.
Dispose of this device, the battery, and accessories according to local regulations. They should not be disposed of in normal household waste.Improper battery use may lead to fire, explosion, or other hazards.
The device has undergone testing and has demonstrated water and dust resistance in certain
environments.
The device has a built-in, non-removable battery, do not attempt to remove the battery, otherwise the device may be damaged.
If the battery leaks, ensure that the electrolyte does not make direct contact with your skin or eyes. If the electrolyte touches your skin or splashes into your eyes, immediately flush with clean water and consult a doctor.
When charging the device, make sure the power adapter is plugged into a socket near the devices and is easily accessible.
Unplug the charger from electrical outlets and the device when not in use.
Do not place sharp metal objects, such as pins, near the microphone. The microphone may attract these objects and result in injury.
Wireless devices may interfere with the airplane's flight system. Do not use your device where wireless devices are not allowed according to the airplane company's regulations.
To ensure the best audio performance of your device's microphone, use a cloth to wipe the area of the microphone which has been exposed to water. Do not use the microphone until the wet areas are totally dry.
Switch off your wireless device whenever you are instructed to do so by airport or airline staff. Consult the airline staff about the use of wireless devices on board the aircraft, if your device offers a 'flight mode' this must be enabled prior to boarding an aircraft.
Ensure that the power adapter meets the requirements of Clause 2.5 in IEC60950-1/EN60950-1/ UL60950-1 and has been tested and approved according to national or local standards.
Protect the wearable and its accessories from strong impact, strong vibration, scratches, and sharp objects, these may damage the device.
Make sure that the wearable and its accessories stay clean and dry. Do not wear the wearable too loosely or tightly during workouts. Clean your wrist and device after the workout. Rinse and dry the device to clean it before putting it back on.
If the wearable is built for swimming and showering, make sure to regularly clean the strap, dry your wrist and the device before wearing it again.
Loosen the strap for a little bit during the day to let your skin breathe. If wearing it starts to feel uncomfortable, take off your wearable and let your wrist have a rest. If it still feels uncomfortable, stop wearing it and seek medical advice as soon as possible. You can also purchase straps made from other materials and with different designs from the official Huawei website.

Disposal and recycling information
The crossed-out wheeled-bin symbol on your product, battery, literature or packaging reminds you that all electronic products and batteries must be taken to separate waste collection points at the end of their working lives; they must not be disposed of in the normal waste stream with household garbage. It is the responsibility of the user to dispose of the equipment using a designated collection point or service for separate recycling of waste electrical and electronic equipment (WEEE) and batteries according to local laws.
Proper collection and recycling of your equipment helps ensure electrical and electronic equipment (EEE) waste is recycled in a manner that conserves valuable materials and protects human health and the environment, improper handling, accidental breakage, damage, and/or improper recycling at the end of its life may be harmful for health and environment. For more information about where and how to drop off your EEE waste, please contact your local authorities, retailer or household waste disposal service or visit the website http://consumer.huawei.com/en/.
Reduction of hazardous substances
This device and any electrical accessories are compliant with local applicable rules on the restriction of the use of certain hazardous substances in electrical and electronic equipment, such as EU REACH, RoHS and Batteries (where included) regulations, etc. For declarations of conformity about REACH and RoHS, please visit our web site http://consumer.huawei.com/certification.
EU regulatory conformance
RF exposure requirements
Your device is a low-power radio transmitter and receiver. As recommended by international guidelines, the device is designed not to exceed the limits established by the European Commission for exposure to radio waves.
Statement
Hereby, Huawei Device Co., Ltd. declares that this device VID-B19 is in compliance with the essential requirements and other relevant provisions of Directive 2014/53/EU.
The most recent and valid version of the DoC (Declaration of Conformity) can be viewed at
http://consumer.huawei.com/certification.
This device may be operated in all member states of the EU.
Observe national and local regulations where the device is used.
This device may be restricted for use, depending on the local network.
Frequency bands and power
(a) Frequency bands in which the radio equipment operates: Some bands may not be available in all countries or all areas. Please contact the local carrier for more details.
(b) Maximum radio-frequency power transmitted in the frequency bands in which the radio equipment operates: The maximum power for all bands is less than the highest limit value specified in the related Harmonized Standard.
The frequency bands and transmitting power (radiated and/or conducted) nominal limits applicable to this radio equipment are as follows: VID-B19: Bluetooth: 13 dBm
Accessories and Software Information
It is recommended that the following accessories should be used:
Charging cradle: CP80-1 Charging cable
The product software version is VID-B19: 10.1.0.29(C05SP1)
Software updates will be released by the manufacturer to fix bugs or enhance functions after the product has been released. All software versions released by the manufacturer have been verified and are still compliant with the related rules.
All RF parameters (for example, frequency range and output power) are not accessible to the user, and cannot be changed by the user.
For the most recent information about accessories and software, please see the DoC (Declaration of Conformity) at http://consumer.huawei.com/certification.
Please go to Settings > About > Regulatory Information on the device to view the E-label screen.
Please visit http://consumer.huawei.com/en/support/hotline for recently updated hotline and email address in your country or region.
Caution: Any changes or modifications to this device not expressly approved by Huawei Device Co., Ltd. for compliance could void the user's authority to operate the equipment.
Leather straps are not water resistant.
This product is not designed to be a medical device, and is not intended to diagnose, treat, cure or prevent any disease. All data and measurements should be used for personal reference only. If you experience skin discomfort when wearing the device, take it off and consult a doctor. To protect your hearing, it is recommended that you listen to music or make calls at a lower volume.