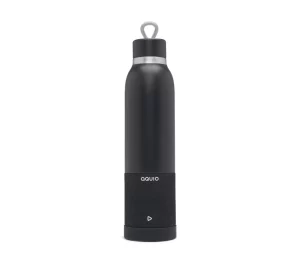 iHome Aquio Bottle with Waterproof Bluetooth Speaker Instruction Manual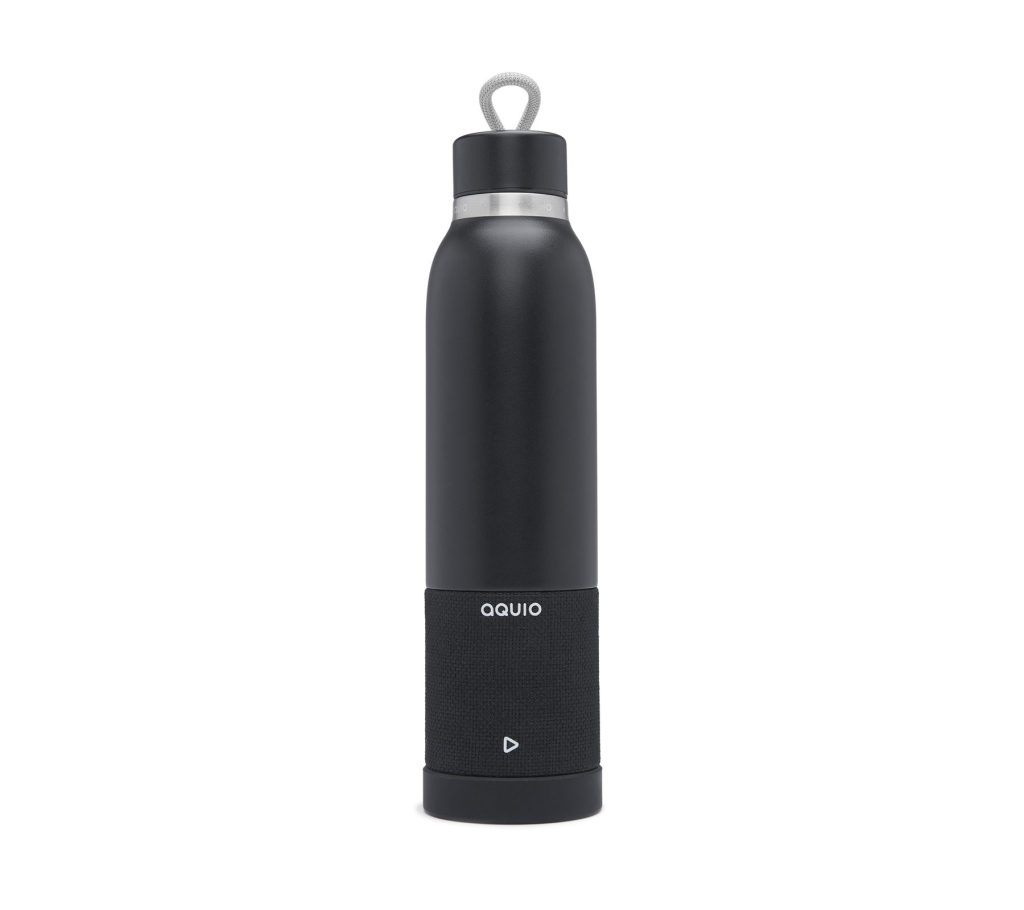 DOUBLE WALL INSULATED STAINLESS STEEL BOTTLE + REMOVABLE WATERPROOF BLUETOOTH SPEAKER
QUICK START GUIDE
CHARGE BEFORE USE

CONTROLS and INDICATORS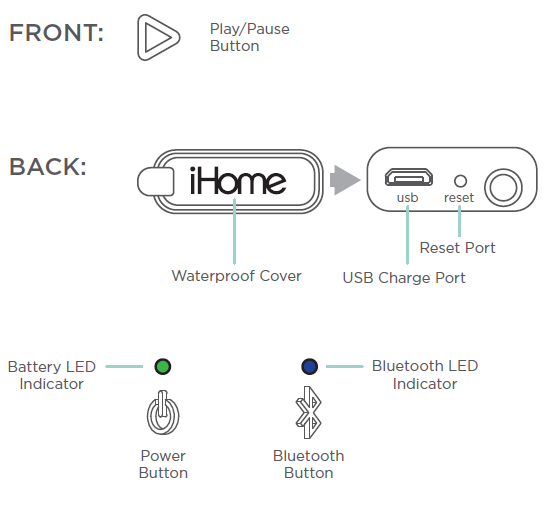 GETTING STARTED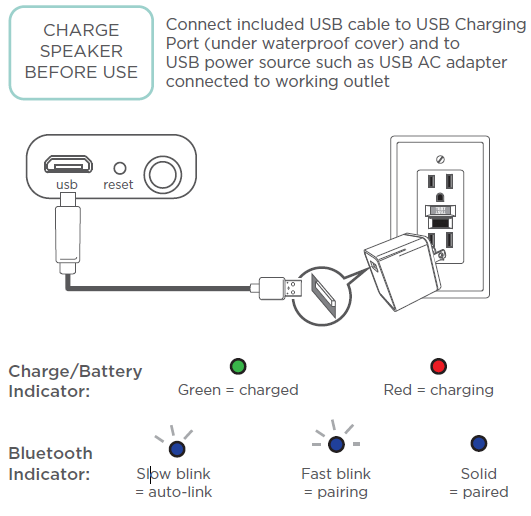 PAIRING BLUETOOTH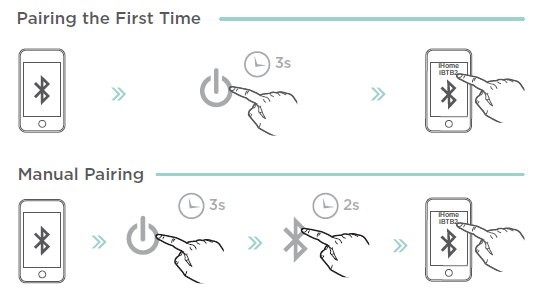 Make your Bluetooth device "discoverable"
Press and hold the Power Button on back of speaker for 3 sec. to power ON.
The first time the unit is powered on it will enter auto-pairing mode.
Select "iHome iBTB2" on your device's Bluetooth menu to complete pairing.
To manually pair, power speaker ON. Press and hold Bluetooth Button for 2 seconds, then select "iHome iBTB2" on your device's Bluetooth menu to complete pairing.
PLAYING BLUETOOTH AUDIO

Press Play/Pause Button to play or pause Bluetooth audio.

Press 2x to skip to next song
Press 3x to skip to previous track OR start of current track

Press and hold the Power Button for 3 sec. to power OFF.
SPEAKERPHONE
Speaker must be ON and paired to Bluetooth device to use speakerphone.

Press Play/Pause Button to answer/end call
Press and hold Play/Pause Button for 2 seconds to decline call
TIP: on some iOS (Apple) devices; you can view the iBTB2 battery status on your device's screen. When device is paired and connected; look for a vertical battery icon next to the Bluetooth icon on the upper right corner of the device's screen.
Bluetooth is a registered trademarks of Bluetooth SIG Inc.
Bluetooth technology is incorporated under license from Bluetooth SIG Inc.
HOW TO USE BOTTLE and SPEAKER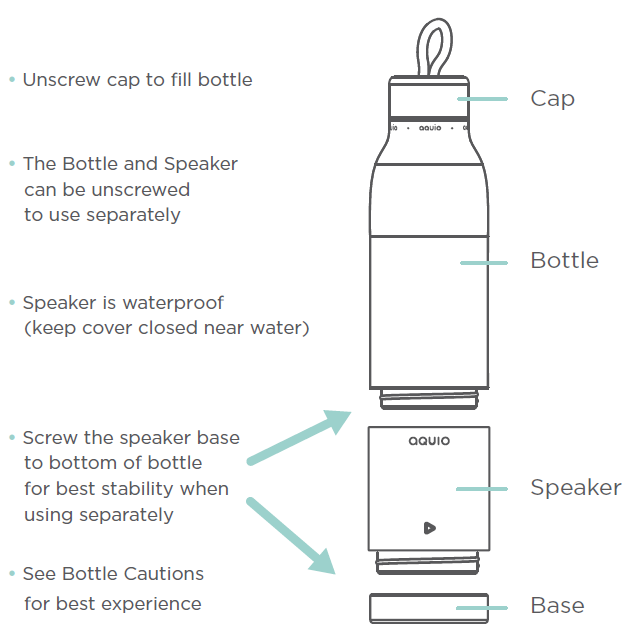 WATERPROOF OPERATION
For proper waterproof operation, make sure the waterproof cover on the back of the unit is completely flush with the unit by pressing along the entire edge of the cover until it is completely and securely in place.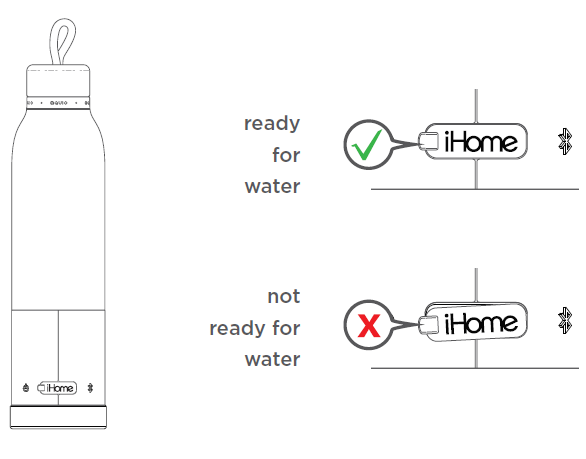 IMPORTANT INFORMATION ABOUT WATERPROOF OPERATION
The unit is IP67 waterproof rated, meaning it is immersible for up to 30 minutes at a depth of 1 meter (3 feet). It will typically withstand rain, snow and being submersed in shallow water. Longer duration or deeper immersion that exceeds the tested limits may cause product failure and void the warranty.
DO NOT immerse the unit in water for extended periods.
DO NOT immerse the unit in water deeper than 1 meter (about 3 feet).
Make sure cover and surrounding surfaces are completely dry before opening cover to prevent moisture from damaging the internal electronics.
Keep rubber cover free of dirt, sand, or other objects that can interfere with proper sealing. If for any reason the waterproof cover is not making a tight waterproof seal water may enter the unit.
Rinse with tap water after immersion in salt water or swimming pool.
DO NOT clean unit with oily soaps or use chemicals or solvents. Clean with damp cloth.
BOTTLE CAUTIONS
Wash with warm water, mild dish soap and rinse the bottle thoroughly prior to first use and after each use
Remove bottle cap and thoroughly wash the removable silicone cap collar after each use
Do not microwave or place in freezer
Caution: Hot beverages will remain hot for several hours
DO NOT overfill
DO NOT use with alcoholic or carbonated liquids that can cause pressure build up and potential lid failure
Always be certain the lid is securely attached to bottle before using it
RESETTING UNIT
If unit doesn't respond during use, insert the end of a paper clip or similar into the Reset Port located under the waterproof cover. Doing so will clear all previous settings (Bluetooth devices will need to be re-paired). Power unit on to resume normal operation.
INTERNAL RECHARGEABLE LITHIUM-ION BATTERY
This device uses an internal non-replaceable rechargeable lithium-ion battery that should last the lifetime of the device. If you suspect your battery may be dead, try charging it for an extended period of time and try resetting the unit. If this fails, contact Customer Service at 1-800-288-2792.
WARNING/DISPOSAL OF UNIT
DO NOT attempt to change the battery. Doing so will void the warranty and could cause injury and damage to your device.
To dispose of the unit, follow the instructions below:
Never dispose of used batteries/electronics with ordinary solid wastes, as they may contain harmful substances.
Always dispose of used batteries/electronics in accordance with the prevailing community regulations.
Many electronics retailers now recycle batteries and other electronic components at no charge.
GENERAL BATTERY PRECAUTIONS
Never use or charge a battery if it appears to be leaking, discolored, deformed, or in any way abnormal.
Never disassemble the unit or attempt to remove battery as that could cause leakage of alkaline solution or other electrolytic substances.
Avoid charging a rechargeable battery when the temperature is not within 5°C – 35° C (41° – 95° Fahrenheit).
Never expose a battery to any liquid.
Never expose a battery to excessive heat such as direct sunlight or fire. Never use a battery pack in an unventilated vehicle where excessive internal temperatures may be encountered.
Always keep batteries out of the reach of infants and small children.
FCC Information
FCC Radiation Exposure Statement
This equipment complies with FCC RF radiation exposure limits set forth for an uncontrolled environment.
This device complies with Part 15 of the FCC Rules, operation is subject to the following two conditions: (1) This device may not cause harmful interference, and (2) this device must accept any interference received, including interference that may cause undesired operation.
Warning: Changes or modifications to this unit not expressly approved by the party responsible for compliance could void the user's authority to operate the equipment.
NOTE: This equipment has been tested and found to comply with the limits for a Class B digital device, pursuant to Part 15 of the FCC Rules.
These limits are designed to provide reasonable protection against harmful interference in a residential installation. This equipment generates, uses and can radiate radio frequency energy and, if not installed and used in accordance with the instructions, may cause harmful interference to radio communications.
However, there is no guarantee that interference will not occur in a particular installation. If this equipment does cause harmful interference to radio or television reception, which can be determined by turning the equipment off and on, the user is encouraged to try to correct the interference by one or more of the following measures:
Reorient or relocate the receiving antenna.
Increase the separation between the equipment and receiver.
Connect the equipment into an outlet on a circuit different from that to which the receiver is connected.
Consult the dealer or an experienced radio/TV technician for help.
CAN ICES-3 (B)/NMB-3(B)
Canada Statement
This device complies with Industry Canada's licence-exempt RSSs. Operation is subject to the following two conditions:
(1) This device may not cause interference; and
(2) This device must accept any interference, including interference that may cause undesired operation of the device.
The device meets the exemption from the routine evaluation limits in section 2.5 of RSS 102 and compliance with RSS-102 RF exposure, users can obtain Canadian information on RF exposure and compliance.