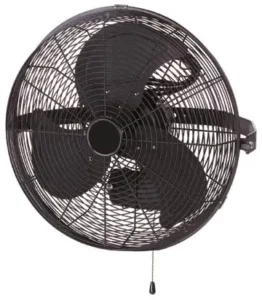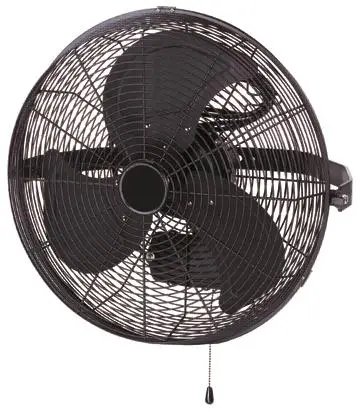 14″ OUTDOOR WALL FAN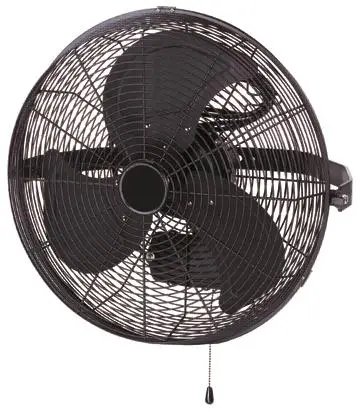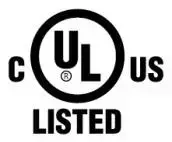 Model: ILG8E14-15
OWNER'S MANUAL
PLEASE READ AND SAVE THESE
INSTRUCTIONS

Assembly and Operating Instructions 
CAUTION: Read and follow all instructions before operating the fan. Do not use a fan if any part is damaged or missing.
WARNING: To reduce the risk of electrical shock, do not use this fan with any solid-state speed control device.
This outdoor fan can be used alone or with misting systems by adding a Mist Ring.
This appliance has a 3-prong grounded plug and must be inserted into a matching grounded GFI outlet for safe operation and to reduce the risk of electrical shock.
Instructions for Safe Operation
Never insert fingers or any other objects through the grill guard when the fan is in operation.
Always mount fan with the supplied bracket.
Unplug the fan when removing guards for cleaning.
Do not use an extension cord.
Do not place a fan or any parts near an open flame, stovetop, cooking or other heat-generating appliances.
ASSEMBLY  INSTRUCTIONS
Wall or Ceiling Mounting - Permanent Mounting Only
Locate solid wall stud or ceiling beam. Mark the center of the beam. If you do not have a solid structural framing member at that location, you will need to find an adequate alternative for mounting the fan.
Drill pilot hole for 3/8″ lag bolt.
Secure with the hardware provided.
Fan can also be mounted to concrete with the appropriate fastener.
NOTE: Plug the fan into a GFI outlet to ensure safety
OPERATING  INSTRUCTIONS
To  adjust  airflow  upward  or downward: After installation, this fan can be tilted to adjust for the desired airflow. Tighten pivot knob(s) on side of the fan to retain the desired angle.
Speed Control: Use a pull chain switch for low, medium, or high speed, and to turn the fan off. It is normal for the motor to feel warm to the touch after continuous operation. This fan features thermal protection that will automatically shut the fan off should it overheat for any reason. If this happens, immediately unplug the fan from the outlet.
CLEANING INSTRUCTIONS
Unplug the fan from the outlet before cleaning. After service, all parts (including grills and blades) must be reinstalled or remounted as previously installed. Use a soft damp cloth, then wipe with a dry cloth. Do not use harmful cleaners. Do not bend the blades. The motor bearings are permanently sealed and do not require additional lubrication.
Product Specifications
Model#: ILG8E14-15
Voltage: 120V, 60Hz
Current: 0.58 amps
Power: 70 Watts
Warranty Information
Register your product at our website: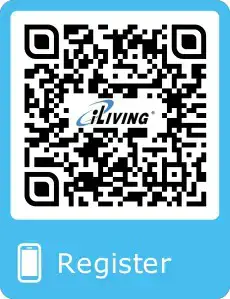 http://ilivingusa.com/register-product
Feedback
Love it? Help us make the product more for you.
https://www.amazon.com/review/review-your-purchases#
Let us know with a customer review.
Please visit: https://www.amazon.com/review/review-your-purchases#
At iLiving USA, we are committed to bringing top-quality products to our customers.
iLIVING USA
9293 Beatty Dr,
Sacramento, CA 95826
Tel: 1-800-317-1688
Email: [email protected]