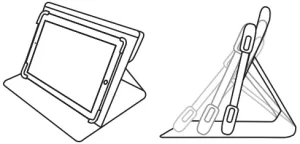 FlexView Case for 7″, 8″, and 10″ Tablets
This protective case features a locking plate that securely holds your tablet in place, yet allows it to be easily removed. Your tablet will be protected from scratches and other damage with this stylish cover.
PACKAGE CONTENTS
Protective case
Quick Setup Guide
FEATURES
Simple and universal protection for your tablet
Durable and convenient
Adjustable corners to secure your tablet
Flexible viewing in portrait and landscape modes
Before using your new product, please read these instructions to prevent any damage.
INSTALLING YOUR TABLET
Insert the tablet into the inside corners of the case.

Snap the outside corners around the corners of the tablet.

USING YOUR PROTECTIVE CASE AS A STAND
With the cover open and laying flat, lift the inside edge of the tablet mount.

Fold in the right and left edges of the outside of the cover, then attach the outer, magnetic edge of the cover to the top of the tablet mount, forming a rigid stand on the backside of the tablet mount.

Fold under the bottom edge of the cover.

Select your viewing orientation.

OR
Turn the base of the case to select the portrait viewing orientation.

Adjust the viewing angle of your tablet.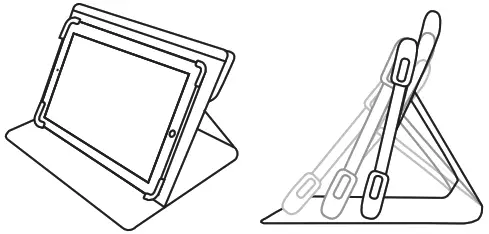 ONE-YEAR LIMITED WARRANTY
Visit www.insigniaproducts.com for details.
CONTACT INSIGNIA:
For customer service, call 1-877-467-4289 (U.S. and Canada) or
01-800-926-3000 (Mexico)
www.insigniaproducts.com
INSIGNIA is a trademark of Best Buy and its affiliated companies. Distributed by Best Buy Purchasing, LLC, 7601 Penn Ave South, Richfield, MN 55423 U.S.A. ©2019 Best Buy. All rights reserved. Made in China
V2 ENGLISH 19-0246