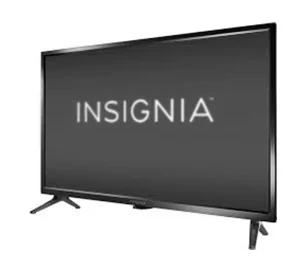 Instruction Manual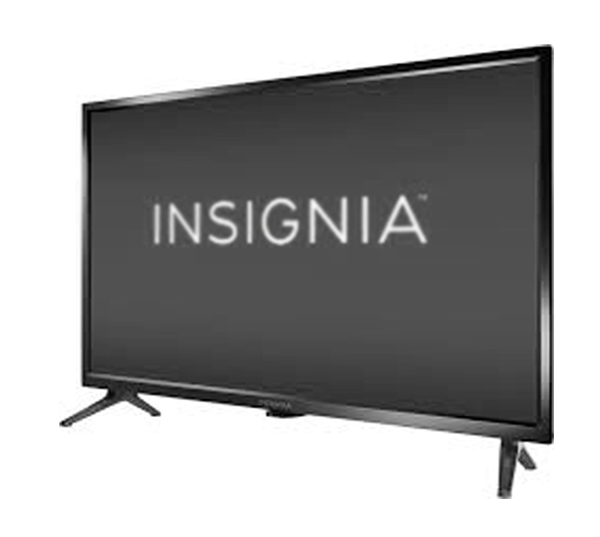 Insignia 19″/24″ 720p 60Hz LED TV
ACCESSORIES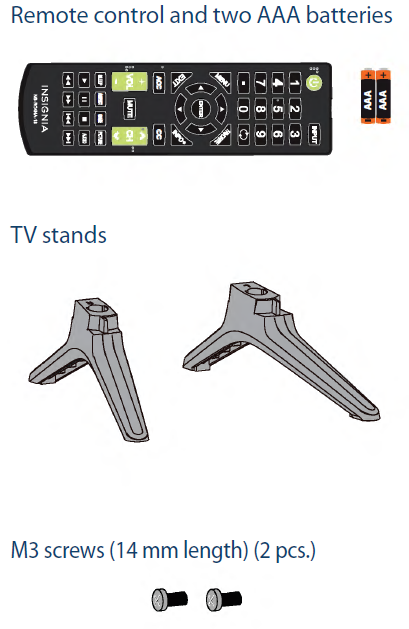 1. INSTALLING THE STANDS OR A WALL MOUNT
Place your TV face-down on a cushioned, clean surface.
STANDS
1 Align the TV stand screw holes with the holes on your TV's bottom.
2 Use a Phillips screwdriver and the two provided screws to secure the stands to your TV.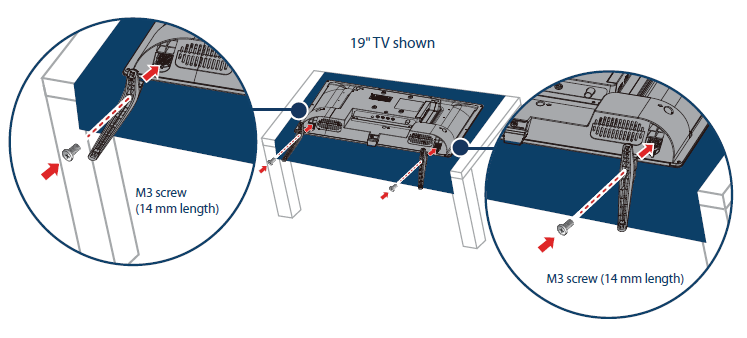 WALL MOUNT
Before you mount your TV, make sure that:
You remove the stands.
The wall-mount bracket supports the weight of your TV.
See the instructions that came with your wall mount for more information about how to correctly mount your TV.
WARNING: Your TV has four VESA mounting holes on the back. You must secure a wall-mount bracket to all four holes. If you do not use all four holes, your TV may fall and cause property damage or personal injury.
Note: Wall-mount screws are not included.

FEATURES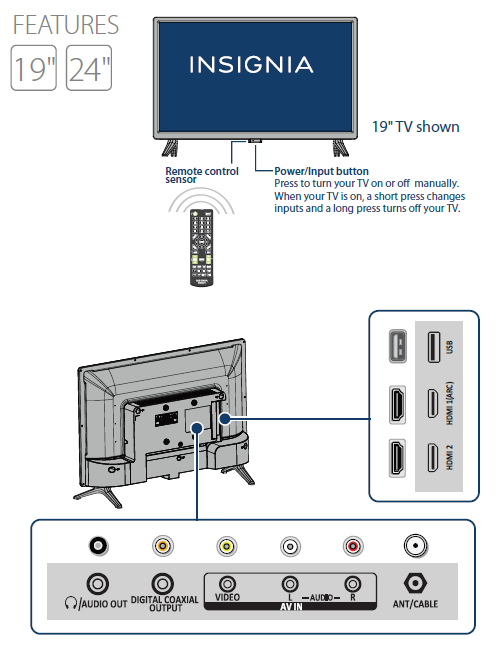 Note: Images do not necessarily represent the exact design of your television.
2. MAKING CONNECTIONS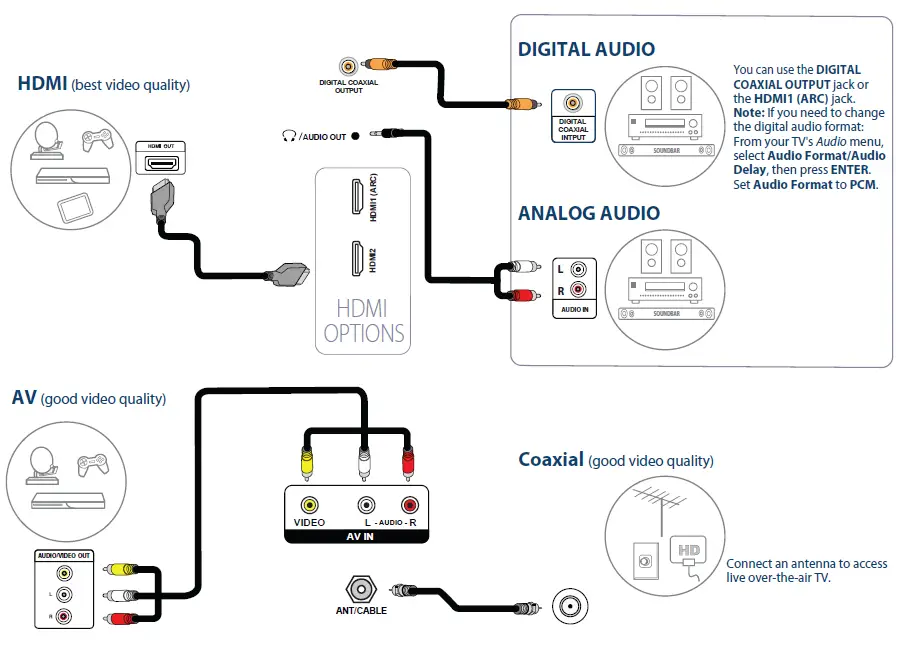 3. TURNING ON YOUR TV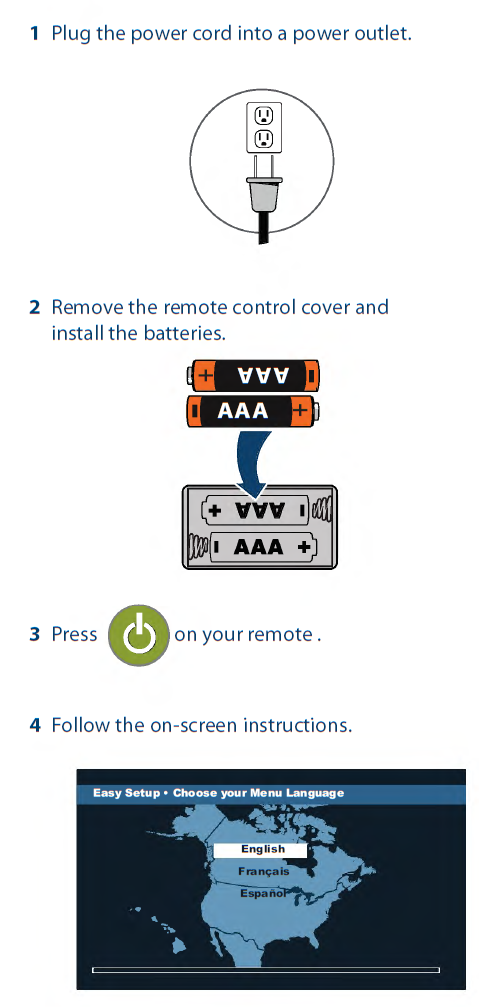 FIND YOUR USER GUIDE ONLINE
Go to www.insigniaproducts.com.
Use the search bar to find NS-19D310NA21 or NS-24D310NA21.
Select Support & Downloads.
Next to User Guide, select the language you want.
USING YOUR REMOTE CONTROL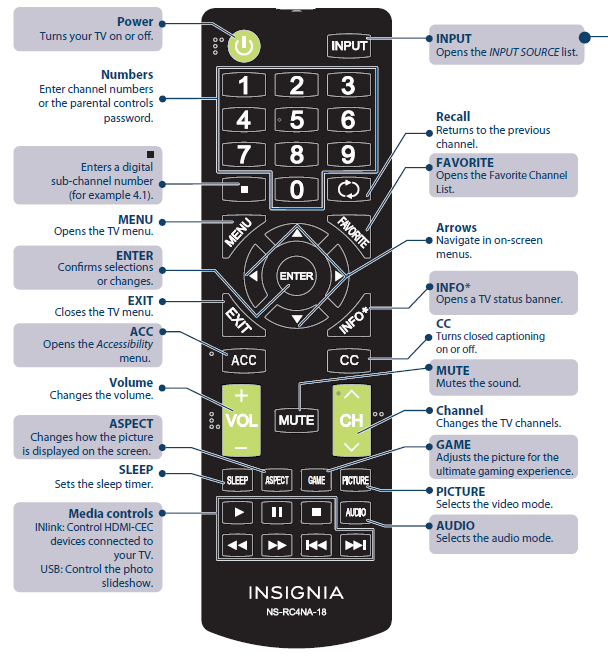 I already have a universal remote control. How do I make it control this TV?
If you already have a universal remote control that you want to program to work with your TV and don't want to use the included Insignia remote control, see the table below for common codes.

For an up-to-date list of codes for other cable providers and universal remote brands, visit www.insigniaproducts.com/remotecodes
INSIGNIA
ONE-YEAR LIMITED WARRANTY
Visit www.insigniaproducts.com for details.
NEED ADDITIONAL HELP?
Check out our Support Community at
http://community.insigniaproducts.com/ for helpful information from other Insignia TV owners.
WE'RE HERE FOR YOU
www.insigniaproducts.com
For customer service, call:
1-877-467-4289 (U.S./Canada)
01-800-926-3000 (México)
DTS
For DTS patents, see http://patents.dts.com. Manufactured under license from DTS, Inc. DTS, the Symbol, DTS and the Symbol together, and TruSurround are registered trademarks and/or trademarks of DTS, Inc. in the United States and/or other countries.
© DTS, Inc. All Rights Reserved.
U.S. and Canada:
INSIGNIA is a trademark of Best Buy and its affiliated companies.
Registered in some countries.
Distributed by Best Buy Purchasing, LLC
7601 Penn Ave South, Richfield, MN 55423 U.S.A.
Mexico:
01-800-926-3000
Best Buy Imports S. DE R.L. DE C.V.
Avenida Santa Fe No. 440 Piso 2 Ofna 202 Y 203 P3 Y P4
Colonia Santa Fe Cuajimalpa, C.P. 05348,
Delegación Cuajimalpa De Morelos, México,
Ciudad De México