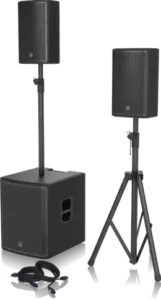 Portable iP15 Bundle
Product Information Document
Portable
iNSPIRE iP15 BUNDLE
1000 Watt Powered PA Bundle including iP15B Subwoofer with 2 x iP82 Loudspeakers, Digital Mixer, Speaker Stands and Cables, KLARK TEKNIK Spatial Sound Technology, Remote Control via iPhone/iPad and Bluetooth Audio Streaming
Powered 15″ subwoofer for portable PA applications and high quality music playback
2 x iP82, 2 way full range loudspeakers with 8″ low frequency driver and 1″ compression driver
1,000 Watt power, multi-channel KLARK TEKNIK Class-D technology
3 channel digital mixer with gain setting recall
Lightweight distance pole and speaker stand provide stability for your PA system
2 x heavy gauge 8 m (26′) cables with speakON* connectors
KLARK TEKNIK's revolutionary SST (Spatial Sound Technology) for creating 3D acoustic environments
Comprehensive remote control via Apple iPhone/iPad*
High quality Bluetooth* stereo audio streaming
DSP presets for application type and speaker positioning
Road worthy plywood enclosures with hard wearing semi matt black paint finish
Integral ergonomic carrying handles for ease of portability
10-Year Warranty Program*
Designed and engineered in the U.K.
The 1,000-Watt INSPIRE iP15 BUNDLE powered PA system produces high levels of low-end punch, with the definition and clarity typically reserved for much larger systems, and is ideally-suited for small to medium-sized performance venues, houses of worship, boardroom presentations, nightclubs, and much more. The iP15B powered subwoofer features a dedicated multi-channel 1,000 Watt Class-D amplifier that provides 600 Watts to the enclosed 15″ long-excursion Low-Frequency (LF) driver, and 2 x 200 Watts for the included pair of iP82 satellite speakers. The complete system also comes with speaker stands and cables, so it is ready to use right out of the box.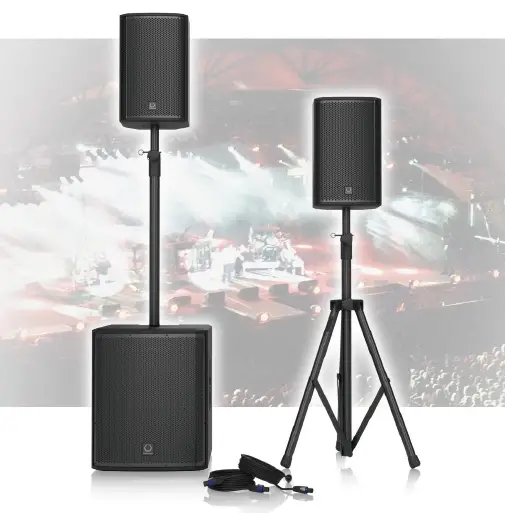 Complete Compact PA System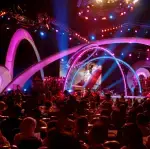 Lightweight and easy to transport, the iP15B features a 3-channel digital mixer with industry-leading KLARK TEKNIK Digital Sound Processing (DSP), Class-D amplifier and Spatial Sound technologies ­ plus convenient Bluetooth stereo audio streaming and iPhone/iPad remote control. Put simply, this cool-running system delivers amazinglydeep, chest-pounding bass, and the detailed mids and highs that will keep the party going all night.
*iPhone and iPad are trademarks of Apple Inc. All third-party trademarks are the property of their respective owners. Their use neither constitutes a claim of the trademark nor affiliation of the trademark owners with MUSIC Tribe. Product names are mentioned solely as a reference for compatibility, effects and/or components. Warranty details can be found at musictribe.com.
Product Information Document
iNSPIRE iP15 BUNDLE
1000 Watt Powered PA Bundle including iP15B Subwoofer with 2 x iP82 Loudspeakers, Digital Mixer, Speaker Stands and Cables, KLARK TEKNIK Spatial Sound Technology, Remote Control via iPhone/iPad and Bluetooth Audio Streaming
KLARK TEKNIK ­ Inspired Technology
KLARK TEKNIK is recognised worldwide as one of the most prestigious British audio companies, with a 40-year pedigree and even a TEC Lifetime Achievement Award to back it up. The Company has designed and manufactured products for world-class artists, and their legendary DN780 reverb processor is considered by leading audio engineers around the world as the industry standard. Check out their website to learn more about KLARK TEKNIK's legendary heritage. TURBOSOUND is proud to incorporate custom-engineered KLARK TEKNIK Class-D amplifier and DSP technologies into their products.
DSP ­ the Secret to Superb Sound
From the instant your signal enters the iP15B, the built-in DSP takes over ensuring the highest possible signal integrity. Much more than just selective EQ enhancement, the 24-bit processor analyses the incoming signal and intelligently applies specific filters to actually improve the sound quality. It's like having an audio engineer monitoring the input and output signals, dialing in the perfect EQ and constantly making subtle adjustments to the crossover, compressor/limiter, three discrete amplifier channels and more ­ all of which adds up to significantly better sound.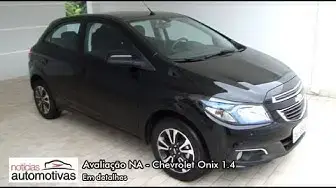 Custom-Engineered Drivers
Our speakers are designed specifically for each application ­ it's what sets us apart from the competition. When you buy a TURBOSOUND speaker system, you can rest assured that the speakers inside have been engineered to perform flawlessly in conjunction with every other element for truly professional results. The iP15B features a powerful 15″ high excursion LF driver for low distortion sub-bass response, whilst the iP82 boasts an 8″ driver with a low mass voice coil for improved transient response, and a high temperature dome 1″ HF compression driver mounted on a low distortion 70° horizontal by 70° vertical dispersion waveguide.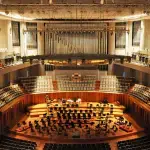 Product Information Document
Portable
iNSPIRE iP15 BUNDLE
1000 Watt Powered PA Bundle including iP15B Subwoofer with 2 x iP82 Loudspeakers, Digital Mixer, Speaker Stands and Cables, KLARK TEKNIK Spatial Sound Technology, Remote Control via iPhone/iPad and Bluetooth Audio Streaming
Built-in Digital Mixer ­ Comprehensive Remote Control
The iP15 BUNDLE features a fully addressable onboard digital mixer with two combo jack/XLR connectors that accept balanced and unbalanced connections for dynamic mics and line-level instruments. The simple and intuitive user interface consists of a single rotary push-encoder with Process, Setup, Exit and Enter function buttons. A beautifully-backlit LCD display controls DSP functions including mixer parameters, 3 band EQ, and presets. All settings can be controlled locally, or via free downloadable iPhone/iPad apps ­ and locked down to prevent unauthorised access. We take Bluetooth a step further, giving you total control of the iP15 BUNDLE directly from your iPhone or iPad. This amazing feature lets you adjust all settings from either the listening area or the stage, for the perfect sound every time. The dedicated apps are available free of charge at turbosound.com, or from the Apple App Store.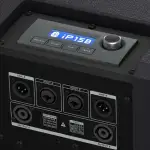 Bluetooth Ready
The days of tape decks, CD and even mp3 players are long gone. Now your music lives on your smartphone or computer tablet, so you can stop searching for those outdated cables and fancy adapters. An industry first, the iP15 BUNDLE puts all your music at your fingertips via stereo Bluetooth. Now with a simple wave of your hand, you can stream music from any Bluetoothequipped iOS device, such as your iPad, iPod touch, iPhone ­ or even your laptop computer.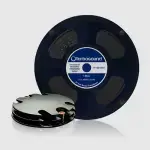 Stunning Performance ­Superb Value
The INSPIRE iP15 BUNDLE powered PA system stands head and shoulders above the rest of the pack and delivers exceptional performance, even when pushed to the limit. Ultra-lightweight and powerful with custom-designed drivers, an integrated 3-channel mixer, stereo Bluetooth streaming, iPhone/iPad remote control, 1,000 Watts of KLARK TEKNIK's Class-D output power and Digital Sound Processing, the iP15 BUNDLE is ideal for both portable and installed applications ­ at a price unheard of in this class. Experience the iP15 BUNDLE at your local dealer today, or get yours online today ­ and let TURBOSOUND take your performance to the next level!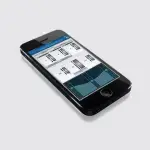 You Are Covered
We always strive to provide the best possible Customer Experience. Our products are made in our own Music Tribe factory using state-of-the-art automation, enhanced production workflows and quality assurance labs with the most sophisticated test equipment available in the world. As a result, we have one of the lowest product failure rates in the industry, and we confidently back it up with a generous Warranty program.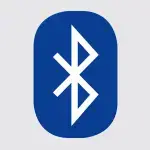 Frequency Response Sensitivity 1 W / 1 m (iP15B)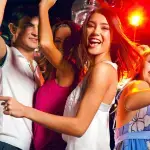 Horizontal Beamwidth (iP82)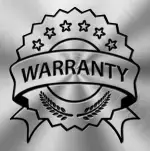 Horizontal Polar Plots (iP82)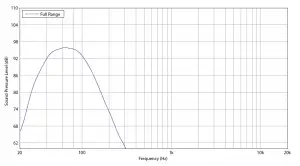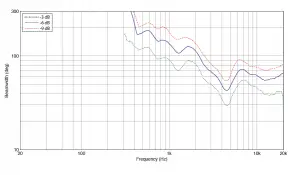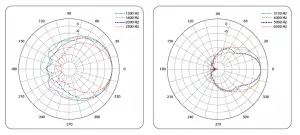 Vertical Polar Plots (iP82)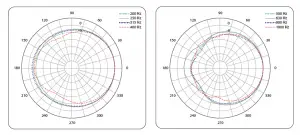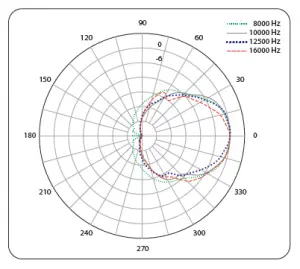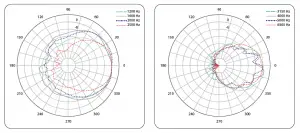 Dimensions (iP15B)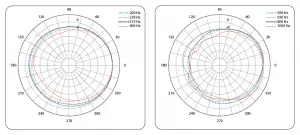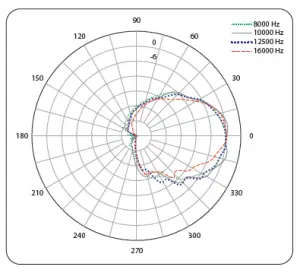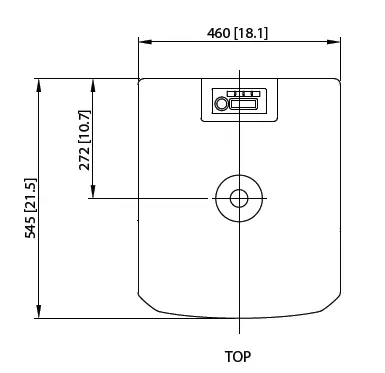 Dimensions (iP82)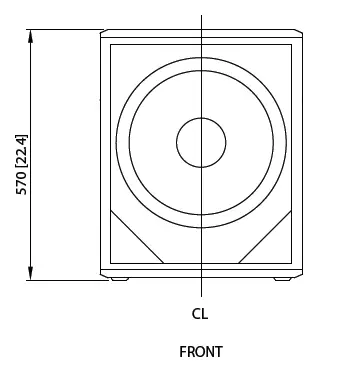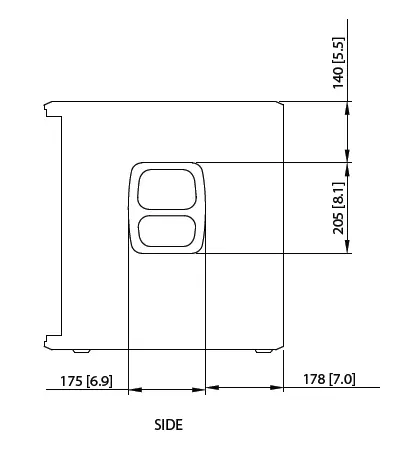 Technical Specifications (iP15B)
System Frequency Response
Nominal Dispersion Maximum SPL Crossover type Transducers Limiter
45 Hz ­ 150 Hz ±3 dB 38 Hz ­ 200 Hz -10 dB Half space 121.5 dB Active 1 x 15″ (381 mm) LF driver Peak and RMS
Amplifier Maximum output power* Subwoofer Satelites
Type Protection
500 W 2 x 125 W @ 8 2 x 250 W @ 4 (min. load) Class-D Short circuit, open circuit, thermal
Connectors Output L / R Input A / B Sensitivity Input impedance Maximum input level Link output Mains supply
2 x Neutrik speakON* NL4, pins 1+ / 12 x combo jack / XLR 4 dBu, nominal 16 k unbalanced, 33 k balanced +22 dBu XLR IEC mains connector with integrated power switch
Controls Hardware Software
Rotary push-encoder iOS/Android interface via Bluetooth
User DSP Functions Factory EQ presets Display Equalisation Crossover Protection
Positioning, sound mode, phase LCD 128 x 32, blue, backlit Bass, middle and treble High pass L-R 24 dB/oct Lock-out function for all settings
Bluetooth Wireless Technology Frequency range Channel number Version Output Compatibility Maximum communication range Connectivity
2402 MHz ~ 2480 MHz 79 Bluetooth 4.0 dual mode 8 dBm Supports A2DP 1.2 profi le 30 m (without interference) Master-slave: stereo pairing link
Power Supply Power consumption Voltage (fuses) USA / Canada / Japan UK / Australia / Europe Korea / China
110 W @ 1/8 max power
100-120 V~, 50/60 Hz (T 6.3 A H 250 V) 220-240 V~, 50/60 Hz (T 3.15 A H 250 V) 220-240 V~, 50/60 Hz (T 3.15 A H 250 V)
Enclosure Dimensions (H x W x D) Net weight Construction Finish Grille
570 x 460 x 545 mm (22.4 x 18.1 x 21.4″) 26.3 kg (58.0 lbs) 15 mm (5/8″) birch plywood box Semi matte black paint Powder coated perforated steel
*Peak output. Independent of limiters and driver protection circuits Only qualified personnel are allowed to modify the AC-Main cord and to adhere to all applicable national standards.
Technical Specifications (iP82)
System Frequency Response
Nominal Dispersion Power handling (IEC) Sensitivity Maximum SPL Impedance Components
70 Hz – 18 Hz ±3 dB 58 Hz – 20 Hz -10 dB 70° H x 70° V @ -6 dB points 150 W continuous, 600 W peak 91 dB (1 W @ 1 m) 113 dB continuous, 119 dB peak 4 1 x 8″ (203 mm) LF driver 1 x 1″ (25 mm) HF compression driver
Enclosure Connectors Wiring Dimensions HWD Net weight Construction Finish Grille
1 x Neutrik speakON* NL4 Pins 1+ / 1- input, pins 2+ / 2- N/C 455 x 280 x 235 mm (17.9 x 11.0 x 9.3″) 9.3 kg (20.5 lbs) 15 mm (5/8″) birch plywood Semi matt black paint Powder coated perforated steel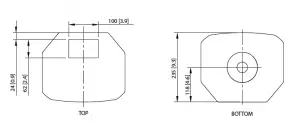 For service, support or more information contact the Turbosound location nearest you:
Europe
Music Tribe Brands UK Ltd. Tel: +44156 273 2290 Email: [email protected]
[email protected] [email protected]
USA/Canada
Music Tribe Commercial NV Inc. Tel: +1 702 800 8290 Email: [email protected]
[email protected] [email protected]
Japan
Music Tribe Services JP K.K. Tel: +81 3 6231 0453 Email: [email protected]
[email protected] [email protected]
Music Tribe accepts no liability for any loss which may be suffered by any person who relies either wholly or in part upon any description, photograph, or statement contained herein. Technical specifications, appearances and other information are subject to change without notice. All trademarks are the property of their respective owners. Midas, Klark Teknik, Lab Gruppen, Lake, Tannoy, Turbosound, TC Electronic, TC Helicon, Behringer, Bugera and Coolaudio are trademarks or registered trademarks of Music Tribe Global Brands Ltd. © Music Tribe Global Brands Ltd. 2018 All rights reserved.