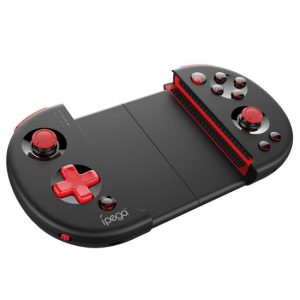 Red Knight Bluetooth Controller
PG-9087
Applicable instructions
Thanks for purchasing iPega developed Red Knight Bluetooth Controller.
This Gamepad support playing games on Bluetooth enabled Android /OS devices and Win 7/8/10 systerms PC without any drivers.
Applicable devices, Smartphone/tablet/smart TV, set-top box/ Windows PC
Support TURBO(acceleration) function, make it stronger and more fast when playing games.
Designed with telescopic phone stand, support hold mobile phone up to 6.2 inches.
* Due to the official game platform software upgrades or source code changes and other not resist factors caused some of the game can not be played or connected with our Gamepad, iPega company has no responsibility. iPega reserve the right of final interpretation for this.
Introduction for key functions:

Electrical Specifications:
Working voltage . DC3.7V
Working current: 35 mA
Consecutive Usage Hours: 6H
Sleep mode current: : <35uA
Charging voltage/current: DC5V/500mA
Bluetooth transmission distance: 58M
Battery capacity: 400mAh
Standby time up to 30days once fully charged
Gamepad Charging/Sleep Mode/Wake-Up Function:
When the gamepad :s not connected to any device while it S charging, 4 LED indicator lights will slowly blink. When the charging is completed, the lights will be off! When the gamepad is connected to other device via Bluetooth while it is charging, the current mode light will slowly blink. When the charging S completed, the light will be on.

Sleep/Wake-Up Function: The gamepad cannot be used within 10 minutes and it will enter into the sleep status. When you need to use it again, press the key and it will automatically return to wake-up status.
When the battery power is low, the current mode indicator light will blink rapidly.
Operation instructions: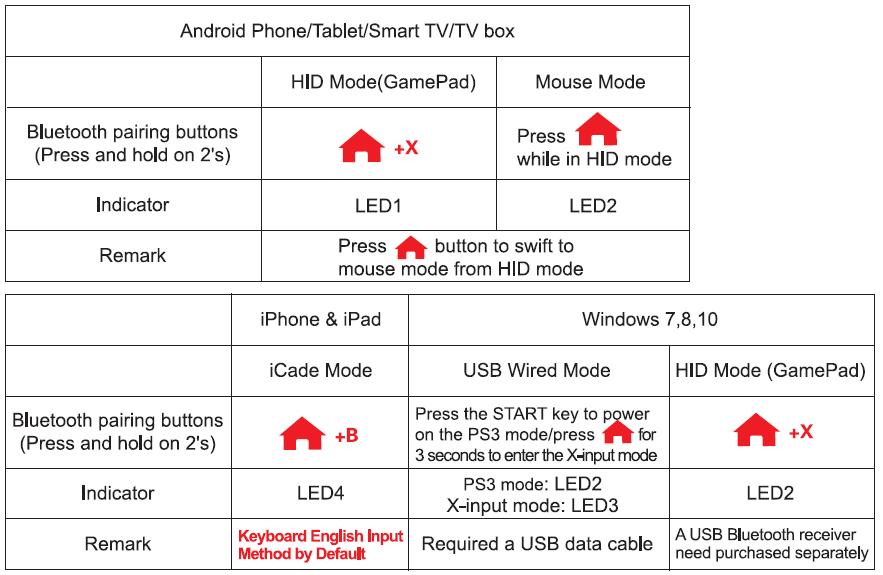 Android Game Center
Use of Android Device
Press and hold X button and-Abutton for 2 seconds at the same time, 4 LED indicator lights will blink simultaneously in a rapid manner at this moment.(Picl)
Open the Bluetooth on Android device, click searching.(Pic2)
Find and select "PG-9087" for Bluetooth pairing.(Pic2)
LED1 lit on after Bluetooth connected.(Pic3)
Enter the game.(You can directly play the games which downloads from the Android game centers or emulators)
Or you can also download the Gamepad enabled games from Google Playstore. Below are the recommend games for reference:
Implosion / Dead Trigger / Dead Effect / CS Portable / The dungeon hunter 4 glory palace / SHADOWGUN: DeadZone / SoulCraft -Action RPG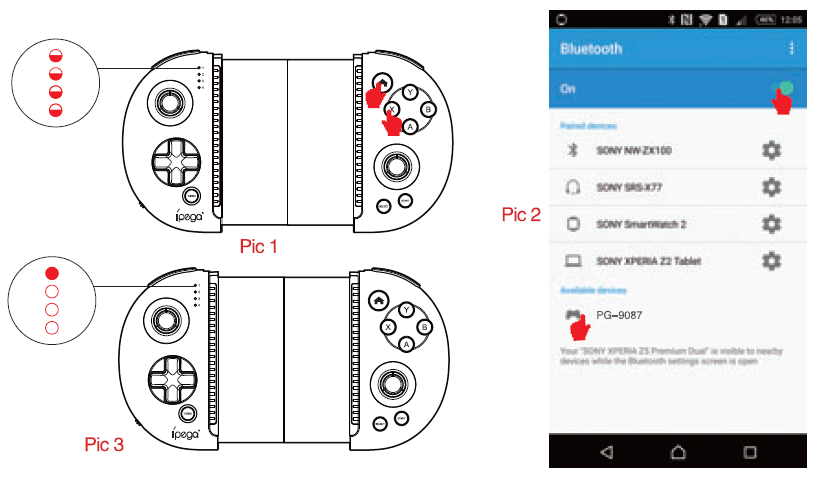 Usage of iOS device iCade mode:
Firstly, you need to set keyboard input in English.(Pic1)
Press and hold B button Alt button for 2's, then release two buttons until all 4 LED indicator lights flash quickly. (Pict)
Open Bluetooth on DS device, click searching, find and select "PG-9087" for Bluetooth pairing.(Pic3)
LED4 lit on after Bluetooth connected.(Pic4)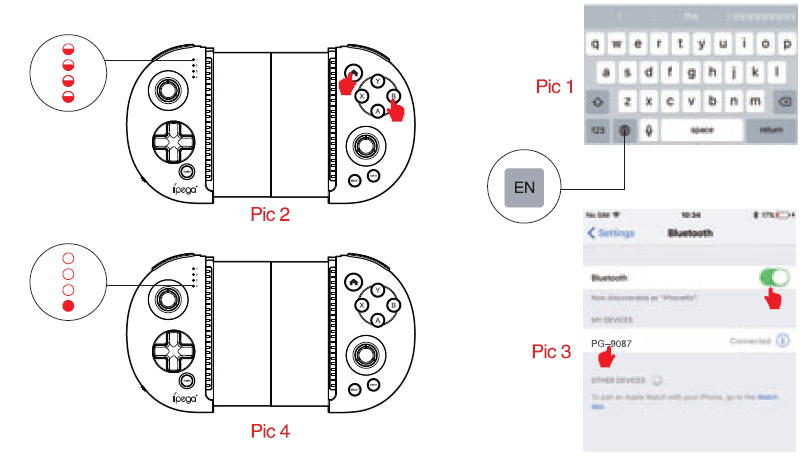 TURBO function
Eight action buttons (NBDC/Y, R1/R2 L1/L2) can be set manually with TURBO function.
Setting method: Press the action button for a long lime, and then press the TURBO key to turn it on. Press the action key for a long time, and then press the TURBO key again. The TURBO function will be turned off.
After the gamepad turned off, shutted down, steeped or restart the gamepad. The previous TURBO setting will not be stored. If you want enable Turbo function buttons again, then please reset TURBO function.
PC wired connection operation method:
Hold down the START key on gamepad to connect directly to the computers USB port via the USB cable. At this point entered the USB wired mode.
After the wired mode connection is OK, the LED2 indicator is on; In this case, it is the PS3 mode, you can play games on sony PS3.
Press the key for three seconds to switch to X-input mode and paying of 360 games on PC. The LED3 indicator lights up once successful connected.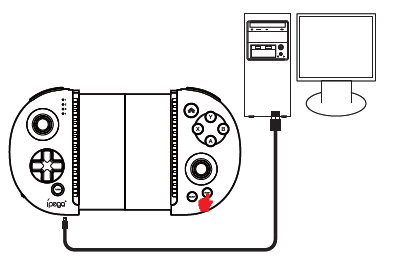 Smart TV/TV box Bluetooth connection operation method:
You need to buy a Bluetooth 3.0 receiver separately
Insert the Bluetooth 3.0 receiver into the USB interface of the PC device/smart TV/TV box;
At the some time press the A + X button, the Gamepad into wireless pairing mode, LED1-LED4 indicators flash at this time.
The LED2 of the Gamepad turn on, indicating that the wireless connection is OK; 4. Now you are ready for playing games on the PC device/Smart TV/TV box!

How to connect PC device with Bluetooth:
Insert the Bluetooth 3.0 Dongle (not in the package) into the USB interface on PC device; The driver will be installed by Windows system automatically;
At the same time press-,X key, the gamepad enter into wireless pairing mode, LED1-LED4 indicator flashes at this time.
After the driver is installed successfully,the symbol of the Bluetooth device will be displayed in the lower right corner of the computer.
Move the mouse to the Bluetooth symbol, click the right mouse button,and select "Add device".
After selecting "Add deuce", the device model (PG-9087) icon can be searched.
Click "next", and select "Do not use the code to match", it will be automatically added after confirmed , then remind the Bluetooth was connectedl After connected, the indicator light is always on.
It will be D_INPUT mode after the Bluetooth is connected successfully and can support the games running in simulator way.
Mouse mode function:
Multimedia player function, need to operate in mouse mode;
After successful connected in HID mode, you can switch to mouse mode by short press key; LED2 lights up at this time;
In mouse mode: Y key: volume +; A key: volume -; X key: previous song; B key: next song; L2 key: play/pause; L1 key: left mouse button; R2 key: play/pause; R1 key: Right mouse button; left 3D: mouse fast moving; right 3D: mouse slow moving.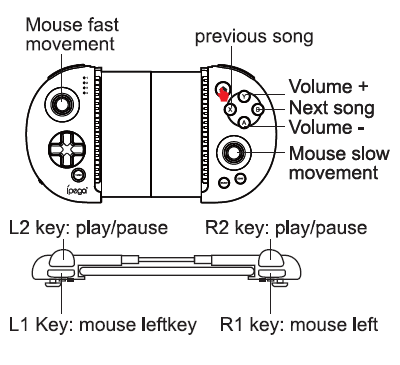 Notes:
Please do not store this product in wet or high-temperature areas.
Don't knap, beat, drub, pierce, or try to decompose this product, to avoid unnecessary damage to the product.
The product has built-in batteries, and please don't discard them together with the garbages.
Don't charge the controller in a place near the fire or other heat source.
Non professional personnel should not disassemble the product, otherwise it will not be covered in the after-sales warranty service.
iPega and ePega trademarks all belong to PEGA LIMITED.
Patent NO. : ZL201530022389.5