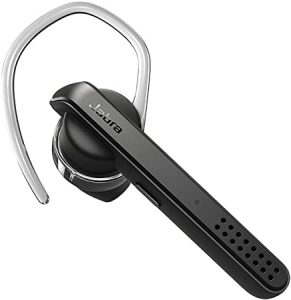 Jabra Talk 45 Bluetooth Headset
WELCOME
Thank you for using the Jabra Talk 45. We hope you will enjoy it!
JABRA TALK 45 FEATURES
Clear calls – HD voice (phone and network dependent) and two microphones
Noise cancelling – advanced technology for clear, noise-free calls
Long lasting – up to 6 hours of calls, and up to 8 days of standby time
Stream from your phone – music, podcasts and GPS directions
Voice Control – dedicated button for Siri® and Google Assistant™
HEADSET OVERVIEW
HOW TO WEAR
The headset can be worn with or without the earhook, on the left or right ear. Additional earhooks and eargels are available in the pack.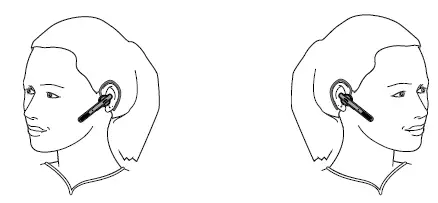 CHANGE EARGELS
Choose between different ergo-designed eargels for optimal fit and comfort.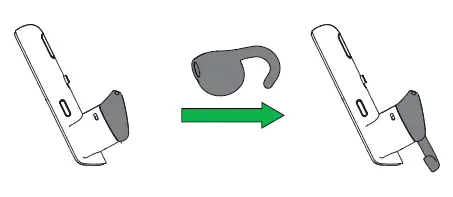 ATTACHING THE EARHOOK
The earhook can be attached to the headset if the earhook fit is preferred.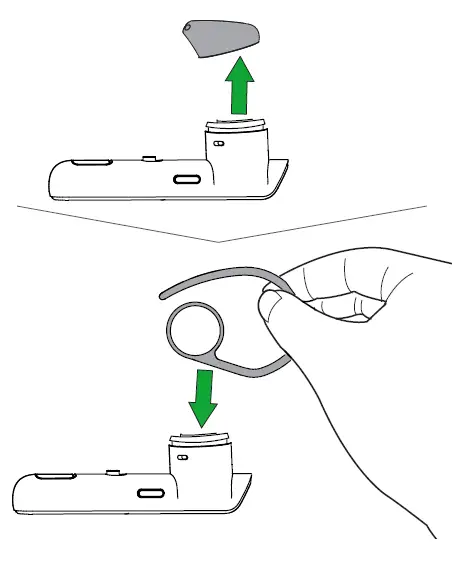 HOW TO CHARGE THE BATTERY
Pull back the charging cover on the headset to expose the USB charging port.
Connect the headset to a USB port using the USB cable.
NOTE: For safety reasons, it is recommended not to use the headset while it is charging. It takes approx. 2 hours to fully charge the headset
HOW TO CONNECT
CONNECT TO MOBILE DEVICE
Turn the headset on (set the On/off switch to the On position).
Press and hold (3 secs) the Answer/end button until the Bluetooth indicator flashes blue, and pairing mode is announced in the headset.
Follow the voice-guided pairing instructions to pair to your Bluetooth device
CONNECT TO MOBILE DEVICE (NFC)
Ensure that NFC is enabled on your mobile device.
Slowly slide the NFC zone of the headset against the NFC zone of the mobile device until a connection is confirmed.
HOW TO USE
Function
MULTIPLE CALL HANDLING
The headset can accept and handle multiple calls simultaneously.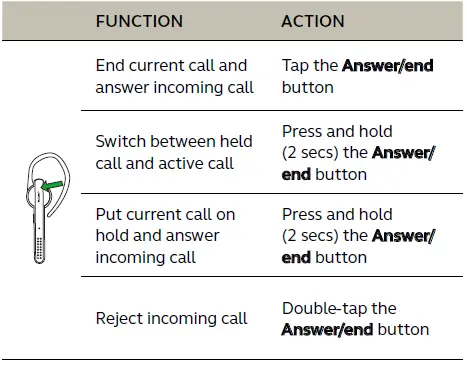 JABRA ASSIST APP
SUPPORT
FAQ
View the comprehensive FAQ on Jabra.com/ talk45.
HOW TO CARE FOR YOUR HEADSET
Always store the headset with the power off and safely protected.
Avoid storage at extreme temperatures (above 70°C/158°F or below -10°C/14°F). This can shorten battery life and may affect headset operation.
Do not expose the headset to rain or other liquids
2018 GN Audio. All rights reserved. Jabra® is a registered trademark of GN Audio. The Bluetooth® word mark and logos are owned by the Bluetooth SIG, Inc. and any use of such marks by GN Audio is under license www.jabra.com/doc