JAMJAKE K10 Stylus Pen for iPad

Product Specifications

① Touch switch
② Type-C charging port
③ Switch indicator
④ Detachable nib
Material: Aluminum alloy
Palm Rejection Function: Yes
Input: 5V /0. 2A
Pressure Function: No
Bluetooth: No
Pen Tip: Replaceable pen tip
Magnetic Design: Yes
Tilt Function: Yes
Applicable model
iPad 2020(8th gen) A2428 / A2429 / A2270/ A2430
iPad 2019(7th gen) A2197 / A2198 / A2200
iPad 2018(6th gen) A1893 / A1954
iPad Air ( 4rd gen) A2316 / A2324 / A2325 / A2072
iPad Air ( 3rd gen) A2152 / A2153 / A2154 / A2123
iPad mini (5th gen) A2124 / A2125 / A2126 / A2133
iPad Pro 11 inches (2018 – 2021)
A1980 / A2013 / A1934 / A1979/ A2228 / A2068 / A2230 / A2231 A2377/A2459/A2301/A2460
iPad Pro 12.9 inches (2018 – 2021)
A1876 / A2014 / A1895 / A1983 / A2229 / A2069 / A2232 / A2233 A2378/A2461/A2462/A2379
Not work with
iPad Pro 12.9 inch ( 1st gen & 2nd gen ) A1584 / A1652 / A1670 / A1671 / A1821
iPad Pro ( 10.5 inch ) Al 701 / Al 709 / A1852
iPad Pro ( 9.7 inch ) A1673 / A1674 / A1675
iPad Air ( 1st gen & 2nd gen ) A1474 / A1475 / A1476 / A1566/ A1567
iPad mini ( 1st/ 2nd/ 3th/ 4th gen )
A1432 /A1454 / A1455 / A1489 / A1490 / A1491 / A1599 / A1600 / A1538 / A1550
iPad 2010 ( 1st gen ) A1219 / A1337
iPad 2011 ( 2nd gen ) A1395 / A1396 / A1397
iPad 2012 ( 3th gen & 4th gen ) A1416/ A1430 / A1403 / A1458 / A1459 / A1460
iPad 2017 ( 5th gen ) A1822 / A1823
Note Not work for earlier versions of iPad, iPhone, Android, Microsoft devices. Please confirm the above models before purchase.Other models are invalid.
How to check the model
Setting> General>About>Model Number
Please confirm on the back of iPad device.

How to replace the pen tips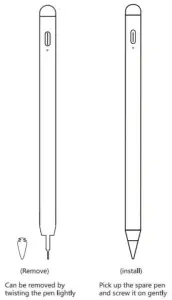 How to use
Please follow these steps to make sure the Active Stylus is allowed to work in your iPad or iPad Pro:
● Go to Settings > Apple Pencil > Turn off the Apple Pencil.
● Settings> Notes> Turn off "Only Draw with Apple Pencil.
Please turn off the Bluetooth connection before using our stylus pen if you have connected the "apple pencil". No need to install Bluetooth or Apps.
Please ensure the stylus is enough battery power when using.
All iPad 10S system must be updated to iOS 12.2 or above.
It has better using experience if used with the tempered glass screen protector.
Touch the top of stylus pen and begin to use.
No pressure sensitivity,all lines are at same thickness.
We don't recommend you use the pen while your iPad is charging, which may cause break & disconnect issues.
How to charge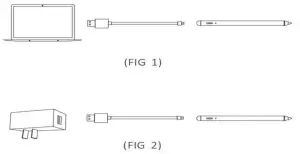 Seller Warranty Policy
If you have any questions during use, please feel free to contact us!
30-day money-back guarantee for any reason You may return your product within 30 days of purchase to receive a FULL REFUND for any reason.
18 months manufacturer's technical support
If your shipment has been damaged or you're having issues with the product, please send us an email with your order number. Our customer team will help you out ASAP.
24-hour on-line Customer Service
There are 4 easy ways to CONTACT us:
(1) Email:

[email protected]


(2) the official website : www.jamjake.com
(3) Go to Amazon Order page "Your orders" -"sold by"-" Contact Seller" .
(4) Reaching out through Amazon messenger here :
Log onto your Amazon account
Go to your order page
Click "Sold by JAMJAKE" button
Click "ASK A QUESTION"