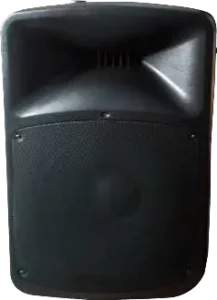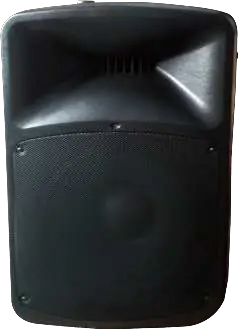 Speaker Box
USER MANUAL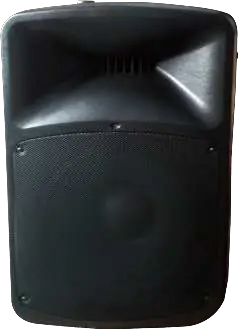 CAUTION, TO REDUCE THE RISK OF
ELECTRIC SHOCK, DO NOT REMOVE
COVER [OR BACK
THIS PRODUCT MUST BE EARTHED
NO USER-SERVICEABLE PARTS INSIDE,
REFER SERVICING TO QUALIFIED
SERVICE PERSONNEL
INSTRUCTIONS
Do not overload the box to avoid damage to the speaker.
Do not place an open fire (candles etc) on top or next to the box – FIRE HAZARD
For indoor use only. If the box is used outdoors,you need to make sure that no humidity can enter the box.
When not in use,unplug the unit from the mains.
Unplug the unit from the mains prior to checking or replacing fuse.
Make sure that the box is placed on a stable,strong surface.
The boxes can be hung. Use only strong and approved mounting material.During the mounting, make sure that nobody is standing below the mounting area.
Do not place liquids on the box and protect it against humidity.
Humidity can shorten the life time considerably.
Only use suitable means of transportation if you want to move the box – BEWARE OF YOUR BACK!!
Always unplug the unit during a thunderstorm or when it is not use.
If the unit has not been used for a long period of time, condensation can occur inside the housing. Please let the unit reach room temperature prior to use.
Never try to repair the unit yourself. It does not contain any user serviceable parts.
Run the mains lead in such a way that nobody can fall over it and nothing can be put in it.
Set the unit to the lowest volume prior to switching it on.
Keep the unit out of the reach of children.
SPECIFICATIONS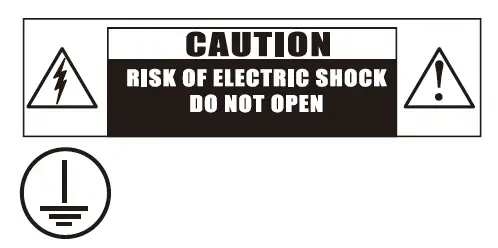 When connecting the speakers, it is very important to observe the correct polarity. This means that the wire attached to the (+),red, or positive terminal on one component must be attached to the (+),red, or positive terminal on the corresponding component's speaker output terminals.Similarly,the(- ),black, negative,or ground terminals must connect to the respective(-), black, negative,or ground terminals. This is easy to do by locating the color, stripes, or ribbing that appears on most wire.