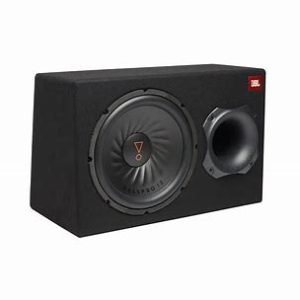 JBL Bass Pro 12

ABOUT THE MANUAL
This manual displays general installation guidelines. 1-tower, please note that properly installed, on of mobile audio components requires qualified experience. if you do not have the knowledge and tools to successfully perform this installation, we strongly recommend consulting an authorized JBL dealer about your installation options. Keep all instructions and sales receipts for reference.
WHAT'S IN THE BOX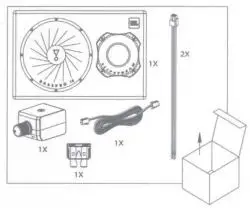 WIRING FOR POWER AND GROUND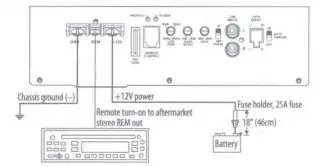 WIRING FOR AUDIO SIGNAL
Une-level from aftermarket stereo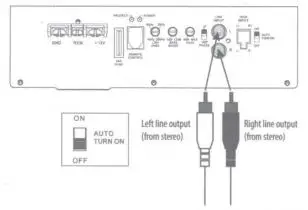 NOTE: When connecting an aftermarket stereo to the BassPro 12's hne·level inputs and remote tum-on wire, set the AUTO TURN ON switch to OFF.
Speaker-level from the factory or aftermarket stereo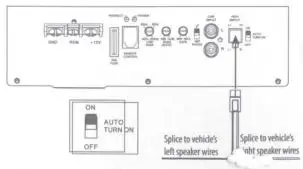 Harness high-level input wire gUlde
White/white with black stripe Left+Left-
Gray /Gray With black stripe Right +, Right –
NOTE: When connecting a factory or aftermarket stereo to the BassPro 12's
speaker-level inputs set the AUTO TURN ON switch to ON.
SETTING GAIN, ADJUSTING PHASE, LOW-PASS FILTER, AND BASS BOOST

1. Start With GAIN control set to minimum, and the cross-control rotated midway.
2. Choose music With substantial bass content and tum the volume control on your receiver to ¾ of its total output
3. adjust the GAIN control clockwise, listening carefully to the bass output. if you hear distortion, tum the GAIN control counterclockwise to decrease the GAIN.

4. Switch the PHASE back and forth to determine which setting provides the cleanest bass output.

5. Adjust the LOW-PASS control until the BassPro 12 plays only low·frequency information -you should not hear elements such as vocals coming from the woofer.

6. Adjust the BASS-BOOST control clockwise counterclockwise to suit your taste.
CONNECTING THE REMOTE BASS CONTROL MODULE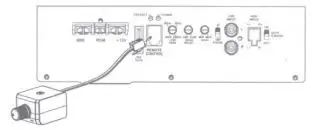 SPECIFICATIONS
Driver Complement. 12″ (300mm) subwoofer
Amplifier Power Output: 150 watts RMS, 450 watts peak
Frequency Response: 30 Hz – 200 Hz
Maximum Current Draw: 20A
Quiescent Current Draw: <0.9A
Input SenSllivlty: 0.065 V – 2.0 V line-level input;
0.35 V-10Vhigh-level input
Crossowr Frequency: 40 Hz – 200 Hz
Crossowr Slope: 12 dB/octave
Bass Boost: 0 dB to +12 dB @ 45Hz
Fuse: 25A
DimenSKlnS (jV X H X D): 22-1 /2″ X 14-5/8″ X 9·3/16″ D1,
12-1/6″ D2 (570mm x 371mmx 232mm D1; 305mm D2)
Weight 34 3 lb. (15.56 kg)
TROUBLESHOOTING
No audio and POWER indicator is off.
No /Oltage at BATT+ and/or REM terminals, or bad or no ground connec· ban. Check IIOltages at amplifier terminals with VOM.
No audio and PROTECT indicator illuminated.
DC /Oltage on amplifier output. The amplifier may need service; see enclosed
warranty card for service 1nformation
No audio and PROTECT and POWER indicators illuminated.
Voltage is less than 9V on BATT+ connection. Check vehicle charging system.
No audio and PROTECT indicator is on.
The amplifier is overheated. Make sure the amplifier coolng IS not blocked at
the mooning location. Or, there may be /Oltage greater than 16V (or less than 9V) on BATT+ connection. Check vehicle charging system.
The amplifier fuse keeps blowing.
The wInng Is connected incorrectly or there is a short circuit. Check wInng
connections.
Distorted audio.
GAIN IS not set properly. Check to set. Check wires for shorts or grounds. Amplifier or source unit may be defective.
Music lacks dynamics or "punch.·
If using speaker-level inputs, check to connect jobs for proper polarity. Switch
PHASE back and forth between 0° and 180° and leave on setting with the best sound.
Engine noise-whining or clicking-in system when the engine is on.
The amplifier is picking up alternator noise. First, check ground connect1011
on the amplifier – a loose or 1111proper ground IS one of the ma,n causes for noise. Tum down GAIN. Move RCA audio cables away from fXJN8f wires. Installing an alternator noise filter on the fXJN8f line between battery and alternator might also be necessary.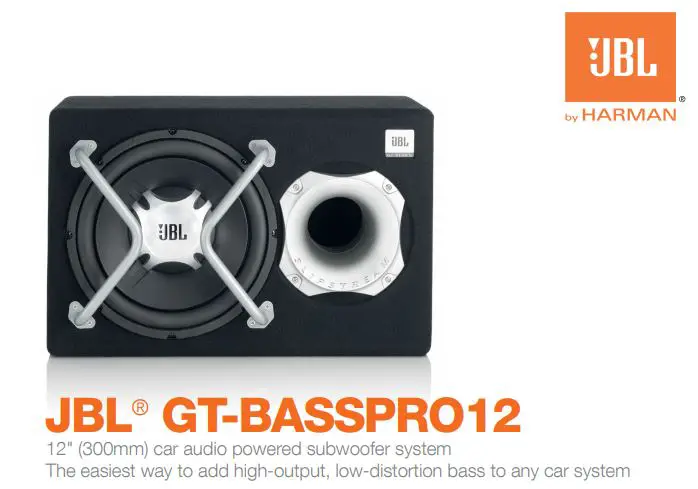 The JBL® GT-BassPro12 powered subwoofer pumps out lush, car-rocking bass through a design so cool you won't want to hide it in your trunk. The patented Slipstream port design delivers a deep bottom end while minimizing turbulence. Turbulence, or port noise at high volume, isn't just annoying; it's a signal that the port is no longer working and you're getting less bass than you paid for. The Slipstream design is carefully optimized for the combination of woofer, amp, and enclosure, and no other company has it. And with the included remote control for drive-time adjustments, the only time you'll need to stop is for gas.
TECHNICAL SPECIFICATIONS
Amplifier power: 150 watts RMS; 450 watts max
Frequency response: 35Hz ­ 120Hz
Fuse rating: 25A
Max current draw: 13.5A
Idle current draw: <500mA
Input sensitivity: 50mV ­ 4V (line-level input); 0.4V ­ 16V (speaker-level input)
Crossover frequency: 70Hz ­ 120Hz
Crossover slope: 12dB
Dimensions (W x H x D):22-7/16″ x 14-1/2″ x 12″ (570mm x 369mm x 305mm)
Weight: 38.6 lb (17.5kg)
JBL® GT-BASSPRO12
12″ (300mm) car audio powered subwoofer system The easiest way to add high-output, low-distortion bass to any car system
HIGHLIGHTS
12″ (305mm) woofer with a die-cast aluminum basket for solid sounds under all conditions
System optimization: the amplifier is precisely matched with woofer, enclosure, and Slipstream port to ensure the best performance and value
Remote control lets you adjust the sound from the driver's seat ­ no more stopping to pop the trunk
slipstream port eliminates port noise and provides distortion-free bass at high output levels
Input level, low-pass, bass-boost, and phase controls make it easy for any user to get the desired sound
Speaker-level and line-level input connections allow for use with any audio system
Signal-sensing turn-on automatically turns the subwoofer on and off when the head unit sends an audio signal; can be defeated for use with aftermarket radios that include a remote turn-on lead
Oversized speaker-protection bars keep the woofer cone safe, with a sleek, muscular look
HARMAN
Consumer, Inc. 8500 Balboa Boulevard, Northridge, CA 91329 USA © 2011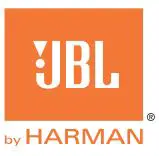 HARMAN International Industries, Incorporated. All rights reserved. JBL is a trademark of HARMAN International Industries, Incorporated, registered in the United States and/or other countries. BassPro is a trademark of HARMAN International Industries, Incorporated. Features, specifications, and appearance are subject to change without notice. www.jbl.com