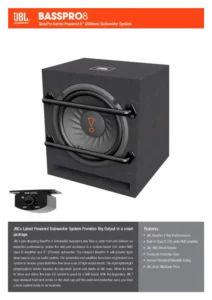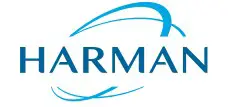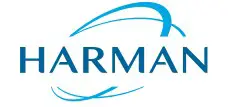 BassPro Series Powered 8″ (200mm) Subwoofer System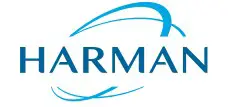 JBL's Latest Powered Subwoofer System Provides Big Output in a small package.
JBL's jaw-dropping BassPro 8 subwoofer measures less than a cubic foot and delivers an impactful performance. Inside the slot-port enclosure is a system-tuned 100 watts RMS class D amplifier and 8″ (200mm) subwoofer. The compact BassPro 8 will provide tight, deep bass in any car audio system. The subwoofer and amplifier have been engineered as a system to ensure great distortion-free bass even at high output levels. The rigid lightweight polypropylene woofer supplies the signature punch and clarity of JBL bass. When it's time to show and shine, the bass EQ control is good for a 9dB boost. With the legendary JBL® logo stamped front and center on the dust cap and the oversized protection bars, you have a bass system ready to do business.
Features
JBL BassPro 8 Slot-Port Enclosure
Built-in Class D 100 watts RMS amplifier
JBL RBC Wired Remote
Oversized Protection Bars
Harman Standard Reliability Testing
JBL at an Affordable Price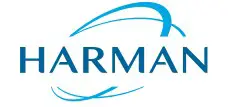 Features and Benefits
JBL BassPro 8 Slot-Port Enclosure JBL's slot-port enclosure is engineered and "tuned" to the optimal frequency by the JBL engineering team. The enclosure material is MDF (medium-density fiberboard) to minimize resonances and unwanted rings. Lightweight but stiff polypropylene woofer cone provides clean reproduction and superior durability in an easy listening or high-volume venue.
Built-in Class D 100 watts RMS amplifier
The JBL subwoofer system's built-in amplifier provides electronics matched and optimized for woofer characteristics and enclosure acoustics. Class D operation also means the amplifier runs cooler and draws less current from the vehicle's electrical system.
JBL RBC Wired Remote
The RBC Wired Remote (optional) is an easy installation and can be mounted for convenient volume adjustment from the driver's seat, which sells separately on the JBL website.
Oversized Protection
Bars The oversized protection bars project a "serious car audio enthusiast" statement, but more importantly they do an excellent job of protecting the speaker from accidental damage.
Harman Standard Reliability Testing
JBL speakers have to undergo a testing process that would destroy lesser speakers. JBL freezes them, bakes them, shakes them, blasts them with ultraviolet light and drives them at full power for days at a time.
JBL at an Affordable Price
This is JBL–the speaker and sound that has excited audio enthusiasts for over 70 years. And there's nothing better than riding with JBL sound.
What's in the box:
1 x Powered Subwoofer Enclosure
1 x Quick Start Guide
1 x Wire Harness with Connectors
2 x two-color JBL Brand Stickers
1 x Bass volume remote control
Technical Specifications:
Power Handling: 100Wrms; 200W peak
Frequency Response: 30Hz ­ 200Hz
Fuse: 10A
Maximum Current Draw: 9.5A
Quiescent Current Draw: <0.5A 50mV ­ 16V Universal Interface
Crossover Frequency: 60Hz ­ 200Hz
Crossover Slope: 12dB/octave
Bass Boost: up to +9dB @ 60Hz
Dimensions (W x H x D1 x D2): 9-7/8″ x 11-1/4″ x 10-3/8″ x 8″ (250mm x 285mm x 263mm x 203mm)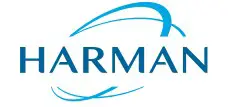 HARMAN International Industries, Incorporated 8500 Balboa Boulevard, Northridge, CA 91329 USA www.jbl.com
© 2020 HARMAN International Industries, Incorporated. All rights reserved. JBL is a trademark of HARMAN International Industries, Incorporated, registered in the United States and/or other countries. Features, specifications, and appearance are subject to change without notice.