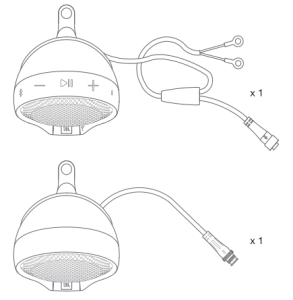 1. What's in the box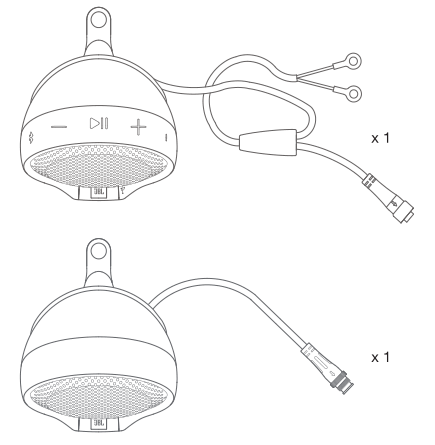 Screw bags as accessories are not included in the box, please order it separately per specific needs
Check the screw type of both side of the motorcycle mirrors
Determine what type of screw bag to be ordered and also whether left-handed screw bolts ,nuts and adjust screw are required or not
Order and select bolts , nuts and adjust screw accordingly before starting installation
Design for M10 PE bag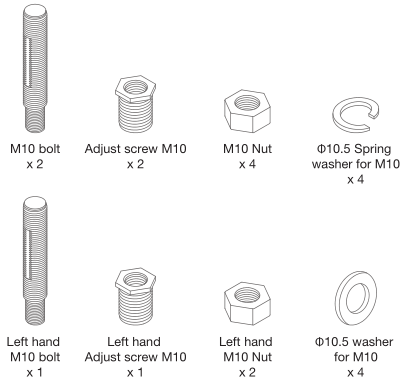 Design for M8 PE bag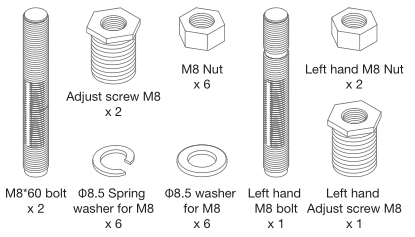 Design for Harley Davidson 1200 custom PE bag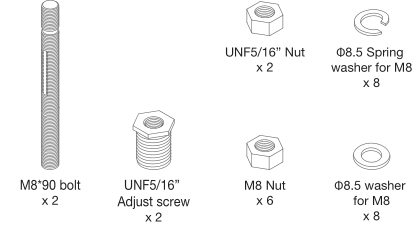 2. Buttons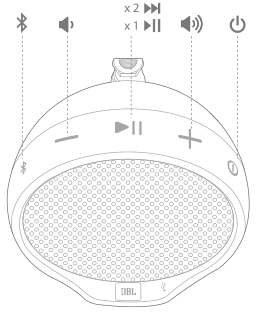 3. Design for motorcycles' mirror screw type M8, M10 and Harley Davidson 1200 custom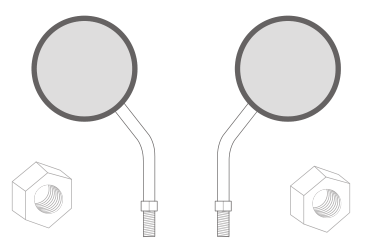 4. Installation of speaker for M10 screw type
Disassemble left M10 mirror from motorcycle
Take the M10 bolt with M10 nut 2pcs, Φ10.5 washer 2pcs and Φ10.5 spring washer 2pcs from M10 PE bag
Screw M10 bolt into the left speaker holder
Screw M10 bolt into left motorcycle mirror hole
Screw M10 Adjust screw into left speaker holder hole6. Screw the M10 mirror into left speaker holder
5.Installation of speaker for M8 screw type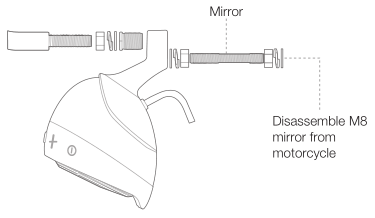 Disassemble M8 mirror from motorcycle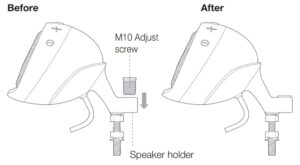 Take the M8*60 bolt from M8 PE bag and take M8 nut 2pcs, Φ8.5 washer 2pcs and Φ8.5 spring washer 2pcs from share part PE bag

Screw M8 nut, Φ8.5 washer and Φ8.5 spring washer onto M8*60 bolt

Screw M8*60 bolt into the Left speaker holder

Screw M8*60 bolt into left mirror hole after assembled Φ8.5 spring washer, Φ8.5 washer on it.

Screw M8 Adjust screw into hole of the left speaker holder

Screw M8 Left mirror into speaker holder hole

Please follow the same installation process to install the right speaker
6. Speaker for Harley Davidson 1200 custom installation
Disassemble UNF5/16'' left mirror from motorcycle

Take the M8*90 bolt from Design for Harley Davidson 1200 custom PE bag and take M8 nut 3pcs, Φ8.5 washer 3pcs and Φ8.5 spring washer 3pcs from share part PE bag

Screw M8 nut, Φ8.5 washer and Φ8.5 spring washer onto M8*90 bolt

Screw M8*60 bolt into the Left speaker holder

Screw M8*90 bolt into left mirror hole after assembled Φ8.5 washer, Φ8.5 spring washer, M8 nut on it.

Screw UNF5/16" Adjust screw into hole of the left speaker holder

Screw UNF5/16" nut, Φ8.5 washer and Φ8.5 spring washer onto mirror bolt

Screw UNF5/16" Left mirror into speaker holder hole

7. After Installing the left and right speakers please follow the sequence to connect the cable
Audio Cable connection Connect Audio Cable from right speaker to left speaker.

Power cable connection Connect the power cable to the battery from the left speaker.

8. Bluetooth ® pairing mode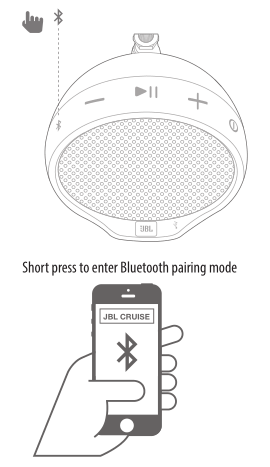 9. LED indication


10. USB charging
5W output to charge smart phone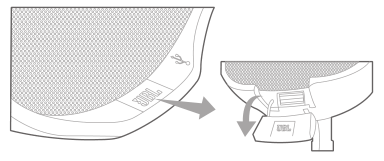 11. Warning
Please keep the cable away from high temperature component.
12. Specifications
Model No.: JBL Cruise
Transducer: 2 x 65mm
Rated Power: 2 x 5 Wrms
Frequency Response: 90Hz to 15kHz
Signal-to-Noise Ratio: > 80 dB
Bluetooth Version: 3.0
Support: A2DP V1.2, AVRCP V1.4
Multi-points (up to 2 phones)
Maximum RF Transmitter Power: 9dBm (EIRP)
Bluetooth Transmitted Modulation: GFSK,π/4DQPSK, 8DPSK
Bluetooth Frequency: 2.402GHz-2.48GHz
Dimensions (H x W x D): 101mm x 123mm x 147mm
Weight: 1215g

The Bluetooth ® word mark and logos are registered trademarks owned by Bluetooth SIG, Inc. and any use of such marks by HARMAN International Industries, Incorporated is under license. Other trademarks and trade names are those of their respective owners.